Boat shoes, also known as topsiders, are fashionable yet functional shoes that are rather popular. These shoes were invented in 1935 by Paul Sperry, who was out to create a pair of shoes that could provide adequate traction on the slippery decks of ships and boats.
He was inspired in his quest by his dog Prince, who seemed to fair quite well even on slippery surfaces. It is, therefore, no surprise that the shoes were initially mostly worn by boaters and sailors. Today, however, boat shoes are a common sight worn by men from all walks of life. The shoes greatly resemble moccasins.
They are made of leather or canvas top on which there is a simple crisscrossing design. The lace then loops all around the shoe creating a simple yet elegant design. The sole of the shoe is made of rubber that provides great traction. Here is how to wear boat shoes for men:
How to Choose Boat Shoes
When it comes to choosing a pair of boat shoes, there are a few major factors that you must consider. These include the fit, color, material, brand, and price. Here is what you need to know about each factor:
Fit
It is important that you get the right size of shoe for your feet. Ideally, there should be at least an inch spacing between the top of the shoe and your big toe when you stand. The shoe should, however, fit snuggly since it is bound to stretch out the more you wear it.
Ensure that the ball of your foot fits nicely into the shoe and that no space is left between your foot and the back of the shoe. If any such space is left, blisters are highly likely to fester when you wear the shoes.
To be certain that the shoe is the right fit, walk around a little. That way you will not go wrong with your choice.
---
Material
When it comes to boat shoes, there are virtually only two top materials to choose from: canvas and leather. The difference between them is that canvas is lightweight while leather tends to be chunky.
However, you would be well advised to go with leather shoes since they are more durable and versatile. They can be easily worn with dressier outfits, which cannot be said of canvas shoes.
In particular, the Horween Chromexcel leather material is ideal since it is easy to break into the shoe owing to the amount of grease used to make it.
---
Brand&Price
Some of the most reputable brands from which to buy boat shoes for men include Sperry, Quoddy, Eastland, Sebago, and Rancourt. In terms of price, it is best to keep in mind that boat shoes generally don't last for more than a few years, so it is best to buy them with disposability in mind.
---
Color
Boat shoes come in a wide range of colors, ranging from vibrant colors to neutral colors to nude colors to even black, brown and navy blue. The best color, however, is brown for a number of reasons. For one, Brown is immensely versatile.
It can be worn with virtually every outfit. Secondly, brown is classic. Finally, brown is undoubtedly good looking. You can also opt to buy navy blue shoes, although you really shouldn't wear them with denim jeans.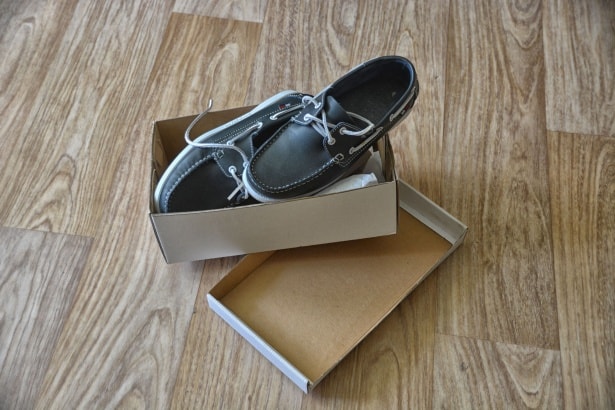 ---
When to Wear Boat Shoes
Boat shoes are meant to be worn in warmer weathers, which essentially means summer and spring. You can wear them to the beach to protect your feet from the scorching heat of the sun, especially when you stand on piers.
You can also wear the shoes when sailing or traveling. If your workplace accepts laid-back casual wear, then you can also sport a pair of boat shoes to the office. Boat shoes can also be worn on a date since they are truly stylish.
However, wearing boat shoes during the winter is a big no-no. Not only do you risk soaking your precious shoes with water, but they are also bound to get damaged rather fast. Additionally, boat shoes are not meant to be worn for fancy occasions. Suits and boat shoes also just don't blend too well.
---
How to Wear Boat Shoes
Boat shoes should be worn together with casual outfits. Denim jeans, for example, match really well with boat shoes. You can also rock boat shoes with a pair of shorts.
If you want to draw attention to your shoes, say because of a bright color, pattern or print, and then wear shorts that are rather plain and tailored to fit.
You can also opt to wear boat shoes with brightly colored chinos. The only thing you have to keep in mind is that you should strike a perfect balance. If you wear vibrant colors, then let the shoes be in neutral colors.
---
How to Break – in Boat Shoes
Although boat shoes are generally comfortable, wearing them for the first time is far from pleasurable. This is why you need to cure the leather first. To do so, you will need to mix some sea salt with water.
Ideally, you should add a tablespoon of salt to a liter of water. You ought to choose a container that is big enough to submerge your shoes in fully. Then you should soak the shoes in the salt water for up to 24 hours.
Once the time is up, wear the shoes for a while. They tend to dry out rather quickly, so the wetness shouldn't be too much of a bother. When you are wearing the wet shoes, they conform to your feet shape and size so wearing them in the future should be very easy.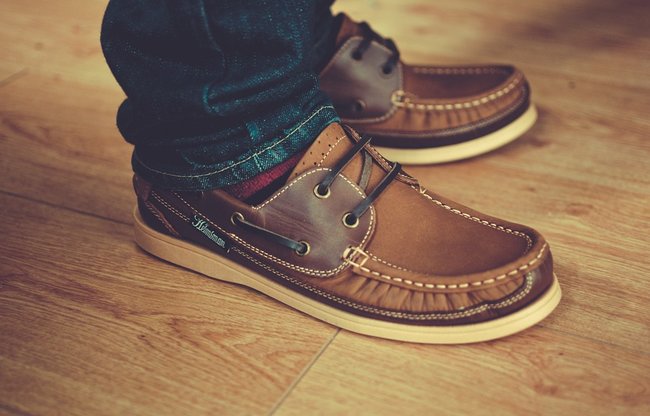 ---
How to Care for Boat Shoes
Ideally, boat shoes shouldn't be worn with socks. This often leads to accumulation of nasty smells in the shoes. Fortunately, the odor can easily be taken care of by leaving tea bags, baby powder or drying sheets in the shoes overnight.
If the shoe gets stained, then you should get rid of the stain using a dry brush. Brush in the same direction to avoid causing further damage to the shoe. You can also use a protective spray on the shoe but give it at least 24 hours to dry completely.
Don't expose the shoes to too much sunlight as it can destroy the leather. Too much water will also cause the shoes a lot of harm.
---
Wearing Boat Shoes with Socks
Boat shoes must never be worn with visible socks. If you are concerned about the sweat and odor, then wear small no-show socks that cannot be seen. Otherwise simply refrain from wearing the shoes with socks as it will ruin your whole look.
---
In Conclusion
Boat shoes can be an invaluable addition to your closet. As long as you follow the guidelines above on how to wear boat shoes, you will always look sharp and chic in them. With these tips, you can never go wrong with the classic shoes
Want More Tips?
Sign up for Cruising Sea newsletter to receive every two weeks the latest post straight to your inbox!
Do you know other ways to wear boat shoes? If so, you are welcome to share your experience in the comments below.
Daniella has been passionate about travel, the sea, and nature for many years. As a child, she frequently traveled throughout the Mediterranean and continued with her journeys throughout her adult life.
Her experiences have created the desire within her to share her love for traveling with other passionate and adventurers who want to discover beautiful horizons and new cultures.