Visiting Waikiki soon, and you are still wondering what activities you'll be doing, there? Well, let me tell you that there are plenty of things you can do in Waikiki other than lying on the beach! And one of the most popular attractions is the Turtle Canyon snorkel cruise with a catamaran. Does this sound good to you? If so, then you should read this article so that you can plan your tour efficiently!
---
Overview
If you've never snorkeled with Green Turtles in Oahu, then it's time to do it! You will sail through beautiful islands on a catamaran to search after spectacular Oahu Turtles Canyon. While cruising to the destination, you will enjoy seeing amazing sea creatures such as dolphins, migrating whales, and plenty of beautiful colorful fishes. Sailing is not the only activity you will be doing there. Snorkeling with Turtles Canyon is what you'll enjoy the most!
---
---
What To Expect
Departure
You have the choice between two scheduled times. The first tour starts at 8 Am and the second at 11 Am, giving you the opportunity to choose the time that suits you best. You need to arrive at least half an hour before the embarkation for a quick check-in, and you are ready to go! Just be in time if you don't want your boat going without you:)
Getting There
The tour begins at Kewalo Basin Harbor which is located in Makai of Ward Village. A beautiful harbor where you can stroll around and enjoy all the public open spaces before getting on board your catamaran. You can either be picked up from Aviator transportation service from your hotel or if you prefer, get there on your own.
Check-In
Once you arrive, you will meet your crew who will give you brief instructions about the safety so that you can be ready. Right after that, you will start your adventure on board a 53-foot power catamaran called Honi Olan. Finding a great spot on the deck won't be a problem on a Catamaran as these boats are extremely spacious and comfortable!
Onboard The Catamaran
After the check-in, you will sail to Turtle Canyon for about 15 min with an attentional crew and other passengers. While cruising, you will have the chance not only to enjoy spectacular views but also to explore whales and dolphins swimming at the surface of the water. And all this accompanied by refreshing drinks, delicious snacks, and great music! What could be better!
Snorkeling
Now it's time to drop anchor and get in the water to snorkel with the turtles. The crew will provide you snorkel gear, but if you are picky, you can bring your own set. There is a stairway at your disposition to go down from the boat safely. Then, you will be snorkeling with your guide for about 90 min among all kinds of beautiful turtles and fishes.
Back On Board
When you get back to the boat, you will be able to take a good shower to freshen up. The crew will spoil you from the moment you get on board until the end of the trip. They frequently come around to check if you need something.
Optional
If you opt for the Midday tour option, you will have the opportunity to participate to a delicious sandwich buffet for lunch.
Back To The Hotel
Upon your return to the harbor, a private car from Aviator will bring you back to your Waikiki hotel.
---
What Is The Tour Duration
It will depend on the tour you choose. For example, the Morning tour (8 Am) lasts 2 hours, while the Midday tour (11 Am) lasts 3 hours because it comprises lunchtime with a sandwich buffet. Plus the drive from Waikiki to Kewalo Basin Harbor is about 15 min!
---
About The Sea Green Turtles
The Green Sea turtles are quite heavy and large. Their weight can reach up to 700 lbs and their size up to 5 ft. These turtles are herbivorous, and they mainly eat algae, sponges, and seagrasses. Their life span average is about 80 years or sometimes even more!
The green turtles are one of the largest turtles in the world. The males tend to be larger than females and their carapace measures about 5 feet. These green turtles live in tropical and subtropical coastal waters around the globe.
They often swim in shallow waters to warm themselves up. The colors of their shell are usually olive or brown, and their skins are mostly green. Females usually nest on the same beach as where their mother used to nest.
When their moment comes to lay their eggs, they dig in the sand and fill the hole of 200 eggs, which will stay two months before they open. The turtles are inoffensive and quite friendly to humans!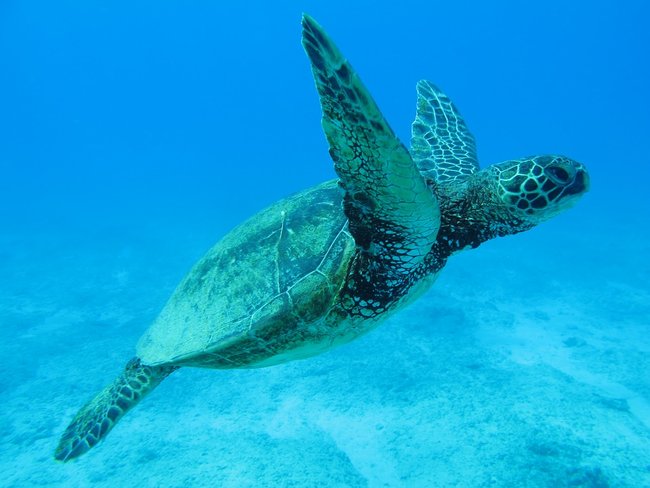 ---
When Is The Best Time To Do The Tour
Both morning and midday excursions are great but bear in mind that the sun tends to heat stronger in the afternoon than in the morning. However, there is a closed cockpit to protect you from the sun on the boat. So it doesn't really matter. I would personally choose the midday tour because I like to eat and the buffet is excellent!
---
What Facilities There Are On Board
Since it is a catamaran, there is plenty of space onboard the boat. There are seats for everyone, a covered cabin, a shower, and a bathroom for your convenience.
---
What Is Included
Unlimited Non-Alcoholic Drinks
2 Alcoholic Beverages
Complete snorkel gear
Expert guide
Taxes, fuel, and handling charges
Service transportation back and forth from the hotel
Deli Buffet for lunch (only if you choose the midday tour 11 Am)
What Is Excluded
Tip for the crew ( Optional)
Additional Alcoholic Drinks ( It is possible to buy more alcoholic beverages on the boat)
---
Who Is This Tour For
Everyone can participate in this tour, even small children if they feel confident in the water. Many people don't know how to swim, and if this is the case, a life jacket would be an excellent solution. It will allow you to float on the water and enjoy snorkeling with the turtles. Since swimming with the turtle is quite exciting, this tour is not recommended for pregnant women or people with a health problem related to heart disease or asthma.
---
Why Should You Go On This Tour
There are five good reasons why you should go on this tour!
You don't have to bother renting a car or taking the bus to get to the Harbor or return to the hotel.
You will get close up with the most impressive turtles in the world.
You have no restriction on the number of beverages.
The experienced crew remains at your disposition for anything you may need.
A guide accompanies you in the water to swim with you and the turtles.
---
What To Bring
Take your Go Pro with you so that you can make pictures
Waterproof dry bag to protect all your gear from water
Comfortable water shoes or flip flops
Dry Clothing to change if necessary
---
Tips
Although seasickness is much less experienced on a catamaran, you never know. So you better take some precautions such as patches or pills with you.
If you are not comfortable changing outfit on the boat, then it would be better to wear your swimsuit underneath your clothes.
---
Pros
Knowledgeable and attentive crew
Delicious sandwich buffet if the option is selected
Unlimited beverages
Amazing experience with the turtles
Plenty of space, shower, and bathroom
Cons
There is no possibility to buy pictures on the boat.
---
In Conclusion
Green Turtles are not the only sea creatures you will discover in Oahu. There are also plenty of beautiful fishes, dolphins, and migrating whales that you will have the chance to see on the way to the Turtle Canyon. So if you go to Hawaii, don't miss the opportunity to snorkel with these incredible seas turtles and book your trip now!
Have you already snorkeled with the famous Turtles Canyon? If so, How was it? Please, feel free to share your experience in the comment below.