Fresh catch on the grill, the sun getting ready to go down and it's time for a drink, but what do you have? A cold beer, a glass of wine or perhaps it is the hour for a tropical inspired cocktail! On yachts, space for a large cocktail cabinet may be more limited so getting creative with a limited range of spirits as bases for some fabulous tasting drinks may well be the way forward. Gin & Tonic is a popular mix with a wide variety of gins to select from as a base. Rum is ever popular as a base for many cocktails especially in the sailing grounds of the tropics.
Let's have a look at the 9 best drinks on a boat using rum and gin as the basis, including readily available mixers to keep you cocktail shaking long after the sun has set!
Rum inspired!
– Painkiller
– Caribbean Storm
– Mai Tai
– Pina Colada
– Mojito
Gin Inspired!
– Gin &Tonic
– Pink Gin
– Martini
– French 75
---
Painkiller
Invented in the 70's in the British Virgin Islands on the island of Jost Van Dyke the painkiller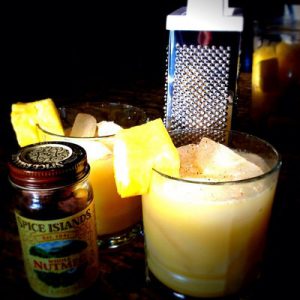 is a favorite amongst sailors.
The base is an original British navy rum, Pusser's which is then blended with pineapple and orange juices.
The blend is shaken in a cocktail shaker with coconut cream and topped with a sprinkling of freshly grated nutmeg. Pour over ice, do not mix with ice in a shaker!
Pour over ice, do not mix with ice in a shaker!
Ingredients
2 oz (60ml) Pusser's Rum
4 oz (120ml) pineapple juice
1 oz 30ml) orange juice
1 oz (30ml) cream of coconut
Fresh grated nutmeg
---
Caribbean Storm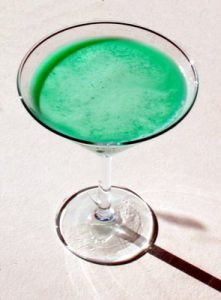 Not the simplest of rum drinks but certainly one of the most colorful! You need to mix the pink layer first and pour into a large glass full of ice.
Those rum flavors will combine for a real fruit kick. The blue layer will not completely combine with the pink layer for a great layered effect.
Float strawberries, raspberries and orange slices in this amazing concoction for an authentic tropical flavor.
Ingredients:
Pink Layer:
1/2 oz. (15ml) Pineapple Rum
1/2 oz. (15ml) Mango Rum
1/2 oz. (15ml) Banana Rum
2 oz. (60ml) Calypso Triple Melon Lemonade
Blue Layer:
1 oz. (30ml) Blue Curacao
1/2 oz. (15ml) Everclear
2 oz. (60ml) Lemon Lime Soda (e.g. Sprite)
---
Mai Tai
A sweet, tropical rum drink with citrus and almond flavors combined with a triple sec or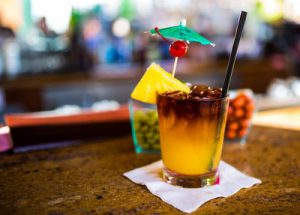 orange curacao such as Grand Marnier or Cointreau (orange liqueur) and of course rum.
The Orgeat syrup is a sweet syrup made from almonds, sugar, and rose water or orange flower water. To make up all the ingredients except the dark rum are shaken together in a mixer with ice.
The drink needs to be strained into a glass and the dark rum allowed to float on the top. Traditionally garnished with a sliced lime and cocktail cherry.
Ingredients:
1 1/2 oz (45ml) White Rum
1/2 oz (15ml) Fresh lime juice
1/2 oz (15ml) Orange curaçao
1/2 oz (15ml)Orgeat syrup
3/4 oz (22.5ml) Dark rum
---
Pina Colada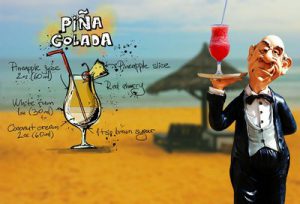 About as tropical as you can get with a delightful blend of coconut cream, pineapple juice, and rum.
The ice can be mixed with the ingredients, smoothie style or the blend can be shaken with ice.
Don't miss to garnish with a wedge of pineapple.
Ingredients:
3 oz (90ml) Pineapple juice,
1 oz (30 ml) White Rum
1 oz (30ml) Coconut cream or milk
---
Mojito
Traditionally from Cuba, a mojito is a cocktail that consists of five ingredients: white rum,
sugar, lime juice, soda water, and mint and is very refreshing.
Firstly the mint sprigs are gently crushed to release the mint flavor and scent. The sugar and lime juice are added to the glass and mixed before adding the rum and finally topping with the soda water.
Don't forget to garnish with more mint leaves.
Ingredients:
Six leaves of mint
1 oz (30ml) fresh lime juice
Two teaspoons Sugar
1 1/2 oz (45ml) white rum
soda water to taste
---
Gin and Tonic (G&T)
A classic drink for boaties around the world. Choose a local gin or a classic such as Tanqueray or London Gin.
If you can get it, Plymouth Gin has an amazing taste and is favored amongst gin fans. However, Bombay Sapphire also has its firm followers.
Tonic water gets its distinctive flavor from the quinine and is combined with gin in a 1:1, 1:2 or 1:3 ratio depending on taste preference. Serve with ice and a slice or wedge of lemon or lime.
Ingredients:
1 part gin
1 to 3 parts tonic water according to taste
---
Pink Gin
A true Royal Navy classic traditionally made with Plymouth Gin (a sweet gin) and Angostura
bitters. Angostura bitters are a secret blend of 5 herbs and spices infused ethanol originally crafted as a tonic for upset stomachs and seasickness.
The bitters have a distinctive dark red color thus giving the pink gin effect when combined.
Served straight, no ice with a garnish of shaved lemon rind.
Ingredients:
One part Plymouth gin
Dash of Angostura Bitters
---
Martini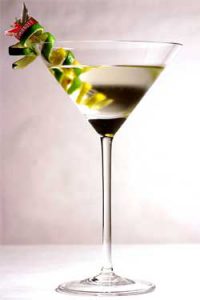 Bond style of shaken rather than stirred is not actually recommended as shaking causes the blend to cloud!
A martini is a combination of vermouth and gin, gently stirred with ice and garnished with an olive or a zest of lemon.
Ingredients:
3 oz (90ml) Gin
oz (15ml) dry Vermouth
---
French 75
A wonderfully refreshing blend of gin and champagne makes up a French 75. To make up a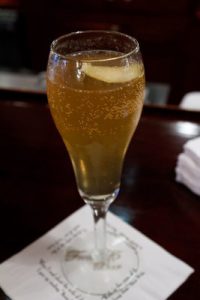 French 75 first, fill a cocktail shaker with ice.
Combine the gin, lemon juice, and sugar into the cocktail shaker and shake until well chilled (approximately 15 seconds).
You can then strain into a champagne flute and top the flute up with champagne leaving room for the garnish of a thin lemon spiral and a cocktail cherry.
This cocktail is very refreshing with the bubbles for a perfect vacation drink.
Ingredients:
2 oz gin
1 oz lemon juice (freshly squeezed)
Two tsp sugar
champagne to taste
Conclusion
There are many more boat drink recipes to discover and experiment with, but these nine should get you started. Try with what you have in your craft liquor cabinet and see what concoctions you can create.
Gin and rum are boat drink cabinet staples. If you are in the tropics, make sure you have a good supply of pineapple juice and coconut cream for many of the refreshing and tropical inspired cocktails described above.
If you are not a big fan of gin or rum, then there are many other spirits to test with. Fruit juices and flavored liquors are great to blend with many spirits. Oh and ice, you will need lots of ice for most of these cocktail recipes!
Want more recipes?
Subscribe to Cruising Sea newsletter to receive every two-week the latest post straight to your inbox!
What about you, do you know some other tasty drinks? If so, feel free to share them in the comment just below:)