You may be mistaken if you think that cooking in a galley is the same as cooking in a regular kitchen. A galley is what they call a kitchen on boats just in case you didn't know or are very new to boat life and terminology!
Whilst some yachts are enormous and will have a kitchen to rival some commercial kitchens generally speaking you can expect to have a small oven or grill and maybe one or two hobs. So let's have a look at what meals to cook on a boat with these kitchen utensils
Puffed Sandwich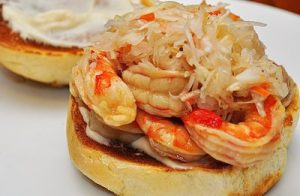 What indeed is a puffed sandwich you may ask?
The main ingredients of bread and eggs may give you a clue, but the fillings are open to a little variation depending on what takes your fancy from the local seafood market, your latest catch or perhaps what leftovers you have in the stores or cooler.
A puffed sandwich is not an omelet between a couple of slices of bread, it is, in fact, a little bit fancier than that!
Ingredients:
1 egg (separate yolk and white)
1 tbsp mayonnaise
2 slices bread (white or wholemeal)
2 slices cheese (your favorite)
1 cup of cooked salad shrimp
salt
pepper
To make:
Firstly beat egg yolk, then stir in mayonnaise and season with salt and pepper.
Beat egg white until it gets stiff, then gently fold yolk and white together – keep as much air in as possible.
Toast the bread but only on one side then add a single slice of cheese to the un-toasted side.
Broil/grill to start melting the cheese, then top cheese side with the shrimp.
Place egg mixture all over the shrimp and then bake at 350oF for approximately 10 minutes until the egg sets and golden in color.
Tips:
try shaved ham or tinned tuna in place of shrimp
serve with green vegetables or a salad
---
Seafood Paella Recipe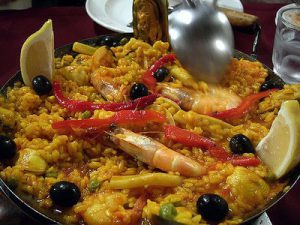 Anyone who has ever been to Spain or a Spanish influenced country should have experienced a seafood Paella.
A classic dish that you can easily make on your boat and again vary the ingredients to suit your tastes and supplies or fresh catch.
Ingredients:
750 ml water
250g squid (make sure it's been cleaned and cut into rings)
250g white fish (firm works best when cut into cubes)
2 Tbsp olive oil
2 cloves of crushed garlic
1 small onion, chopped
1 pepper (red or green), finely chopped
250 g of rice
1 tsp saffron (6-8 saffron threads)
salt & pepper
1/2 small can of tomato puree or paste (or 2 freshly chopped tomatoes)
100g clams or small cockles
100 g mussels
100g raw shrimp, deveined and peeled with tails on
1 small can of green peas
To make:
Bring water to the boil in a large saucepan and cook squid and fish for 1-2 minutes, then gently remove seafood and carefully place in a bowl but keep the water simmering
In a large frying pan (or wok) heat the oil and then fry the garlic, onion, and green pepper for approximately 2 minutes until softened, then add the rice, stir gently together then add saffron, and salt & pepper to taste
Stir
Add the fish, squid, tomatoes and water (fish stock)
Stir
Reduce heat, cover and allow to simmer for about 10 minutes
Stir occasionally
Just before the rice is ready, add the remaining seafood (clams, shrimp, and mussels) and peas by arranging them artfully on top of the rice
Finally, cover and steam for a further 3-5 minutes or until seafood are cooked.
Tips:
serve straight out of the large pan or wok.
for authentic Spanish feel leave the shrimp whole – eyes & all!
---
Two Beer Can Chicken Recipe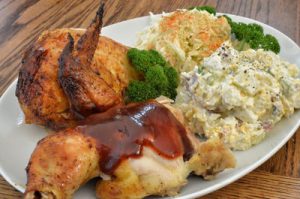 Why does the recipe call for two beer cans? Read on to find out that beer is not just used for drinking!
Ingredients:
4 chicken breasts (or substitute 9 chicken thighs – boneless)
2 small onions (one large onion)
A Chilli Sauce (Heinz is good)
2 Cans of Beer
Salt and Pepper
To make:
Brown the chicken in a skillet or pan and season with salt and pepper and then add the onions to pan (dice or slice you choose)
Halfway through cooking the chicken add the chili sauce and beer (just one can, the other one really is for drinking either now or with the meal!)
Simmer on a low to medium heat until liquid thickens and chicken is cooked.
Tips:
Serve with your favorite vegetables, rice or pasta
Substitute diced pork or beef for the chicken
---
Quick Guacamole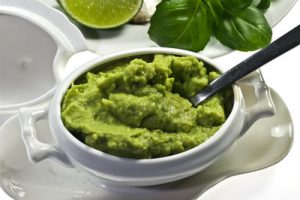 Avocados! You either love them or hate them? Generally, people on traditional low-fat diets avoid them because of their high fat content.
Whilst those on low carbohydrate high fat (LCHF) or ketogenic diets can't get enough of them!
Ingredients:
2 ripe avocados
2-3 tbsp salsa
1-2 tbsp lemon juice (or lime)
To make:
Peel, pit, and mash the avocados
Mix all ingredients (change salsa and lemon/lime juice amounts to taste)
Can be chilled in fridge before serving
Tips:
If not serving the guacamole straight away – put one of the pits in the bowl to prevent darkening
Serve with nachos, celery, carrot or bell pepper sticks
---
Chocolate Chip Cookies
Who doesn't love the smell of freshly baked chocolate chip cookies?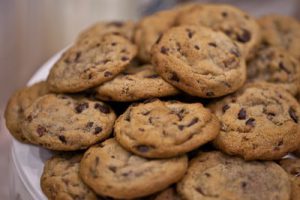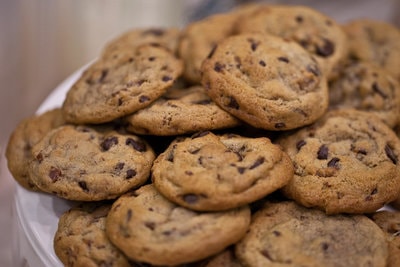 Do you prefer then with gooey chocolate oozing out of them whilst they are warm fresh from the oven or are you a cookie dough eater?
Ingredients:
1 cup shortening (e.g. Crisco)
3/4 cup brown sugar
3/4 cup white sugar
2 eggs (large)
2 tsp. vanilla
2 cups all-purpose flour
1 tsp baking soda
1/2 – 1 tsp salt
1 packet chocolate chips (2 cups)
1/2 cup chopped walnuts if you wish.
To make:
Beat the shortening and sugars until well mixed together and creamy looking
Beat in the eggs, then the vanilla
Sift the flour, baking soda, and salt together before adding to the mixture
Stir in the chocolate chips and the walnuts (if using)
Roll into 1″ balls
Bake at 375oF for 10 – 12 minutes, remove from oven and cool on a rack
Tips:
Some people have nut allergies – the walnuts are optional
Makes approx 65 cookies that will keep well in a tin
If dough is sticky place in fridge until it is easier to work with
---
5 tips for doing cooking on a boat easier
1. Look for recipes that involve one pot – easier on small one or two ring stoves
2. Choose recipes that don't require long cooking times to save gas
3. Prepare recipes to take with you and store for easy and quick reheating
4. Staples for bulking out meals like rice and pasta need to be kept dry for storage
5. Catch all your seafood = free dinner!
Conclusion
Rustle up one or more of these recipes for your next family boat vacation and be a winner with your guests or family. Take one along to a pot luck dinner and you will be sure to be invited back! Just make sure you buy a few extra beers and save some cookie dough for the oven!
Want more recipes?
Subscribe to Cruising Sea newsletter to receive every two-week the latest post straight to your inbox!
Do you have more meals to add on the list? If so, feel free to share them in the comment below, I'll be glad to know about it!
Daniella has been passionate about travel, the sea, and nature for many years. As a child, she frequently traveled throughout the Mediterranean and continued with her journeys throughout her adult life.
Her experiences have created the desire within her to share her love for traveling with other passionate and adventurers who want to discover beautiful horizons and new cultures.