Catamarans are an all-time favorite to many holidaymakers because they're spacious and offer countless luxury amenities onboard. And among the best catamaran models you can find in the market today is the Aletheia. This cat is large in size and proffers numerous social amenities that are capable of satisfying every need of a charterer. If you love hanging out in the sea with family or friends in a luxurious, tranquil setting, then Aletheia is the perfect boat for you.
Aletheia Catamaran Overview
Aletheia vessel stretches 70 feet long and has a fairly large breadth too. It comes with 5 spacious staterooms, an expansive lounge area, a galley, a salon, a BBQ, and a host of other facilities. It also features a professional crew of three consisting of the captain, chef, and deckhand.
The crew handles everything from the itinerary to food& beverages through to vessel repairs and maintenance, so yours will be just to explore and unwind. The catamaran can best be described as a floating 5-star resort that can take you through various spectacular islands, white sandy beaches, and/or hidden coves as you enjoy the time of your life.
Accommodation
Cat Aletheia features 5 well-appointed cabins that can accommodate up to 10 guests, in complete luxury. All the cabins are served with king or queen-sized beds and come with en-suite private bathrooms too. One of the rooms is a Master Suite, another VIP stateroom and the rest of the 3 are double cabins.
Interior
The interior of the Aletheia Catamaran is designed to offer charterers the ultimate luxury holiday experience. The furnishings onboard are beautiful, the styling timeless and the
seating deluxe.
Each of the 5 cabins has a small oval window that allows natural light in. The cat further comes with a spacious salon area with ample seating, and just adjacent to it is a
galley. So when you're not in your cabin or outside enjoying a breeze, you can spend time with family or friends in the salon, watching TV, or just chatting.
Exterior
Aletheia's exterior is designed with the holidaymaker's relaxation needs in mind. The open rear end of the cat is furnished with cushioned seating and multiple cube stools.
Here, you can lounge on the long-stretching seats or sit together with friends or family as you share drinks and/or cocktails. Opportunities to catch a soothing sea breeze, blowing from all sides of the sea, on a typical summer are also unlimited on this exterior section.
Right outside the salon is a dining table with seats, perfect for al fresco dining. The views of the expansive sea from this section are magnificent, which adds to the fun of sharing lunch or dinner with friends on the outside.
On the ship's stern, there are carefully designed steps on each hull leading to the water. So should you feel like enjoying some water sporting activities, you have a safe platform through which you can get into and out of the waters.
Entertainment
Life aboard the Aletheia Catamaran is never short of entertainment. The salon has a satellite LED TV, where you can view various entertaining programs and shows when not on the decks or in the waters. A stereo is also installed in the salon to help amplify the audio and, by extension, the entertainment experience.
If you are a fan of water sports, you can take advantage of the equipment onboard, including a paddleboard, scuba diving equipment, snorkeling equipment, kayak, and dinghy. Don't know how to snorkel or dive? Well, there's a possibility for you to do a dive course on board to learn diving skills and enjoy the underwater world.
The Aletheia comes equipped with fun water toys such as kneeboards, wakeboards, tubing, and fishing gear (2 Rods) to keep you busy during your week sailing trip.
Please take note that you'll need to inquire about a fishing license, wherever you are sailing, before engaging in the activity.
If your perfect holiday relaxation hack is reading a book as you swing side to side on a hammock, then there's one onboard that facilitates that.
Performance
Aletheia features 110 hp Yanmar diesel engines and can comfortably cruise at speeds of 10 knots. At its maximum, the vessels can go at a cool 18 knots/gall/hour. Its engine is quiet, so the sailing experience on the catamaran is comfortable and soothing.
Features & Specs of Aletheia at a Glance
Yacht Length: 70 feet
Accommodation: up to 10 guests
Max Speed: 18 knots/hour
Salon TV/VCR: Yes
Ample deck eating and space for lounging
High-end amenities ideal for families, couples and divers
Where Does Aletheia Sail?
Aletheia cruises Caribbean Leewards and Caribbean Windwards during winter and summer. The cat has flexible itineraries that mainly cover the British Virgin Islands but can also extend to islands like Antigua, Grenadines, St Martin, and other East Caribbean islands. The preferred pickup point for the vessel is Guadeloupe.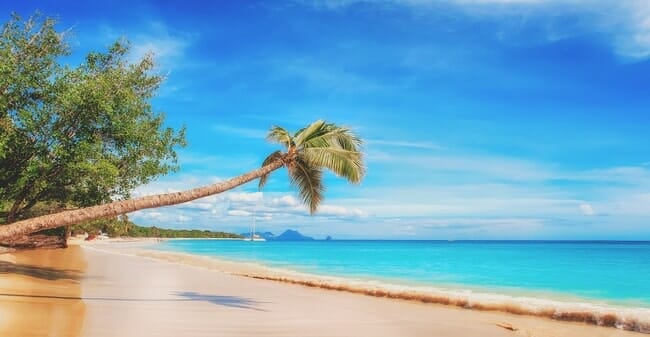 Why Charter Aletheia?
Chartering the fully crewed Aletheia catamaran is a chance to explore the ever-charming Caribbean islands. Sailing on the vessel presents an opportunity to roam around the Caribbean's exotic white sandy beaches, soak in the crystal clear waters and dig into the culture that's only unique to the region.
With the cat, you can easily engage in amazing water sports like diving, snorkeling, tubing, fishing, and more, using the equipment provided aboard. Furthermore, cruising at 10 knots in the Caribbean on a typical windy summer day can be exciting, soul-soothing, and memorable.
The cat's numerous social amenities provide a perfect platform to enjoy meals & drinks, share conversations and create lasting memories as you sail your holiday away. If you're planning a honeymoon to the Caribbean, sailing with Aletheia can present a fun, relaxing and exciting way to bond as newlyweds.
---
Conclusion
If you're planning to explore the Caribbean this coming season, booking the Aletheia at the earliest opportunity could be the first step towards a smooth and exciting sailing holiday. The charming Caribbean islands just never disappoint when it comes to holiday fun. And with the fully crewed Aletheia cat at your disposal, you can be set up for a completely relaxing and rewarding experience.
---
Specifications
Type: Catamaran
Beam: 31
Feet Draft: 5 Feet
Year Built: 2013
Manufacturer: Fountaine Pajot TW70
Cruise Speed: 10 knots
Max Speed: 18 knots
Engines: 2 x 110 hp Yanmars, Cummins Onan 13.5 Quiet Diesel
Scuba: Onboard
---
Have you already chartered the Aletheia? If so, you are welcome to share your experience in the comments below.
Daniella has been passionate about travel, the sea, and nature for many years. As a child, she frequently traveled throughout the Mediterranean and continued with her journeys throughout her adult life.
Her experiences have created the desire within her to share her love for traveling with other passionate and adventurers who want to discover beautiful horizons and new cultures.