About St Martin
Located on the northeast side of the Caribbean Sea, St. Martin is one of the most popular sailing destinations in the region for several reasons. Aside from its bustling bays and open-water passages, the island boasts of immersive remote sceneries and offers a distinct blend of Dutch and French cultural experiences that are experienced nowhere else.
Most visitors come to St. Martin to enjoy the delectable fusion cuisines, lazy in the tranquil beaches, learn about the island's fascinating colonial history and get the better of the vibrant nightlife. The countless duty-free shops selling jewelry and liquor are also another thing that pulls people to this island. If you can consider taking a bareboat charter in St Martin, you'll discover there's a lot to explore and experience on this side of the Caribbean.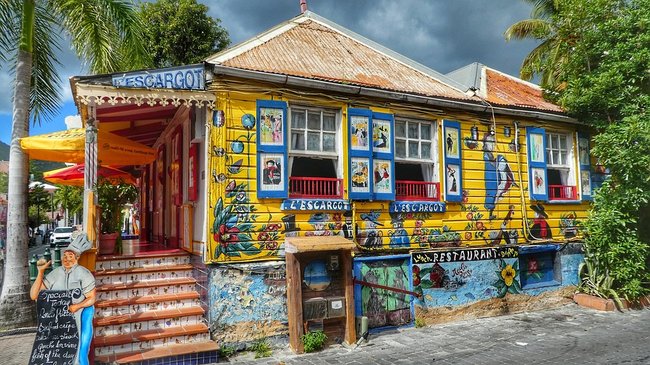 Climate & Winds
Saint Martin has a hot tropical climate, just like the other islands of the Caribbean. The island's average annual temperature is 26C (80.6F), with the highest hitting 32C (89F) and the lowest rarely going below 20C (68F). The coolest period is between January and March while the hottest and most humid season starts in June and ends in October.
St Martin generally experiences Easterly Trade winds, blowing at 10 to 20 knots. These winds are usually lighter during the summer months and hurricane season. The stronger Christmas winds are usually experienced for several weeks from December to mid-January and can go up to around 25 to 30 knots.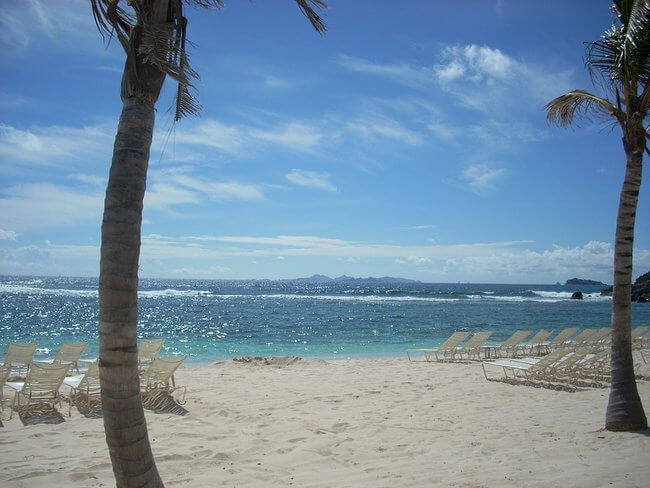 Best Time to Go Bareboating in St Martin
St. Martin is an all-year-round destination and the best time to visit really depends on what you are looking for. If fewer rains, cooler days and more vibrant crowds are what you desire, then the period between December and late March would be the most ideal.
The offseason period from mid-April to mid-December, on the other hand, can be a great time to hit St. Martin if you want lesser or no crowds, warmer temperatures, and cheaper or discounted yacht charter bookings. While most people shun visiting the island during the hurricane season, from June to November, the period still has pleasant weather with stable temperatures and lower risk of hurricanes.
---
Types of Bareboat Charters
In St. Martin, you have two bareboat charter options to choose from catamaran and monohull. Here is what you can expect from each of them:
Catamaran
Catamarans are a favorite choice to many bareboat charterers because of many reasons. Aside from the fact that they offer more onboard living and lounging space, they tend to be more stable( with minimal healing) and have a shallow draft that allows them to anchor even in the shallowest of waters. They're also faster when it comes to downwind runs, reaches and broad reaches.
The comfort onboard a modern cat is incomparable with plush accommodations, well-furnished seating (both indoor and outdoor) and trampolines for sunbathing and lounging. With all these features on your boat, you can explore the magical St Martin with ease; all while enjoying more privacy, innumerable fun activities onboard and endless adventure as you go along.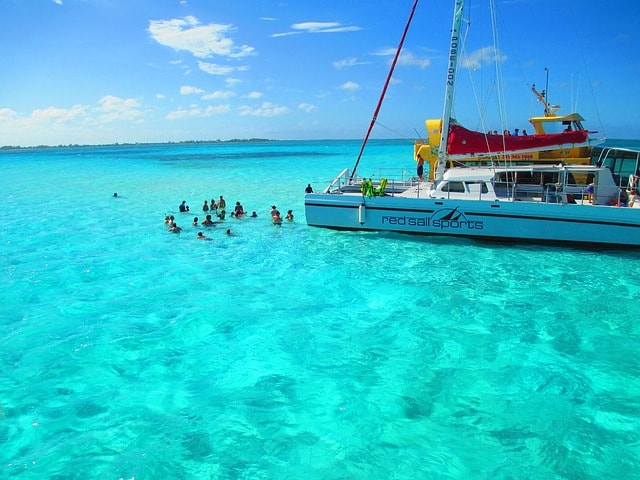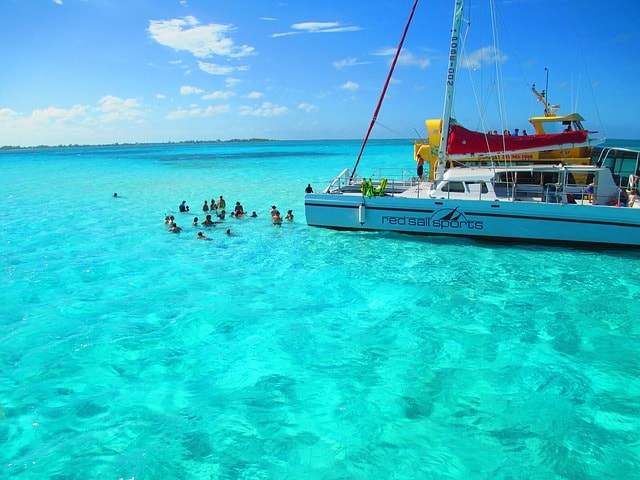 Monohull
Nothing beats a monohull when it comes to good looks, speed, and maneuverability. A typical motor powered monohull can slice through the waters quite effortlessly, something that makes hopping from one island or destination to the next quick and seamless.
If you're traveling with your partner or a few family members or friends, then going the monohull way can be a welcome idea. You'll not only cruise with elegance on such a boat but will also be able to visit as many charming places as possible over the short period of your itinerary.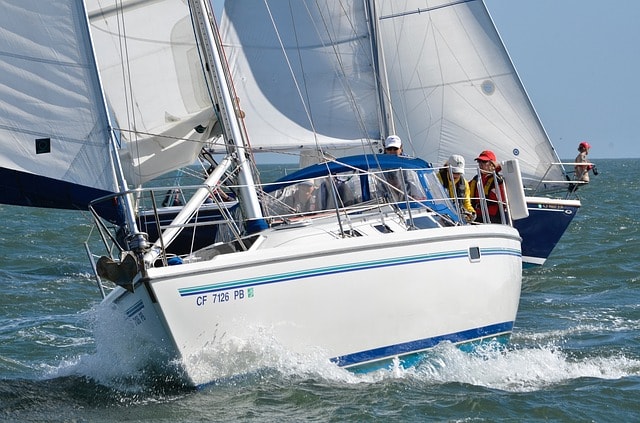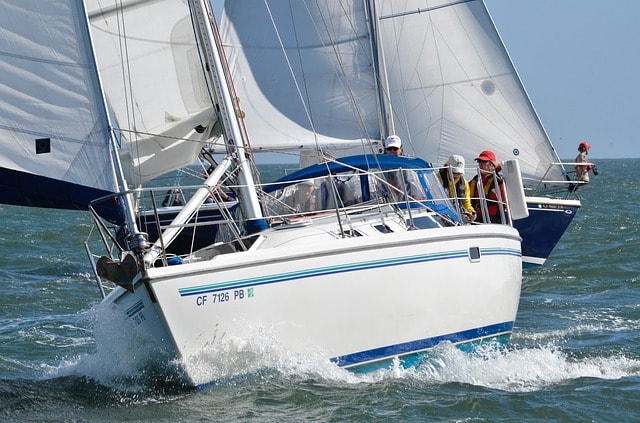 Bareboat Charter Requirements in St Martin
Experience
For you to be allowed to sail a bareboat yacht in St. Martin, you must have Level 2-3 sailing experience. These levels basically define the various destinations of the island and the amount of skill and experience required to cruise therein.
Level 2 destinations have moderately challenging waters and can be sailed by reasonably experienced sailors. Level 3 areas, on the other hand, are the most challenging to cruise in and require a more bareboat to be qualified for the same or have a highly experienced skipper onboard.
Licenses
Though there are no sailing licenses required by St Martin authorities, it is advisable that you come along with any sailing certifications on your holiday. Such documentation may be useful in case you are contacted by customs or even Port Police.
Please take note: You or your boat skipper and first mate will be required to fill in a relevant sailing resume at the base as a confirmation that you indeed have the necessary skills and qualification to sail the region. That is if you don't have sailing certificates with you.
---
St Martin vs BVI: Which Is Better?
Saint Martin and BVI are all Caribbean islands and make great spots to spend your holiday time in. But do they really offer similar fun opportunities and experiences? The answer is no. What then would you expect from each of these islands?
Well, here are the main differentiating aspects you may need to know about these two islands:
Culture
St. Martin's culture is made up of a blend of African, French, Dutch and British heritage. That's reflected in the language, food, and drinks as well as the festivities held on this island. The official languages are French for Saint Martin and Dutch & English for Sint Maarten. French Creole is also another language here, which is ideally spoken by French Caribbean immigrants.
The culture of BVI, on the other hand, is strongly Caribbean but with rich African influence. The various events held in the small islands, the well-preserved Tortola Sloops' and the native music (Fungi) provide a clear insight into the culture of these islands. The food and drinks here are equally amazing and there are countless opportunities to learn more about the BVI.
Mooring
The BVI tourist infrastructure is heavily centered on charter boats hence you would expect it to be more favorable when it comes to the mooring. However, there are still a few mooring balls and well-equipped anchorage points in such parts of St Martin as Phillipsburg, Ile Tintamarre, Marigot, Grand Case, Anse Marcel etc., which you would appreciate.
BVI has a mix of both busy and quiet anchorages that are spread across the various islands. The best moorings (based on sailor experiences) are in Virgin Goda, Norman Island, Tortola, Peter Island, Jost Van Dyke, and Great Camanoe. While all these BVI moorings charge a certain fee for anchorage, some of St Martin mooring balls, like in Ile Tintamarre, are provided free of charge.
Nightlife
St Martin, by acclamation, has one of the most exciting nightlife in the Caribbean. Saint Martin (French side) is known for its trendy beach clubs and themed bars plus multiple dance venues while Sint Maarten (Dutch side) is home to countless casinos where visitors gamble till the break of dawn. With all the magical sequins and glitter together with the thumping music and the glamorous lights of the night, there can just never be a dull moment in St Martin.
BVI has a great nightlife too, with multiple bars and clubs playing steel pan music and serving umbrella cocktails. Fun hot spots can typically be found within a walking distance from marinas, close to anchorage sites and along the beaches. While there are only a handful of casinos in the BVI, the wild parties featuring live music, electrifying tropical drinks, and open-air settings make the nightlife here worthwhile.
Activities
With St. Martin's diverse culture, vibrant restaurants, laid-back beaches, and several historical landmarks, there's never a short of activities to engage in when you visit the island. When not lazing in the beach or snorkeling around, you can sample mouthwatering dishes on the local restaurants, shop around for duty-free goods or hike up the hills and enjoy engrossing sceneries of the island while atop.
There are equally many fun things to engage in while in the BVI but snorkeling and diving are the main activities that draw crowds to the area. This is largely because the islands have multiple wreck sites and are endowed with abundant and colorful marine life too. So, if you're looking for a spectacular underwater experience, then the BVI can be a preferable choice.
---
Suggested St. Martin Itinerary
St. Martin has many amazing spots that you can visit or spend time in a while on your bareboat charter. But there are sections of the island that you should never miss on your itinerary. Here some of the spots to keep in mind:
---
Grand Case
Dubbed the Gourmet capital of the Caribbean, Grand Case has a lot to offer not just in terms of delectable cuisines but also in the perspective of water sports, sightseeing, nightlife and more. Here, you can soak in the town's seductive coastal scenery, indulge in finger-licking French or Creole meals and taste the best of local rum. There are also numerous opportunities for snorkeling in the warm and crystal clear waters just around the bay.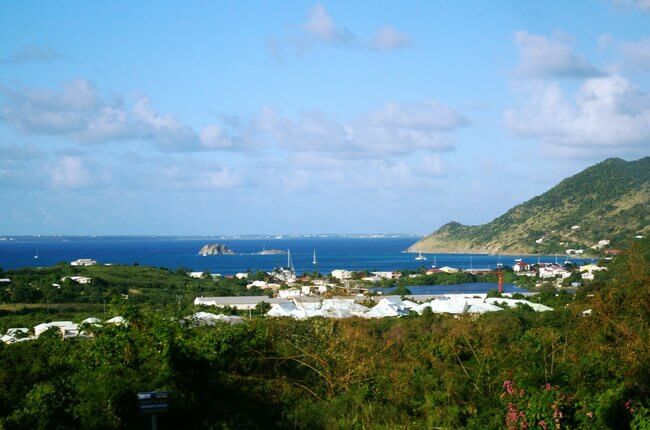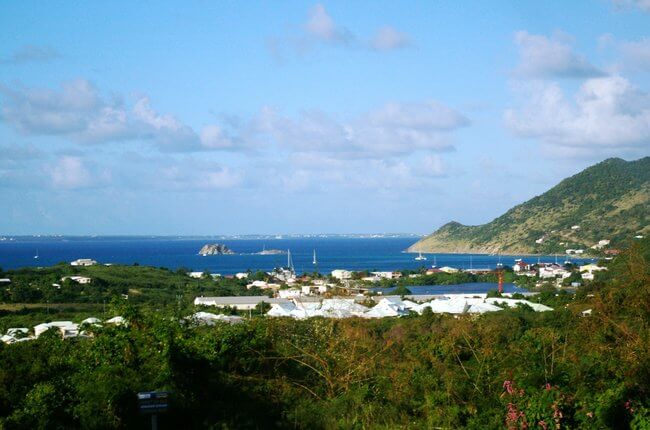 Tintamarre
Located just a few minutes' sails away from Grand Case, Ile Tintamarre is a must-stopover point for many sailors on St. Martin vacation. The island's North Curve is a popular spot because it's packed with sea turtles and stingrays. So the feeling of swimming or snorkeling offshore here is as heavenly as it gets. There's also a white sand beach where you can lounge as you get immersed in the tranquil atmosphere around.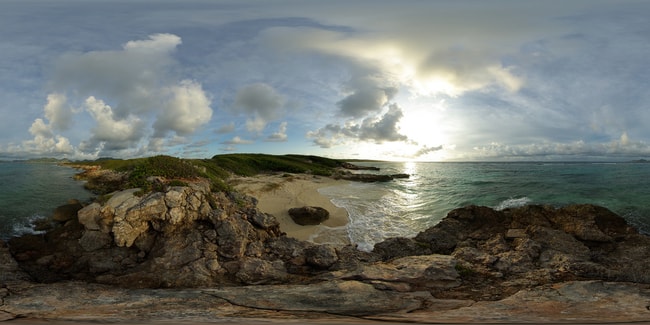 Ile Fourchue
Located between Saint Martin and Saint-Barthelemy, Ile Fourche is a 99-hectare privately owned island whose highest point reaches 103 meters above sea level. The island is situated within the Nature Reserve of Saint Bartholomew, which is known for its spectacular corals, sea sponges, and anemones. Starfish, sea urchins, shellfish and crustaceans also abound in this area. So if you can get a chance to sail around the area, you'll love the snorkeling experience if you're an underwater person.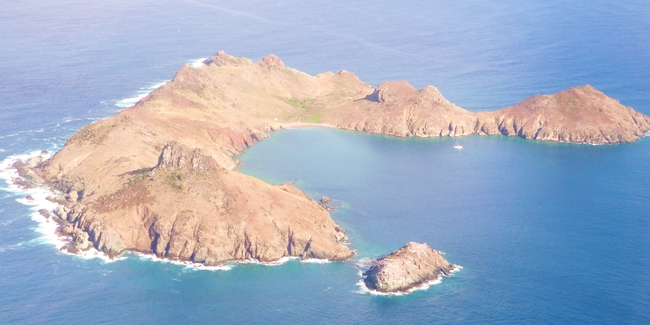 Gustavia
Gustavia, the capital of Barthelemy, has plenty to offer in terms of amazing dishes (like French, Italian, and American), spellbinding sceneries and historical landmarks. So it is a perfect point to stop by on your way from Ile Fourche. Visiting centuries-old historical landmarks like Fort Gustav, Fort Karl, and Fort Oscar can particularly be fun and enlightening.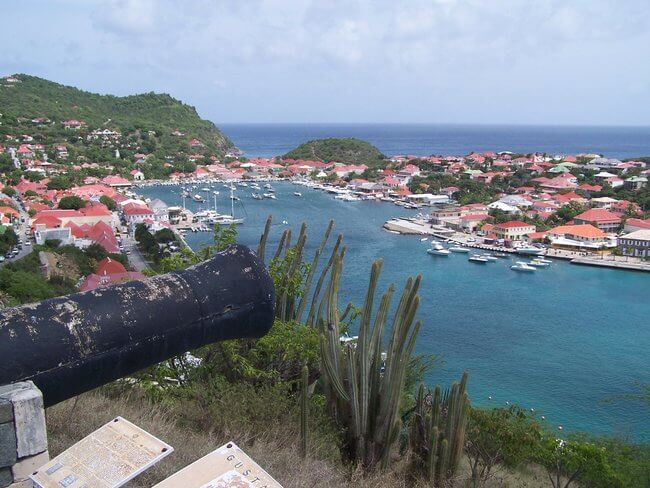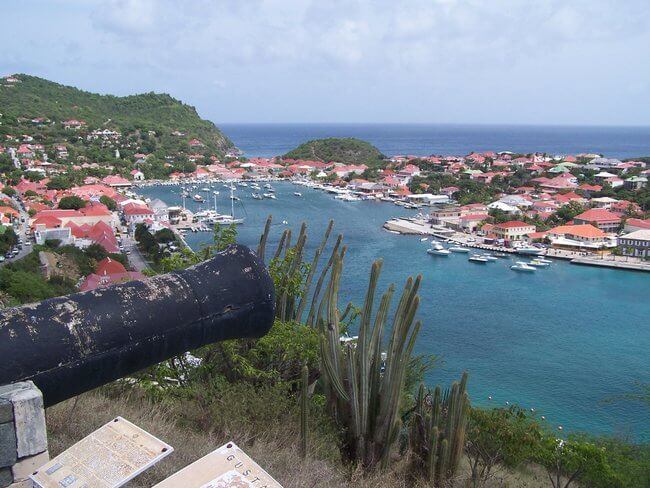 Anse De Colombier
From Gustavia, cruise north along the coast of St. Barths and enter the charmingly welcoming waters of Anse De Colombier. Here, you'll find shallow reefs (forming part of St. Baths Marine Reserve) where you can snorkel with turtles, rays, lobsters, dolphins and more. The beach on Anse De Colombier is secluded and so it can be a rewarding experience if you're a crowd-shy person.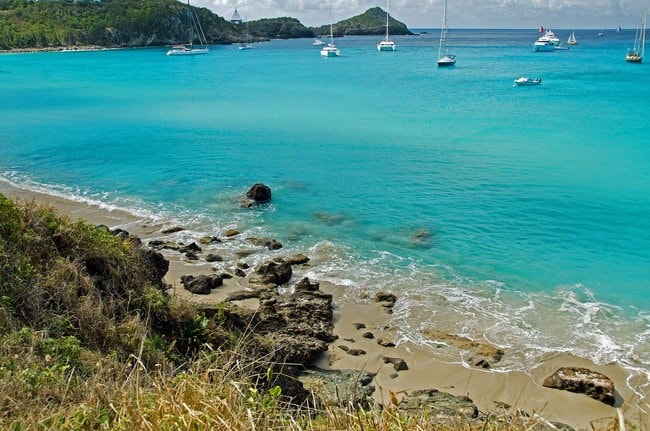 Ile Chevreau
Located between St. Barths and St. Martin, Ile Chevreau is an uninhabited rocky islet with sparse vegetation. Though the islet is not a significant point for travelers, passing by it presents an opportunity to see it in person, as you go past main Saint Barthelemy. You can even spot some birdlife on a good day if you get really close.
Simpson Bay
Your sailing trip in St. Martin can never be complete without dropping anchor in Simpson Bay, one of the largest lagoons there is in West Indies and the larger Caribbean region. Two tiny islands lie within the lagoon: Grand islet to the north and Little Key to the south. The Princess Juliana International Airport is also located a tiny distance from the lagoon's southern shore.
There are innumerable water sports activities you can enjoy in Simpson Bay. Aside from soaking in the romantic atmosphere, you can get engrossed in the view of Saba Island (looks like a volcano mountain) that's visible from a distance. There are multiple resorts, restaurants, and casinos close to the bay that can be worth visiting.
Be sure to collect a few mementos in one of the shopping outlets found in the nearby resorts. Since it is your last day, you'll need to have as much fun as you can and create lasting memories.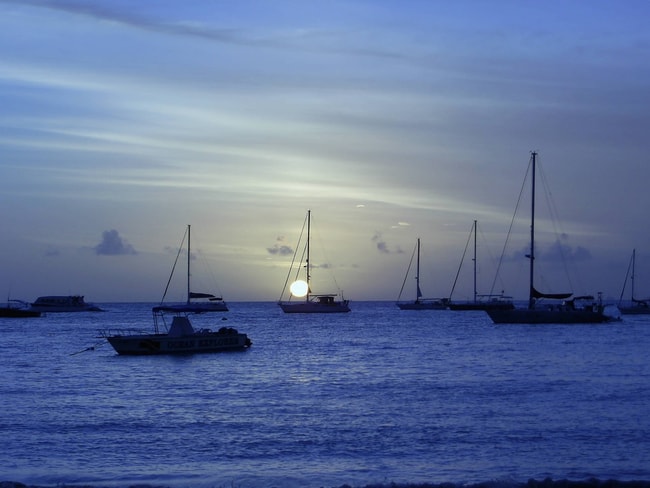 ---
Should You Hire A Skipper?
Well, if you are an experienced sailor, you can gladly take the helm and be in charge of the entire St. Martin sailing experience. But if you have little or no sailing experience or would simply want to lay back and completely get immersed in the holiday mood, then hiring a skipper can be a bright idea.
---
St Martin Bareboat Charter Price
Getting There
If you're from the US, you can take a direct flight to Princess Juliana International Airport, from major cities like Miami, Philadelphia, Chicago and New York. From Canada, you can also connect directly to the airport from Montreal, Vancouver, Toronto, and Halifax.
From Europe, the best way to travel would be to fly to Paris or Amsterdam and then fly to Princess Juliana Airport directly. If your first point of the visit is the French side of St. Martin and you're traveling from somewhere within the Caribbean, then you can take a small charter flight to Grand Case Airport.
---
Tips to Consider
-Bring your own meat and beverages, groceries are more expensive In St Martin
-Consider shopping for souvenirs in Grande Case and Gustavia. There are a variety of items to choose from here and the best bargains are guaranteed too.
-Be sure to stop to get water on the road. This will ensure you have enough water for drinking and taking showers daily.
-Bring hiking shoes with you. A good pair will make hiking on the hills and/or beaches comfortable and they'll protect your feet from harm too.
---
Conclusion
Now that you have all the info about the best spots in St. Martin to visit, fun things to do there and tips on how to go about bareboating, you can proceed to plan your sailing tour in a hassle-free manner. Just be sure to book your desired vessel on time and have a checklist of all the items you need in order to have a convenient cruising trip on the island. You sure are guaranteed of having a great and memorable time on this side of the Caribbean!
Have you bareboating in St Martin? If so, feel free to share your experiences in the comments below.
Daniella has been passionate about travel, the sea, and nature for many years. As a child, she frequently traveled throughout the Mediterranean and continued with her journeys throughout her adult life.
Her experiences have created the desire within her to share her love for traveling with other passionate and adventurers who want to discover beautiful horizons and new cultures.