Beneteau Oceanis 38 is a 38-foot performance cruiser that shares much of the good angular looks with the rest of Oceanis series. But its interior design breaks new ground and presents a living space like no other. The Oceanis 38's construction is simply one-of-a-kind. From the hard chines (flowing from well forward to aft) to the considerable beam and twin wheels through to the fiberglass arch laid over the companionway, the vessel's physical appearance is adorable, to say the least.
Beneteau 38 Sailboat is the epitome of comfort, luxury and unique cruising at sea. So any money spent in chartering the vessel would be worth it in the long run. But do you know what to expect in the boat in terms of exterior & exterior design, onboard amenities, and overall performance? Let's find out!
Accommodation
The Beneteau 38 comes with 2 to 3 cabins that can house up to 6 guests, quite comfortably. There's one head in the two cabin layout with the extra space from aft to board utilized as a stand-up shower. It's a sizable room that can serve as a storage area or wet locker.
With the 3-cabin layout, the shower is in a small compartment, towards the port, otherwise appointed a hanging locker. There are Queen Size beds in these cabins, something that makes sleeping both comfortable and relaxing. All the cabins' interior comes with a 6ft 5-inch headroom and includes removable forward bulkhead.
Interior
Beneteau 38's interior is not only appealing but also highly configurable, allowing you to organize the interior spaces and the woodwork ambiances to suit your needs. The boat simply offers three options when it comes to re-organizing life on board the boat: the Daysailer, the Weekender, and the Cruise.
The Daysailer does away with the interior bulkheads, leaving space for a single room. This arrangement also proffers more aft space for storage and an open cockpit. The weekender version, on the other hand, offers a sophisticated yet appealing choice of layout. It includes open or closed cabins, in-line galley (with fridge, 2-burner stove, and oven), separate shower, helmsman's seats, extra inside/outside table and more.
The Cruiser option of the Oceanic 38 features a large galley facing the saloon plus a bathroom with a separate shower. You also have the option of choosing between 2 or 3 fitted cabins. In this layout, the bulkhead can be taken off from the fore cabin to restore that lost feeling.
Exterior
The boat comes with twin helms opening up the middle of the cockpit. There's also convenient access from the companionway going all the way aft, where the vessel's hinged transom connects to the swim platform. Oceanis 38 comes with side decks that are fitted with handholds, making the process of maneuvering around safe and easy.
The Cruiser and Weekender versions usually come with a mainsheet arch placed over the cockpit together with a drop-leaf cockpit table. This sets up a perfect spot for entertainment, especially if you're much into sundowners.
Ocean 38 boasts of Z-Spars deck-stepped mast that lies aft and placed right at the center of the keel. This creates a slightly larger fore-triangle which ensures more sailing power. A larger part of the deck hardware, including the primary and cabin top winches, is made of Harken. And when it comes to navigation equipment, it is an all B&G affair.
Entertainment
There's never a dull moment aboard the Oceanis 38, all thanks to the saloon Stereo and LCD TV, cockpit loudspeakers, CD and DVD players and internet Wi-Fi. With all these entertainment equipment and facilities, you can enjoy listening to soothing music, watching your favorite movies on TV or surfing the internet, after a rather exciting day at sea.
---
Performance
Under sail, Beneteau can hit up to 3.8 knots when the wind blows at a steady speed of 7 knots. And with a displacement of just under 15,000 lbs, picking up its skirts and moving forward isn't a big deal. If you can be lucky enough to come across strong winds to blow through the jib and make the mainsail battened, powering the vessel will be quite effortless and sailing experience joyous.
When cruising under power, you can enjoy both stability and swiftness as you move along. With a 30 hp Yanmar saildrive engine, Oceanis 38 can comfortably cruise at 7.1 knots or so at 2,700 rpm. The boat's twin rudders are also well positioned, so backing straight and turning is both swift and precise.
Where Does Beneteau 38 Sail?
The 38 is fit to sail literally anywhere in the world. But for this specific vessel, you'll find it in the Bahamas, Florida, and Cuba, both in winter and summer. The preferred pick-up point for the boat is Miami Beach.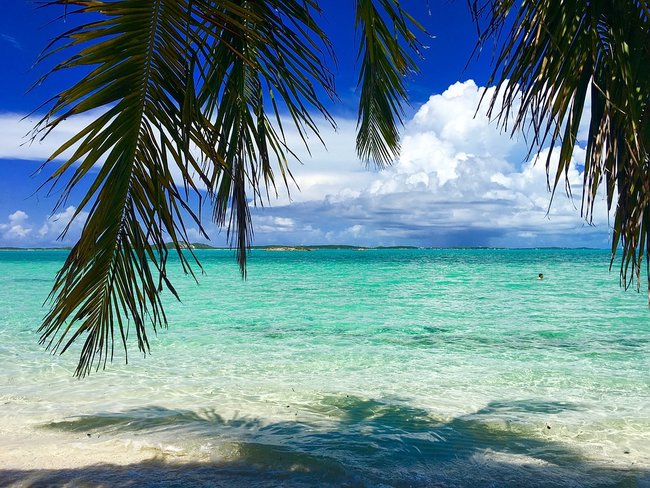 Why Charter Beneteau Oceanis 38?
The Oceanis 38 is, first and foremost, a sailboat which means you have the option of sailing the traditional way or cruising at relatively high speed in a modern fashion.
Another exciting feature about this boat is that its interior can be customized greatly to suit your travel needs i.e. erecting bulkheads to partition the sleeping space for you and the kids or get rid of the bulkheads to create more space for you and your partner.
Just like any other modern sailboat out there, the 38 proffers numerous opportunities to explore the numerous dreamy coastlines, the seemingly endless waters and the countless adventures that come with them. So chartering this vessel sets you up for a fun, relaxing and memorable holiday to your coveted islands.
---
Conclusion
This is much there's to know about Beneteau 38. As you've seen, its exterior is gorgeous, its interior highly changeable and engrossing while its performance top notch. So if you've been scouting for a good sailboat to charter for your upcoming holiday vacation, either solo or with family or friends, this would be a recommendation for you.
For more information on the Beneteau 38 contact:
Boatbookings.com
USA +1 954 892 5009
Email: charter@boatbookings.com
---
Specifications
Type: Sail
Beam: 13.1 Feet
Draft: 6.10 Feet
YearBuilt: 2017
Builder: Beneteau
---
Contact the broker for the Beneteau 38 charter:
Boatbookings

The information you enter in the form will be sent directly to Boatbookings yacht broker. We don't share your information with any other person. For more details, please see our Privacy Policy.
Have you already sailed the Beneteau 38? If so, you are welcome to share your experience in the comments below.
Daniella has been passionate about travel, the sea, and nature for many years. As a child, she frequently traveled throughout the Mediterranean and continued with her journeys throughout her adult life.
Her experiences have created the desire within her to share her love for traveling with other passionate and adventurers who want to discover beautiful horizons and new cultures.