Did you know that a pair of shorts can ruin the fun of your boat trip? Yes… But Why? Well, it's pretty simple, and I am sure you know the answer, but I'll tell you anyway.
If your short isn't stretchable, you won't be able to move freely, and if there aren't enough pockets, you won't be able to keep your stuff safe. Also, If it's not breathable enough, you'll sweat in them, and if it doesn't dry fast, you'll be wet all day.

All these little things can be very annoying when boating. So you may consider getting the right pair of shorts before you get out at sea because it will be difficult to go back home to change shorts when you are in the middle of your excursion. So here is a list of the best boat shorts and a buying guide to help you find a pair that meets all your needs.
This post contains affiliate links. If you use these links to buy something, we may earn a commission. Thanks."
---
---
1. Columbia Backcast III Water Short
Average Rank: 4.7 out of 5 
Usually, when I review products, I always find negative comments. But about the Columbia, I barely found any, and this is very unusual, I must say. Without exaggerating, this short will astonish you no matter where you go and what you do.
Whether boating, fishing, swimming, going to the restaurant, or even the grocery, it ticks all the boxes. It's made of 100% quick-drying nylon. This material is super lighweight and dries incredibly fast! This is the kind of short that, even if it gets dripping wet, becomes bone dry in no time.
It also has a built-in UPF 50 material that blocks the UVA and UVB rays, providing good protection against the sun. Another great feature of the Columbia shorts is their breathable mesh lining, which offers good support and gives you the sensation of wearing underwear.
While many people found the mesh lining very comfortable, some didn't like it and cut it out to wear a boxer instead. So if you don't like mesh lining or don't want to get rid of it, the Columbia may not be the right choice for you. The waist is elastic, and there is a drawstring and a belt loop to help you tighten the shorts and prevent them from falling off when you swim or move around.
Additionally, there are two deep front pockets as well as a small cargo pocket on the side and another zippered pocket at the back to keep small stuff like a phone, keys, ID, etc. This is a lightweight short that falls nicely, even when the pockets are full.
Overall, the Columbia is stylish water short that is not only designed for boating but also for bicycling, walking, and many outdoor activities. It fits great. It dries quickly and has nice pockets. In other words, the Columbia short is truly a winner!
Pros
Dry very quickly.
Extremely breathable
4 Pockets.
Stylish
Comfortable
Cons
Some people didn't like the mesh lining and felt the need to cut it out.
---
Specifications
Sizes: S, M, L, XL, XXL, 1X, 2X, 3X, 4X, 5X, 6X, LT, XLT, 2XLT, 3XLT, 4XLT
Colors: 21
Material: Nylon
Length: 6 and 8 inches
Pockets: 4
---
2. Huk Men's Next-Level Shorts
Average Rank: 4.6 out of 5 
The Huk is a high-quality all-purpose angling short that suits any type of outdoor activity, such as boating, fishing, camping, hiking, surfing, golfing, and you name it. It's made with cotton, polyester, and spandex material, making it breathable, lightweight, and durable. 
What's special about spandex fabric is that it stretches, so you can bend, jump, sit, or whatever without feeling restricted in movement. The waist is elastic, giving you maximum comfort as well. In addition, it has a built-in UPF + 30 in the fabric that blocks the UV rays and protects your skin from the sun.
Another great thing about this short is that it dries super fast, thanks to its breathable polyester material and laser perforation in the rear yoke. One of the users said that his shorts dried so quickly that he could go to the restaurant almost directly after being in the water.
The Huk short is not only stylish and versatile but also practical. It has two rear zippered pockets, two front pockets, and one zippered cargo side pocket to keep all your small stuff safe when boating.
While most users loved those pockets, some found them too small for their liking. Also, many were disappointed about the sizing not being consistent. They said that the shorts made in China fit well, but those made in Bangladesh are too small.
Overall, the Huk has all the qualities boaters, fishermen, and any outdoor lover would ever dream of. It's lightweight, breathable, and durable, and it dries super fast! And if Huk could fix the problem with the sizing, it would be perfect!
Pros
Lightweight
Breathable 
Dries super fast
Durable
Lots of pockets 
cons
Some users found the pockets too small
Many customers reported that the shorts made in Bangladesh fit a lot smaller than those made in China.
---
Specifications
Sizes: S, M, L, XL, XXL, XXXL
Colors: 23
Material: Cotton, Polyester, Spandex
Length: 10.5″
Pockets: 5
---
3. Little Donkey Andy Shorts
Average Rank: 4.3 out of 5 
The Little Donkey Andy Men's is a stylish short built with one goal in mind: to give you maximum comfort and mobility when boating. They are made of high-performance fabrics, polyester, and Spandex, which are exceptionally breathable, lightweight, and flexible.
These will keep you cool and fresh all day long and allow you to move freely in whatever you do. In addition, they dry in no time; thus, you can let them dry on you while strolling on the beach or around town. The problem with most shorts is that they tend to be heavy, hot, and not breathable.
But these shorts are completely the opposite as they repel waters and weak away moisture. In them, you won't sweat, and even if you do, they won't show any sign of sweat. People who live in humid Florida swear by them so much they are agreeable to wear. Based on reviewers, They wash extremely well and don't wrinkle, saving time as there is no need to iron them.
They have a nice elastic waist and include a belt that helps keep the shorts secure. If you are looking for shorts with lots of pockets, you'll be well served with the Little Donkey Andy. They feature two zippered front pockets, two spacious cargo pockets with a hook and loop closure, and two zippered back pockets.
The size chart is pretty accurate, and based on what reviewers say, they fit great. All in all, the Little Donkey Andy has all the features you could possibly rave of. It's stylish, lightweight, breathable, comfortable, flexible, and has plenty of pockets. In other words, the perfect short for boating!
Pros
Lightweight
Breathable
6 Zippered pockets
stretchable
comfortable
Cons
Some reviewers found the belt cheap and useless
several users found the pockets too shallow.
A few customers said that the shorts fall off when carrying a lot of things in their pockets.
---
Specifications
Sizes: S, M, L, XL, XXL, XXXL, XXXXL
Colors: 16
Material: Polyester, Spandex
Inseam Length:  11.00 inches
Pockets: 6
---
4. FREE SOLDIER Shorts 
Average Rank: 4.5 out of 5 
The FREE SOLDIER shorts will blow you away, as they did for thousands of reviewers on Amazon. They have plenty of great features, which I'll walk you through right now. They are made of high-quality nylon and spandex material which is ultralight and very breathable.
So you can rest assured that these shorts will keep you cool and comfortable all the time, whether you are boating, working, hiking, fishing, or backpacking.
Nylon fabric is exceptionally strong. And, even if you wear them for extreme adventure outdoor sports, there is no way these shorts will tear in the middle of your exclusion unless you have chosen the wrong size.
What stands out about these shorts is that they have a built-in Dupont Teflon fabric protector that repels water stains and liquids, which prevents your shorts from getting dirty. They also feature UPF 50+ sun protection that blocks UVA and UVB rays, providing excellent protection to the skin.
The FREE SOLDIER comes with a removable nylon belt, which enables you to adjust the length and keep the short fit. Honestly, people found it a little difficult to get the belt back into the continuous waistband after taking it out. The belt is practically the only feature users find useless.
These shorts have a YKK zipper closure, and there is a Duraflex D-ring attached to the waist to hang keys or a cord or chain. The pockets on these shorts are spacious and deep, and the great thing is that they are lined with a Coolmax mesh that allows air to circulate through the shorts, keeping you cool in the summer.
There are two roomy pockets at the front, plus two giant bellow pockets with YKK zippers and another two extra pockets with Velcro flaps at the back. Apart from one user who found them a little shallow, people were impressed with the amount of space those pockets provide.
They are stylish and come in many colors that easily match other colors. To sum it up, the Free Soldier Cargo shorts look great and are extremely durable. Also, They fit true to size, the features are fantastic, and the price is great. 
Pros
Stain and water-resistant.
Breathable
Quick-drying
Flexible
Durable
Cons
Some reviewers found it difficult to get the belt in and out of the waistband.
A few users reported that the metal buckle on the belt is cheap.
---
Specifications
Sizes: 30W x 10L, 30W x 12L, 32W x 10L, 32W x 12L, 34, 34W x 9L, 34W x 10L, 34W x 12L, 36W x 10L, 36W x 12L, 38W x 10L, 38W x 12L, 40W x 10L, 40W x 12L, 42W x 10L, 42W x 12L
Colors: 7
Material: Nylon, Spandex
Inseam Length:  10 and 12 inches
Pockets: 6
---
BEST RATED
5. Columbia Brewha II Short
Average Rank: 4.6 out of 5 
This is another great short of Colombia brand that suits any type of outdoor activity such as fishing, boating, camping, hiking, and many more. But this one is a little different than the boat shorts listed above.
The PSG Brewha II short is made of soft craft cotton material that provides a soft feeling on the skin, keeping you comfortable all day. Since cotton is highly breathable and comfortable, you'll remain cool, even in the hottest weather. In addition, the Brewha II Short features an Omni-Shade UPF 50 that blocks UVA and UVB rays, which protects your skin from the sun.
Know that the length of these trunks is cut pretty short. This is great as it allows you to stretch your legs comfortably. In addition, it features a partial elastic waist at the back that embraces the shape of your tummy. This allows you to sit or bend easily and comfortably without the short sliding down.
People love the pockets on these shorts. They found them practical for storing their iPhones, IDs, and other small items. The right front pocket closes with Velcro and has a loop handle to attach keys or a cord. The rear pocket is zippered, and there is another pocket on the right hip that suits smartphones.
This well-designed short fits like a charm and provides excellent mobility. And not to mention that it comes in many beautiful colors.
Pros
Soft on the skin
Breathable
Smartly designed
Lots of roomy velcro pockets
D-ring
Cons
Several users found the material thinner and of lower quality than the previous model.
A few reviewers said the pockets used to be deeper on the previous model.
---
Specifications
Sizes: S, M, L, XL, XXL
Colors: 6
Material: Cotton
Inseam Length:  7″
Pockets: 6
---
6. XKTTAC Shorts
Average Rank: 4.6 out of 5 
If you're looking for a practical pair of shorts that stretch, dry quickly, and last, the XKTTAC will meet your expectations. These are made of polyester, which is tear and abrasion-resistant, making them highly durable.
Some people were worried that the fabric would be too thick and heavy, but they were happily surprised to see how light and breathable it was. In addition, these shorts offer superb mobility, thanks to their 4-way stretch material spandex and pieces of black elastic strips between the legs. With these shorts, you can do any movement you want – bending, squatting, and stretching without any issues.
The XKTTAC also has a built-in UPF 50+ to protect your skin from UV rays. And in addition to this, the material repels water and stains. They feature an Elastic band in the waist and adjustable velcro straps on the sides, allowing you to tighten and loosen the waist.
The loops are wide on these shorts, enabling you to pass your belt easily. The button is a metal snap style combined with Velcro, adding extra durability and support. They have 6 deep pockets with YKK zippers to secure all the small stuff you need to carry along the way.
Two front pockets, two big cargo pockets with two horizontal zippered pockets, and two extra vertical zippered pockets. And to top it all, they have reflective stripes that enhance visibility at night, allowing you to be seen in the dark easily.
The XKTTAC is a stylish short that will keep you cool and comfortable no matter what activity you do. They come in many different sizes, and if you follow the chart correctly, you'll get the right fit. People were impressed with these shorts. They only wished there were back pockets.
Pros
Lightweight
plenty of deep pockets with KK zippers
stretchy, allowing an excellent range of movement.
Stylish
dry quickly.
Cons
Some users wished the shorts had back pockets.
A few reviewers said that the button broke. After several weeks of use
---
Specifications
Sizes: S, M, XL, XXL, XXXL
Colors: 6
Material: Polyester, Spandex
Inseam Length:  11.8 and 12.8 inches
Pockets: 6
UVA & UVB Protection: UPF 50+
---
TOP PICK
7. BIMINI BAY Boca Grande II Short
Average Rank: 4.8 out of 5 
The BIMINI BAY OUTFITTERS is the type of short that once you put them on, you will never want to wear another short. As you can see above, Bimini Bay Outfitters received the highest rating. 4.8 out of five stars from thousands of reviewers on Amazon, and there are good reasons for that.
These are the perfect shorts for boating, swimming, fishing, and whatever water sports, as they dry super fast and are incredibly lightweight thanks to their Cool Tek Quick Dry Nylon material.
One of the best features of these shorts is the exclusive blood guard technology integrated into the fiber of the fabric, making them stain and water-resistant. Plus, they are UPF-rated, providing protection against UV rays.
The side elastic band in the waist stretches out when you sit down and resize back when you get up, enhancing comfort. The best part is that Bimini Bay has plenty of pockets to store your stuff while on the go – two large front pockets with Piggyback Pull-Tab statistics to secure your items so that nothing falls out when on the move.
Inside the right front pocket, there is another small pocket. Below are two large cargo pockets with Velcro and flaps, and on top of them, two extra small pockets to store your watch. And At the back, two big pockets with flaps. In total, 9 Deep pockets. That's quite a lot!
All the pockets except the front ones have holes to drain water, preventing the shorts from getting heavy when soaked. This short doesn't come with a belt but features large straps in the waist to insert your own belt with minimum effort.
To wrap it up, they fit great; they come in beautiful colors, and most importantly, they are comfortable and have plenty of pockets. What more could you ask for?
Pros
9 handy pockets
Dry quickly
Lightweight
Repel water and stains
Durable
Cons
One user said the color description is not accurate.
One customer reported that it requires effort to open the velcro pockets.
---
Specifications
Sizes: 30, 32, 34, 36, 38, 40, 42, 44
Colors: 8
Material: Nylon
Inseam Length: 7 1/2′
Pockets: 9
UVA & UVB Protection: UPF Rated 
---
8. Jessie Kidden Shorts
Average Rank: 4.3 out of 5 
The Jessie Kidden is a versatile pair of shorts made for boating, fishing, surfing, hiking, and even biking, as they dry quickly and are super comfortable.
They are made of highly breathable polyester material, which keeps you well-aerated during the summer. Also, there is Spandex in the fabric, providing plenty of stretches and giving you maximum freedom of movement.
Reviewers found the fabric pretty thin on this short, but they appreciated it as it kept them cool in high heat. They feature an Omni-Wick technology that helps repel water and moisture effectively. In addition, it includes a built-in UPF rating of 50+ that blocks the UV rays to protect your skin from the UV rays. 
There is a partial elastic band at the back that embraces the contour of the body shape. While the belt that comes with the shorts is handy to tighten and hold up the shorts, some found it flimsy and too long.
The Jessy Kidden shorts have six pockets. Two slash side pockets, and the left one has an internal coin pocket to carry small stuff like ID and keys. In addition, there are two cargo pockets with Velcro on the front and two velcro pockets at the back to keep your wallet secure.
Something worth mentioning, though, is that the legs are a little wide and long on these shorts. So if you prefer a more tailored look and shorter cut, these may not be for you. 
Overall, the Jessy Kidden is an excellent pair of shorts that does exactly what it is supposed to do. Keep you cool, dry, and comfortable whether you boat, fish, hike, or bike!
Pros
Breathable
Water and moisture-resistant
Stretchy material
Lightweight
Very comfortable
Cons
A few users said the pockets are a bit shallow.
Some users found the belt too long and the loops too narrow to put it through them.
Several customers found the legs too wide and long for their liking.
---
Specifications
Sizes: 29,30,32,34,36,38.40,42
Colors: 9
Material: Polyester, Spandex
Inseam Length:  7.4 inches
Pockets: 6
---
9. Hiauspor Cargo Shorts
Average Rank: 4.5 out of 5 
The Hiauspor Cargo is a quick-dry athletic short that suits any outdoor activity; thus, you can wear them for boating, fishing, camping, golfing, and even bicycling. They are made of polyester, spandex, and PVC material. This premium fabric breathes and repels water exceptionally well. This means you won't sweat in them, and you will always remain cool in the summer.
Users loved the amount of stretches they provided, as well as the elastic band in the waist. They found it easy to move around and felt very comfortable in them. Another feature reviewers raved about was the Velcro belt loop in the waist because it enabled them to tighten and loosen the waist easily. 
If you need shorts with secure pockets to keep all your stuff safe while enjoying your activity, the Hiauspor Men's Cargo is your best bet. It features five deep and spacious pockets with YKK zippers that seal like a charm! So you can be sure that nothing will fall out of them.
There is one slash pocket on the right side and two pockets on the left leg. Plus, Two cargo pockets. They have no back pockets, though, which can be a plus for some and a minus for others, depending on the preferences. Like the other shorts listed above, it has a built-in UPF 50+ to protect the skin from the sun. 
Although the Hiauspor is made for hiking, many wear them for boating because they have all the features to keep you cool and comfortable all day!
Pros
Lots of spacious pockets with YKK zippers
Breathable
Super comfortable
Stretchy
Water-resistant
Cons
Some users found it a shame that there are no back pockets.
A reviewer didn't like the position of the pockets.
Several customers wished they had more belt loops.
---
Specifications
Sizes: S, M, L, XL, XXL, XXXL
Colors: 7
Material: Polyester, Spandex
Inseam Length:  11.00 inches
Pockets: 5
---
10. AFTCO Original Fishing Short
Average Rank: 4.8 out of 5 from
The AFTCO is a classic pair of fishing shorts, which have something special other fishing shorts don't have – a Dupont Supplex 3-ply nylon fabric treated with a stain-resistant coating and includes a built-in UPF 50+.
This premium material not only repels stains and water but also blocks the wind and 98% of the sun's harmful UV rays. These shorts are sturdy, supple, and durable. In other words, the perfect shorts for anglers! With these, you'll be able to catch your fish and haul it out of the water without feeling restricted, as they offer an excellent range of movement.
It can sound a little exaggerated, but these are among the best shorts you can find for fishing and boating. The Elastic band in the waist provides a comfortable fit and gives plenty of stretches for you to sit comfortably without being compressed, even after eating a big meal.
Since they fit exceptionally well, it's not necessary to wear a belt unless you want to. However, if you plan to wear a belt, you'll be able to do so without any problem, thanks to the large loops on the waist.
The pockets are deep and spacious on the AFTCO, allowing you to store all the little stuff easily. In total, there are 7 buttoned pockets – Two front pockets. Two cargo pockets with a Cordura-lined pliers pocket to hold your knife. And two extra pockets at the rear for the wallet. Oh, and on the left pocket is the AFTCO logo, which adds a nice touch!
Be aware that the legs are slightly wide compared to the other models listed above but fall nicely and give a nice look. To sum it up, the AFTCO shorts will get you hooked once you wear them. They hold to hard wear; they are lightweight, breathable, and last forever. Yes, they are expensive, but worth every single penny!
Pros
Breathable
Lightweight
Durable
Water and stain-resistant
Plenty of deep pockets
Cons
One user found the pockets too deep.
A few reviewers said they were expensive but worth the price.
---
Specifications
Sizes: 22, 24. 26. 28. 30. 32. 34, 36, 38, 40, 42,44,46
Colors: 16
Material: Nylon
Inseam Length:  6″
Pockets: 7
UVA & UVB Protection: UPF 50+
---
Boat Shorts Buying Guide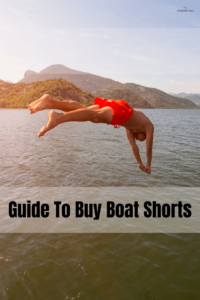 When choosing a pair of shorts for boating, you need to know what to look for, as there are many types of fabrics and features that would make it difficult to find one that meets your needs. With this practical guide, you'll be able to make the right decision and get the perfect boat shorts for your next trip on the water.
Material
When looking for boat shorts, there are a few things you need to consider: Comfort, Breathability, quick drying, and durability. If you can find all these characteristics, you'll have a comfortable and enjoyable trip on the water.
Most boat shorts are either made of nylon, polyester, or cotton. And the thing is that every material offers different features. For example, nylon and polyester are highly durable, lightweight, and stretchy. However, nylon is more robust and softer than polyester, but polyester is more water-resistant.
Likewise, cotton is more breathable than nylon and polyester but dries slower and is less durable than nylon and polyester.
So, what is the best material for boat shorts?
And the answer is it depends on your preferences and the type of activity you'll be doing.
For instance, let's say you go fishing. You must move freely without fear your shorts will tear when you bend over to catch your fish. Right? So, You need shorts that stretch well and resist tears. For this, nylon would be your best bet.
On the other hand, if you go boating and plan to go on land or hiking right after the trip, you'll need quick-drying shorts. So, polyester or nylon would be a great choice. However, if it's for a partial day boating in a climate-controlled environment and you want shorts super comfortable and breathable, cotton will be perfect for that.
But be aware that cotton absorbs moisture and water. So, if you tend to sweat a lot, stay away from cotton material.
Spandex
Spandex is a stretchy synthetic fabric, which is often blended with other materials to make the short flexible. Most boat shorts have Spandex today. So you won't have any problem finding stretchable shorts for your trip on the water, at least here.
UPF Rating
Many manufacturers treat fabrics with a UPF rating to add protection against the sun. The higher the rating, the higher the protection it offers. UPF 50 + is the highest UPF rating you can find. The HUK is the only short on the list with a UPF 30, which also offers a good level of sun protection. The other brands have a UPF of 50+.
Model
The model is a feature not to overlook, and you should pay attention to it when choosing your shorts.
Some have straight leg openings, and others have large leg openings. If you have thin legs and choose a pair of shorts with huge openings, you will look like you are wearing a skirt or a parachute. On the other hand, the wide model opening will fit better if you have big legs.
Belt
A belt can come in handy to adjust the size of the shorts if needed. However, you want to ensure that the belt is nylon for maximum durability and that the buckle is strong enough to secure the belt easily without fear of breaking it.
Metal is solid, but the problem with metal is that it tends to rust with time, especially when it comes in contact with water. Plastic, on the other hand, is less durable, but it doesn't rust and is easier to clean. Some shorts, like the XKTTAC, come with a Velcro side belt, which is very practical as you don't have to bother using a belt.
Loops Belt
It may not look like it, but the straps play a significant role in shorts. If they are too small, it will be difficult for you to insert a belt. So when buying shorts, always check if the straps are wide to allow the belt in and off easily.
Waistband Style
There are various waistband styles. Some shorts come with drawstrings. Some have integrated belts some have an elastic waistband, which sometimes includes a Velcro belt. However, the most preferred shorts among boaters are the ones that have an elastic waist, and the reason for this is that it allows them to sit down or flex with ease. And it doesn't compress the belly after a big meal, which is also a factor to consider when buying boat shorts. Besides, an elastic waist embraces the contour of the tummy, thus providing a perfect fit.
D ring
A D-ring helps attach a cord, rope, or key. Unfortunately, not all shorts come with a D-ring, so you are lucky if you get one because this is a great feature. However, if it's not included, you can get one yourself. D rings are inexpensive and easy to find in stores. Just make sure that the D-ring you choose is strong so it doesn't break when using it.
Pockets
When boating, you want both of your hands-free and have peace of mind to enjoy your trip without worrying about losing your stuff or damaging it. Therefore, you want shorts with lots of spacious and deep pockets with either Velcro or YKK zippers, preferably with flaps for maximum safety. However, when selecting your shorts, make sure they have at least cargo pockets, front pockets, and a plier pocket to hold your knife if you need to cut a rope or something else. Back pockets are helpful, too, but if you sit a lot, you won't need them.
Zippers
The zippers must be high quality because you certainly don't want them to break after the second time you wear the shorts. They should run smoothly. In other words, they need to be easy to manipulate. The best you can find on the market is the YKK zipper. It's solid and durable; thus, this is what you want for your shorts.
Inseam Length
Boat Shorts come in different lengths. Some fall above the knee, some at the knees, and others below the knees. The perfect length will come down to your personal preferences. Those with a shorter cut will give you excellent freedom of movement, which is important when boating as you need a good range of motion. On the other hand, the longer model shorts provide more protection from the sun and wind but restrict leg movement.
Durability
Durability is one of the most critical features because you want your shorts to last for a long time. A matériel that can withstand tears and hold to hard use will enable you to wear your shorts for several seasons.
The seams also play a vital role in the longevity of the shorts. The stitches must have clean-finished edges for maximum strength. Spandex matériel, which is integrated into most outdoor shorts, provides added stretch, increasing durability.
As I mentioned above, polyester and nylon are usually more robust than cotton shorts. However, there are some exceptions. For example, shorts that contain polyester and cotton blend are highly durable, especially when coated with a robust stain-resistant agent.
Versatility
Wouldn't it be great if you could wear your shorts for boating, fishing, hiking, and roaming around town while looking stylish? Of course, Yes! You don't want to bother taking 10 different pairs of shorts for each activity you do. So try to choose versatile shorts that offer great features and look TRENDY!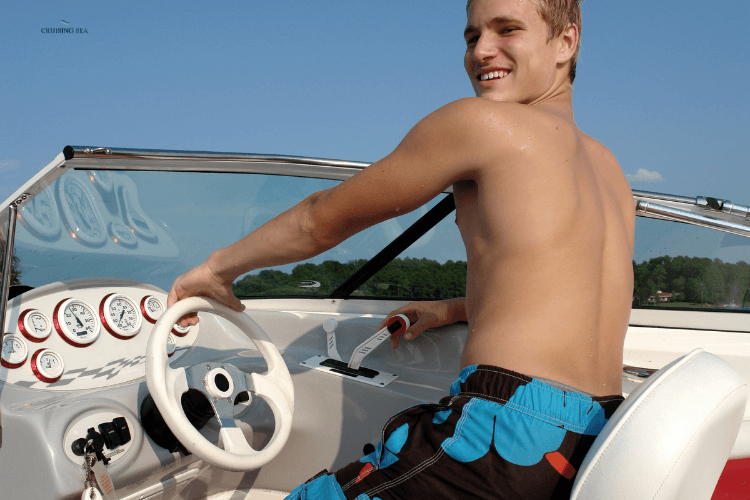 Machine Washable
You want a material that is easy to wash and doesn't wrinkle after washing. It will save you time as you don't have to iron the shorts. Synthetic fabrics like nylon and polyester are wrinkle-resistant. However, cotton absorbs water and tends to wrinkle after the washing cycle. But if cotton is blended with polyester and nylon, there are fewer chances the fabric will wrinkle after washing.
Quick Drying
Shorts get heavy when soaked, and when sand penetrates inside, they become unbearable to wear because the fabric gets sticky and chafes against the skin, which irritates it. Also, if you plan to go shopping or stroll around town after your boat trip, the last thing you want is to feel wet and sticky all day. So quick-drying shorts are what you want. Nylon and polyester dry very quickly, and thus, these are the fabrics you need to look for. Cotton is breathable but absorbs water and takes more time to dry.
Final Words!
Here we go with this list of shorts and a buying guide; you are all set to find a great pair of boat shorts for your next trip on the water. All the shorts listed in this article are of high quality and extremely popular not only among boaters and anglers but also among hikers and campers because they stretch exceptionally well, dry quickly, and are super comfortable to wear. If you choose the right size and model, you can't go wrong.
However, the TOP PICK is the Bimini Bay Boca because of its high-quality Cool Tek Quick Nylon fabric, practical deep pockets, and built-in blood guard technology. They dry in no time, repel water, and are incredibly comfortable.
The BEST RATED is the Columbia Men's Brewha II Short because it dries super fast, fits like a charm, and weighs next to nothing. This short provides excellent airflow and has great pockets.
Which one is Best? This will depend on your preferences. So only You Know!
Daniella has been passionate about travel, the sea, and nature for many years. As a child, she frequently traveled throughout the Mediterranean and continued with her journeys throughout her adult life.
Her experiences have created the desire within her to share her love for traveling with other passionate and adventurers who want to discover beautiful horizons and new cultures.