Are you heading out for a day on the water? Maybe you're embarking on a longer kayaking or canoe trip? Either way, you'll want to keep your belongings dry and protected from the elements. That's where a dry bag comes in handy. But how do you pack a dry bag so that everything stays nice and dry?
What Is A Dry Bag?
This is a common question, especially for first-time users. A dry bag is simply a waterproof bag that you can use to store and transport your belongings. Usually, it has a roll-top closure that you can cinch down, which keeps water from getting inside. It is made of waterproof materials, such as nylon or PVC, and is often used by boaters, kayakers, canoers, and hikers.
The roll-top closure is what makes a dry bag different from other types of waterproof bags, such as Ziploc bags (which are not recommended for long-term use). The closure forms a seal that keeps water out. Dry bags come in a variety of sizes, from small ones that can hold just a few items to large ones that can accommodate all your gear for an extended trip.
---
Why Should You Use A Dry Bag?
Dry bags are essential for keeping your belongings safe and dry while you are out enjoying the great outdoors. Whether you are boating, camping, hiking, or just spending a day at the beach, a dry bag can help protect your valuables from the elements.
Users joke that the term "dry bag" is a misnomer because once you get them wet, they are no longer dry. While this may be true, dry bags are designed to keep your things dry even when they are submerged in water. There is nothing worse than having your electronics or clothes ruined by water, so a dry bag can give you some peace of mind while you are enjoying your time outside.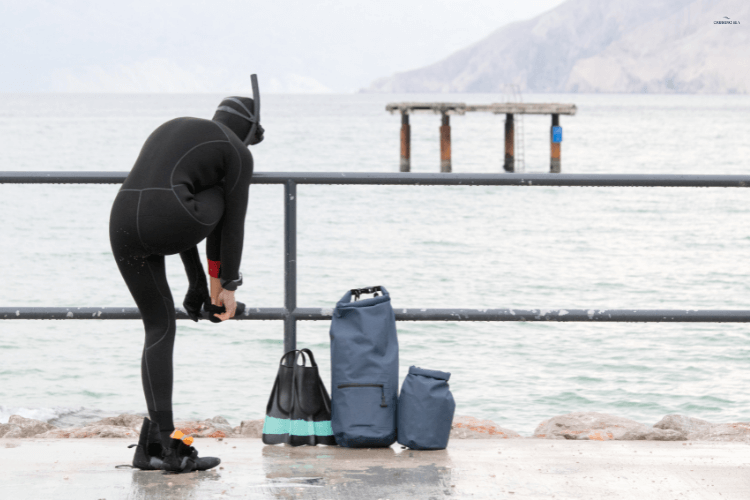 ---
How Do Dry Bags Work?
Dry bags are made from waterproof materials such as PVC or nylon. The seams are sealed with special tape to prevent water from seeping in. Some dry bags also have a watertight closure, such as a roll-top or zip-top, to further keep the contents dry. The roll-top closure forms a seal that prevents water from getting in, even if the bag is submerged.
---
What Material Are Dry Bags Made Of?
As mentioned earlier, dry bags are usually made of waterproof materials. These materials are durable and can withstand being submerged in water. Commonly used materials are vinyl, nylon, and polyurethane.
1. Vinyl
Vinyl is a common material used for dry bags because it is strong and can be sewn easily. It is also affordable. However, vinyl is not as flexible as other materials and can become brittle in cold temperatures. During extreme conditions, vinyl can tear and is not as durable as other materials.
2. Nylon
Nylon is a strong and lightweight material. It is also more flexible than vinyl, making it easier to pack. Sil-nylon, siliconized nylon, is often used for dry bags because it is even more waterproof than regular nylon, and it is also more abrasion-resistant. However, when compared to vinyl, it is not widely used because of its high cost.
3. Polyurethane
Polyurethane is another common material used for dry bags. It is more flexible than nylon and vinyl, making it easy to pack. Polyurethane is also extremely durable and can withstand being submerged in water for long periods. Many users believe that polyurethane dry bags offer the best protection for their belongings.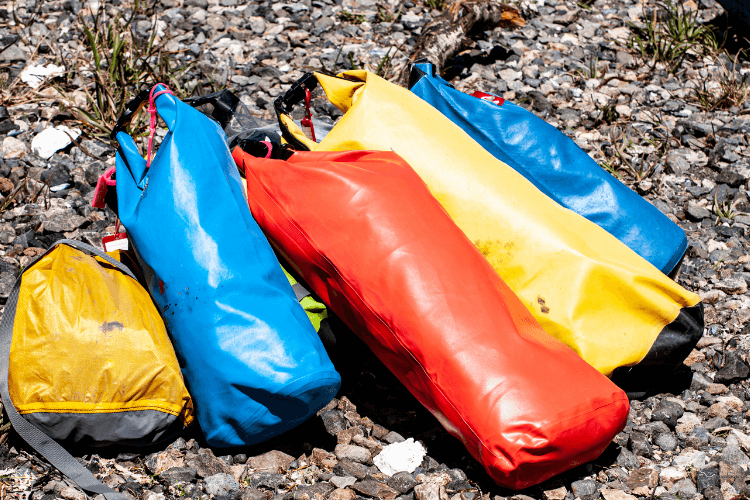 ---
What Types Of Dry Bags Are There?
When going shopping for a dry bag, you will notice that there are several different types. The type of bag you choose will depend on your needs and what you will be using it for. For example, if you are looking for a dry bag for boating or kayaking, you will want one that is specifically designed for that purpose, such as a deck bag or a hatch bag. Consequently, if you are looking for a bag to take on a hiking trip, you will want one that is large enough to hold all your gear, such as a duffle bag.
Dray bags are classified into 3 main categories:
1. Compression dry bags
2. Stuff sacks
3. Duffle bags
All these types vary in size, shape, and closure. Their designs also differ according to their intended use.
1. Compression dry bags:
These are usually smaller in size and have a closure that can be cinched down, compressing the contents inside. They're great for packing light items like clothing and sleeping bags. Under compression bags, there are several types, namely, the barrel bag, the cube bag, and the rectangle bag. The barrel bag is shaped like a cylinder, while the cube bag is, well, shaped like a cube. The rectangle bag is, as you might have guessed, shaped like a rectangle. All these bags vary in size and shape, but they all have one thing in common, and that is their ability to compress the contents inside, making them ideal for packing light items.
2. Stuff sacks:
Stuff sacks are similar to compression bags, but they don't have a closure that can be cinched down. They're usually made of waterproof materials like nylon or polyurethane and have a watertight closure, such as a roll-top. Stuff sacks are great for packing items that you need quick access to, like a sleeping bag or extra clothing. Examples of stuff sacks include the dry sack and the wet/dry bag.
3. Duffle bags:
Duffle bags are the largest type of dry bag. They're big enough to fit all of your gear, plus some extra clothes and shoes. Duffle bags usually have shoulder straps or handles so they can be carried like a suitcase. Many duffle bags also have a waterproof closure, such as a zipper or roll-top.
Duffle bags are great for extended trips where you need to pack a lot of gear. They can also be used as storage bags for your car or home. While duffle bags are the most versatile type of dry bag, they're also the heaviest and most expensive.
---
What Size Of The Dry Bag Should You Use?
When deciding what size of a dry bag to use, first consider the type of activity you'll be doing. If you're boating, kayaking, canoeing, or stand-up paddle boarding, a larger bag is often better so that you have plenty of space for all your gear. If you're hiking or backpacking, a smaller bag may be all you need.
Once you've considered the activity, think about what you'll need to bring with you and how much space you'll need. A good rule of thumb is that a 5-10 liter bag will hold enough gear for a day trip, while a 10-20 liter bag is perfect for an overnight trip. If you're planning a longer expedition, you may need a larger bag.
When choosing a dry bag, it's also important to consider the material. Polyurethane is lightweight and durable but can be more expensive than other materials. PVC is also durable but is not as flexible as polyurethane and can be heavier. Nylon is a good middle ground, offering durability and flexibility at a reasonable price.
Finally, consider the closure system. Roll-top bags are common for outdoor activities because they create a watertight seal. Buckle closures are also popular but can be less secure than roll-tops. Zipper closures are convenient but can be prone to leaks.
Once you've considered all these factors, you should have a good idea of what size and type of dry bag are right for you.
---
How To Pack A Dry Bag
Packing a dry bag may seem like a no-brainer, but there is a right way to do it. To pack your items, separate them into alike items such as clothes, a sleeping bag, and a tarp. Then, fold each item in half lengthwise and roll them up tightly. Starting at the bottom of the dry bag, place the rolled-up items in one at a time.
For this type of packing, you will want to stuff your shoes with other items, such as socks and shirts, to help fill any gaps and prevent them from bouncing around while you are carrying the dry bag. If you have wet clothes, it is best to put them in a separate dry bag to keep everything else dry. Your sleeping bag and tent can be packed together or separately, depending on how much space you have. Lastly, your food and electronics should be packed in last so that they are easily accessible.
---
How To Seal A Dry Bag
Once you have packed all of your gear into the dry bag, it's time to seal it up. The most important part of sealing a dry bag is to make sure that the lip of the bag is free of any debris or moisture. If there is any water or debris on the lip of the bag, it could prevent the seal from forming properly.
To seal the dry bag, you will need to fold the lip of the bag over itself several times. Once the lip is folded over, you will need to press down on it firmly to create a seal. You can then use a clip or a rubber band to keep the folded lip in place.
Once the dry bag is sealed, you can then roll the top of the bag down to create an even tighter seal. Make sure that you roll the bag down as tightly as possible to ensure that no water or air can enter the bag.
---
To Wrap It Up
A dry bag is a must-have item for anyone spending time outdoors, whether you're boating, hiking, camping, kayaking, or even just spending a day at the beach. Packing a dry bag correctly is crucial to keeping your belongings safe and dry while you're out on the water. You'll want to make sure you choose the right size dry bag for your needs and pack it carefully to ensure that everything stays dry. Once you've packed your dry bag, be sure to seal it tightly to keep water and air out.
More articles
Want More Tips?
Subscribe to Cruising Sea newsletter to receive every two-week the latest post straight to your inbox!
Daniella has been passionate about travel, the sea, and nature for many years. As a child, she frequently traveled throughout the Mediterranean and continued with her journeys throughout her adult life.
Her experiences have created the desire within her to share her love for traveling with other passionate and adventurers who want to discover beautiful horizons and new cultures.