As one of the most premier sailing destinations worldwide, the British Virgin Islands has a lot to offer to the visiting yachtsmen. Whether it is turquoise blue sea, enchanting islands, tropical forests, pristine beaches, or near perfect sailing weather, the BVI offers it all.
In fact, there is so much to see and do in the BVI that a lot of people are not sure how to come up with an itinerary that would allow them maximum action in their limited time. In this article, therefore, you would learn all about the best BVI sailing itinerary.
Day 1: Marina Cay
Marina Cay is a small island of only eight acres, fenced by powdery white beaches. Do not, however, be fooled by its size, as Marina Cay promises a big and adventurous start to your vacation. The island sits within a serene lagoon of shallow and calm waters with the just the right temperature for swimming.
Marina Cay is the ideal launching pad from where you can take a day trip to Cistern Point which provides an unrivaled snorkeling and shallow diving experience. From the brilliantly alive corals to a stunning array of fishes, you will get to observe them all from close quarters.
The sloping wall with rocks and boulders are strewn over it provides the perfect hiding place for a lot of creatures of the sea including lobsters and squirrelfish. Spend a relaxing night aboard the yacht in Marina Cay, aware that there's a lot of adventure yet to come.

Day 2: Virgin Gorda
Start early the second morning and sail over to the third largest and second most populous island on the BVI, the Virgin Gorda. Not surprisingly, there are more than a few attractions at Virgin Gorda that will have you spend a fair amount of time on the land.
Firstly, you cannot miss the volcanic relic at the southern end of the island, also known as The Baths. The Baths is essentially an eccentric geologic formation where large boulders of granite are arranged in piles at the beach, forming beautiful cavities leading to the sea.
Northwards, you can head to the popular Virgin Gorda Yacht Harbor, where you will discover a number of restaurants including the ever popular The Bath and Turtle. For those love live music and a festive atmosphere, there is the lively Rendezvous Bar to wind up your second day in paradise.

Day 3: Bitter End Yacht Club
The third day is reserved to discover another little gem of the BVI, the Dog Islands. Named after the barking seals, now, unfortunately, extinct, that inhabited the series of small islands in the Sir Francis Drake Channel.
Now part of a Marine National Park, the Dog Islands provides some of the best snorkeling and diving experience anywhere in the Caribbean. For those keen on water sports, the islands here also provide excellent opportunities for windsurfing.
Later in the day, proceed to the Bitter End Yacht Club to anchor for the night. Here you would discover a lovely open-air theater, the Sand Palace Cinema, to catch a movie, as well as a wonderful dining establishment, the Clubhouse Steak, and Seafood Grille.

Day 4: Anegada
After a filling breakfast at the anchor, sail over to Anegada, the remotest island in all of the BVI. A visit to Anegada is truly nothing like any other, as it is not just remote, but also boasts of its own distinctive flora, fauna, and a thriving indigenous culture. Anegada is a coral island and is known as the third largest coral reef in the entire world.
This distinctive environment means that visiting yachtsmen to Anegada can look forward to some truly exotic wildlife including the graceful Roseate Flamingos, that populate the salt lakes in the western part of the island.
For those who love collecting seashells, head over to the eastern seaboard of the island and lose yourself among some delightful conch shells strewn across the beach. The island is also known for its plentiful catch of lobsters, and no visitor to Anegada should miss enjoying a scrumptious dinner.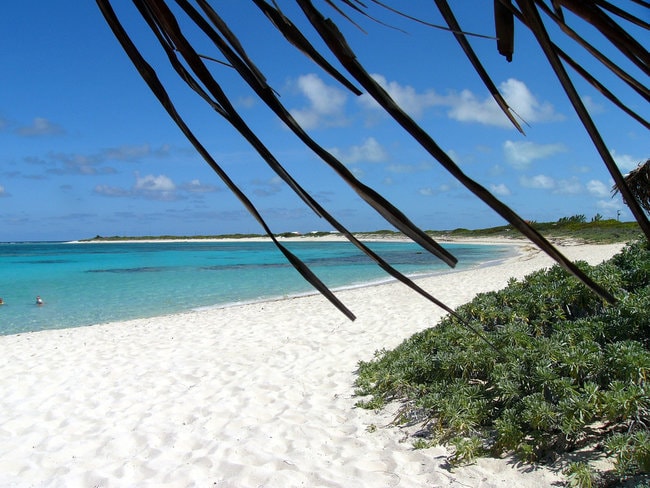 Day 5: Jost Van Dyke
Day 5 would begin with a sail to Jost Van Dyke with a couple of stops over at enchanting uninhabited islands of Green Cay and Sandy Cay.
Green Cay provides exciting snorkeling and diving opportunities where you come face to face with schools of tropical fish including Angelfish, barracudas, snappers, and Glassy Minnows. On to the island, you would come face to face with an intriguing shipwreck of a rather modern appearing vessel.
Sailing further down, there would be another uninhabited island called Sandy Cay. The island literally beckons you out from the sea with its sparkling white sandy beaches, dotted with swaying palms and enticing green foliage. A perfect spot to spend the day snorkeling and sunbathing.

Day 6: Norman Island
As you wake up another day in tropical paradise, enjoy a hearty breakfast and set sail to Norman Island. This island is known for water level caves at the base of its cliffs. These caves not only provide outstanding snorkeling opportunities but if you swim further up, it gets dark and provides a night diving experience.
While the island is practically uninhabited aside from wild goats, visitors can find the best place to eat at a restaurant called pirates located at the Bight. There is also a bar and restaurant running out of an old barge named William Thornton.

Day 7: Peter Island
Day 7 is reserved for a sail to one of the larger island of the BVI called the Peter Island. This island is renowned for its large, sweeping beaches including the Deadman's Bay, consistently ranked as one of the best in all of the Caribbean.
There are four other lovely beaches on this island such as the secluded Honeymoon beach. There are also a lot of eateries and bars on this island with the Tradewind restaurant probably the best place to eat or enjoy a quiet drink.

Tips
1. Be reasonable when it comes to devising your itinerary. Do not plan on visiting 10 different islands if you only have 5 days to sail.
2. As a rule of thumb, allow at least one day for each island you plan to visit.
3. Sailing trips are meant to be a relaxing vacation. Choosing few destinations if you have limited time allows you to relax and enjoy.
4. Plan thoroughly and consult with a sailing company or an experienced sailor about your itinerary. They can give you a good idea if your itinerary is doable.
Conclusion
Many prospective sailors to the Caribbean and the BVI feel that a sailing trip to this region needs a couple of weeks at the minimum. However, this could not be further from the truth. As this article shows, even a week is enough to explore the beautiful BVI in a relaxed manner.
Get Your Free Charter Quote Now
What about you, do you know another BVI itinerary? Please, feel free to share it in the comment below, I'll be glad to hear your feedback:)
Daniella has been passionate about travel, the sea, and nature for many years. As a child, she frequently traveled throughout the Mediterranean and continued with her journeys throughout her adult life.
Her experiences have created the desire within her to share her love for traveling with other passionate and adventurers who want to discover beautiful horizons and new cultures.