When going boating, it's important to wear shoes to protect not only your feet but also your deck. The last thing You want is to slip or knock your foot against the cockpit or something hard onboard and get injured when you are offshore. And marking your deck is not an option!
But when it's burning hot outside, wearing shoes might not be the best option because it will make your feet sweat and get hot, which you don't want. So What's the solution, then?
Going barefoot? Well, sure, you can. After all, it's comfortable, but know that you are putting your precious feet in danger. The best would be to wear a good pair of sandals specially designed for boating.
That way, you'll be able to enjoy your trip on the water without worrying about hurting your feet and marking your deck. There are many types and brands on the market, and if you don't know what features to look for, it could be a little challenging to find the right pair. In this article, you'll find a list of the best sandals for boating in 2023 and a buying guide to help you make the best choice.
This post contains affiliate links. If you use these links to buy something, we may earn a commission. Thanks."
---
---
1. TOP PICK
KEEN Women's Whisper
The Keen Whisper is one of the most comfortable slip-on sandals you can find on the market, and the number of reviews proves it. The midsole is lightweight and well-cushioned, absorbing shocks exceptionally well. These are designed specifically to fit women's feet, meaning they are a little narrower than other Keen models, and the nice thing is that they have added arch support for maximum comfort.
The strap at the back helps you put the sandals on and off quickly. The upper is made of lightweight polyester webbing. This fabric is durable, breathable, and dries extremely fast when wet. Also, they clean easily and are machine washable, which simplifies life.
In addition, they have a soft hydrophobic mesh lining that is agreeable to the skin, preventing chafing, so no blisters. The rubber toe box is roomy and provides excellent protection for your feet when walking on the deck. The straps on the Whisper Sandals are relatively thin compared to other keen sandals, which is a plus as it allows the water to escape easily – no need to bother stopping each time to empty them.
They weigh next to nothing, so you can count on them to keep your feet light all day, regardless of the activity you'll do. Another excellent feature is their rugged non-marking rubber outsole with multidirectional lugs, making them super grippy on flat wet, and dry surfaces. Plus, they don't leave any marks on the deck.
One of the things people really loved about these sandals was the elastic bungee lacing system because it helped them tighten and loosen the fit and slip them on and off with ease. The Whisper is the perfect pair of sandals for boating and any water sport, as they are waterproof, and not to mention, they are comfy, supportive, and beautiful!
Pros
Comfortable
Supportive
Waterproof
Easy to put on and off
Superb traction
Cons
Several people reported that the back strap broke after a few uses.
A few reviewers said the neoprene lining started to loosen its elasticity after wearing them 3 to 4 times.
Some customers said the sizing is inconsistent
---
Specifications
Brand: Keen
Color: 23
Material: Polyester Webbing
Outsole: non-marking rubber
Weight: 8.7 oz / 246.6 g (per sandal)
Warranty: one year
---
TOP RATED
2. KEEN Newport H2 Water Sandals
The KEEN Men's Newport H2 is a pair of water sandals specially designed with one goal in mind – to keep your feet comfortable and stable on your wet deck or any type of flat surface!
The upper is synthetic Webbing, a blend of nylon and polypropylene fabric, which is sturdy and breathable. Manufacturers often use this material to construct horse bridles, pet leashes, and military tents because it's solid and long-lasting.
So you can rest assured the Newport H2 will last for many years! Just to give you an idea, one of the reviewers said that his first pair of Keen lasted about 7 years and is still in good shape today!
In addition, they are PFC- FREE, meaning they have been treated with a friendly water-repellent agent that makes them waterproof without harming your health. Thanks to their quick-dry lining, they take very little time to dry out when wet. People loved that they could go on land after boating, fishing, or hiking through waterfalls. 
The Keen Newport H2 sandals are well-aerated and provide a tonne of ventilation, keeping your feet cool throughout the day. According to most reviewers, the traction on these sandals is excellent.
The rubber outsole has built-in multidirectional lugs with a razor siping pattern that grips the ground firmly and keeps your foot stable on flat wet and dry surfaces. Plus, they don't leave marks, as the outsole is non-marking, which gives you peace of mind when stepping on your beautiful deck.
The toe bumper is sturdy rubber, providing maximum protection against hard objects you may encounter on your boat. Based on users, the toe bumper is wide, but this is something they truly appreciated as it allowed them to spread their fingers comfortably. One of Keen Newport H2's best features is its Compression-molded EVA midsole. It absorbs shocks and molds itself to the shape of your foot, keeping you comfortable all day.
The heel and front straps help you easily sip on and off the sandals. And the Lace-lock bungee capture system is elastic, giving you the option to adjust them and get a perfect fit. 
To wrap it up, so far, more than 19,000 people have bought the Keen Newport H2, which is quite a lot for pairing shoes. So this means they do an excellent job. Yes, they are a bit pricey, but worth every penny because they hold up to any activity you could imagine: boating, fishing, light hiking, camping, and you name it. In addition, they dry fast, keep your feet comfortable while protecting them, and don't mark the deck! 
Pros
Rugged rubber toe bumper
Non-marking and non-slip outsole
Keeps the foot comfortable
Clean and dry easily
Stylish
Cons
Some users said that the rubber sole made their feet sweat.
A few reviewers reported that the stitching ripped off after several uses. 
Several customers found them a little too heavy for swimming.
---
Specifications
Brand: Keen
Color: 24
Material: Polyester Webbing
Outsole: non-marking rubber
Weight: 48.0 oz / 1360 g
Warranty: one year
---
EXCELLENT BUY
3. Crocs Swiftwater Mesh Deck Sandals
The Crocs Swiftwater water sandals have inspired many boaters, even those who were anti-crocs. They have a breathable mesh upper that dries in no time, making them the best shoes for fishing, kayaking, boating, and any watersports you could think of.
In addition, there is an adjustable Velcro strap at the ankle that helps you secure the sandals with ease. The entire sandal is made of Croslite, which is supple and provides maximum cushioning but also resists odors and prevents bacterial and fungal growth.
These also have a large toe box, which gives you ample room to spread your fingers, making them super comfy. The wide ports on the side allow the water to escape quickly, but like all open sandals, they tend to collect pebbles and sand. Fortunately, they are easy to clean. Take them off, shake them a little, and you are good to go!
They feature rubber channeled outsoles that keep you stable on flat wet, and dry floors. Although it's not mentioned they have non-marking soles, many boaters wear them onboard, and they love them.
The Crocs Swiftwater is super lightweight yet durable and so comfortable that you may end up wearing them everywhere, as do many reviewers. In other words, a fantastic versatile pair of deck sandals for boating, water sports, and even land activities.
Pros
Excellent fit
Lightweight
Easy to put on and off
Dry very fast
Breathable
Cons
Some users found the back strap annoying because it kept sliding down their heels.
A few customers reported that the back strap broke after several wears.
---
Specifications
Brand: Crocs
Color: 3
Material: Mesh & Croslite
Outsole: Rubber
Weight: 15.87 oz – 449.9145 g
Warranty:  90-day 
---
4. DREAM PAIRS NEW Adventurous Sandals
Average Rank: 4.4 out of 5 
The dream sandals look similar to keen sandals but are slightly more affordable. So if you are looking for a cheaper alternative to Keen, look no further!
Great price, but the question is, are they as durable as Keen's sandals? Well, so far, they have received 5.5 out of 5600 reviewers, which means that most people are pleased with them.
However, this is the perfect pair of water sandals for fishing, boating, and light hiking. These are extremely comfortable to wear all day everywhere, thanks to their Soft EVA cushioned footbed. In addition, they are incredibly light and dry out fast due to the dry quick Webbing upper.
The vents on the sides allow excellent drainage as well as airflow, keeping your feet cool throughout the day in the summer while providing superior protection and support.
The Velcro strap at the back helps you secure and adjust the sandals and makes it easy to put them on and off. 
The rubber toe box is relatively wide on the Dream Pairs. This can be a plus if you need room to spread your fingers for maximum comfort. But if you have narrow feet, you might find them a little too large for your liking.
The toe bumper is rubber, thus robust, protecting your toeties from getting hurt if you bust them against a hard object on your boat. Nice pull string-type laces for easy adjustment and rubber outsole for maximum grip on flat, wet, and dry floors. Awesome features. Not sure if the outsole is non-marking because it's not mentioned in the product info.
But while reviewing the Dream sandals, I read that a sailor used them on a recent boat trip and said he didn't notice any mark on his fiberglass deck.
To sum it up, the Dream Pairs sandals are comfortable, super breathable, look nice, and the price is fantastic for what you get!
Pros
Top-notch customer support
Comfortable
Dry fast
Breathable
Excellent price
Cons
Some users reported that the velcro strap at the back broke after several wears.
A few reviewers said the plastic at the end of the laces fell off when pulling on the laces.
Several customers found the sole too soft and flexible for hiking on trails or rocks.
---
Specifications
Brand: Dream Pair
Color: 7
Material: Webbing
Outsole: Rubber
Weight: 9 1/2 oz – 269 g
Warranty: 30 days
---
5.Atika Outdoor Sandals
Average Rank: 4.3 out of 5 
The Atika sandals are excellent for water sports, light hiking, kayaking, fishing, and other outdoor activities. But, they might not be the best choice for walking on a beautiful boat deck because they don't have a non-marking outsole, although many boaters swear by them. But if you want to be sure, it would be best to contact the company or try them before.
However, they grip exceptionally well thanks to their multi-direction deep lug design integrated into the rubber outsole. People loved how these sandals kept them safe and stable, not only on their boats but also on land. The upper is nylon, so they dry very fast and clean easily.
Many Users said they let them dry on their feet while walking on land without any issues. These also have an EVA footbed that cushions your feet and keeps them comfortable, even in the water. The Atika sandals have plenty of great features, but one of the best ones is the adjustable High Strength Woven Velcro heel and ankle straps. These let you easily put them on and off or tighten and loosen them to get the perfect fit.
Something worth mentioning, some models don't have Velcro straps at the heel – so pay attention when buying these sandals. They also have a padded Tricot lining and extra padding at the rear to prevent the sandals from chafing against the skin and slipping off your heel, which is a plus when you are in the water.
To sum it up, the Atika is a stylish and comfortable pair of water sandals that provide excellent traction on flat, wet, and dry surfaces, and they are half the price of the Keen sandals, but… may not be as durable.
Pros
Comfortable
Great price.
Dry quickly.
Excellent traction
Provide good cushion
.
Cons
Several people said that the sole separated from the rest of the sandals after two weeks of use.
Some users reported that the stitching creates blisters.
A few reviewers complained that the sole is stiff.
---
Specifications
---
6. Chaco Men's Z2 Sandal
Average Rank: 4.5 out of 5 
The Chaco Z2 will quickly become your go-to sandals for boating and outdoor activities because they are incredibly comfortable and durable. However, getting used to their toe-wrapping strap design can take a little time, especially if you have never worn these types of sandals before. But if you stick to them, as many reviewers did, you'll get hooked!
These sandals feature a doubles-strapped polyester Jacquard Webbing upper, which is exceptionally breathable and long-lasting. In them, you can boat, hike through Rivers, bike, walk around towns, or do whatever activity you want without fear they will break. These sandals will never let you down! Unless you get a defective pair of sandals.
But even though this happens, you don't have to worry as Chaco provides excellent customer service and treats their clients like kings.
The straps on Chaco sandals are, in fact, one strap that wraps around the big toe and through the midsole, which tightens as you wear them, stabilizing the entire foot. As indicated in the instructions, you need to pull the strap until it becomes flat on your feet to get a nice fit, and then secure it with the rugged plastic buckle on the side, and Voila!
The Chaco Z2 is structured to provide all the support and comfort your feet need standing all day without tiring them, thanks to its podiatrist-certified LUVSEAT PU footbed. The sole is thick and not too flexible, providing maximum support on hard floors.
Also, the footbed is grippy, which prevents your foot from slipping around when the sandals are wet. The outsole is rubber, and the lugs are 3.5mm in depth, meaning they deliver excellent traction on flat dry, and wet surfaces and on light hiking terrains.
With such a grippy outsole, you can walk confidently on your deck without fear of slipping. Plus, they are non-marking, so they don't scuff. Oh, YES, one more thing: they are also stylish, which is something not to overlook!
Pros
Comfortable
Supportive
Durable
Excellent traction on wet and dry surfaces
Don't leave any mark
Cons
Some customers say the outsole doesn't have good traction on wet rocks, mud, and slopes.
A few users reported that the toe strap and footbed felt weird at first, but after wearing them for several days, they became very comfortable.
Several reviewers found the strap system annoying and too rough on the skin.
---
Specifications
Brand: Chaco
Color: 5
Material: Polyester Jacquard Webbing
Outsole: Rubber
Weight: 16 oz – 453.59g
Warranty: No Info
---
7. Teva Omnium Sandal
Average Rank: 4.2 out of 5 
The Teva Omnium Sandals are easy to fall in love with as they have all the features to make your feet happy. The closed-toe box is made with grosgrain webbing, which is highly durable, and there is a lot of space inside to allow your finger to spread comfortably. So if you have wide feet, you'll love them even more as they won't compress your toeties.
Thanks to The synthetic upper and mesh lining, they dry very fast. Plus, their drainage ports allow water to escape and the air to circulate easily, keeping your feet cool and preventing them from swelling in high heat.
These sandals are fantastic for standing long hours without tiring your feet, thanks to their ShocPad technology and molded EVA foam midsole. They absorb shocks incredibly well and thus give your feet maximum comfort and support all day. Another great feature is the non-marking spider rubber outsole. It provides a fantastic grip on wet and dry flat floors and doesn't leave any marks.
The closure system on these sandals is smartly designed. It features a velcro heel strap, an ankle quick-release buckled strap, and a bungee lacing system, allowing you to adjust the fit and easily slip them on and off.
To summarize, the Teva Omnium is a fantastic pair of sandals ideal for boating, kayaking, fishing, beach walking, light hiking, and all kinds of water sports. And not only are they comfortable and supportive, but also durable. If there were more color options, they would have been perfect!
Pros
Comfortable
Breathable
Supportive
Excellent traction on wet and dry terrains
Absorbs shocks
Cons
Some users reported that the backstrap causes blisters in the heel.
A few customers found them hard to put on and off.
Several people found them too stiff.
---
Specifications
Brand: Teva
Color: 2
Material: Suede leather
Outsole:  Non-marking Spider Rubber outsole
Weight:11.2oz – 317. 514gr
Warranty: No info
---
8. Columbia Santiam 2 Strap Sandal
Average Rank: 4.5 out of 5 
The Columbia Santiam 2 Strap is a versatile sandal that you can wear practically everywhere, whether on your boat, on light trails, on the beach, or in the water, without fear of slipping, thanks to its Omni-GRIP rubber wet outsole. Plus, it's non-marking, so you can be confident they won't scuff your deck.
These are handmade sandals with a high-quality suede leather upper and robust stitchings, making them abrasion-resistant and long-lasting. In addition, they clean easily and breathe exceptionally well.
The only thing is that they don't have a toe box, which can be a minus if you are active on your boat. So this is something you will have to consider when buying them. Otherwise, they hold up to hard use on land or in the water. And if you do a lot of boating and light hiking, you'll undoubtedly love them. 
According to reviewers, they fit right out of the box and are incredibly comfortable to wear all day. However, some users said they were a little rugged at first, but after wearing them for a few days, they became as comfortable as slippers.
The front and ankle velcro straps allow you to secure and adjust the sandals easily. Another great feature is their cushioned Techlite midsole that molds to the shape of your feet and absorbs shock, keeping you comfy all the time. Colombia paid attention to every detail when they built these sandals, and you can see it by the high rating they received on Amazon. To wrap up, these are rugged, lightweight, comfortable, and last forever!
Pros
Comfortable
Excellent traction on wet and dry surfaces
Durable
Great cushioning
Non-marking outsoles
Cons
Some people said that the strap shafted against the skin and created blisters.
Several users reported they required a slight break-in period.
A few customers found the front strap too small.
One reviewer complained that they left marks on the deck
---
Specifications
Brand: Columbia
Color: 2
Material: suede leather with synthetic overlay upper
Outsole:  Omni-GRIP non-marking rubber outsole
Weight:10.4oz – 294.835gr
Warranty: No info
---
9. CAMEL CROWN Men's Leather Sandals
Average Rank: 4.5 out of 5 
The CAMEL CROWN are rigid sandals specially designed for the outdoors but are great for boating as well. What stands out about them is their acupressure points sole that massages your feet while you're walking or standing, preventing them from getting tired. Many people raved about this feature because it kept their feet comfortable all day, but it took a little time for some users to get used to it. But after a while, they got hooked.
These have three adjustable Velcro straps, one at the front, one at the ankle, and another at the heel, making them super easy to slip on and off. They are airy and breathe exceptionally well, so yes, these will keep your feet cool on hot days.
These are made of leather material that generally takes longer to dry, but hey, those have small vents in the straps and synthetic lining, which enhance airflow and significantly reduce the drying time. Another cool feature is the air cushion in the heel that absorbs shocks when you walk and support your feet on various surfaces.
The rubber outsole has a developed tread pattern that provides excellent traction on wet and dry surfaces. Be aware that these sandals don't have non-marking soles, so this is something you must consider before wearing them on your deck.
To sum it up, the Camel Crown is a high-quality pair of sandals that will pamper your feet all day while you enjoy boating, hiking, swimming, and you name it!
Pros
Durable
Comfortable
Easy to put on and off
Excellent price
Absorbs shocks
Cons
Some users complained that the velcro separated from the strap after a few wears.
One customer said his feet slipped in the sandals when wet.
---
Specifications
Brand: Camel Crown
Color: 10
Material: First layer leather
Outsole: Rubber
Weight: 2.15 oz – 975 gr
---
10. KEEN Men's Solr Water Shoe
Average Rank: 4.6 out of 5 
The KEEN Men's Solr is a water sandal featuring a light webbing upper made with recycled water bottles, making them long-lasting and water-resistant. With them, you can boat, fish, kayak, or go from land to water and vice versa without any issue. Plus, they have a moisture-wicking lining and an ECO Anti-Odor, keeping your feet cool and free of unpleasant smells in the summer.
The solid rubber bumper at the front protects your toes from blisters on your boat or terrain. The Konnectfit heel-capture system combined with the lace-lock bungee capture system locks the feet and prevents the sandals from slipping. Another great feature of these sandals is their non-marking rubber Aquagrip outsole with a stop zonal siping pattern that keeps you stable on wet and dry surfaces.
The outsole is non-marking. Therefore, don't leave marks on the deck or on the floors. But don't try to venture with them on rocks and uneven terrains as they are not designed for this. The vents on the sides allow excellent airflow and let the water escape quickly, keeping them light, even when wet.

To wrap up, The Keen Solr is a stylish pair of water sandals specially made for boating, swimming, fishing, and other water sports, and there is no doubt you'll love them from the moment you put them on!
Pros
Don't leave marks on deck boats
Excellent traction on flat wet and dry surfaces
Comfortable
durable
dry quickly
Cons
Some reviewers found them difficult to put them on and off
A few users reported that they don't have good traction on wet rocks and surfaces.
---
Specifications
Brand: Keen
Color: 4
Material: Recycled plastic webbing
Outsole: Rubber
Weight: 17.637 oz -500 gr
Warranty: One year
---
Guide To Buying Sandals For Boating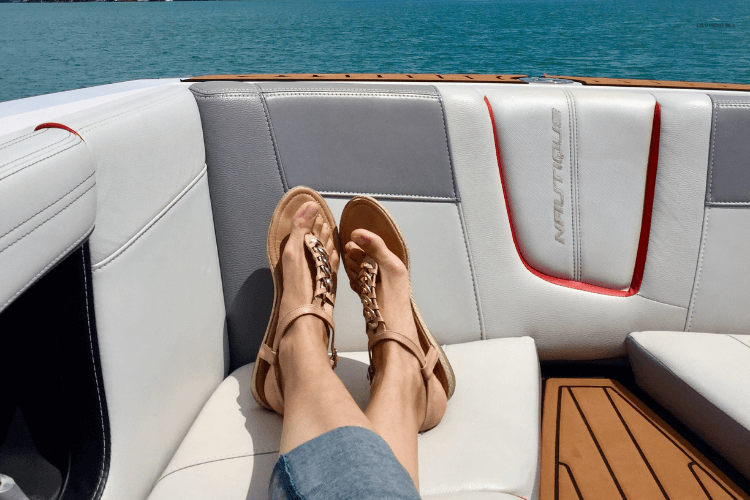 Sandals for boating come in different materials, such as mesh, leather, nylon, Webbing, or synthetic. Which one is best? Well, all of them are great, and the best choice will depend on your preferences and needs. However, when selecting the material, it would be best to choose one that is water-resistant, breathable, and quick-drying. That way, you'll be able to wear them comfortably in the water and on land without needing to switch sandals. Anyway, below you'll find each fabric's pros and cons to make a better choice.
Synthetic
Pros
Breathable
Lightweight
Softer on the skin
Dry Fast
Easy to clean
Cons
Tend to wear out faster than leather
Nylon
Breathable
Durable
Dry fast
Easy to clean
Cons
Leather
Pros
Durable
Breathable
Supportive
Comfortable 
Cons
Generally requires a break-in period
Dries slowlier than other materials
Heavier on the foot
---
Features
Weight 
The lighter, the better, of course. You want to move around easily without your feet feeling heavy. As I have mentioned above, leather weighs a little more, and if the midsole is thick, it will add some load to the sandals. So If you want light shoes, you should go for synthetic or polyester sandals like the Keen, Atika, or Dream Pair.
Drainage
When water gets trapped in shoes, it makes them heavy and creates discomfort while walking. But this won't happen with sandals because most models have openings on the sides, which help drain water quickly. However, some models have smaller side vents but still provide relatively good drainage.
Comfort
Comfort is relative. You can feel comfortable in the sandals while someone else not at all because we all have different feet shape. However, if you want to put all the chances on your side, an EVA midsole 'synthetic elastomeric polymer' is the way to go for maximum comfort. This type of midsole embraces the contour of the foot and provides excellent cushioning. The only issue with EVA is that it tends to lose its cushioning over time, but it's super comfortable.
Breathability
Breathability is a factor not to overlook because you want your feet to stay cool all day in the summer. It's already not easy for the feet not to sweat in general, so you must pay attention to this detail. Most sandals have rubber footbeds, and if it's hot outside and your feet are dry, you'll probably sweat a bit in them unless you wear socks.
However, to enhance airflow, I would recommend you to choose sandals with an airy synthetic lining or opt for leather sandals. It may sound surprising, but leather breathes and repels moisture exceptionally well and keeps feet cool in high heat.
Durability
Reputable brands like Keen, Columbia, Teva, etc., use high-quality materials to construct their sandals. So you can't really go wrong when buying a pair of sandals from popular brands unless there is a manufacturing defect, which can happen with any product.
Price also plays a significant role when it comes to the longevity of the sandals. Unless you get a good deal on Black Friday, don't expect low-price tag sandals to last long, especially if you intend to use them a lot.
Ease of use
You want to be able to slip your sandals on and off easily. Many sandals today have a loop strap at the ankle and on the instep, which helps you put them on with the minimal effort. You also want to adjust them easily to get the right fit. The best for this would be to choose sandals with adjustable Velcro straps or lace bungee systems. You also want them to be easy to clean. Synthetic and polyester sandals are easy to wash. You can even throw them in the machine, and you are good to go. Leather is a little more problematic. You can rinse them with clear water after each use, but you can't put them in the machine.
Quick Drying
Enjoying watersports with sandals is fun, but walking around with wet sandals can be annoying, especially if you have sensitive skin. Wet straps can irritate your skin and cause blisters or itches. So a fabric that dries fast, like polyester or nylon, would be the best choice. Leather dries slower, but on the other hand, it holds up more to hard use and is more supportive.
Toe box
A toe box is crucial if you want to protect your toes on your boat, but not everyone will need one. For example, if it's just for leisure, you can get away with flip-flops or open sandals. But if it's for manipulating your boat or working on it, you must wear sandals with a rugged bumper to protect your toeties. Bumpers are made of rubber which is highly durable and provides excellent protection. However, you want to ensure it's wide enough to allow your fingers to spread inside and get maximum comfort.
Traction
It's better to go barefoot on a wet deck than to wear sandals with a tread design that doesn't suit the surface type. Why is that? Because when you go barefoot, you are more careful about where and how you walk. If you don't expect it and slip, you can really get hurt. A sole with deep lugs in the pattern design provides excellent traction on uneven terrains such as rocks, mud, slots, etc. But on a wet flat surface, the traction is minor and can be dangerous. So the lugs should be shallow, and the sole flexible and well-cushioned. 
Non-Marking
The last thing you want is to scuff your beautiful teak or fiberglass deck when walking on it. So when choosing a pair of sandals. First, you must pay attention to the product description and see if it's written with a non-marking sole. Generally, white and light color outsoles are non-marking, but there are some exceptions. For instance, Keen sandals are non-marking, and most of them have a black outsole, and that's because Keen use the right texture and special materials.
Closure System
Many sandals feature a lock bungee system to provide a secure fit that helps prevent heel slippage. The downside with laces is that if they break, you can't secure your sandals anymore unless you buy new ones. Velcro closure is easier and quicker to manipulate. The problem with velcro is that it deteriorates with time and loses its stickiness. Both closure systems have pros and cons; thus, the best choice will depend on your preferences.
Final Words!
Boating is fun, but if you don't take precautions, your trip on the water can quickly turn into a nightmare. When you think about it, your feet are the most critical part of your body. Without them, you won't go far. So do them a favor and protect them well!
However, with this list of sandals for boating, you can't go wrong. So you should be all set now to get on board and have a safe and enjoyable boating trip!
A small reminder, the top pick is the KEEN Newport H2, the best-rated is the KEEN Women's Whisper, and another great buy is the Crocs Swiftwater.
More article
Daniella has been passionate about travel, the sea, and nature for many years. As a child, she frequently traveled throughout the Mediterranean and continued with her journeys throughout her adult life.
Her experiences have created the desire within her to share her love for traveling with other passionate and adventurers who want to discover beautiful horizons and new cultures.