Planning to grill on your boat, and you need some good tips and tricks to succeed in making delicious meals on board? If so, you came to the right place! Here, you'll find all you need to know about how to grill on a boat and even some great grilling recipe ideas!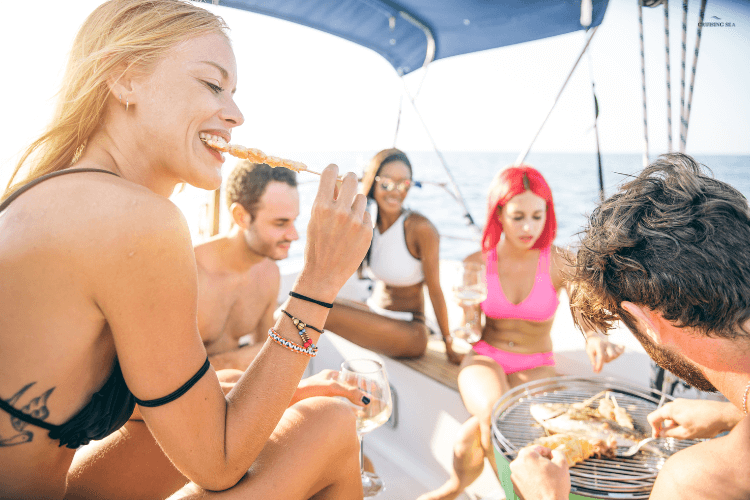 What to Consider When Grilling On A Boat
Grilling on a boat is not very different than grilling at home. You do practically the same things. However, the marine grills used on boats are different, and the rules, too. There are safety regulations you must follow for your safety and things you want to avoid doing to keep your boat as clean as possible. With this in mind, here are some of the most important factors to consider before you begin grilling on a boat.
1. Safety Mount Grill
You'll first want to choose a marine grill that can be mounted on the boat. This will keep your grill stable and prevent it from falling over and causing damage or, worse, an accident. It will also allow you to cook over the water, which maximizes safety, and if the food or ashes fall, your deck won't get dirty as it will fall straight into the water.
2. Number of Guests
Ask yourself how many people you plan on feeding. You will want to figure out the amount of food you'll need to prepare, which will help you know how big your grill will be. You'll want to purchase a grill that is small enough to fit on your boat but big enough to cook for the same amount of people you plan on feeding.
3. Storage
Even if your boat has a galley, it wouldn't be practical to go back and forth to get food from the fridge each time you need something for your grill. So You must have a cooler within your reach – it will Simplify your life. If you plan to grill meat, it's critical to store it in a well-insulated cooler with plenty of ice because if it goes bad, you can get really sick. So the choice of the cooler is crucial. A hard cooler has better insulation than a soft cooler, but not all hard coolers are built equally. Some coolers like Yeti have superb construction with excellent capacity.
3. Winds
The Wind can make grilling on a boat tricky. But if you grill the right way, there won't be any issues. There are several things you can do.
Position your grill in a way that the vents face away from the Wind.
You can also point your grill perpendicular to the Wind and close the lid when cooking.
One of the simplest solutions is to use an electric grill. It cooks food evenly, and there is no effect from the Wind.
Another solution is to put your grill on the dock and block the Wind using a cooler. Or you can also put it on the back rail out of the Wind.
---
Round VS. Rectangular Grill – What to Use?
To decide which type of grill you will use, consider how you want to cook your food.
1. Round Grills
Round grills are great as they can fit anywhere. They don't leave a lot of room for a flare but are great for cooking delicate meats. By using a round grill, you'll be able to achieve a more even heat across the grill. You can also easily reach the outer parts of your meat when using a round grill.
Usually, you'll want to use a round grill when you plan on grilling smaller items. The size of the grill that you'll need will depend on how many people you plan on feeding. If your large party is only going to eat small grilled fruit with some grilled cheese, then a tiny round grill will be perfect.
2. Rectangular Grills:
The rectangular grill is great because it provides more flare opportunities and can cook large cuts of meat perfectly every time. You'll be able to cook a wide range of food on a rectangular grill.
You'll need to consider the amount of meat you will be grilling when buying one. You can purchase a grill that is made specifically for cooking steaks or fish. Some rectangular grills have specialized design features that allow you to grill different foods at the same time in one area of your grill.
So, the best grill for your boat depends on what method you want to use and how you plan to cook your food. They both offer different advantages, so think carefully about what you want from your grill before spending the money.
---
Grilling Methods
There are three different grilling methods you can use on a grill to get the best flavor for your food.
1. Charcoal:
Although Charcoal is not recommended on a boat because it's messy and less safe, it's one of the best methods to cook your food because the flavor is incomparable to other methods. However, if you use a charcoal grill, make sure to follow manufacturer recommendations. Also, when your grill is lit, pivot it off the boat so that if hot charcoal ashes fall, which can happen easily, they will fall in the water and not on your deck.
2. Gas (Propane):
Propane is the most used method by boaters because it's easier to control and it's less messy than charcoal. On the other hand, propane has a higher flame speed and can explode easily. Not to mention that propane is heavier than the air and tends to accumulate to the lowest point. So if the gas leaks on the engine or other fire hazards, it will ignite the boat and blow it away in no time. That's why it's better to use a rod mount when grilling with a propane grill and store the gas bottle on the rail using a storage locker. This way, if the gas leak, you can quickly release it and drop it in the water if it catches fire.
3. Electric:
An electric grill could be a great option if you can get a reliable source of power from a generator or the marina. The good thing about an electric grill is that it's not messy and easy to clean. However, they tend to be more expensive than charcoal and propane and require lots of battery banks. Also, many marinas don't allow open fires. That's why lots of boaters stick with electricity grills. Generally, marinas have grills for you to use, but it's often busy, and you have to wait. A generator on board will give you enough power for grilling, but consider that it can break. And if you don't want to depend on your generator for all your cooking, then it will be wiser to have a backup on board.
---
What Brand Marine Grill To Choose?
There are many brands and models of grills, but the best for boating are the ones below. So let's take a look at them.
1. Magma
Magma grills are made by Condor and manufactured in the USA. Condor has been making cookers since 1980 and is one of the leading names in professionally-made grills. The Magma grills are the most popular among boaters, and there are good reasons for this. They are specially designed for marine environments and are easy to mount on the rail of the boat.
2. Cuisinart
Cuisinart Grills are one of the most popular brands out there, with a large range of grill models. There is a grill for everyone. These are excellent for camping or to use in your garden, but can also be used on a boat as they are relatively compact and store easily.
3. Smoke Hollow
Smoke Hollow grills are made by Brew Maker, an American company with over 30 years of experience. They also manufacture the popular Saber grill and Smoker Pro.
4. Camco
Camco grills come from a company that is one of the biggest names in boat sales and accessories. Their best-known products are marine bathroom accessories. They have been making marine supplies since 1936, so you know that they know what they're doing. All of the Camco grills are made in the USA and look good, even though they're simple models. Those are designed for RVs and boats.
---
Steps For Grilling On A Boat
Now that you've got your grill, it's time to figure out how to use it safely and effectively. You can't expect to just throw the food onto the grill, or you could ruin your pad. So instead, let's talk about some basics.
1. Preparing Your Food
One of the best things you can do on a boat is to prepare all of your food ahead of time if possible. This saves time and makes the cooking process much more efficient. If you're going to be grilling, it's better to start with some pre-seasoned meats.
2. Light up your grill
Before you start grilling, you'll need to get your fire going. If you have a charcoal grill, it's best to buy charcoal briquettes to get consistent heat. If you have a gas unit, then fill that tank up and turn on the heat. For electric units, plug it in, and you're ready to go.
3. Keep the fire going
Once you get your fire going, you need to keep it steady and make sure that nothing gets in its way as it is trying to heat up. Some people think that they have a fire when they have one or two burning coals or just see flames coming out of the grill.
Note: Before you start grilling, you must grease your grill so that the food doesn't stick. A good trick is to cut an onion in half and soak it in oil. Then stick a fork into the onion and, with it, brush the grate. The onion will absorb all the dirt from the precedent grilling, and it will grease the grate of the grill. When you finish with the onion, throw it away, and you have a well-greased and clean grate to start grilling!
4. Put your food on!
Now that everything is good to go, it's time to get cooking. This means putting your meat onto the grill so that it can cook evenly. The temperature will change depending on the cut of meat that you have. You should pay attention to the internal temperature of your food. For most cuts of meat, you want to cook the center of your meat until it reaches 160 degrees Fahrenheit.
5 Enjoy your meal
Once you've cooked your food to perfection, you can now enjoy your meal! The best part about eating on a boat is that everything is fresh and doesn't need to be cooked for long. It will be hot and delicious, which is something that isn't always easy to get in the restaurant world.
6 Clean up
Cleaning up is an important step. Most of the time, this isn't fun and ends up being a pain, especially with charcoal or propane grill. You need to make sure that you're clean and take the time to wash your grill after each use to prolong its lifespan and keep it clean. When the grill is still warm, brush the rage with a stainless steel grill brush and the shell with a non-abrasive cleaner and a soft rag.
---
Boat Grill Recipe Ideas
1. Great Grilled Steak with Garlic Butter
Serves 4
When it comes to grilling, you can never have too much steak. You won't need too much steak! This recipe is perfect for a nice steak as well as cooked vegetables or even grilled vegetables. You can use whatever vegetables you like and make this dish your own.
Ingredients:
2 medium to large steaks, in case you want to make a large cut of meat, you can use 2 large steaks.
1 Tablespoon olive oil
1/4 teaspoon cayenne pepper or red pepper flakes if you want a little heat. If you don't like spice, cut the cayenne in half.
4 teaspoons minced garlic, more if less than 1/4 tsp is desired.
1 Tablespoon Worcestershire sauce
1/4 teaspoon Dijon mustard
Salt and pepper to taste. (I use about 1/2 tsp each)
Directions: Add olive oil to a grill pan or large frying pan, and heat over medium heat. Add the sliced steak, sprinkle with cayenne pepper and saute until browned. Sprinkle garlic over the steak and continue to cook, turning as needed until the steak reaches desired doneness. The meat should be cooked through but not dry. Serve with garlic butter.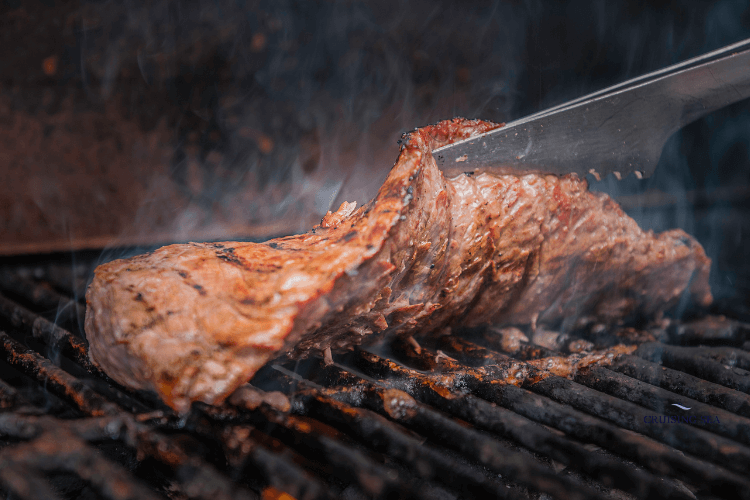 ---
2. Asparagus and Cheese
Serves 4 (1/4 recipe)
If you love asparagus and cheese, then this is a great grilled recipe that you can use to add some variety to your meals. This is also a great recipe for a side dish for the grill.
Ingredients:
4-5 stalks of asparagus (depending on their size)
2 Tablespoons butter (optional, only if you want the asparagus to stick to the cheese)
1/4 cup grated Parmesan cheese, or more if you want more flavor. I love to add as much cheese to my grilled veggies because it adds something extra. Two teaspoons, but you can add more if you like.
Directions: Bring three cups of water to a boil and cook the asparagus over medium heat for about 5 minutes or until tender. Drain the water and dip the asparagus in the butter for extra flavor. Place on a hot grill or grill pan without oil, turn with tongs until lightly browned, approximately 3 minutes per side. Sprinkle cheese on top of each asparagus and brown for only an additional 1 more minute, as the cheese will melt quickly. Serve while hot.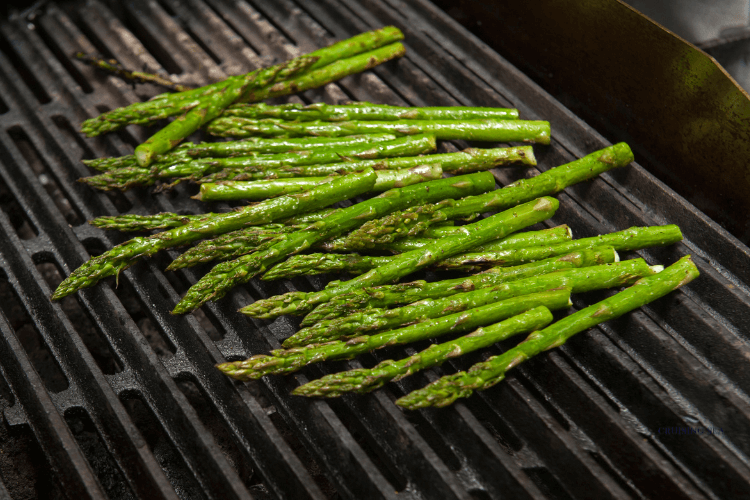 ---
3. BBQ kebabs
This Turkish dish is great for a backyard barbeque. The marinade will keep the shrimp and veggies nice and tender while giving you that great grilled flavor that you crave. You can also use chicken if desired or even beef.
Ingredients:
1/2 cup olive oil
1/4 cup lemon juice (freshly squeezed- no bottled)
3 garlic cloves minced or crushed
1 teaspoon Turkish pepper (or other kinds of red pepper you like) is optional but gives your kebabs a little extra flavor.
1-2 Tablespoons cilantro, chopped (use more if you like)
Salt and pepper to taste. I use a 1/2 teaspoon of salt and a 1/4 teaspoon of pepper.
Directions: In a medium-sized bowl mix all the ingredients until well combined, add meat, and let marinate for at least an hour by refrigerating. Take out of fridge 20-30 minutes before ready to cook.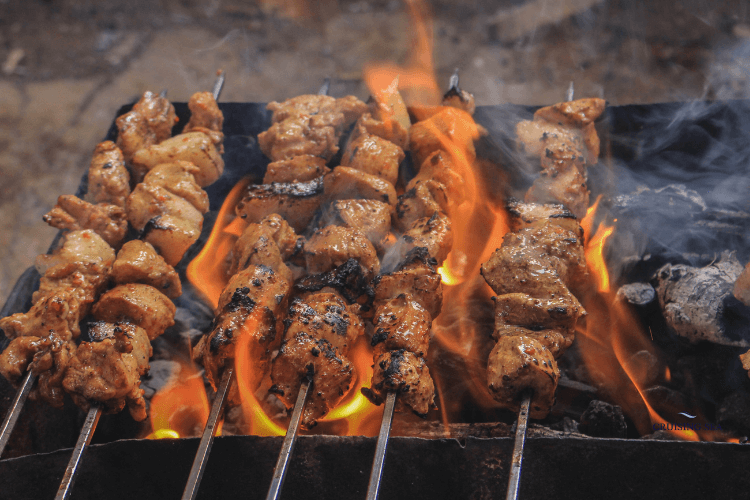 ---
Does and Don't of Grilling On a Boat
1. Do get your grill and grilling utensils in a safe place. This means that you should always have a space dedicated to everything related to grilling.
2. You should never leave a lit grill unattended. This is dangerous and can lead to disaster
3. Take the time to clean your grill after each use. It will prolong its lifespan and prevent grease buildup.
4. Keep a fire extinguisher with your grill in case of an emergency. It should be easily accessible.
5. Make sure your propane gas isn't leaking by using a natural gas leak detector or by applying soapy water to the bottle. If you see bubbles forming around, it means that it leaks.
6. Put out all fires and turn off the grill after you are done grilling. Check to make sure that there is nothing left on the grill.
7. Always follow the instructions that come with the grill.
8. Many marinas don't allow open fire for security reasons, so always check with the marina before you start grilling.
---
Final Word!
I hope that you learned a bit from this post and that you get plenty of ideas to add some variety to your meals. Grilling on a boat is fun if you know how to do it the right way. For best results, take your time and make sure that you have everything ready before you begin. You'll enjoy and be able to pamper your friends and family with delicious meals on your boat! What could be better than this?
More articles
Want More Tips?
Subscribe to Cruising Sea newsletter to receive every two-week the latest post straight to your inbox!
Daniella has been passionate about travel, the sea, and nature for many years. As a child, she frequently traveled throughout the Mediterranean and continued with her journeys throughout her adult life.
Her experiences have created the desire within her to share her love for traveling with other passionate and adventurers who want to discover beautiful horizons and new cultures.