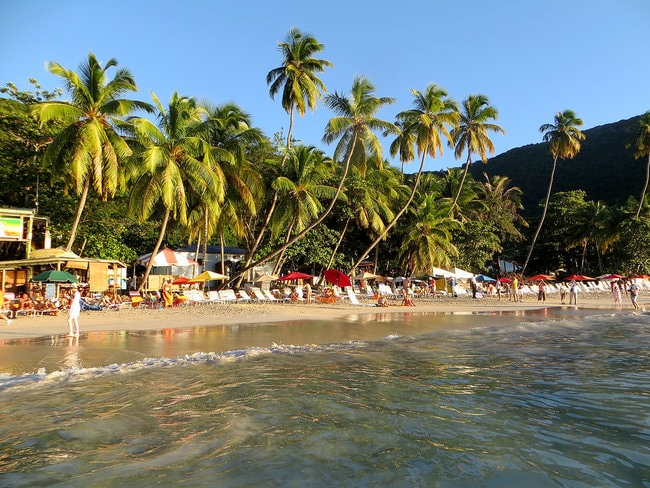 When is the best time to sail in the BVI? Well, to answer this question, there is no right or bad period for cruising in the BVI. It is all a matter of personal preferences as each season has its own charm and offer something different. Some sailors seek calm water and good weather, while others, festivities, crowds, etc.. In this article, you will find all the information needed to determine what period is the best for you to head to the BVI!
Weather
The BVI has a tropical climate with temperatures that vary throughout the year. You can expect relatively warm weather all year round for swimming and watersports. The rainy months usually run from September to November and the dry months from December to February.
The Hurricane season usually begins in June and ends in late November.
During July and August, the weather is quite hot and humid with inconsistent winds.
December-February
The British Virgin Island is a winter destination. Between December to February, many travelers come from all over the world to explore the beauty of the BVI. During this period, the temperatures are quite moderated, and winds can blow strongly. It is the perfect weather to sail, enjoy watersport and hang out on land.
Tourist attractions are open to everyone, all the places are crowded with tourists, and the nightlife is very active. Since the BVI is a very popular place in the winter, resorts, attractions, and yacht charters rates increase. At this time of the year, you will hardly find good deals.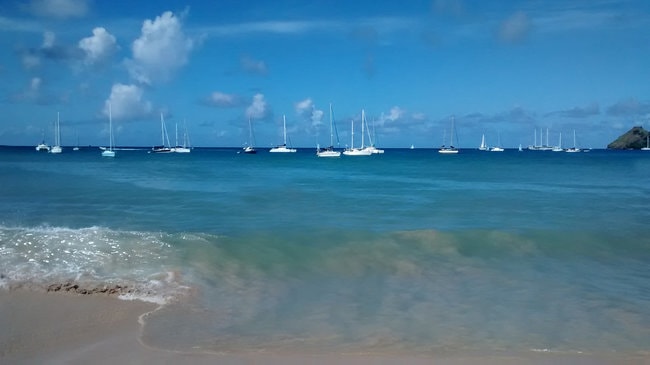 March – June
From late March to Mid June the temperatures begin to increase, the crowds diminish, and rates drop drastically. At this time of the year, the water is still relatively cold, and the days grow warmer.
Also, airlines, hotels and yacht charters offer great rates, and you will likely find good deals from Early March to May. It is a fantastic time for divers to enjoy the beautiful underwater world!

July – August
July and August are boiling and humid months. If you sail in this time, then make sure your boat is equipped with air conditioner otherwise you will have some difficulties to sleep. At sunset, the temperatures cool down, which make it a perfect time to enjoy dining outside.
Also, during these months, you can expect to have several heavy showers. You should always check the forecast weather every morning before you set sail to avoid any unpleasant surprise on your way.
Tortola is alive in August. Plenty of activities and festivals take place in Road Town. Bear in mind that apart from Tortola, most places shut down in August

September – October
Throughout this period, many tourist attractions will be closed, but not all of them! There are no crowds at all, which is ideal if you seek quiet and peace. The water temperature is excellent, but hurricanes are present. Hotels, vacations rentals, and yacht charters rates are relatively cheap as it is the low season in the BVI. Without a doubt, it is the best time to get great deals!

November – December
This time of the year is extremely pleasant. The sea is still warm from the summertime, and the hurricane season is almost over. You still can get great deals until mid-December since the crowds only arrive at Christmas time. Tourist attraction starts to open and the BVI gets decked out for the holidays!

When is the Best Time?
As I have mentioned above, it will depend on your preference!
If you want to avoid the crowds and enjoy the good weather as well as great deals, then November to December or March to Jun will perfect for you.
If you are looking for parties and great ambiance, then, don't hesitate to sail in the peak season which is from December to February.
If the Hurricanes are not a threat to you and you wish to have the whole island to yourself along with great deals, then, September or October will be just fine!
If the heat and humidity don't bother you and you don't need tourist attractions to enjoy, then July or August will be an excellent time for you!
What to Pack?
Just keep it simple, don't forget that you sail to the BVI🙂 The weather is pleasant almost throughout the year! Bring only what is necessary, such as swimsuits, shorts, t-shirts, sunscreen, and flip-flops. If you want to know more about it, then check one of my articles about the BVI packing list.
Tips
Bring your travel insurance with you especially if you sail in the hurricane season!
Pack Light!
If you don't know well the region, hire a skipper or buy the cruising guide to the BVI by Nancy Scott.
Planning your itinerary will allow you to save a lot of time and hassle.
Anchorages are quite busy during the peak season, so make sure you have a place to anchor your boat!
Make sure to provision your boat before you set sail!
In Conclusion
You see, the best time is only a question of personal choice! Every season brings something unique and different. One thing is certain, in the BVI you will always have plenty of opportunities to enjoy your sailing holidays thoroughly!
For more information on sailing in the BVI:
Boatbookings.com
USA +1 954 892 5009
Email: charter@boatbookings.com
Want to Know More Tips?
Sign up to Cruising Sea newsletter to receive every two weeks the latest post straight to your inbox!
Did you already sail in the BVI? What is you favored time of the year? Please, feel free to share your experience in the comment below.