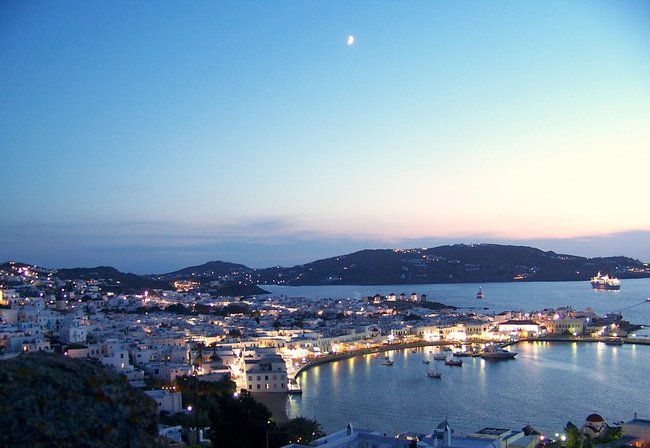 Planning to sail in the Cyclades soon? Fantastic! But the question is do you have all the information needed to plan your sailing trip? Obviously, if you are reading this article, it is because you still didn't find all the answers to your questions. No worry.. you came to the right place! Here is your Cyclades sailing guide to help you prepare for your dream holiday!
About the Cyclades
The Cyclades are an archipelago, comprising approximately 220 beautiful islands situated in the Aegean Sea.
This fantastic group of islands is arranged in the shape of a circle that surrounds the divine island of Delos, the birthplace of Apollo and home to one of the most important archeological sites in Greece. The Cyclades are considered to be among the most popular sailing destinations worldwide.
Many of the islands in the Cyclades are mountainous with a dry and mild climate. Each year tourists come from all over the world to enjoy in seeing spectacular landscapes, and the traditional towns filled with white and blue-domed houses, overlooking the Aegean Sea.
Best Time to Sail in the Cyclades
As opposed to Argolic Gulf and the Saronic sailing ground, the Cyclades are more exposed to the Meltemi winds since they are unprotected by the mountainous mainland. May to June and September to October are the best months to sail in the Cyclades as there are almost no crowds and you have less chance to encounter Meltemi winds. The Meltemi winds usually blow in mid-July and mid-August, but this does not have to stop you from sailing into the Cyclades, many sailors venture at that time of the year and enjoy it very much! Just check the weather to see if there isn't any risk of Meltemi and you are good to go!
Sample Itinerary
This is a sample itinerary to give you a foretaste of what you can expect in the Cyclades. You can do approximately the same route with a charter company of your choice.
Day 1. Paros
Paros is blessed with beautiful architecture, lovely beaches and has a fantastic active nightlife. Parikia is the capital of Paros and is well known for being one of the most famous boating regions in the Cyclades. This charming village attracts many travelers each year due to its local restaurants, bars, narrow cobbled paths, shops and an old church from the 4th century.
What to Do
If you arrive early and you still have some free time before the departure, try to go to the famous village of Aliki to enjoy beautiful miniatures of ships, houses, and monasteries made by a fisherman called Benetos Skiadas.

Day.2 Kamares – Sifnos
You'll be enchanted by the beauty of the secluded beaches and all the churches spreading around the island of Sifnos. If you like pottery, then Sifnos is the place to be.
What to Do
There are endless workshops to stroll around and admire unique handcraft pieces, made of ceramic. Kamares is the main harbor on the island. It is a perfect place to anchor to stock up the boat and to relax on a sandy beach.

Day 3. Karavostasis – Folegandros
Folegandros is a small and lovely island located in the Aegean Sea that contains three little villages named, Kavarostasis, Hora, and Ano Meria, which are linked by a cobblestone path. Folegandros offers a variety of beautiful landscapes along with fantastic caves and impressive cliffs. Hora is the capital and one of the oldest villages of the island built on a high cliff. It is an excellent place to spend time in a quiet and romantic atmosphere.
What to Do
On the top of Hora town, there is a medieval fortress from the 13th century called Kastro. You will be able to find some bars with music and good restaurants to eat a delicious meal!
Karavostassis village is filled with whitewashed houses and pebble beaches, some of which are nudists. Not far from Karavostassis are Petoussis and Livadi where you can visit the famous caves of Georgitsis.
Ano Meria village is packed with local taverns, featuring exceptional Greek cuisine and a Folklore Museum that include a vineyard, farm, and local costumes.

Day 4. Vlychada – Santorini
Vlychada is a beautiful beach composed of volcanic black sand and surrounded by amazing cliffs. Vlychada is situated in Santorini not far from Fira town and close to Agios Georgios. If you seek privacy, then Vlychada beach is the right place for you as there are hardly any vacationers on the beach!
What to Do
Right Next to Vlychada, there are a few restaurants where you can enjoy lunch and admire all the boats. Also, there is a nice Tavern on the beach offering all you need to enjoy your time. It is truly a unique place in Santorini. No to be missed!

Day 5. Katapola – Amorgos
The main port of Amorgos is Katapola, a beautiful region that comprises three traditional villages called Rashidi, Xilokeratidi, and Katapola. All along the waterfront is filled with taverns, cafes, bars, restaurants, and boats, a great place to have fun!
What to Do
Just in the center of the Bay, there is a small and quiet sandy beach to suck up the sun and swim or if you wish, head to another beach in the region. Amorgos is compassed of spectacular uninhabited islands, which are only accessible by boat.
There are so many things to do in Amorgos. For example, scuba diving in the We Shall Sea or visit the pastoral beauty of Chora filled with white houses and blue windows surrounded by beautiful colorful flowers.
It is the perfect place to stroll around and sit in a local restaurant for real Greek food!
Your trip to Amorgos wouldn't be complete without visiting the famous Monastery of Panagia Hozoviotissa hidden into a cliff.

Day 6. Naoussa – Paros
Naoussa is a charming fishing village located on the Paros Northern part about few kilometers East of Parikia. Despite being one of the most visited villages in Greece, Naoussa has kept all its beauty and authenticity, without a doubt, it is one of the prettiest settlements in the Cyclades! Naoussa is home to whitewashed chapels and churches filled with small stone-paved streets.
What to Do
A small old port is surrounded by Naoussa village where a Venetian castle can be visited, and plenty of taverns are stretching all along the harbor creating a delightful atmosphere.
This charming village is extremely famous for its stunning secluded beaches, some of them are reachable from the port by footpath or by boat.
On the highest point of Naoussa village are located two lovely churches, one called Assumption of the Virgin and the second, Agios Nikolaos, which is home to a Byzantine Museum.

Day 7. Back to Paros
Back to Paros, there, you will end your unforgettable sailing trip! If you didn't have the chance to visit Paros because of the pre-departure preparation, then, this is the best time to do it as you don't need to rush anymore! You still can enjoy, though and stay for a while if you wish. Paros is a fantastic place to relax especially in Parikia town. The best option after a trip on the water is to put your stuff in a hotel and relax for a day or two before you head back home!
Cuisine
The Cyclades has become one of the most captivating culinary cultures in the Aegean Sea. This beautiful part of Greece offers a wide selection of delicious food such as fresh fish, seafood, local meat, cheese potatoes, dry tomatoes, fava beans, great honey and not to mention their wide variety of renowned Greek wine, made of Malacias and Assyrtiko grapes.
Here are some of the most popular dishes of the Cyclades so that you can familiarize yourself with the specialties listed on the menu, allowing you to place your order with ease!
Mastelo is lamb prepared with local wine and herbs
Sgardoumia is made of meat and full vegetables
Fourtalia is a traditional omelet made with potatoes and sausages.
Kalasouna is a cheese pie made with onion
Kalogeros is made with beef stew and eggplant
Kakavia is a Greek fisherman's soup made of stew fish.
Ladopita is a sweet dessert made of sesame seeds
Louza is a dish from Mykonos made of cured meats.
Mastelo is a traditional lamb plate from Sifnos.
Strapatsada is a Greek scrambled eggs with tomato.
Lazarakia is bread from Tinos Island made with sweet-smelling spices.
Melopita is a Greek dessert made of honey and cheese.

What Type of Charters to Choose?
There are three types of charter options to choose from.
Bareboat Charter
A bareboat charter is a great option if you possess a skipper license and you want to take full responsibility for the boat. Meaning, navigation, anchoring, cooking, cleaning, etc.
Skippered Charter
A skippered boat is similar to a crewed yacht. The only difference is that the skipper is the only person who takes care of the navigation, while a crewed yacht possesses a team, which usually includes a hostess, a cook, and a captain. Skippered yacht charter is a great option if you need someone to control the boat or you just don't want to take the helm!
Cabin Charter
Cabin Charter is a nice choice too if you are interested in renting only the cabin rather than the entire boat for yourself. It is also an excellent way to sail on a budget, and meet new friends in the most natural way!
Crewed Yacht Charter
A crewed yacht is equipped with a qualified team who take care of all aspects of the boat. If you want privacy and enjoy your sailing trip thoroughly without having to worry about technical issues, cooking, cleaning, navigating, anchoring, etc. then without a doubt, a crewed yacht charter is the best option.
What Type of Yacht to Choose?
There are three types of boats for sailing vacations.
Catamarans
A Catamaran is a fantastic boat for family, couples, a group of friends, or even for couples who want to sail in comfort and want to have more privacy. Also, catamarans ride smoother and are more stable than any other boats.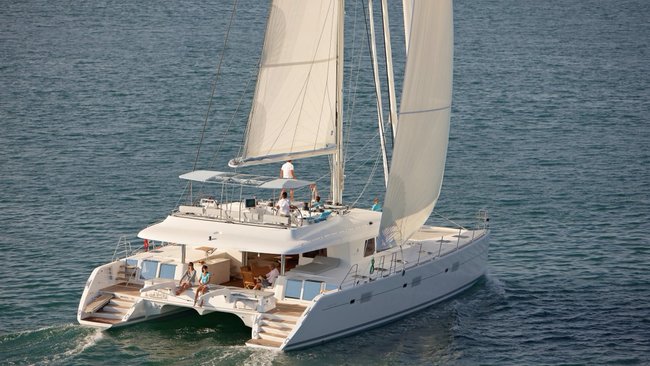 Monohulls
There is less space on a monohull than on a catamaran, and the motion of the water is more perceived onboard a mono. It is an excellent boat if you love the real thrill of sailing and if space is not a concern to you.
Read more about the difference between a monohull and a catamaran.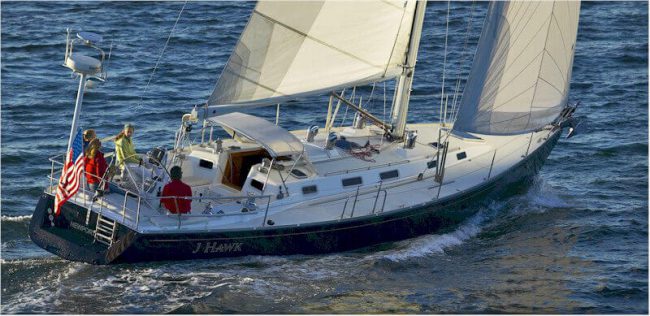 Motor Boats
Motor Boats are fast and offer comfort and luxury. The great thing about these boats is that you can reach islands much more quickly than you can with a catamaran or a monohull. So, if you are in a rush and want to visit many islands in a short time, then the motor yacht is a perfect choice. The only downside is that the fuel is expensive; thus the trip can end up being far more costly. I will be soon writing an article about motorboats, but you get the idea:)

How Much Does a Sailing Holiday in the Cyclades Cost?
Great question and to be honest, The cost of a sailing excursion varies according to the type of boat, type of charter, the duration of the trip, the age of the vessel, the season, the number of cabins, etc…
So, it is very hard to evaluate the exact price without knowing your exact requirements. The best way to find out about the real cost is to send an inquiry form so that you can determine whether or not it meets your needs.
If you want to have an idea of how a yacht charter is evaluated for a week, then you should check out this useful article.
How to Get in the Cyclades
The best way to get to the Cyclades in Paros is to take a flight to Athens and another flight from Athens to Paros. Be aware that from many European airports there are flights directly to Mykonos and Santorini. However, there won't be any problem to catch a ferry from Athens to Paros as there are plenty of agencies selling tickets on the way.
Do You Need a Visa to Enter the Cyclades?
If you are from the EU, you do not need a passport. Your police ID card will be sufficient. However, a passport will be necessary if you plan to make some transactions such as purchases or currency exchanges.
If you are from the US, then you'll need a valid passport for up to 90 days.
Tips
Bring insurance with you to cover emergency medical or other needs.
Meltemi winds are much stronger during the day, so it is best to sail early in the morning to avoid them. Also, be aware that the wind direction is essentially North West or North.
Despite being strong winds during the day, sailing at night will be much easier as Meltemi winds decrease around the evening.
Marinas are quite small in the Cyclades, making it sometimes difficult to find a spot. So make sure there is a place left for you if you are bareboating!
As the Cyclades are quite exciting sailing ground in the summer, don't hesitate to hire an experienced skipper if you feel you need help to handle the boat.
It is always good to know what to pack for a sailing trip so that you can avoid any unpleasant surprises. Take a look at one of my useful articles about what to wear on a sailing trip!
Conclusion
A sailing trip in the Cyclades is by far the best way to discover the most beautiful island groups in the Aegean Sea. It is a getaway that everyone should experience at least once in a lifetime. So, don't waste any time and book your trip now!

What about you? Have you been sailing in the Cyclades? Please, share your experience in the comments below.