Flotilla holidays in Croatia offer so many great opportunities, not only you'll be able to sail through beautiful islands, but you will also have the chance to explore fascinating historical sights, stroll around charming fishing villages and of course, degust one of the most diverse and delicious cuisines of the Mediterranean.
If you are reading this article it is because you are probably interested in joining a flotilla in Croatia. If it's the case, then you would surely want to know some useful information and advice before you start your flotilla adventure.
---
How Does a Flotilla Work?
Contrary to what many people think, a flotilla offers a lot of freedom and independence. Every single day, the lead crew gives a brief explanation about the destination, the weather, and interesting sites to visit along the way.
After the meeting, all the boats set sail to the next destination. You have the option to follow them or navigate on your own to explore the sea or go on a secluded beach. Whatever your choice is, you can sail in complete tranquility as the lead crew is always there if you ever need assistance.
Most of the time you'll sojourn at small harbors and charming villages, and if you wish, you can opt to meet up with all the members of the flotilla for a great dinner to exchange some of your adventures stories.
Also, there will be organized parties where everyone has fun with a barbecue on the beach. At the end of the flotilla, you can join a regatta, just for the fun and most importantly, to get to know better your sailing partners.
---
Do You Need Qualifications to Participate in a Flotilla?
No, you don't need any experience or license to take part in a flotilla holiday as long as there is a qualified sailor (skipper) on board to navigate the boat. If you want to operate your own yacht, then yes, you do need an RYA ICC license.
If you do not have it, my best advice is to hire a skipper or get an RYA course while you are on vacation, you only need 5 days to be qualified as a skipper. So the ideal solution for this is to stay in a hotel for a week and the second week, join a flotilla!
Just make sure that the company you sail through offers sailing courses so that you can get most out of your holiday.
---
When is the Best Time 
The most popular seasons for sailing in Croatia are between May and September. You can't go wrong in spring, May, and June as the weather is pleasant, and the winds are moderate. July and August, the winds are light, it is hot, and the place is crowded.
From mid-September, the strong winds called Bora and Sirocco can blow from time to time and can last for few days on certain exposed areas.

---
Flotilla Itinerary
Day. 1 – Rogac 
The first day, you will have a warm welcome party where you'll meet all your partners at Rogac. You better be there:)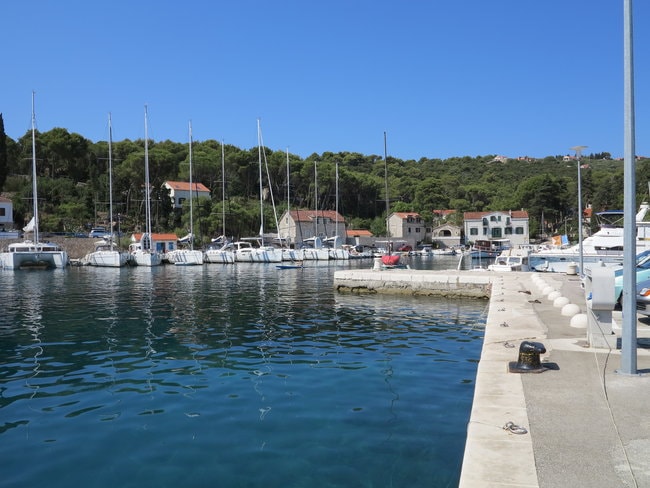 Day 2. Komiza
Komiza is a small charming fishing village located on the western coast of the Vis islands. That little port has a relaxing Mediterranean atmosphere and is one of the most beautiful towns in Croatia.
It abounds with beautiful pebble beaches, historical sites, fortresses, and monasteries. Just near Komiza is the lovely Bisevo island where you will find the gem of the Adriatic named the Blue Grotto.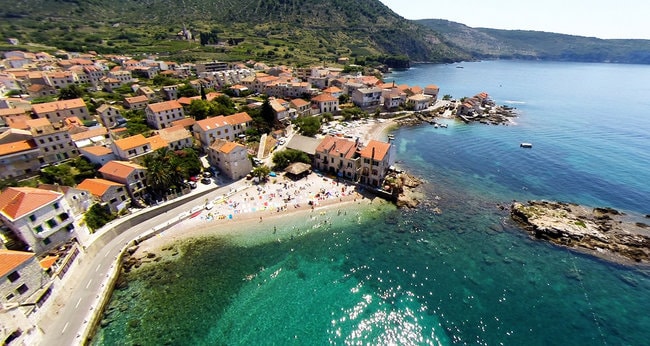 Day 3. Vis
Vis draws up so many visitors each year from all over the world due to its beautiful churches, old fortresses, lovely villas, and fascinating museums. A part of the arable land on Vis island is covered with vineyards, and the sea is filled with all sorts of species fishes.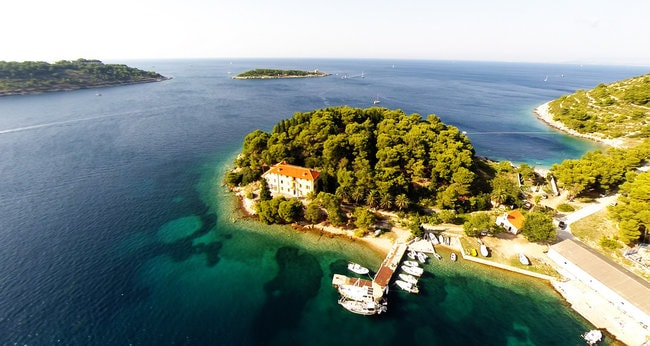 Day 4. Hvar
Hvar is situated on the Adriatic Coast between Brac, Vis, and Korcula. This island is well known for being a popular holiday resort during the summer and for its hillsides covered with vineyards, olives groves, pine forests, and fantastic fields of lavender.
Just Nearby of Hvar town there is the famous Paklinski Otoci, a group of beautiful islands which hide one of the most charming marinas in the Adriatic called ACI Marina.
Not far from the marina, there is a beautiful beach that will be hard to leave once you get there and to top at all, a spectacular botanical garden filled with many species of lush flowers and plants.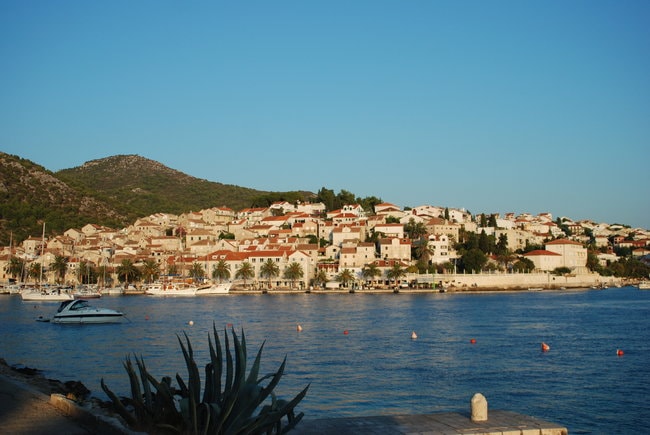 Day 5. Jelsa
Jelsa is a small quiet town in Croatia situated on the North Coast of Hvar surrounded by beautiful pine forests. Jelsa possesses the most beautiful vegetation on the island due to its bounty of fresh water. It is a fantastic place to enjoy a relaxing getaway, swimming, sunbathing and exploring its lush surrounding.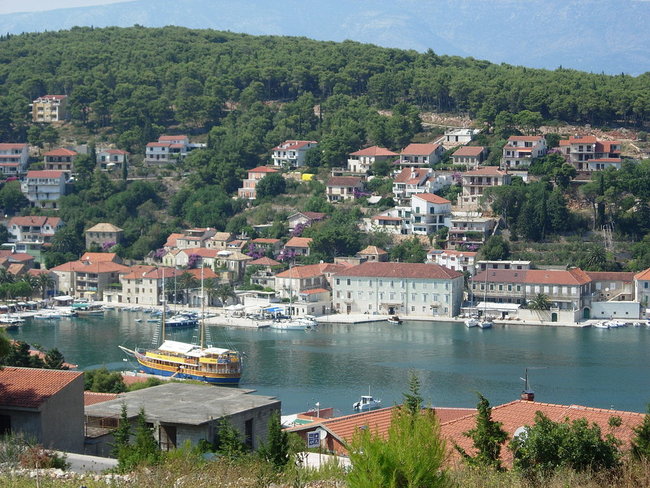 Day 6. Milna
Milna is a beautiful natural harbor that is situated in the Western part of Brac, about a dozen kilometers from Supetar. Milna is a modern and well-equipped marina with several berths that offer services to yachtsmen from all over the world. Milna is an ideal place for fishing, sailing, diving and the food is delicious!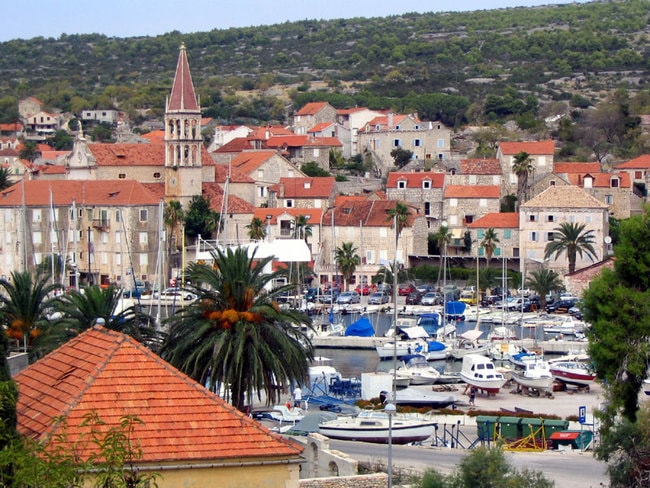 Day 7. Solta
Solta is situated in the west part of Brac, close to Split island. This charming island is an ideal place for a relaxing holiday. There are several villages to visit which one of them, the most beautiful one, called Maslinica, is situated in the Northwestern part of Solta.

---
Schedule
You arrive at the base + Registration
Get on board and meet the crew
Explanation of the program of the week
Welcome party
Briefing morning with all the skippers about the weather, instruction, daily route, communication, safety onboard.
Provisioning the boat
Departure
Break lunch, swimming, enjoy!
Anchor at the destination with all the participants
Party, dinner, sightseeing, socializing and free time.
Optional organized activities ( Wine tasting tour, sightseeing, dinner)
Regatta
Goodbye party
Check out
---
Why Sailing in a Flotilla?
For the simple reason that a flotilla in Croatia will offer you a fantastic sailing experience with the option to charter the entire yacht with or without a skipper, and even book a cabin on a boat if you wish to. Sailing with a group of yacht doesn't mean that you need to stick to everyone schedules, you can spend time on your own, enjoy visiting sights, or whatever you wish to. At the end of the day, all yachts meet to moor in a designated destination where a secure place is waiting for you.
---
Who is a Flotilla Holiday For?
No matter if you are an experienced sailor, a novice, alone, with family, or in a couple, a Flotilla holiday is for anyone who wishes to have an exciting sailing trip with other like-minded people. It is the most sociable way to spend a getaway on the water. Even children will love it! Also, This is far the best way to get to know new friends.
---
How to Get in Croatia
There are no direct flights from the US. So the best way is to fly from Europe. Here are the best airports:
Italy, Germany (Munich or Frankfort), Rome, Barcelona, and London.
There are direct flights from Canada to Croatia, more precisely to Zagreb.
From Croatia, there are flights or ferries to Zagreb, Dubrovnik, and Split.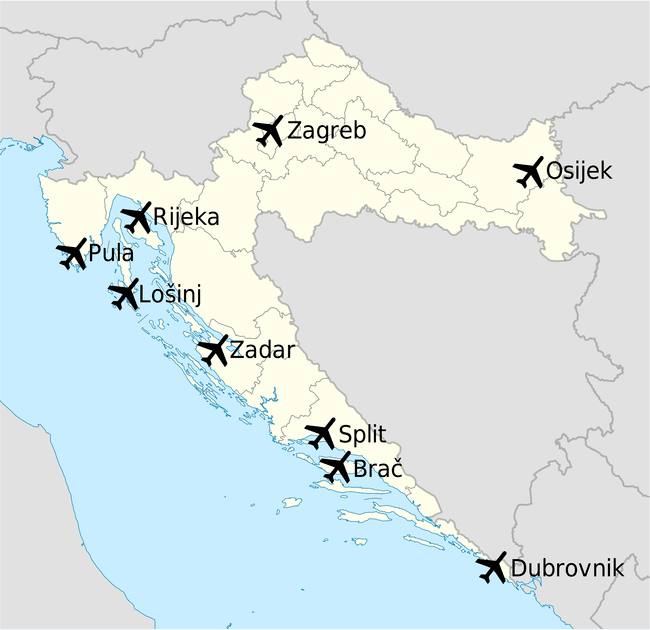 ---
Prices Per Week
Note: Prices varies according to the season, the type of boat and the type of charter. 15 boats will be part of the fleet, ranging from 3 to 5 cabins and in perfect condition.
What's Included 
Fully equipped yacht
Lead crew
Full tank of fuel
Full tank of water
Safety equipment
Sailing navigation
Snorkeling equipment
Fully equipped galley
Dingy + outboard
Buttle of gas gas for cooking
Bed linen
Final cleaning
Small towels
Guaranteed mooring in each stop
Wi-Fi
Welcome party
Regatta
Skipper (If you charter a cabin or a skippered yacht and will not be included in a bareboat charter)
Security deposit (Is included only if you rent a cabin or a skippered yacht and not in a bareboat charter)
Parking in Rojac
---
What is Not Included
Mooring and marina fees
Tourist tax: 1€ per day and per person
Security deposit and yacht damage waiver (only if you charter a bareboat)
Food and beverages (You will receive a list of grocery from where you can order in advance so that you don't have to take care of the provisioning task)
 Beach towels
With a flotilla, not only you will be able to reach beautiful spots you couldn't possibly have access to without a boat, but you will also meet new friends, explore amazing sights without getting stressed out about the navigation.
Book Your Flotilla in Croatia Now!
Have you already participated in a flotilla holiday? Is so, share your experience in the comment below.
Daniella has been passionate about travel, the sea, and nature for many years. As a child, she frequently traveled throughout the Mediterranean and continued with her journeys throughout her adult life.
Her experiences have created the desire within her to share her love for traveling with other passionate and adventurers who want to discover beautiful horizons and new cultures.