Website: www.gadventures.com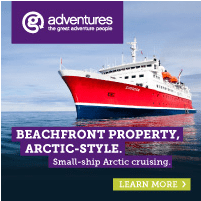 Yacht Types: Catamarans, Sailing Boats
Trip Types: Sailing and Land Tours
Cruising Areas: Europe, Asia, Central America, South America, Polar Regions
Travel Tours Areas: Asia, Africa, Australia, Central America, Europe, South America, Polar Regions, North America, North Africa, Middle East, New Zeland.

About G Adventures
G Adventures is a travel company that specializes in adventure travel in a sustainable fashion. The company tries to provide adventures off the beaten path all over the globe.
It's grown from a one-person show when it opened in 1990 to a group of more than 1,350 employees worldwide.
The company strives to provide sustainable tourism, giving back more to the communities and the natural surroundings it visits than it takes away, preserving cultural heritage, and improving the lives of local people.
This commitment helped the company win the 2009 World Tourism Award. This G Adventures company review will tell you more about the types of tours you can take, destinations and prices, and the pros and cons of booking with G Adventures.
---
Sailing Tours
G Adventures has a fleet of yachts and catamarans available for your sailing tour of exotic destinations like Cuba, the British Virgin Islands, and Thailand.
Their sailing tours feature small groups of no more than nine people, headed by captains who know every nook, cove, inlet, and small fishing village along the route, with the flexibility to adjust your itinerary at a moment's notice.
Their yachts serve as traveling hotels, which keeps costs low and all your necessities on hand. And if you've ever wanted to try your hand at taking the helm of a large sailboat, now's your chance—their expert skippers will be happy to show you how it's done.

---
Onshore Tours
If you don't have your sea legs under you and want to stay on dry land, G Adventures has a bevy of tour styles that fit the bill.
Whether it's a classic overland tour, an active adventure where you hike or bike cross-country, travel by rail or take one of its National Geographic Journeys, you know you're in good hands with G Adventures.
Each National Geographic Journeys tour includes pre-trip articles and tips from the writers at National Geographic magazine, interactive experiences with local experts, more included meals than other tours, and the knowledge that your trip supports the National Geographic Society's nonprofit work in conservation, research, and education.

---
Destinations
The great thing about G Adventures is that Carmen Sandiego has nothing on this company when it comes to where in the world it can send you. G Adventures currently offers 681 different trips with destinations on all seven continents
Yes, that includes an 11-day Antarctic expedition of the South Shetland Islands and the Antarctic Peninsula, featuring stunning landscapes that few humans ever have set eyes on.
You also can take an African safari, visit Middle Eastern ancient ruins, take in Mayan relics, or trek to Machu Picchu.
I've booked several different excursions through G Adventures, including a sailing trip through the Greek Isles, a 10-day Mekong River cruise experience, and my personal favorite:
A seven-day Local Living Italy experience in Tuscany during which you prepare meals, sample wines, and walk the countryside of this fantastic region.

---
Last-minute Deals
G Adventures handles both well-prepared travelers, who plan their trips months in advance, and people who tend to do things spur-of-the-moment. Just click on the Last Minute Deals link, and there you can find some trips to take on a moment's notice.
---
Prices

 
One thing you'll really like about G Adventures is they offer these great excursions, but at prices that don't bust your budget.
Thanks to their grassroots approach to travel and their global network of boats, vehicles, and lodges to choose from, G Adventures is able to keep costs down, passing those savings along to you.
For example, their 15-day Highlights of Morroco package costs just $1,649, and that includes trips to Casablanca and Marrakech, a camel ride, and a trek to the Sahara and the Atlas Mountains.
And if you're a solo traveler, no problem—G Adventures doesn't charge a fee for singles. They just match you with same-sex roommates, or you can upgrade to a solo room.

---
For Whom Are These Trips?
G Adventures has adventures suitable for all ages. Their Yolo tours are geared for 18- to 39-year-olds traveling on tight budgets, but all the trips I've booked through G Adventures have included tourists of all ages and nationalities. That means you'll learn not only a ton about the local culture but also a lot about the cultures of your fellow travelers.

---
Why Sail with G Adventures?
Getting on a private G Adventures yacht and sailing from island to island with a fully licensed professional skipper who knows their stuff is the best way to really experience everything there is to see.
Particularly with a locale like the Galapagos Islands, you're not going to have roads to get you from Point A to Point B. If you want to get up close and personal with the tortoises, the only way to do so is to get on a sailboat and cruise the islands.
And unlike other travel companies, G Adventures combines transport and hotel in one yacht, keeping costs down while keeping the fun going.
---
Pros
Why G Adventures? Why, of all the excursion companies out there, should you choose G Adventures? The following are some of the pros;
*Because you're traveling to off-the-beaten-path locales in small tour groups, each tour has an intimate feel to it.
*Instead of staying at big-budget hotels and eating fancy meals, you're staying at local haunts, eating local food, and visiting local attractions that only locals know about.
*G Adventures offers a Lifetime Deposit feature, so if you have to cancel a trip for whatever reason, the company banks your deposit so you can use it on a future tour, no matter when in the future that may be.
*No surcharge for traveling solo.
*You'll travel with the knowledge that the money you're shelling out helps conserve the environment and preserve cultural heritage, all while also improving the lives of the locals you meet.
---
Cons
However, it is not all rosy with G Adventures, and there are a few cons to the company and here are some of them;
*Because G Adventures uses subcontractors for many of its excursions, you may get one who isn't up to the company's usual standards.
*These subcontractors may employ guides who are inexperienced or just plain lazy.
*You'll have to find your own way from the airport to the hotel where your tour starts.
What Customers Think About G Adventures
 
My Conclusion
The next time you want to travel the world and make an adventure of it, definitely check out G Adventures. You won't be sorry if you do, and not just your wallet will thank you for it, but you will have a trip of a lifetime!

Did you already sail with G Adventures? If so, feel free to share your experience in the comment below.
Daniella has been passionate about travel, the sea, and nature for many years. As a child, she frequently traveled throughout the Mediterranean and continued with her journeys throughout her adult life.
Her experiences have created the desire within her to share her love for traveling with other passionate and adventurers who want to discover beautiful horizons and new cultures.