The summer is coming very soon, and thinking about buying a towable tube to have fun on the water with the whole family? If so, great you came to the right place! 
There are many different types, shapes, colors, and sizes, which can be a little overwhelming, especially if you are new to tubing. Some tubes provide a fast and thrilling ride, while others a slower and more gentle ride. 
Most of them accommodate adults and children comfortably, but there is a weight limit not to exceed; otherwise, your toy won't work as it should. 
So before you purchase one, you must get familiar with them to make the best choice. Below you'll find everything on how to pick the perfect towable tube for your upcoming trip!
---
Material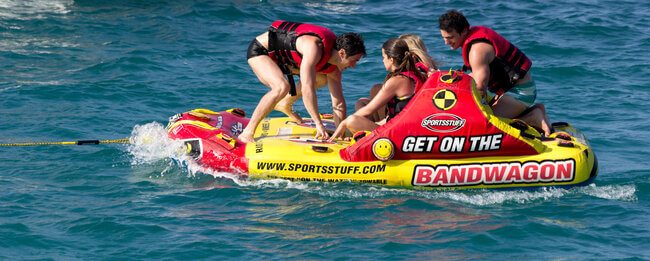 One of the most used materials for towable covers is Nylon, which comes in different thicknesses and is referred to as "Dernier." The higher the number of Dernier, the thicker and more durable the Nylon will be.
It's worth mentioning that towable tubes with higher Dernier numbers usually can hold multiple riders but are usually more expensive. For instance, on a 420 dernier, the material is lighter, thinner, less expensive, and mainly used on single rider towable.
840 denier is the highest D number and is commonly used in larger towable. As you can guess, the nylon material of an D 840 is thicker and heavier and typically more expensive.
---
Polyester
Towables made of Polyester are generally coated with PVC to strengthen Polyester and make it as strong as high dernier Nylon. For instance, 600 D polyester coated with PVC will have the same level of strength and durability as the 840 D nylon.
Polyester is also used in the boat lift covers or awnings because of its high fade-resistant capacities. This means that a towable made with Polyester won't decolorate if exposed to the sun for a long time.
1 and 2 riders towable are often made of 600 D treated Polyester and larger tubes with Nylon.
---
PVC (Vinyl)
PVC is mainly used as a coating material for the bottoms of towables and to build bladders or inner tubes of towables. PVC material comes in different thicknesses and is measured by gauge. The thickness of the PVC material used in towables usually ranges from 24-gauge to heavy-duty 30-gauge. 
---
Neoprene
The neoprene material is mainly used in wetsuits and flies fishing waders. It's also sometimes used as a cover on top of polyester or nylon towables. It's soft to the touch, enhancing comfort and preventing the skin from rubbing against the tube. A towable featuring neoprene is usually more expensive.
---
Shapes
Towables come in many shapes and sizes. The shape of the towable is fundamental and will play an important role in how your towable will perform on the water.
---
Donut Style Tubes
The round donut is one of the oldest shapes and is less expensive towable on the market. The round donut was once designed for a single rider; today, it comes in various sizes, allowing multiple riders to sit on it. However, these round tubes are versatile and can accommodate all rider levels, whether children or adults.
This is a towable you can use in multiple ways, enhancing a fun ride. You can either sit on it if you want a smooth and relaxed ride. Or, if you crave an adrenaline rush, then you can lie on your stomach with your face forward.
The downside of the round shape tubes is that they tend to roll over easily because of their small size and low gravity level. Also, not everyone will find it comfortable to sit in the small hole in the center of the tube. Fortunately, some come with a large hole and can suit most rider sizes and ages.
---
Deck Tubes
The deck tubes have a flat top and come in D-shape, round shape, or delta shape. Sizes vary from 1 to 4 riders and offer a fast and thrilling ride on the water.
Since it's flat, there are no other ways than lying on the belly with the face forward near the water. Deck tubes are designed to cross the wave easily and are also easy to board if flipping over, which you will, but that is part of the game!
If you want to have an exciting experience on the water, the deck tube will fit the bill!
---
Ride-On
Most of these tubes can accommodate from 1 to 6 riders, and some larger ones can even hold up to 10 people. Thanks to their slim, aerodynamic shape, they can take off quickly without much speed.
These tubes are quite long and require the riders to sit with their knees bent. Because riders sit behind each other, they are more susceptible to bump heads when the tube jumps on the water.
These are ideal for teenagers or adults that seek a high-speed tubing experience while sitting in an upright position; these ride-on tubes tick all the boxes!
---
Ride-In
The Ride-in tubes come in various shapes and sizes and can accommodate from 1 to 4 riders. These tubes are built to offer the riders a comfortable, smooth, and relaxed ride on the water.
Most of the ride-in towables feature inflated seats or inflated bottoms to allow the riders to sit down inside comfortably during the ride.
The more expensive ride-in tubes integrate a neoprene headrest and a floor covered with Nylon. These are more stable than any other tubes, thus not often flipping over when getting through waves or wakes.
These types of tubes require the riders to sit toward the back and low inside the towable. If you want to have a comfortable and more secure tubing experience while still enjoying a fun ride, the ride-in is for you!
---
Concept
The concept tubes are specially designed for more advanced riders. They can accommodate multiple riders comfortably and are more expensive than traditional tubes. The concept can roll, fly and effectuate all sorts of tubing experiences, providing a thrilling and unmatched riding adventure.
As you can guess, these are ideal for adventure seekers who are looking for a unique, intense sensation on the water.
---
Rocker
Rocker tubes come in two different shapes, U-shaped and tree-stage. The U-shaped rockers have a curved construction that allows the rider to rock side to side on the water. The three-stage rockers have two wings turned up on each side with a flat surface where the riders can sit or lay on.
The three-stage provides a huge thrill when riding fast over the wake, and the great thing is that it's very stable and rarely flips over. Everyone can ride on these fun rockers, children, and adults of all ages.
---
Rope
For security reasons, the Water Sports Industry Association (WSIA) requires using a rope with a minimum of 50 feet in length and up to 65 feet. Less than 50 feet, it will draw the towable straight in the tip of the wake and splash the rider's face.
The tube ropes are designed to fit the size of the towables and match the number of riders being pulled. For instance, if the boat pulls a four-person tube with a rope designed for two riders – tube, you can expect the rope to break in the middle of the ride. So it's crucial to use the right tow rope for your towable excursion.
Also, always ensure your tow rope is in good condition, meaning not damaged or worn out, before venturing into the water. Know that a water ski rope has a lower break strength than a tow rope; thus, you can't use a water ski rope to pull a towable.
---
How to Properly Inflate Your Towable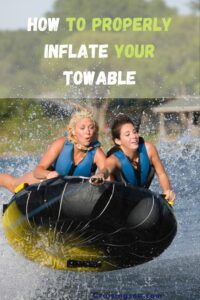 It's straightforward to inflate a towable. The first thing you need to do is to put your tube on a flat surface. Check the valve and see if it's a speed valve, steam valve, or Bostom valve.
Once you find out, connect the right-fitting electric pump to your tube and inflate your towable until you don't see wrinkles, it needs to be ultra-firm to the touch.
The towable can deflate a little due to the heat and water temperatures. If you don't use your towable, deflate it, rinse it, dry it, and store it in a safe place where there is no sun or things that could damage it.
Boston Valve
A Boston Valve is a one-way valve featuring two caps. This valve allows quick inflation and is mainly used in large inflatable items such as mattresses, towable and inflatable boats. It's simple to use. Just open the top cap and fill up your tube with air. Once you insert air inside, it doesn't escape. To deflate, press and twist the whole valve at the same time.
Speed valve
A speed valve is one of the easiest to use. Press the valve into the tube, then attach your fitting electric pump to the valve and inflate. Close the cover, and you are ready to go tubing!
Stem Valve
The steam valve is the most standard valve used on inflatable toys. Make sure to put the fitting electric pump deep inside the stem valve and inflate it. To deflate, squeeze the stem valve and press on the towable until it's completely deflated.
---
Safety Precaution Tips
---
Final Words
With this guide, you should be able to find the best towable tube for your adventure on the water. If you make the right choice, you'll have a fun and exciting tubing experience! 
Did you find the right towable for your tubing trip? If so, are you happy with it? 
Read towable reviews
Daniella has been passionate about travel, the sea, and nature for many years. As a child, she frequently traveled throughout the Mediterranean and continued with her journeys throughout her adult life.
Her experiences have created the desire within her to share her love for traveling with other passionate and adventurers who want to discover beautiful horizons and new cultures.