Designed by Philippe Briand, Jeanneau 57 is an elegant offshore cruiser that offers endless possibilities both in terms of onboard living and sea exploration. The stylish interior and deck layout are the handiwork of Vittorio Garroni and offer a generous amount of accommodation and lounging space ideal for relaxation.
Once you get aboard the Jeanneau 57, you'll discover, almost immediately, that every interior and exterior detail has been conceptualized to offer the most fun and engaging cruising experience. If you're planning to charter the vessel for the first time, then you would most probably want to know what to expect in terms of onboard amenities, performance features, sailing destinations, and more.
So, here is a quick review of the Jeanneau 57 sailing boat that can provide valuable insight into what the vessel has to offer:
Accommodations
Jeanneau 57 comes with 3 cabins that can house up to 6 guests in hotel-style comfort. The master bedroom lies forwards, while the rest of the 2 identical cabins are located towards the aft and can have a configuration of either double or twin beds. In all accommodation layouts, there is a forward single bunk designed for the crew that can be accessed from the bow. The boat also comes with a total of 4 showers and 3 electric heads, which adds even more convenience to living on board.
Interior
Inside the Jeanneau 57 lies a U-shaped galley that is furnished, complete with a bench top, fridge, top-loading freezer, gimbaled stove with oven, and three burners. The galley also features a range hood plus an optional dishwasher and microwave.
Just opposite the galley is a chart table complete with an electronic nerve center. Within the boat's large spacious saloon, there are light sofas and armchairs, plus a table where you can relax as you converse or enjoy a meal with friends. There are sleek windows and skylights that bring in generous amounts of natural light, something that increases comfort on the vessel's interior.
Exterior
The vessel's companionway, which is flanked on both sides by leather-covered handrails, can be accessed via a clamshell hatch, and there's generous headroom as you descend to the cabin below. Jeanneau 57's cockpit is comfortable and well organized, with its forward section featuring a lounging area and the aft section having a large sitting area.
There is also a drop-side table within the cockpit, featuring an integrated sink and icebox, which can seat up to 8 people or be used as a center point for distributing finger foods. Throughout the yacht (including the exterior), rich materials like leather, blond teak floor finishing, and stainless steel have been perfectly utilized.
Generally, there's just about enough on the deck for relaxation and play. You can actually laziness around the foredeck as you catch the soothing sea breeze or sit in the cockpit with family and/or friends as you enjoy some intimate or casual conversations.
Entertainment
Jeanneau 57 is equipped with a set of entertainment facilities that can make the cruising experience not only lively but also engaging. Within the saloon, there's a stereo providing high-quality audio entertainment. A satellite TV, with 5GB weekly data, is also available for use, with €35 charged for each additional 5GB purchased. If you would like to surf the internet, there is onboard Wi-Fi that's at your disposal 24/7.
In terms of water entertainment, the vessel has a number of water sports facilities onboard, including a 3.5m dinghy, water skis (for adults), windsurfer, snorkel gear, water tube, and wakeboard, all at your disposal. Jeanneau 57 further has a swim platform and boarding ladder in the transom, which makes it easier to get into and out of the water.
Performance
Jeanneau 57's Volkswagen 140 hp/103 kW engine is powerful enough to push the boat at a decent speed of 9 knots/hour. Raising the sails, using the powered halyard and sheet winches, is also a breeze with this boat if you want to cruise with wind power. With this latter option, you can comfortably sail at speeds of 6.5 knots when the breeze is blowing at 8 to 10 knots.
Where Does Jeanneau 57 Sail?
The Jeanneau 57 boat is available in many locations for charter. But this specific one can be found in Greece during the summer. If you've successfully chartered the vessel, then your preferred pick-up point will be Corfu.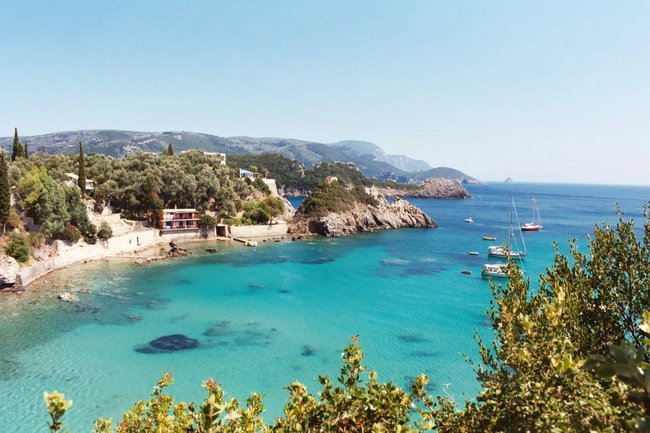 Why Charter The Jeanneau 57?
Setting into the sea with this vessel, first of all, promises a comfortable and luxurious experience, thanks to the stylish and well-organized deck. If you can come along with a couple of friends or family members, then your cruising experience can be both fun and engaging.
Secondly, the vessel is a sailboat, which means you can choose to either sail under power or with the help of wind. That means you have the opportunity to save more on fuel at sea or enjoy an ancient-like sailing experience when the conditions are windy.
Lastly, the 57 comes with a crew that can help not only with cruising but also with cooking. With that, you can have an easy time hopping from one island to the next, all while getting the better of the sea and the adventures that come with it. 
---
Conclusion
If you've been planning to charter a vessel that will offer you the most fun and memorable adventures at sea, you might just fall in love with Jeanneau 57. A quick look at its interior and exterior features reveal just how stylish and well-thought the vessel's design is. That, when combined with a dedicated crew, a well-crafted itinerary, and a dose of adrenaline-filled activities at sea, make sailing with this vessel-either during winter or summer-worthwhile. So it is something worth giving a try.
---
Specifications
Type of boat: sail
Beam: 5 meters
Draft: 2.5 meters
Year Built: 2016
Cruise Speed: 7
Maximum Speed: 9
Engine: Volkswagen 140 hp/ 103 kW
Have you already ridden the Jeanneau 57? If so, you are welcome to share your experience in the comments below.
---
Daniella has been passionate about travel, the sea, and nature for many years. As a child, she frequently traveled throughout the Mediterranean and continued with her journeys throughout her adult life.
Her experiences have created the desire within her to share her love for traveling with other passionate and adventurers who want to discover beautiful horizons and new cultures.