What Is A Skipper?
A skipper is typically a captain, that's in command of a boat. Most skippers, with their professional sailing experience, have excellent knowledge of the local area and are capable of making recommendations on the best places to visit and fun things to do or see. Skippered yacht charter holidays are hence a perfect option for those who have little or no sailing skills or have never sailed before.
---
How Does A Skippered Yacht Work?
If you've chartered a bareboat, you'll most certainly need to hire a skipper who will accompany you throughout the journey. The skipper, in this case, will meet you at the time of checking in to the yacht. He/she will be charged with the responsibility of sailing you to different places on your itinerary for the entire holiday duration.
This gives you the freedom to relax, lounge on the decks and try different activities along the way. You can sunbathe on the deck; relax in a hammock, snorkel or take a swim in the waters, knowing you've got someone at the helm.
If you're a beginner or novice sailor, you can also take time to learn a few basic sailing skills from the skipper, if you are willing. Majority of skippers are always friendly and
will gladly show you how to tie the ropes, steer the boat, anchor the chain and
so much more.
---
About Sailing Hours and Itinerary
How far you cruise each will depend on the nature of your itinerary. But a skipper will generally sail for 3 to 4 hours a day, typically covering the period between morning and afternoon. He/she will stop at some point along the way for lunch.
In the evening, the skipper will dock the vessel at the destined port or harbor, after which you'll be free to eat, relax on board or even go out and dine as you please. As for itineraries, the skipper will provide suggestions of the best places to visit, and you're free to adapt them as they are or request to make slight changes as you please.
The best way to go about it though would be to sit down with your skipper at the beginning of the trip and think through the best route to follow. And if you have specific ideas on the activities (like diving, snorkeling, etc.) that you would wish to engage in along the way, the best you can do is ask for recommendations from the skipper.
---
Do You Need Qualification To Sail On A Skippered Yacht?
Most skippers are usually experienced and have suitable permissions and insurance to cruise various boats. So, as a charterer, you do not need to have any prior sailing experience. While it may sometimes be necessary to help the skipper on the deck do the docking, for instance, it does not require any sophisticated knowledge. In fact, that's a perfect opportunity for you to learn a few skills if you've never sailed before.
---
What Skippered Yacht Options to Choose From?
The type of boat you choose to go for is entirely up to you. It all depends on your preference and what you expect for your holiday. But it is important to keep in mind that your skipper needs a cabin to sleep or rest in during the journey.
Having said that, here the main options to consider:
Sailing Yacht
If your desire is to sail the seas on a boat that's propelled partly or entirely by sails, then a sailing yacht would be a perfect choice for you. Most people opt for this type of boat because of the sheer romanticism of cruising under traditional sails and/or the peace and quiet that comes with it. More sailing yachts currently in the market are also well-equipped and feature decent accommodation and deck space for guests to enjoy. Hence exploring the seas with such vessels is as beautiful and it is convenient.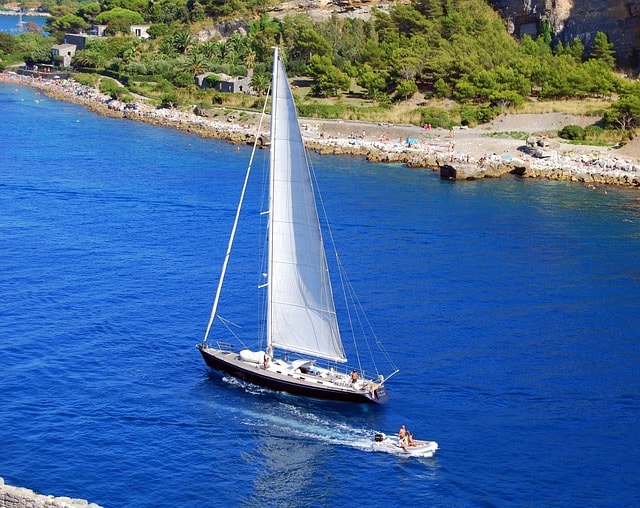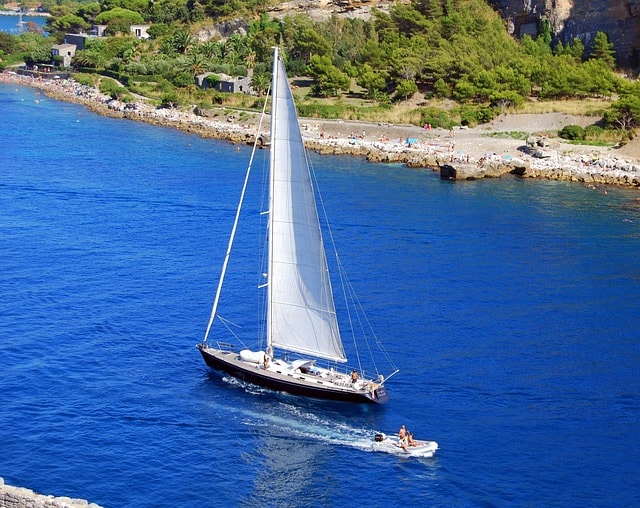 Catamaran
A catamaran can be a sublime option to you if massive saloon, deck and accommodation space is what you're looking for. Aside from being super spacious, they tend to be stable too, since they are multi-hulled. Further, they come with shallow drafts, meaning you can explore and anchor even in the shallowest of waters. With lots of lounging space, trampolines and swim platforms, catamarans just offer more fun opportunities onboard compared to their sailing yacht counterparts.
---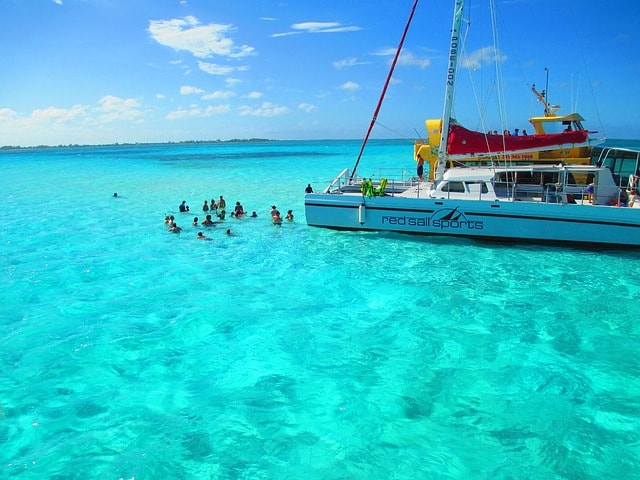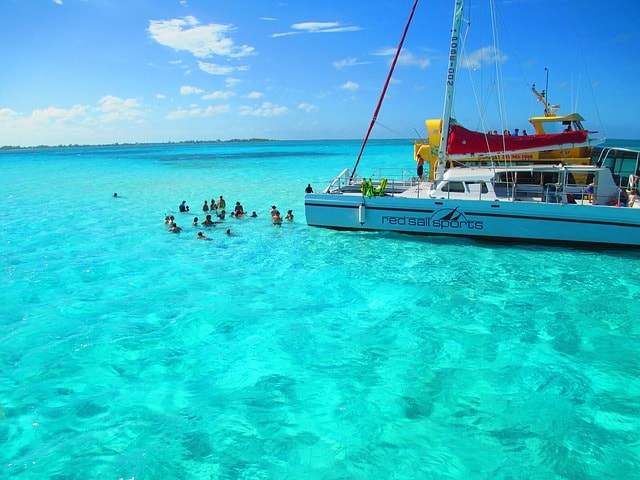 ---
Can You Add Crew on a Skippered Yacht?
A skippered charter works almost the same way as a bareboat charter in that you have to care for the holiday all by yourself. That means you'll need to organize for provisions including food, drinks, toiletries, cleaning products and more, before embarking on the journey. Keeping in mind the many tasks that await you on board like cleaning, preparing snacks and drinks plus shopping for more provisions, you may need to hire a hostess or chef to help you out. But remember, each of the additional crew will need a separate cabin to stay.
---
Cost of Hiring a Skipper
The cost of hiring a skipper will usually vary based on the yacht description and the additional service payable on the charter guide. On average though, a skipper's payment ranges between €100 and €180 per day, depending on the location.
---
Is the Skipper Included in the Yacht Charter Price?
Yes, most skippered boats always include skipper service fees in the base charter price. If not included, the charter company will specify that in the listing.
---
Where Does the Skipper Sleep?
It is not uncommon for the skipper of the yacht to sleep in the salon area. But it is important to understand that every boat has a specified number of people allowed to stay onboard, based on the registered amount of berths. So, when planning to take a skipper with you on a sailing tour, be sure to arrange a cabin for him or her.
The benefits of allocating a full cabin for the skipper are many. Aside from helping the skipper rest adequately, it provides him/her with privacy as well as an ideal place to store his/her personal effects.
---
What Are the Skipper's Tasks?
Skippers, with their experience in navigation and sailing, have many organizational, household, technical and nautical duties to fulfill. Some of the most important tasks they carry out include the following:
Informing you (the charterer) about the yacht and preferred route and itinerary activities
Navigation and sailing
Suggesting to you all the hidden gems that can be great to explore along the way
Manning the yacht and all its equipment
Showing you the basic navigation skills (if you're interested or willing to learn)
Checking in and checking out with the charter company


---
---
Who is Responsible for Skipper's Meals?
As a charterer, you're expected to cover the cost of food for the skipper and hostess, if any. And there are two ways to do it. You can either pay the skipper an average of €35/day in advance for his/her food or simply choose to include the skipper and/or other crew in your meals (even when going to restaurants).
---
Does the Skipper Speak My Language?
Most skippers always speak English and the language of the country in which they're sailing. If you wish the skipper to speak your own language, you can always indicate that on the reservation comments and the charter company will try their best to fulfill that.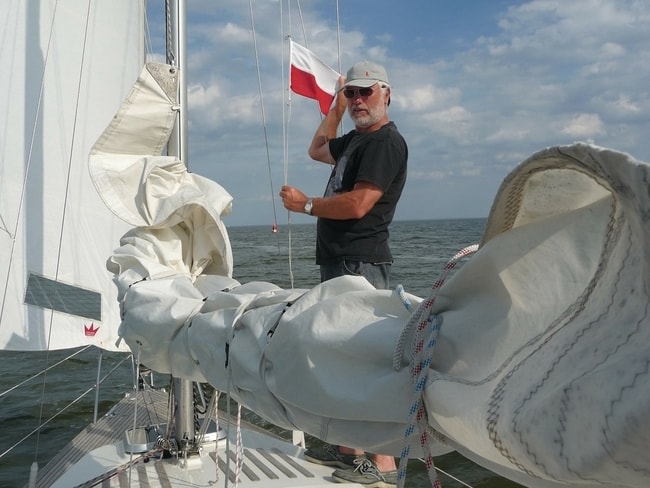 ---
Reasons to Charter a Skippered Yacht
With a skippered yacht, you are free to choose any of the stunning destinations you've ever dreamt of visiting. You'll also have the opportunity to craft your own unique itinerary and enjoy as many fun activities as possible as you go along.
The fact that you have the skipper sitting at the helm frees you of the somewhat taxing navigation and sailing tasks, allowing you to sit back and unwind as you cruise on. If you've never sailed before, you have the opportunity to learn a few basic navigation skills from the skipper.
The beauty of it all is that the captain (skipper) has in-depth knowledge of the local area and can lead you to all the fun hotspots, including beaches, secluded bays, and cays that you would love to spend time in. So yours will be to explore and enjoy the beauty of various spots you visit.
---
Who Is a Skippered Yacht-Charter For?
A skippered yacht charter is typically for anyone that's planning a sailing holiday but has little or no sailing experience. If you would also want to enjoy the freedom of sailing to whatever place you want at any given time, this charter could also be great for you. The privacy provided onboard a skippered boat cannot be overstated too. This means there's more you can enjoy on such a yacht compared to other charter options.
---
Conclusion
Now that you've learned what skippered yacht charters entail, planning your upcoming sailing holiday should be easy. All you may need to do is book your desired vessel early enough, get all the provisions you need a day or so before embarking and let your skipper guide you through the best spots in the area that you can visit. Otherwise, if you plan your itinerary well, you'll have a fun, adventurous and memories sailing holiday.
Request Your Skippered Yacht Charter Quote Now
Have you already charter a skippered yacht? If so, you are welcome to share your experience in the comments below.