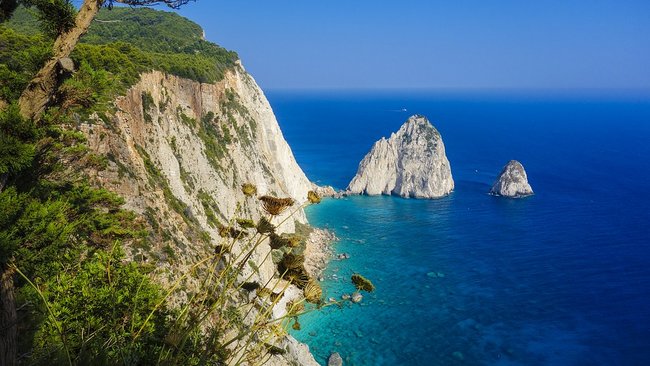 The best time to sail in Greece will depend on your personal preferences and the kind of activities you plan to do there. Maybe you have a penchant for crowded places or perhaps you prefer to relax on one of the beautiful isolated islands. For whatever the reason may be, before venturing into these beautiful islands, it would be better to know helpful information's to plan your sailing holiday efficiently and with ease!
Let's begin with the weather!
Greece has a Mediterranean climate with dry and hot summers reaching high temperatures in July and August. The winters are mild and humid with many sunny days throughout most of the year.
If you plan to enjoy water activities, from June to late October the sea's temperature is extremely agreeable and still warm.
In the Aegean Sea, high winds named "Meltemi" frequently blow from North/Northeast particularly in mid-July and mid-August, take into consideration that these winds can last for several days.

Mid- April to Mid-June
Spring is the best time to enjoy the sun without suffering from warmth. Also, that time of the year allows you to practice plenty of outdoor activities such as strolling, trekking mountains, beach sports, biking, and many other recreations.
Additionally, yacht charters are much cheaper in this season and all the restaurants, bars, hotels, and tourist attractions are open.

Mid-June to late August
As I've mentioned above, July and August are the hottest months, the beaches, and many other places, are crowded with tourists.
If you like parties, outdoor concerts, crowds, noises then the peak season is for you! Know that chartering a yacht in these periods will be more expensive than any other month in the year as yacht charter companies are very busy at that time.
For the tourist attractions, you don't need to worry as it is evident that all establishments are extremely active during these months.

September to Mid-October
Like spring, autumn has something very special; you can feel the magic in the air. Sailing in this period is extremely pleasant as the water is still relatively warm, the crowds are gone, the tourist places are open to everyone, and the climate is agreeable.
It gets a little cooler on the beaches and the mountains, though, but you will still be able to enjoy many outdoor activities. What can be better!

Plan to sail with your kids?
If you intend to sail with your children, you would agree with me that it would be better to wait until the end of the school year.
There are few breaks during the year, such as Easter in springtime that last about a week and two months in the summer depending on the region and the state. So, you'll need to plan your trip accordingly.
Since all the fun attractions are open from mid-April until late October, both seasons are excellent for a family trip!

Sailing, adults' time!
Sailing with a group of adults is fabulous but in peak season you may end up with plenty of young folks that usually have only one thing in mind, party the whole day until dawn.
If this doesn't bother you, then it's fine, but if it does, then it could screw your entire vacation. To avoid this small inconvenience, September and October will be the best months to sail.

So…When is the Best Time?
As mentioned above, the best time will depend on your preferences. My favorite periods are spring and Autumn as I personally don't like crowded places and high heat.
But, if you decide to sail in the peak season, know that the warmth is much more supportable at sea than onshore, thanks to the winds!

Pros and Cons of Sailing in the Peak Season
Pros
Good for your children to make some friends
All the tourist attractions are open
Plenty of outdoor concerts and parties
Lots of onshore and offshore activities
Active nightlife
Cons
The weather is hot and dry
Yacht charters' prices increase
All the places are crowded
Pros and Cons of Sailing in the Low Season
Pros
Excellent weather for outdoor activities
Less crowded
Yacht charter prices decrease
Cons
The weather may be unpredictable
The sea is still slightly cold in early May
My Conclusion
As there are pros and cons to everything, having said that, there really isn't a better time to sail in these beautiful Greek islands. It is all a matter of your personal choice, so think about what you plan to do in Greece and from there, get ready to book your boat!
What about you? When is the best time for you to sail to Greece? Please, let me know in the comment below, I'll be glad to hear your feedback!