Maybe you are getting tired of the same old sandwiches, or maybe it becomes hard for you to come up with new ideas when planning your sailing holidays, or maybe you simply would like to get some good suggestions and tips about the best food to eat on a boat. Whatever the reason, this article will answer all your questions!
List of food
Not everyone has the time or the mood to cook on a boat, this is why it is better to take food that doesn't need to be cooked on board or can be prepared quickly and simply! Also, Some boats don't possess a galley or simply don't have all the accessories required for cooking. So here is a list of foods that are easy to bring, to keep and to cook!
Pre-sliced bread
spreads
Crackers
Almonds
Nuts
Sandwiches
Cheeses
Canned tuna
Granola bars
Apples
Oranges
Grapes
Slices of cucumbers
Slices of carrots
Pizzas
Caleslow
Rise
Pasta
olives
Eggs
Potatoes
Powder milk
Dry spices
Frozen meals
Cookies
---
Freezable Recipes 
Frozen meals are very useful especially when sailing. You don't need to prepare them on the boat to have delicious meals. The only thing you have to do is to reheat the dish, and you are good to go!
#1 Beef and sweet potatoes
This recipe is very easy to prepare, but the cooking takes few hours.
Ingredients
2 pounds beef chuck cut into pieces
2 to 3 sweet potatoes cut into 4 or 6 slices
30 – ounces of peeled tomatoes
1 big red onion cut into small pieces
1 cup of dried apricots
2 teaspoon cumin
1/4 teaspoon cayenne
2 teaspoon ginger
1/2 teaspoon cinnamon
Salt
1/4 teaspoon pepper
2 cups of box couscous (Alternatively, you can use rice)
20 – ounce bottle chickpeas
2 cups spinach
1/2 of roasted almonds and chopped
3/4 cup hot water
Preparation:
1.In a slow cooker, put the olive oil and cook the onion first. When the onion is golden add the tomatoes, beef, potatoes, apricots, cumin, cayenne, cinnamon, salt, pepper, and 3/4 cup hot water
2. Cover the cooker and cook on high heat until boiling, then cook on small heat for 6 to 7 hours.
3. 15 minutes before the beef is ready, make the couscous according to the directions on the package.
4. Put the chickpeas into the cooker and cook for 3 minutes. Add the spinach and serve with the couscous and combine with the almonds.
Freeze: Cool and divide the beef with the couscous into equal parts in small freezer containers. It can be frozen up to 6 months
Reheat: Reheat in a microwave or bain marine
Shakshouka
This recipe is not only very healthy, but it is also incredibly delicious and easy to prepare. You can eat the Shakshouka whenever you feel like it. Whether it is for breakfast, lunch or dinner, this meal will always fill up your stomach!
Ingredient:
12 tomatoes cut into small pieces
6 garlic, minced
4 tablespoon olive oil
1 1/2 red pepper cut into small pieces
pepper
salt
3 tablespoon paprika
Coriander
1/2 tablespoon Cayenne pepper (not necessary)
3/4 tablespoon curcumin
Preparation:
1. Heat the olive oil in a metal pan and add the garlic, cook until it is golden. Combine the tomatoes, red pepper, salt, pepper, paprika, curcumin, cayenne pepper, mix well and cover. Cook on small heat for 15 minutes.
2. Freeze: Cool, and pour the shakshuka in a freezer container. You can freeze it for 6 months.
3. Reheat: Heat the shakshuka in a pan and break 6 to 8 eggs on it. Cover and Cook on a small heat until you see the eggs are ready.
4. Eat with bread or pita!
---
Desserts
Seedless dates with dry fruits
This is one of my favourite desserts because it is not just delicious, but it is also very easy to do and to bring. You don't need any fridge to keep them fresh and most importantly, it is healthy!
Ingredients:
1 Kg Seedless Dates (Packed)
200 gr walnuts
200 gr almonds
200 gr cashew nuts
150 gr flax seed
200 gr raisins
Preparation:
1. combine all the fruits with the seedless dates and mix them with the hands or with a mixer.
2. After you have mixed all the ingredients,
make a sausage of it and roll it in shredded coconut or sesame seeds, then cut into slices.
3. Put the slices in a container keep them in a fridge or a freezer. You can freeze it up to 6 months if you want.
---
Cool snacks
Fruits
It can be quite hot in the summer, and it is always good to have some refreshing snacks to keep you cool!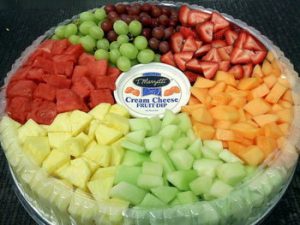 1. Watermelon cut into cubes
2. Melon cut into cubes
3. Grapes
4. Cherries and strawberries
5. Fruit salad in a container
---
Salads
Very easy to prepare and always delicious, salads makes a perfect accompaniment to any dish!
Mozzarella pasta salad
Ingredients:
8 ounces of rotini pasta
1/2 of green onion cut into slices
2 cups of cherries tomatoes cut into half
2 1/2 ounce of black olives, drained
1 lb of mozzarella cheese cut into small cubes
3 tablespoon of olive oil
1 teaspoon of oregano
Salt
Black pepper
Preparation:
1. Cook the pasta for about 6 minutes, drain and cool.
2.Mix all the ingredients in a large bowl
 3.Put in a container, and it is ready to eat!
Taco Salad
Ingredients:
3 tomatoes cut into small dices
1 pound Cheddar cut into small cubes
1 onion cut into small pieces
1 head of lettuce washed, and drained
1 1/4 pound of ground beef
1 cup of salad dressing Catalina
1 cup of salsa
1 bag of taco chips
Tortilla chips
Preparation:
1.In a large bowl, combine the tomatoes, onion, cheese, ground beef and lettuce. Pour the salad dressing over the top and mix well. Put salsa on the salad and serve with taco chips.
---
Sandwiches
Sandwiches are also very practical and having them within reach of your hands is always useful.
Barbecue Chicken Sandwiches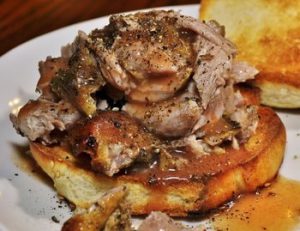 Ingredients:
1 cup barbecue sauce
4 cups meat shredded
5 pounds fried chicken
4 hamburger buns
Preparation:
Mix the meat, chicken, and the barbecue sauce. Divide the mixture and put each portion on the buns.
Pesto Tuna sandwiches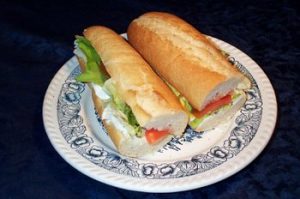 Ingredients:
2 boxes of tuna
4 pieces of baguettes
2 tablespoon pesto
4 Hard boiled eggs
1/4 teaspoon of black pepper
Preparation:
1. Mix the tuna with the pesto and put the mixture in the baguette.
2. Peel the eggs, cut them into slices and add them in the baguettes with the tuna. Put black pepper and salt.
Meals on grill
What could be better than a barbecue with a couple of friends, especially on a boat? These are the best moments in life!
Eggplant on grill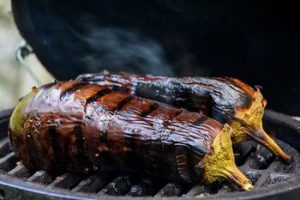 Ingredients:
4 Eggplants
raw tahini
4 lemons
salt
Preparation:
1. Make some holes with a fork in the eggplants and put them on a hot grill for about 30 minutes
2. When they are ready, take them off the grill and open them lengthwise with a knife.
3. pour raw tahini and lemon on the open eggplant
4. Salt according to taste
Cumin-Grilled Chicken Breasts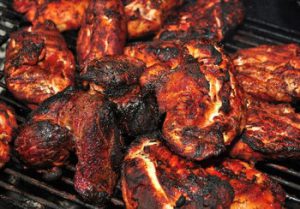 Ingredients:
4 slices of chicken breast ( 6 ounces for each)
3 tablespoon olive oil
1 tablespoon paprika
1/2 teaspoon black pepper
12 teaspoon salt
Preparation:
1.Mix the olive oil with the paprika, black pepper, and the salt in a bowl.
2. Rub the chicken with the mixture and put each slice separately on a hot grill.
3. Cook on each side and serve
---
Tips
1. If you don't have a fridge in the boat, then a cooler will be perfect to keep all your foods fresh.
2. Put some ice bags in the cooler to keep drinks and foods cold.
3. If you go for an extended sailing trip, you need to keep your ice frozen, as well. There are many coolers on the market, but not all cooler will do the job done and will keep your ice frozen during the trip. The one I would suggest you take is the Pelican products ProGear Elite Cooler. This cooler can keep your ice frozen up to 10 days in high temperatures.
4. For some reasons, it may happen the drinks spill over into the foods. So, It is preferable to avoid this kind of inconvenience by storing them into different coolers.
5. Use Ziploc bags. These are the best option to store foods and are easy to handle.
Conclusion
Now that you know what are the best food to eat on board a boat, it only remains for you to pack your favourite foods and start your sailing trip!
Want more recipes?
Subscribe to Cruising Sea newsletter to receive every two week the latest post straight to your inbox!
What about you? Do you have some good foods to add to this article? If so, share them in the comment below!
Daniella has been passionate about travel, the sea, and nature for many years. As a child, she frequently traveled throughout the Mediterranean and continued with her journeys throughout her adult life.
Her experiences have created the desire within her to share her love for traveling with other passionate and adventurers who want to discover beautiful horizons and new cultures.