It is very easy to know what to pack for a cruise to Bahamas as the temperatures are very similar both winter and summer. Sometimes it can get cooler early in the morning as well as in the evening. In the winter you will feel like in the late spring, which is very agreeable, and in the summer it is usually hot and humid.
During the summer and the fall, there may be some rains, especially during the months of May and June, but don't worry, the Bahamas have more than 300 days of sunshine a year. In the Bahamas, you can enjoy all the water sports almost any day of the year, due to its wonderful tropical climate.  From September through May the Bahamas are crowded, and the temperatures vary" between" 70 to 75 during the day.
No matter which season of the year you plan to cruise in the Bahamas, you will always need to take with you light clothes and some swimsuits, because you will spend most of your time swimming and sunbathe on one of the beautiful islands of the Bahamas.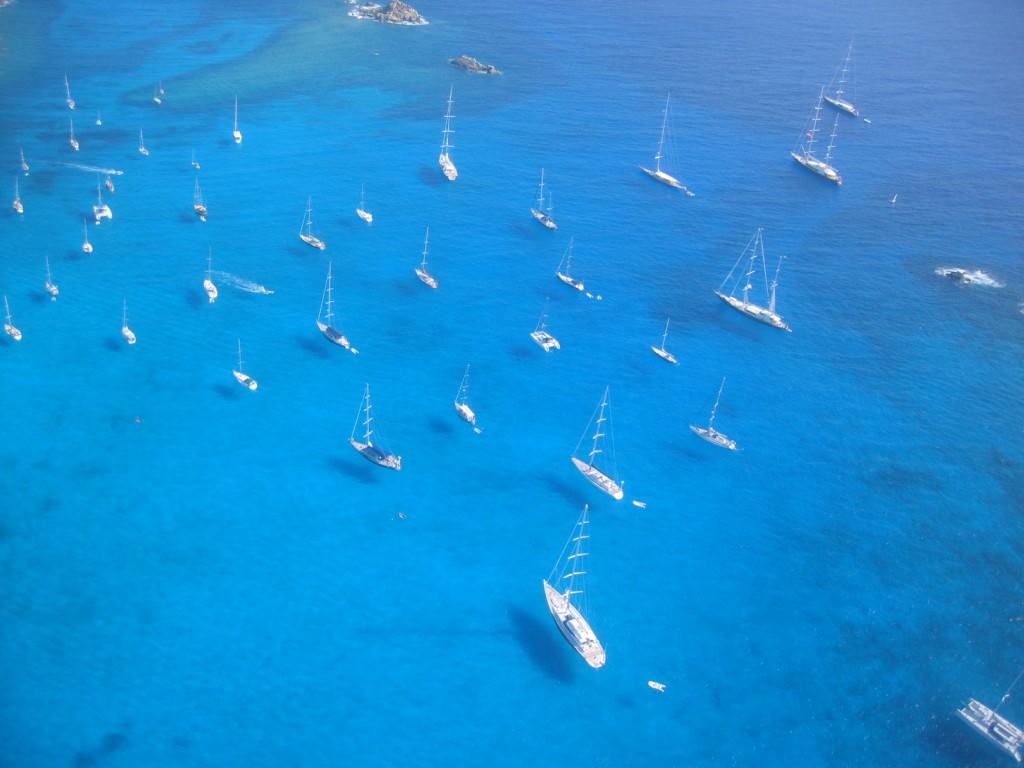 Important Things to Know!
Take into consideration that yacht charters are not similar to hotels, and they not always provide personal care, such as towels, conditioner, soap, shampoo, peignoir, razors, or blow dryer. So before you start cruising, make sure with your company to check what they do provide on the boat.
Many charter companies might restrain the number of suitcases on the boat as storage is quite restricted on boats, but that is also something that you have to check with your company. However, if you want a good advice, don't over pack and even leave some place in your bag for the presents that you will maybe buy in the Bahamas.They are beautiful handmade presents to find in Bahamas shops:)
People love to wear formal clothes in the evening at the restaurant, which make the ambiance more special after being in swimming suit the whole day.
Fortunately, it's not an obligation, and many others would rather put jeans and a simple shirt on to eat in a pizzeria, so it's a question of personal choice
It is always better to make 2 copies of important documents such as passport, trip assurance, Charter documents, in case you lose them. Leave one copy in your cabin and the other one, leave it at home or to a friend.
What to Pack?
Here is a list to help you pack for a cruise in the Bahamas.
Important documents
Passport
Visas
Trip assurance
Driver license
Medical prescription
Credit cards
Cash
Cruise documents
Copy of all documents                                                     (Passport, Visas, trip assurance, driver license, Medical prescription, cruise document)
Toiletry
Brush – Comb
Shaving cream – Razor – Electric razor
Perfume –  Deodorant
Nail polish – polish remover
Makeup – Make up remover
Dental floss – Toothbrush – Toothpaste
Hair gel
Sunscreen
Hand Cream – Face cream
Mosquitoes spray
Shampoo – Conditioner – soap
Personal thing for women
Digital Equipment
Camera – batteries
Video – Batteries
Mobile phone – charger
Laptop – charger
Alarm clock
Women clothes
Swimsuits                                                                               (Bring several with you)
Cover up
Shorts
T-shirts – short sleeves and long sleeves
Underwear – bras
Socks
Light dresses
Light pants
Formal clothes for the evening                                         (Dress, Skirt, Jacket)
Sweatshirts – sweaters                                                      (sometimes it get cooler in the evening)
Waterproof jacket                                                                (depending on which season you'll cruise)
Shoes                                                                                    (for the evening)
Flip-flops – Sandals
Pajamas
Sports shoes                                                                         (To spend time ashore and walk around the town)
Beach towel
Jewelry – Watch
Hat
Laundry bag
Sunglasses
Belts
Bags                                                                                     (For the beach and for the evening)
Umbrella                                                                              (Depending on the season)
Man clothes
Shorts T-shirts short sleeves and long sleeves
Swimsuits                                                                           (Bring several with you)
Underwear
Pajamas
Laundry bag
Socks
Jeans
Light pants
Belts
Sandals – Flip Flops
Sports shoes                                                                        (To go on excursion)
Hat
Sunglasses
Sweatshirt – Sweaters                                                     (It get cooler in the evening)
Waterproof jacket                                                              (Depending on the season you'll cruise)
Casual clothes for the evening                                      (Ties, blouses, pants, light jackets)
Shoes for the evening
Beach towel
Back bag                                                                            (To go to the beach or in excursion)
Umbrella                                                                            (Depending on the season)
Many people get sick when they get on board, that can be a big problem because it can ruin your entire cruise vacation, and that will really be a shame! I personally don't recommend taking sea sickness tablets because you won't be able to drink any alcohol and you will feel tired most of the time. If you want my advice, buy some bands and wear it around your wrist, it is awesome and it works perfectly!
Want to Know More Tips?
Sign up to Cruising Sea newsletter to receive every two weeks the latest post straight to your inbox!
Have you already packed for a cruise in the Bahamas? Would you like to add your personal list? I would love to hear your feedback!
Daniella has been passionate about travel, the sea, and nature for many years. As a child, she frequently traveled throughout the Mediterranean and continued with her journeys throughout her adult life.
Her experiences have created the desire within her to share her love for traveling with other passionate and adventurers who want to discover beautiful horizons and new cultures.