A sailing trip can never be successful without the right clothes, footwear and other accessories. Whether you're a beginner or a seasoned sailor, you have to know what to wear for sailing before embarking on the boat.
Putting on the right outfit when sailing will not only ensure you beat the bad weather at sea but will also guarantee a safer and more fun-filled sailing experience.
There are a set of different outfits, gear and accessories that you can wear based on the weather and/or the boat you're sailing in. All of them are discussed below in detail.
---
Outfits to Wear According To the Weather
Weather dictates a lot when it comes to choosing the best outfit to wear when sailing. Regardless of whether it is summer, winter or spring, you need to get a set of clothes, accessories, and gear that will make sailing comfortable.
Here are some of the clothing, gear, and accessories you need for sailing during different seasons:
Summer
Summer is one of the best times to go sailing but overexposure to the sun can irritate the skin and make you uncomfortable. So when venturing into a day or weeklong sailing tour, be sure to bring along a t-shirt/short-sleeve shirt, lightweight pants, a hat and a pair of polarized sunglasses. And if you are so much into swimming or snorkeling, then carrying a swimsuit and skiff boots is a must. These items will not only ensure you enjoy utmost comfort but will also help you avoid the damaging effects of the sun.
Winter
Despite the extreme cold during winter, you can still have a great time sailing if at all you choose the right outfits that will keep you warm throughout. In order to avoid any cases of hypothermia, you better come along with a wetsuit, drysuit, waterproof jacket, disposable hand warmers, boat shoes and/or hydrophobic socks.
A drysuit can really come in handy if you're planning to engage in on-water activities. Remember to only choose sailing clothes made from polypropylene, wool, silk and other synthetic fibers. That's because these materials guarantee a great deal of breathability and dryness. Cotton usually absorbs water at a higher rate and retains it for long hence it's a NO-NO.
Spring
Spring can be characterized by a sunny, windy or rainy weather and you need to be prepared thoroughly if you're going sailing at during this period. For a comfortable sailing experience, you might need to carry a woolen t-shirt, a pair of warm socks, a hoodie, a pair of Omni-wick pants and a pair of sailing gloves. You might also need some polarized sunglasses for protection and/or performance.
Fall
Fall is as cold as anyone would think and you need to just have the right gear if you are to be guaranteed of a fun-filled sailing experience. As such, you need to carry toque, rashguard, hydrophobic tops & pants, wetsuit, sailing gloves, wetsuit hood, booties and cotton socks.
---
Outfit To Wear According To the Type of Boat
Dinghy Sailing
Sailing on a dinghy exposes you to water and wind, something that might make you feel too cold or wet. You wouldn't possibly want to battle with hypothermia; hence you should come with proper dingy sailing clothes and gear on your tour.
For cold weather, waterproof salopettes or dry suits are a must and during cool weather (windy days), you need a wetsuit and rash vest for extra comfort.
A typical summer dinghy sailing can go well with a pair of hiking shorts or rash shorts as they prevent chafing in the event temperatures rise.
You might also need base layers, sailing gilets, and dinghy smocks when sailing on any kind of weather. Other accessories that might make your sailing even more comfortable include sailing gloves, sunglasses and a waterproof bag to keep stuff dry.
For purposes of moving comfortably around the dinghy, you need to wear non-slip, non-marking shoes with a closed-toe design.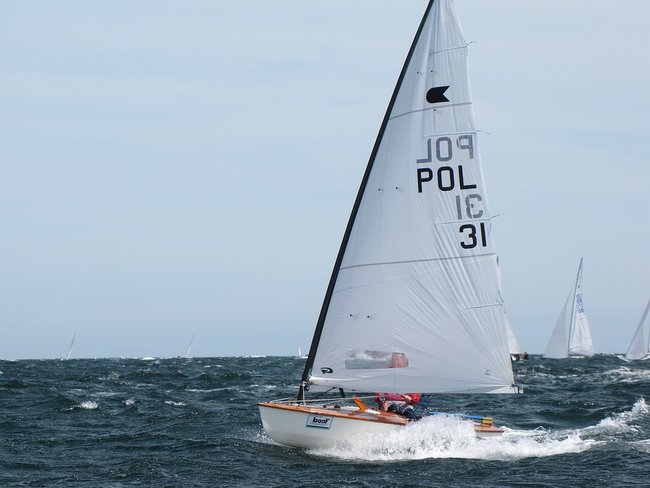 Keelboat Sailing
If you are keelboat sailing for the first, you don't need to buy all the expensive boating outfits. For summer sailing, a t-shirt and a pair of shorts can just be fine. A rain jacket can come in handy when the weather is windy or drizzly. Also don't forget to wear non-slip, pair of closed shoes when embarking on the keelboat.
Sailing Yacht 
A yacht is one of the most comfortable boats to sail in. But in order to make your sailing adventure even more comfortable and fun, you need to have the right attires on. For summer yacht sailing, you might need to wear a t-shirt or lightweight top, a hat and a pair of sunglasses. On a chilly or cold weather, you might need a sailing jacket, a pair of sailing socks along with non-marking shoes and a pair of gloves.
---
Tips To Consider When Sailing For the First Time
If you're taking on a sailing adventure for the first time, then you need to dress warmly and according to the weather. Be sure to carry a sunscreen to protect your skin from the sun's damaging UV rays during summer or spring. Also, don't carry jewelry when going sailing as they might drop in the water.
Other bonus sailing tips include:
Have something to eat before embarking on your sailing tour
Bring a seasickness band to wear in case you feel nauseated when the boat is sailing
Put on life jackets when sailing on a dinghy or keelboat, especially when the weather is bad
Don't leave your mobile phone and/or wallet in your pocket as they might get misplaced
Don't drop or throw things overboard when sailing
Always follow the skipper's instructions and seek clarification where you don't understand
Use the toilet facilities around the beach or boating facility before start sailing
Have a checklist of all the clothing and items you need for your sailing tour or expedition
---
Conclusion
These are just some of the most important things you need to know when going sailing for the first time. What you choose to wear while at sea needs to be comfortable and in line with the weather and the type of boat you're sailing on.
Whether you are planning to go on a one-day sailing tour or a weeklong sailing expedition, you need to plan ahead and have everything you need in place before embarking on the adventure. This will help you minimize stress and allow you to have a smooth and fun-filled sailing experience.
Want More Sailing Tips?
Sign up to Cruising Sea newsletter to receive every two weeks the latest post straight to your inbox!
What do you wear when you go sailing? You are welcome to share your experience in the comment below.
Daniella has been passionate about travel, the sea, and nature for many years. As a child, she frequently traveled throughout the Mediterranean and continued with her journeys throughout her adult life.
Her experiences have created the desire within her to share her love for traveling with other passionate and adventurers who want to discover beautiful horizons and new cultures.