Spending all day out on a boat provides for a great experience. It gets better if you have family and friends over for a boat party; the fun is just too immense. But as the day progresses, hunger starts to bite and spirits start to go down.
What better way is there to salvage the situation than to bring along some tasty snacks for your boat party? Most such snacks can be prepared in a few minutes and some can even be prepared the day before your boat party.
Here is a list of fine 7 boat party food ideas you should try the next time you are spending plenty of time out on the water:
1. Veggie Wraps
Veggie wraps are not only insanely delicious, but they are also very healthy and quite easy to prepare. To make some you will need: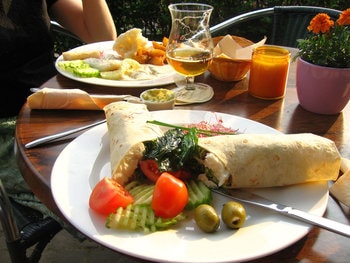 Ingredients
4 flour tortillas (10 inches)
I teaspoon ground cumin
4 small lettuce leaves
4 oz. softened cream cheese
1 medium red bell paper cut into thin stripes
1 teaspoon of salt
2 oz. pepper Jack cheese shredded
a cup of chopped green onions
Preparation:
Heat the tortillas as instructed on the package. Meanwhile, mix the cumin, cream cheese and salt in a bowl. Once the tortillas are properly heated, spread on every 2 tablespoons of the cheese mixture evenly. Then lay the remaining ingredients on half of each tortilla. All that you have to do is tuck the sides in well and pack your veggie wrap for when you are on the boat.
---
2. Veggie Pizza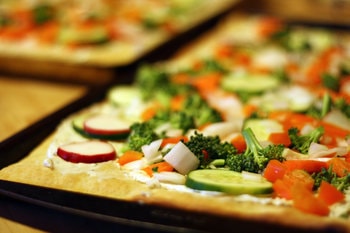 Preparing a veggie pizza is not as difficult as you may imagine. In fact, you will be done with the preparation in a few minutes.
All you really need is time for the pizza to cook by itself. To make a savory veggie pizza you will require:
Ingredient:
2 packages of crescent rolls
1 cup of mayonnaise
2 (8) ounce packages of cream cheese, shredded
I packet of Ranch dressing mix
1 cup of chopped cauliflower
1 cup of chopped broccoli
1 cup of shredded carrots
¼ cup of additional vegetables of your choice
Preparation:
You will need to first preheat your oven to 3750 F, and then line a large baking sheet with aluminum foil or parchment paper. Next, unroll the crescent triangles and arrange the rectangles to form the pizza crust.
Bake the crust according to the packaging instructions or until it is golden brown. Let the baked crust cool for at least 30 minutes. Meanwhile, combine the mayonnaise, cream cheese and salad dressing in a bowl and mix thoroughly.
Chill the mixture in the refrigerator. Once chilled, spread the mix over the baked pizza crust, and top with the cauliflower, carrots, broccoli and the other vegetables of your choice.
---
3. Spicy Roasted Chickpeas
Another quick and easy food option for a boat party is spicy roasted chickpeas. Making this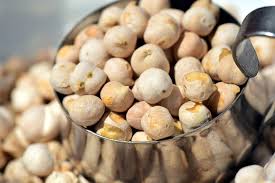 is quite literally a walk in the park. To make them you need:
Ingredient:
15 oz. chickpeas, drained and rinsed
1 teaspoon ground cumin
I tablespoon of olive oil
1 teaspoon chili powder
1/2 teaspoon of salt
1/2 teaspoon of cayenne pepper
Preparation:
First, preheat the oven to 4000 F. Then dry the chickpeas carefully. You can remove the skin on the peas, but this is optional. If you do decide to remove them, you will be pleased to discover that they come off quite easily.
Dry the chickpeas as best you can, since dry chickpeas translate to crunchier roasted chickpeas. In a bowl, mix olive oil, chili powder, cumin, salt, and cayenne pepper together with the dried chickpeas.
Make sure that the chickpeas are properly covered, and then spread them on a baking sheet lined with parchment paper. Mix them around the sheet and roast until they are brown. Cool for five minutes and the peas are ready to eat.
---
4. Jalapeno Poppers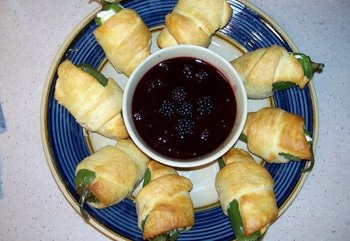 The Jalapeno Poppers are extremely delicious and are perfect to eat with a refreshing drink!
There is no doubt they will make the ideal party appetizer for your boat party!
Ingredients:
Cup of shredded cheese
2-3 tablespoons of chives, chopped
1 minced garlic clove
Cup of chive cheese
1 field roast Italian vegan sausage and a cup of tofu bacon bits
1 teaspoon of smoked paprika or chili powder
Cup of multi-grain bread crumbs
A teaspoon of sea salt
A teaspoon of garlic powder
¼ cup of sun-dried tomatoes
2 tablespoons of lemon juice
Cup of vegan mayonnaise
¼ teaspoon each of chili powder, ground mustard, sea salt, and ground pepper.
Preparing the poppers requires you to first soak the dried tomatoes in water to soften them. Then preheat the oven to 3750 F. Finely chop the Italian sausage or crumble it with your hands. Cook it on a pan until it is brown for 3- 4 minutes. Do the same to the tofu bacon if that is what you are using. Refrigerate this while you prepare the jalapenos.
Cut the jalapenos in half and using a spoon, scoop out the seeds and flesh. Drain the sun-dried tomatoes and blend in a blender together with the other aioli ingredients. Separately combine the breadcrumbs with the chili powder or smoked paprika, sea salt and garlic powder.
Stuff the half jalapenos with the cream cheese, then some of the shredded vegan cheese and the breadcrumb mixture on top. You can add some more cheese if you please. Place the jalapenos on a baking sheet and bake for 18 to 20 minutes.
---
5. Stuffed Mushrooms
They are so many good things to say about mushrooms. They are good for the health, very
tasty and easy to prepare.
What more could ask for?
Ingredients: 
1and lb. baby mushrooms
2 minced garlic cloves
2 tablespoons of butter
¼ cup of breadcrumbs
Freshly ground black pepper
4 oz. cream cheese
¼ cup freshly ground Parmesan
2 tablespoons freshly chopped parsley
Kosher salt
1 tablespoon of chopped thyme
Preparation:
Preheat oven to 4000 F and grease the baking sheet. Remove the stems from the mushrooms and chop them. Place the mushroom caps on a baking sheet. In a skillet, melt the butter and cook the mushroom stems until they are dry.
Add garlic and let it cook for a minute and the breadcrumbs and let them cook for 3 minutes. Season with salt and the pepper. Mix the mushroom stem mixture, cream cheese, and parmesan.
Fill mushroom caps with filling and sprinkle some more parmesan. Bake until mushrooms are golden and soft, which should roughly take 20 minutes.
---
6. Fried Wontons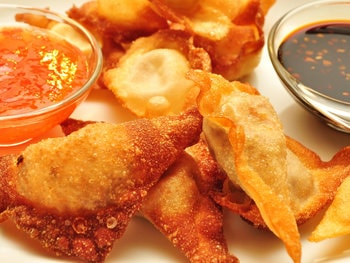 Fried Wontons will make your guest dream about them for a long time.
These cute appetizers are super delicious, crunchy and crispy. They will disappear quicker than you may think!
Ingredients:
Pound ground pork
¼ cup green onions, finely chopped
1 tablespoon of cornstarch
8 canned water chestnuts finely chopped
1 tablespoon of Kikkoman soy sauce
Teaspoon of salt
Teaspoon of grated ginger root
Vegetable oil
1 package of wonton skins
Tomato ketchup and hot mustard or Kikkoman Sweet and sour sauce
Preparation:
Combine the water chestnuts, pork, green onions, ginger, cornstarch and soy sauce in a bowl. Add a teaspoon of the mixture at the center of each wonton skin and fold properly. Heat oil in a large pan and deep fry the wontons in vegetable oil few at a time. They should cook for 2- 3 minutes. Once cooked, drain with paper towels and serve warm with either the sweet and sour sauce or Ketchup and mustard sauce.
---
7. Sushi
A bamboo map, a towel, and a few ingredients are all you need to make beautiful and tasty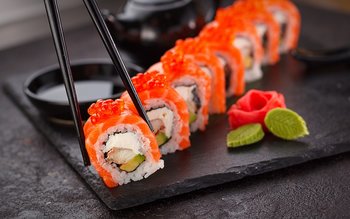 sushi! Plus it's fun to roll them up and your guest will lick their finger!
Ingredients:
2/3 cup of short-grain white rice
3 tablespoons of white sugar
3 tablespoons of rice vinegar
1 and teaspoons of salt
4 nori sheets
cucumber, peeled and cut into small pieces
pound imitation crabmeat, flaked
2 tablespoons of pickled ginger
1avocado
Preparation:
In a medium saucepan, bring 1and 1/3 cups of water to boil. Add the sushi rice. Reduce heat and let simmer for twenty minutes. Add the rice vinegar, sugar and salt into the rice, and then preheat oven to 3000F.
On a baking sheet, heat the nori in preheated oven for a minute or two. Place one nori sheet on a bamboo sushi mat. Wet hands and spread a thin layer of rice on sheets. Arrange the cucumber, ginger, imitation crab meat and avocado at the center of the rice.
Lift the end of the sushi mat and roll it over the ingredients to make a complete roll. Cut each roll into small slices and voila, there you have sushi for your boat party.
---
Conclusion
Choosing great food for a boat party should not be a difficult task. There are countless tasty meals that you can prepare in no time.  Take the fried wontons and the spicy roasted chickpeas for example; they are both very easy to prepare and remarkably delicious.
Additionally, boat party food can also be healthy, as is evidenced by the veggie pizza and the veggie wraps. If you really want to make an extra treat for your boat merrymakers, why not try the delicate sushi rolls or even the hot and spicy jalapenos?
Any of these snacks will light up any boat party; try them and you will be pleased!
Want More Tips?
Sign up for Cruising Sea newsletter to receive every two weeks the latest post straight to your inbox!
What is your favorite boat food party? Feel free to share your experience in the comments below.
Daniella has been passionate about travel, the sea, and nature for many years. As a child, she frequently traveled throughout the Mediterranean and continued with her journeys throughout her adult life.
Her experiences have created the desire within her to share her love for traveling with other passionate and adventurers who want to discover beautiful horizons and new cultures.