Boating is one of the most exciting and relaxing activities to engage in. Nothing quite equals a day spent out at sea simply exploring nature. But if you find yourself going out on your boat repeatedly, what was once a fun recreational activity can get truly boring.
Nevertheless, there are countless things you can do while on the boat to spice up your day. Some of these activities are thrilling in every sense of the word, while others help you connect better with nature. Here is a list of fun things to do on a boat:
1. Fishing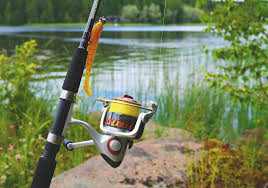 One of the most exciting things you can do on a boat is to fish. If you really want to get the adrenaline pumping, then look beyond ordinary fishing and try other more demanding activities such as golfishing or spearfishing.
Golfishing, in particular, has risen tremendously in popularity over the past few years simply because it is extremely fun. As the name implies, it is quite literally a cross between playing golf and fishing.
With golfishing, you start by counting the number of casts it takes to make a catch. Then you pitch an inner tube over the boat's side, place a piece of artificial turf on the bow and count how many hits it takes to chip a golf ball through the tube.
You get your score by combining the numbers. You can also combine fishing with virtually any other kind of sport, ranging from basketball to Frisbee to even jousting.
The good thing about fishing is that it is also greatly rewarding. You can turn your catch into a scrumptious dinner once you get home which is very gratifying. This is especially true if you manage to make a big catch. On the whole, fishing can make your boating experience a lot more engaging and fun.
---
2. Do Some Cooking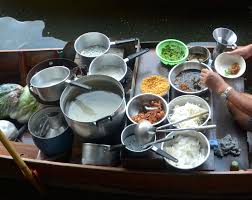 It might seem unconventional, but cooking while boating can prove to be as entertaining as it is fun. Of course, you won't be able to prepare feasts on an ordinary boat, but you can still make some very tasty food while boating.
One way to do this is to wrap prepared food in three layers of aluminum foil and then place it on your stern drive or inboard. The heat from the engine will cook your food and you can enjoy your delicacy in no time.
Another way to prepare food when boating is to turn your fresh catch into ceviche. This is just about the easiest cooking method ever invented. All you have to do is chop your fish into small pieces and then soak it in fresh lime juice mixed with salt.
You can add any other ingredients you want to spice up your meal as well. The acid from the lime juice seeps into the meat thus cooking it. You can actually enjoy your tasty meal right on the boat.
---
3. Play Music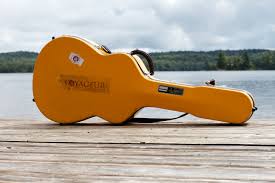 Music is famous for its relaxing power. Can you imagine just how much better you would feel playing some soul-soothing music out in the water? Nature would, without doubt, amplify the relaxing effect of the music thus making yours an unforgettable experience.
If you prefer to dance the afternoon away, then there is no better place to do it than on a boat. The scenic views of the water will certainly heighten your appreciation of the music. It gets better if you have family or friends on board. Nothing quite beats a jolly afternoon spent on the sea singing along to music with those you love.
---
4. Go Tubing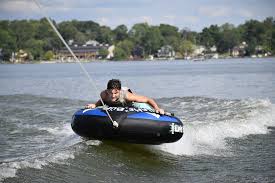 Tubing is exhilarating, to say the least. It is a favorite water activity for kids thanks to all the splashing and towing that comes with it.
However, it is not an exclusive reserve for kids alone; anyone who wants to have fun can engage in this thrilling activity.
If you intend to go tubing, you would be well advised to carry a slide for young kids' safety.
---
5. Read Your Favorite Books
Sometimes, the water can be extremely peaceful. This makes it a rather conducive environment for reading.
When there is tranquility in the waters and you cannot hear a sound for miles around, take out your favorite books and start devouring the content.
Find an engrossing book that you simply can't put down, and read to your heart's content out in the water.
---
6. Do Yoga Exercise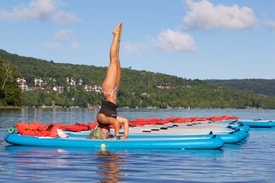 One of the best reasons why you should try yoga when boating is that you will be truly in harmony with nature, which is one of the fundamentals of yoga.
Additionally, there are very few distractions when you are out in the open sea or ocean.
This helps to improve your meditation experience a great deal. The therapeutic effect of yoga done on a boat is incredible. Some of the best yoga poses to try out when on the boat include Warrior II pose, the dolphin pose, the Triangle and the Pigeon Pose.
---
7. Enjoy Watersports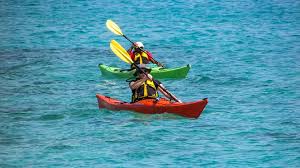 Another way to kill boredom while on a boat is to engage in watersports. Try snorkeling and deep- sea diving to enjoy sea life in its purest form.
You could even try spearheading, which is energy- draining but electrifying as well. You could even go kayaking or wake surfing. When it comes to watersports, you are simply spoilt for choice.
---
8. Play Poker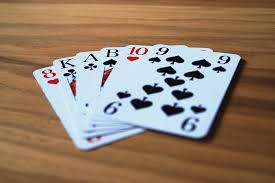 Alternatively, you can engage in the competitive and entertaining game of poker in the water.
The game has two aspects; you have to outrace your competitors from one spot to another picking cards for a poker hand.
The winner is whoever has the best hand. Participating in the game is bound to liven up even the dullest day on the ocean.
---
Conclusion
There are numerous fun activities to engage in while boating. If you are an adrenaline junkie, then water sports are definitely the way to go for you. Activities like fishing, golfishing, tubing, snorkeling, and jet skiing are bound to satisfy even the most adventurous of souls.
If you are more meditative, reading on the boat or even doing some yoga can help keep you engaged. You really have no excuse to get bored while boating; try any of the activities discussed above to liven up your days on the ocean.
Want More Tips?
Sign up for Cruising Sea newsletter to receive every two weeks the latest post straight to your inbox!
What activities do you practice when boating? Please feel free to share your experience in the comments below.
Daniella has been passionate about travel, the sea, and nature for many years. As a child, she frequently traveled throughout the Mediterranean and continued with her journeys throughout her adult life.
Her experiences have created the desire within her to share her love for traveling with other passionate and adventurers who want to discover beautiful horizons and new cultures.