If you love to spend your leisure time on the water, the United States boasts an array of stunning boating lakes. These picturesque destinations offer a perfect blend of natural beauty, outdoor activities, and quality facilities, ensuring a memorable boating experience.
From crystal-clear waters at Flathead Lake, Montana, to the vast shores of Lake Michigan, each lake brings its unique charm and allure.
Whether you're looking for thrilling water sports, serene sailing spots, or flourishing fishing hubs, the best boating lakes in the US cater to every boating enthusiast's preferences.
---
1# Lake Tahoe, California, and Nevada
Lake Tahoe is located on the border of California and Nevada. It's undoubtedly one of the most majestic alpine lakes and a popular destination for boating and water activities. Its stunning blue waters and surrounding snow-capped Sierra Nevada mountains make it one of the best boating lakes in the U.S.
The lake offers plenty of options for water enthusiasts, including sailing, kayaking, paddle boarding, jet skiing, and powerboating.
With 13 marinas and 17 launch ramps to choose from, you'll be able to find the perfect spot to set out on your boating adventure easily. In addition to recreational boating, Lake Tahoe is also home to two yacht clubs, which offer a variety of regattas and sailing events for those interested in competitive sailing.
One of the highlights of boating on Lake Tahoe is Emerald Bay, a picturesque and secluded inlet known for its stunning views and calm waters. While cruising the lake, you may also encounter a range of wildlife, including bald eagles, ospreys, and mule deer, adding to the overall experience.
Whether you're an experienced boater or trying your hand at water sports for the first time, Lake Tahoe has something for everyone. From family-friendly beaches to quiet coves, this breathtaking destination is perfect for a memorable day on the water.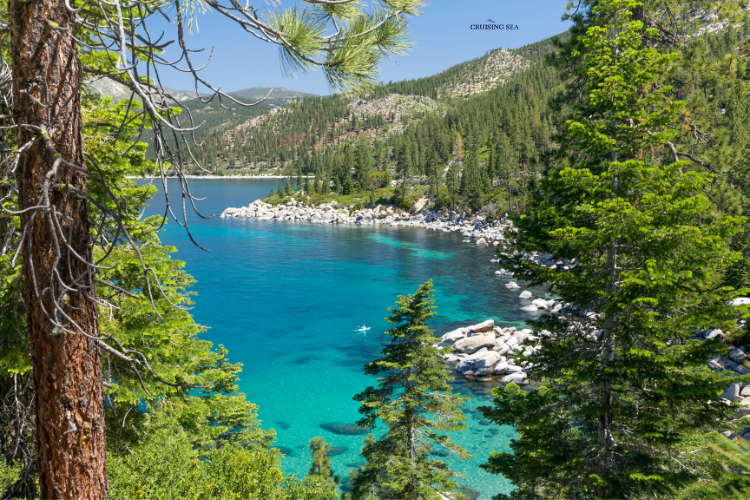 ---
2#Lake Powell, Utah, and Arizona
Lake Powell, a stunning man-made reservoir, straddles the borders of Utah and Arizona, providing visitors with an exceptional boating experience. As part of the Colorado River in Glen Canyon National Recreation Area, this destination boasts nearly 2,000 miles of shoreline that present endless opportunities for fun and adventure on the water.
Boaters can launch their vessels at popular ramps like Stateline Boat Ramp, Antelope Point Launch Ramp, and Lake Powell Marinas. 
You can explore the magnificent rock formations along the lake, such as Navajo Canyon and the Toilet Bowl, by embarking on a boat tour from either Wahweap Marina or Antelope Point Marina.
Not only does Lake Powell offer incredible sights, but its side canyons, like Warm Creek Bay and Halls Creek Bay, grant boaters some protection from the wind and present excellent conditions for water skiing.
Lake Powell's warm waters, pleasant weather, and breathtaking scenery make it a top choice for boating enthusiasts seeking the ultimate playground.
Whether visitors have a penchant for fishing, watersports, or simply enjoying the gorgeous views at any of Lake Powell's numerous boating locations, there's something for everyone. It's clear why Lake Powell has earned its spot as one of the best boating lakes in the United States.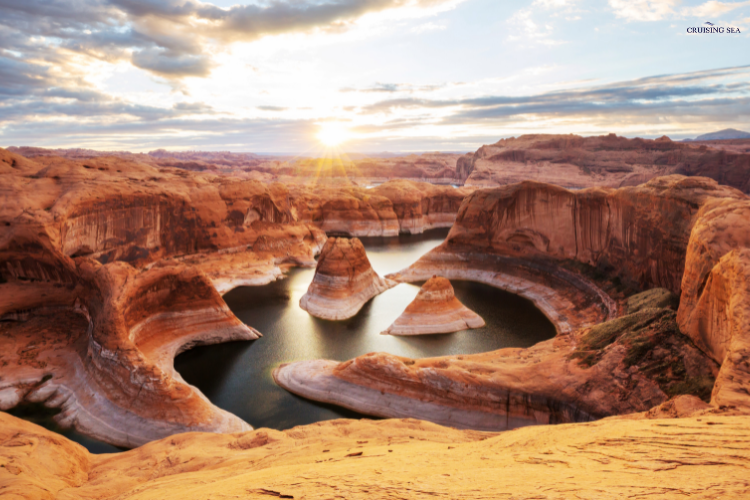 ---
3#Lake Michigan, Wisconsin, Illinois, Indiana, and Michigan
Lake Michigan is the third-largest Great Lake and the fifth-largest lake in the world, offering vast opportunities for boating enthusiasts. Bordered by Wisconsin, Illinois, Indiana, and Michigan, this stunning lake is the only Great Lake that lies entirely within the boundaries of the U.S.
The name "Michigan" is derived from the Algonkian Indian word "Michigami" (or "Misschiganin"), meaning "large body of water.
As a boater, you can explore the extensive shoreline of thousands of miles, passing through four different states: Indiana, Illinois, Michigan, and Wisconsin.
One option for boaters is the Lake Michigan Circle Tour, which covers more than 1,000 miles and is a popular choice among boaters looking for a scenic trip. Additionally, the Lake Michigan Water Trail offers numerous amenities for paddlers and those using nonmotorized watercraft on their journey.
Visitors to Lake Michigan can enjoy various boating activities, including fishing, sailing, and cruising on a pleasure boat or yacht. With its beautiful sandy beaches and white sand, Lake Michigan entices water lovers from all around.
It's important to know about the local regulations and safety guidelines when boating on Lake Michigan. By putting safety first and adhering to the rules, you can ensure a fun-filled and memorable boating experience on this beautiful Great Lake.
Enjoy exploring the diverse shoreline, taking in the stunning natural beauty, and making the most of your boating adventure in Lake Michigan.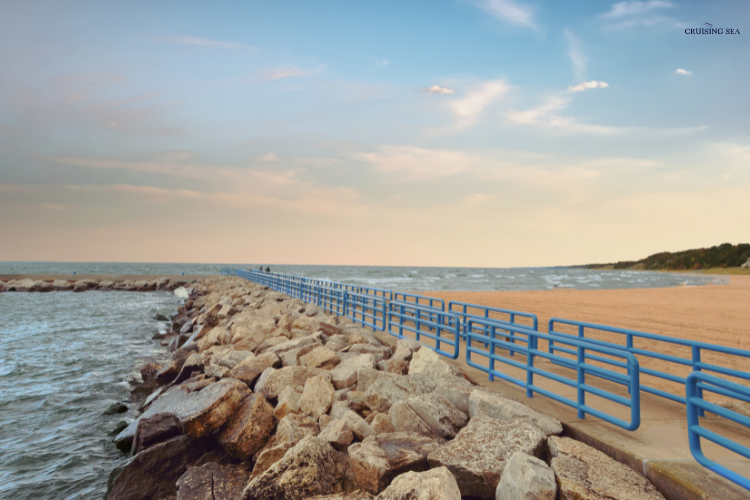 ---
4#Lake Havasu, Arizona, and California
Lake Havasu, located on the border between Arizona and California, offers an exciting boating experience with a beautiful shoreline and a temperate climate.
This lake has an impressive surface area for boating enthusiasts to explore. The lake is generally about thirty-five feet deep, but near the Parker Dam, it reaches a depth of ninety feet.
Lake Havasu boasts numerous marinas and launch ramps, making it easy for boaters to hit the water and experience this popular boating destination. Some of the best-known ramps include the Lake Havasu State Park Boat Ramp, Parker Dam Launch, Site Six Launch Ramp, and Lake Havasu Marina.
Boaters visiting Lake Havasu can enjoy a variety of activities, from relaxing cruises along the shoreline to high-speed water sports. The lake is considered one of Arizona's top boating lakes and is a popular spot for spring break parties on the water. Furthermore, Lake Havasu State Park offers sandy beaches and camping opportunities, allowing visitors to fully immerse themselves in the surrounding natural beauty while off the water.
With its varied shoreline and idyllic climate, Lake Havasu stands out as a superb boating destination in the United States. The numerous amenities and abundant recreational opportunities at this distinctive location make it a top choice for boaters seeking adventure and relaxation on the water.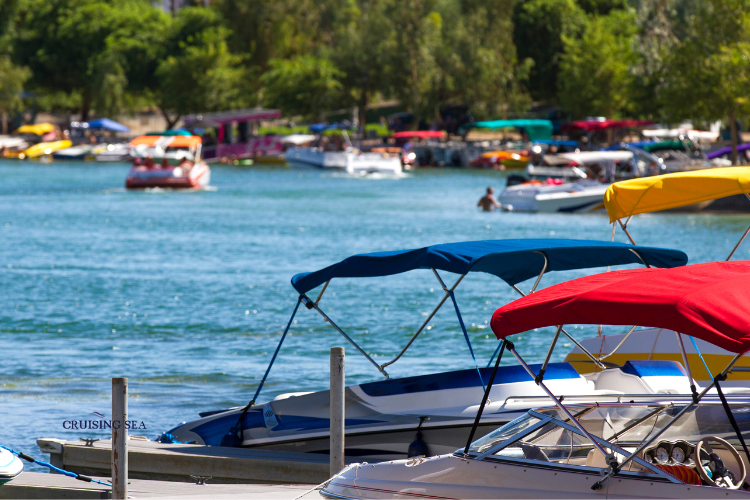 ---
5# Lake of the Ozarks, Missouri
Situated in the heart of Missouri, Ozarks Lake offers a vast and diverse boating experience. You can find everything from bustling waterfront restaurants to peaceful coves for a relaxing day on the water. Known for its picturesque scenery, this lake provides an ideal setting for a memorable boating adventure.
Aside from the breathtaking views, the Lake of the Ozarks also offers numerous recreational activities for boaters. Whether you're into fishing, waterskiing, or simply cruising the pristine waters, you're sure to find your preferred activity. The lake's central location, about an hour south of Jefferson City and north of Springfield, makes it an accessible destination for boaters in the Midwest.
The Lake of the Ozarks has a rich history, as it was created by damming the Osage River in the 1930s. Today, it covers a surface area of approximately 54,000 acres, making it one of the largest manmade lakes in the United States. Visitors can explore the lake's winding shoreline and soak up the stunning natural beauty of the surrounding Ozark Mountains.
If you want to extend your stay, there are plenty of luxurious accommodations and amenities around the area. From high-end resorts to charming bed and breakfast establishments, you won't have to worry about finding a nice place to relax after a day on the water.
In addition, the Lake of the Ozarks is home to various marinas and boat rental services, ensuring that every boater can find their fit for a thrilling experience on the water.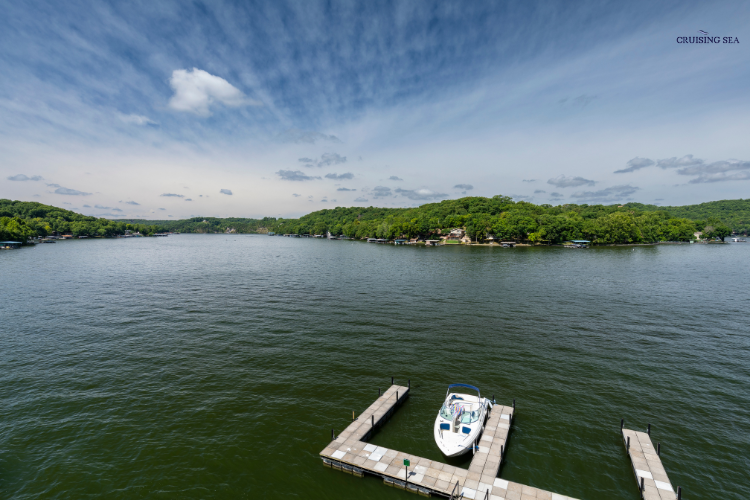 ---
6# Table Rock Lake, Missouri, and Arkansas
Table Rock Lake, a gem located along the borders of Missouri and Arkansas, is known for its pristine water and abundant recreational opportunities. The stunning lake is a popular destination for watersports enthusiasts and fishermen alike.
One of the primary attractions of Table Rock Lake is its excellent bass fishing, drawing anglers from across the nation. The clear waters and picturesque vistas offer an idyllic setting for boating, swimming, and water sports like wakeboarding and water skiing. The lake has even been compared to some Caribbean islands in terms of its scuba diving opportunities.
To facilitate such a wide range of activities, Table Rock Lake features 14 public marinas and 24 public boat launches. This makes a day out on the water not only enjoyable but also highly accessible. If you're lodging by the lakefront, many resorts offer daily boat slip rentals, boat launches, and trailer parking as additional perks for their guests.
Overall, Table Rock Lake's unique combination of size, clarity, and accessibility make it a top destination for boating enthusiasts. The abundance of fishing, watersports, and picturesque scenery adds to its charm and ensures that visitors will always have plenty to enjoy during their time on the water.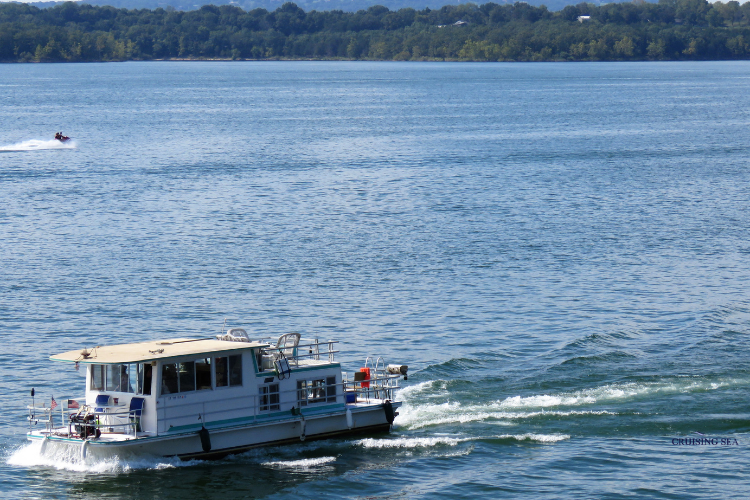 ---
7# Lake Minnetonka, Minnesota
Lake Minnetonka, located just 40 minutes from downtown Minneapolis, offers a magnificent boating experience. This picturesque lake is a chain of 16 interconnected lakes with hundreds of miles of shoreline, numerous bays, and a collection of charming lakeside towns.
So it is no wonder it is considered the best lake in Minnesota for boating, socializing, and summer events.
Boating enthusiasts can enjoy the abundant marine services and marinas, such as Bay To Bay Boat Club, Rockvam Boat Yards, and Lindbo Landing Marina, which cater to diverse boating needs. Don't worry if you don't own a boat, as there are rental options available to ensure you have a memorable time out on the waters of Lake Minnetonka.
For fishing lovers, the lake offers excellent opportunities to catch varied fish species like walleye, largemouth bass, northern pike, and sunfish. Additionally, you can indulge in various water sports and recreational activities such as waterskiing, jet skiing, and paddleboarding to enhance your boating experience.
Apart from its aquatic allure, Lake Minnetonka features numerous waterfront restaurants, bars, and event venues. This enriches your boating experience and allows you to socialize and enjoy the vibrant lakeside community.
Undoubtedly, Lake Minnetonka is a vibrant boating destination with a scenic backdrop and exciting activities for everyone to delight in.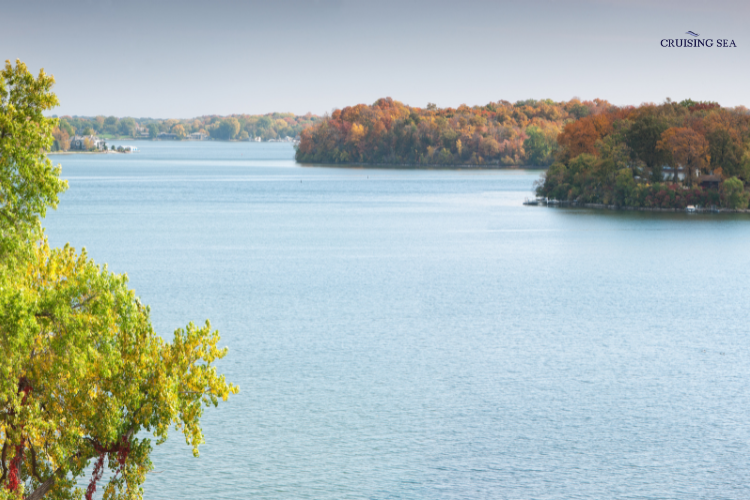 ---
8#Lake Coeur d'Alene, Idaho
When it comes to picturesque boating destinations, Lake Coeur d'Alene in Idaho is truly a gem. Nestled among lush forests and rolling hills, this stunning lake offers boaters a serene and visually stunning experience.
There are plenty of opportunities for exploring, fishing, and taking in the natural beauty of the surroundings.
One of the top reasons visitors flock to Lake Coeur d'Alene is for its wide array of water sports and recreational options. Waterskiing, wakeboarding, and tubing enthusiasts will find ideal conditions for their activities.
In addition, the lake is a popular destination for those interested in kayaking, canoeing, and paddleboarding, with numerous rental facilities offering equipment for all skill levels.
For anglers, Lake Coeur d'Alene boasts a thriving fishing scene, teeming with a variety of fish species such as bass, trout, and salmon. The lake also offers several boating facilities and marinas to accommodate your boating needs. Whether you prefer to bring your own vessel or rent one from local businesses, there are plenty of options to suit your preferences.
Lastly, if you're looking to explore beyond the lake itself, the surrounding area offers several hiking trails, picnic spots, and wildlife viewing opportunities. With its unique natural beauty and recreational opportunities, Lake Coeur d'Alene remains a must-visit destination for boating enthusiasts.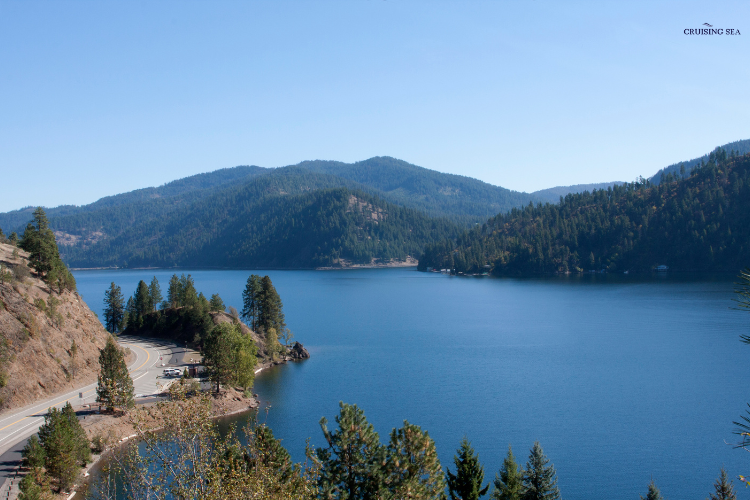 ---
9# Lake Travis, Texas
Lake Travis is a stunning reservoir on the Colorado River in Texas, boasting a breathtaking expanse of nearly 19,000 acres of sparkling blue water. As you explore the lake, you'll find it offers beautiful landscapes, making it an ideal spot for boating and water sports lovers.
The lake's maximum depth reaches 190 feet, and with over twenty marinas and hundreds of boat launches, there's no shortage of opportunities for fun on the water.
One of the best spots for boating on Lake Travis is Cypress Creek, known for its accessible boat ramp and gently sloping waterfront. Its location in the Cypress Creek Arm also places you near Windy Point, making it easy to access the lake's basin area.
Whether you prefer speedboats, sailboats, or pontoons, Lake Travis welcomes all kinds of watercraft, ensuring everyone has a great time out on the water.
Another reason Lake Travis is popular among boaters is its reputation for being one of the most beautiful lakes in Texas.
Its crystal-clear water and picturesque surroundings make it a favorite spot for boating and water-based activities. It provides ample room for you to sail, kayak, or try your hand at water skiing.
When you take to the waters of Lake Travis, you're not just enjoying a day of boating – you're experiencing one of the best and most picturesque lakes the United States has to offer.
With its ample opportunities for water sports, vast shoreline, and stunning scenery, it's no wonder that Lake Travis is featured on the list of the top boating lakes in the country.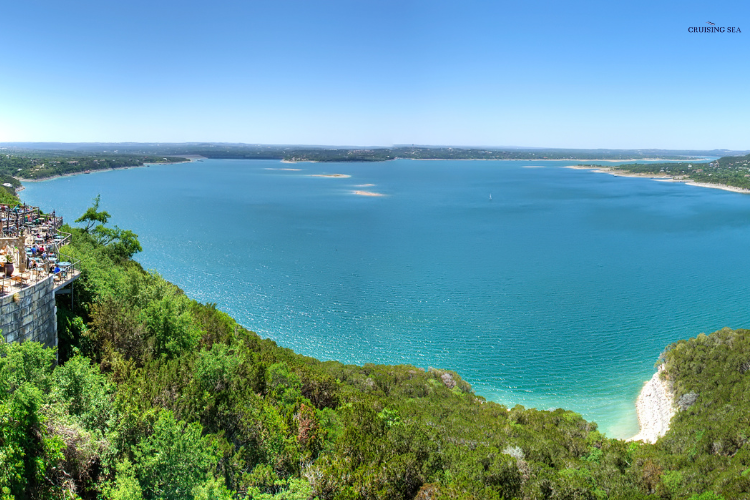 ---
10# Lake Lanier, Georgia
Located in the foothills of the George Blue Ridge Mountains, just forty-five minutes northeast of Atlanta, Lake Lanier is a go-to destination for boating enthusiasts of all stripes.
The lake offers a versatile boating experience, with its southern end being the most popular due to its proximity to Atlanta, abundant marinas, and wider, more open water.
On the other hand, the northern end of Lake Lanier is comparatively quieter and ideal for those seeking a more tranquil experience. With narrower banks and fewer marinas, this side of the lake offers a more serene environment for boaters.
While enjoying the waters of Lake Lanier, don't miss the chance to stop by Bullfrogs Bar and Grille, a popular dining spot accessible from the lake. Offering informal American dining with pool tables and a large bar, it's a fantastic way to unwind after a day of boating.
So if you're in Georgia, Lake Lanier is a must-visit for any boating enthusiast. It's a beautiful body of water, suitable for both party-seekers and those looking for a serene escape, providing a memorable experience for all.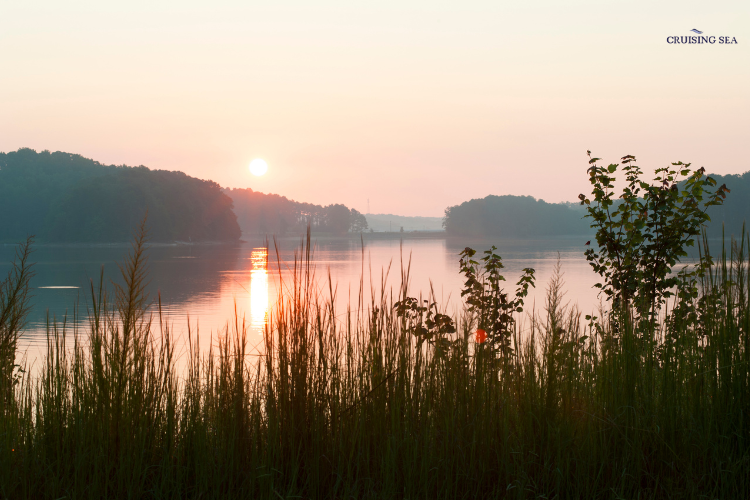 ---
Final Words
That's it! You now have a list of some of the 10 most incredible boating lakes in the U.S. With crystal clear waters, breathtaking scenery, and endless opportunities for adventure; these lakes will impress even the most seasoned boater.
So whether you're looking for a peaceful day on the water or an action-packed excursion, you're sure to find it at one of these top-rated destinations. So grab your sunscreen, hop in your boat, and get ready for an unforgettable boating experience on some of the best lakes in the country!
More Articles
Want More Boating Destinations?
Subscribe to Cruising Sea newsletter to receive every two weeks the latest post straight to your inbox!
Daniella has been passionate about travel, the sea, and nature for many years. As a child, she frequently traveled throughout the Mediterranean and continued with her journeys throughout her adult life.
Her experiences have created the desire within her to share her love for traveling with other passionate and adventurers who want to discover beautiful horizons and new cultures.