Whether you plan to go sailing, hiking, or practicing any outdoor activity, it wouldn't be prudent to go without a waterproof jacket! The last thing you want is to get wet in the middle of your excursion. Also, bear in mind that even if the weather is pleasant during the day, it often gets colder and windier in the evening. There are many Rain jackets on the market, making it more challenging to pick the right one for your excursion. Here is a list of the best waterproof rain jackets for men and a buying guide to help you make the best choice!
---
1# Columbia Men's Watertight II Front-Zip Hooded Rain Jacket
Average Rank:  4.5 out of 5
Best Rated
The Columbia Men's Watertight II is a versatile and stylish jacket that offers more exceptional features than most standard rain jackets. It is entirely Waterproof and lighweight and will keep you dry, even in the hardest rains, thanks to its microporous Omni-Tech technology.
One of the Amazon reviewers said that he stood out about 4 hours in heavy rain, and when he took his jacket off, his shirt remained completely dry. The nice thing about the Columbia Jacket is that it can be folded up into a small pouch. Not only it's easy to carry, but it also saves you space in a day pack, which is useful.
This jacket is not designed for cold conditions, but performs pretty well, even more than you might think. The mesh lining is soft and keeps the airflow to a minimum as well as keeps the insulation dry. This jacket remaining breathable while protecting you from the wind and rains. If you want to layer up underneath or wish to have more room, then go for a bigger size.
The sleeves are long and feature velcro cuff straps, which enable you to adjust them to the fit you want. It has two front pockets with zippers, spacious enough to hold small stuff such as pocket camera, phone, key, etc..
It's a fantastic jacket, but don't expect it to keep you warm in cold conditions. It is more of a waterproof windbreaker that protects from rain and wind. So if this is what you seek, then look no further!
Pros
Lightweight
Can be packed up into a small pouch
Easy to carry around
Waterproof and windproof
Waist, hood, and sleeve can be adjusted
Cons
The hood is not removable
There are no inside pockets
Weight: 1 Pound
Material: Waterproof Nylon Shell 
Lining: 100% Polyester
---
2# Charles River Apparel Men's New Englander Waterproof Rain Jacket 
Average Rank:  4.3 out of 5
The Men's New Englander is a waterproof rain jacket with heat-sealed seams. With such strong stitching, it's nearly impossible rain or wind will pass through the coat. The wrists have adjustable velcro straps, allowing you to secure them easily. This jacket runs large, but this could be a good thing if you plan to wear it over several layers in the winter. Otherwise, you should go a size down if you want something more fitted.
Since it is Polyurethane, it may not be a good idea to wear it on a summer day – it will be too warm. The hood and the bottom of the jacket have shock cord drawstrings that you can pull or tighten to fit your waist or hood. The only downside of this jacket is that it has only Vents on the front, and not on the back. It could have been more breathable.
The Men's New Englander is lighweight and thin, thus folds very well in a backpack. This jacket is an awesome wind/water breaker and you may be surprised at how affordable it is for the quality it offers!
Pros
Wind and Waterproof
Inexpensive
Well constructed
Easy to fold up
Deep Hood
Cons
Weight: 1 Pound
Material: 100% Polyurethane  
Lining: Mesh
---
3# Helly Hansen Men's Seven J Rain Jacket 
Average Rank: 4.6 out of 5
Top Pick
The Helly Hansen, Seven J rain jacket, features a Helly Tech protection shell with a waterproof and breathable outer layer. This unique fabric stops water from getting inside, keeping you completely dry, regardless of the condition. This jacket is lined with a quick-dry mesh lining that draws moisture away from your body, thus keep you cool. And the sleeves are lined with soft Taffeta nylon so that you can take off or put on the jacket easily.
Thanks to its sealed seams, no wind or water will penetrate through the jacket. The adjustable hood has a Velcro strap that closes over a YKK zipper, preventing cold air blowing over your neck. The velcro tab on the back of the hood allows you to adjust it to the size you want it to be. Although it's not detachable, it can be rolled up and stored at the back of your neck.
It's stylish and comes in many different colors, which gives you plenty of options to match it with your wardrobe. This jacket is a windbreaker and does an excellent job in keeping you dry in the rain. It feets great, but if you want to wear warm clothes underneath, you should go a size up. Even though it's breathable, it would be too warm for the summer.
Pros
Lighweight
Packable
Well made product
Water/windproof
Cons
The hood is not detachable
Weight: 1.2 Pounds
Material:Face: 100% Polyester / Back: 100% Polyurethane
Lining:Mesh
---
4# Coleman PVC/Nylon Rain Suit
Average Rank: 4.4 out of 5
The Coleman is a rain suit that included a jacket and pants. This suit will keep you completely dry thanks to its waterproof "20mm PVC" and nylon lining. Rain suits are often either too bulky or too light, but the thickness of the Colemen is just perfect.
Pants:
The pants feature zippers that go up to the knee and snaps adjustments at the bottom, allowing you to put them easily over your boots or shoes without hassle. It also has slit pockets that enable you to reach your jeans pocket underneath. The drawstring-elasticized waist comes in handy in case it gets windy. The pants are roomy and let you kneel or squat with ease.
Jacket:
The jacket has an inner drawstring in the waist to keep it snug. The vents on the back and front of the jacket allow you to stay cool. The Reflective tape on the jacket enhances visibility at night and enables you to be seen from afar. The drawcord-adjustable hood is awesome – it keeps the water out of your face with a nice duckbill to let the water runoff.
This suit looks like simple plastic, but don't be fooled by appearances. Some Amazon reviewers stated that it performs better than all sorts of Gortex foul weather gear. It fit great and there is enough room to wear clothes underneath. But if you plan to wear bulky outfits, you better go a size up. You can expect this suit to last for many years to come as it is extremely durable.
Pros
Can be stored in its own bag
Durable
100% waterproof, keep you dry
Smartly constructed
Cons
It doesn't come in a tall
Bulky when packed
Weight:  1.04 Pounds 
Material: Waterproof 20mm PVC  
Lining:Nylon
---
5# The North Face Men's Resolve Jacket
Average Rank: 4.4 out of 5
The North Face is a Waterproof multi-purpose jacket that does exactly what it's supposed to do, protect you from the rain and wind! This jacket is smartly designed. It features a removable hood, which you can roll up inside its own collar if you don't need it. This is truly convenient.
Its polyurethane-coated inner layer provides some insulation, but not enough to keep you warm in freezing temperatures. This jacket is excellent for the fall, summer or spring and it will help you get through rainy seasons too. The collar is soft inside and high, keeping your neck warm. While the North Face jacket is lighweight, it does keep the water and winds off. It is fully seam-sealed, you can rest assured that not a drop of water will seep inside. Take the Amazon reviewer's word for it!
Anyway, if you plan on wearing it over a winter insulation layer then you should go a size up. It closes with pit zips. The North Face is a reasonably priced rain jacket with attractive features that will certainly exceed your expectations!
Pros
Completely waterproof
Lighweight
The hood can be packed
Versatile
Stylish
Cons
Has very little insulation
Weight: 1 Pound
Material: 100% Waterproof Nylon
Lining:Mesh
---
6# Diamond Candy Men Hooded Waterproof Rain Jacket
Average Rank: 3.8 out of 5
The Diamond Candy is a waterproof jacket that has a stylish look. There is almost no risk in purchasing this jacket as Diamond Candy company offers six months guarantee. The hood can be removed with the help of a zipper. The collar has velcro allowing you to secure the hood well and keep the wind out on a windy day. The nice thing about this jacket is that it has a detachable microfleece insert. In case you get too warm, you'll be able to remove it quickly. It's also soft to the touch, and so agreeable to wear.
This jacket features pockets that are 100% waterproof and do a good job of keeping the water and wind out. The seams are fully sealed, making this rain jacket durable. The internal and front zippered pockets are spacious enough to store small things, like keys, a phone, wallet, and other items. The two zippered waterproof hand pockets keep your hands warm in cold weather. The cuffs can be adjusted thanks to its adjustable velcro wrist straps.
So far I have said only positive things about this jacket. But what about the downsides? Are there any? Of course! Like any other product out there. According to Amazon reviewers, the material is thin and has poor insulation. So, it doesn't keep warm in freezing temperatures. The zipper is sewn in backward for men, so you need to get used to it. The two velcro closures on the neck for the hoodie are on the wrong side – they don't stick together. Other than those three things it's is a great jacket for light rain and cool weather.
Pros
Not bad quality for the price
fantastic customer service
Water and windproof
Stylish
Cons
Has little insulation
The zipper is on the left hand
The velcro closures are placed on the wrong side.
Weight: 1.50 Pounds
Material: Waterproof  Nylon 3000mm 
Lining: Micro Fleece Inserts 
---
7# Frogg Toggs Toadz Firebelly Rain Jacket
Average Rank: 4.2 out of 5
The Frogg Toggs Toadz Firebelly is made of heavy-duty hybrid ToadSkinz fabric. It looks bulky, but in fact, it is super lightweight. This jacket is a bit stiff at first, but after wearing it a few times, it breaks in. There is a stiffened cap attached to the hood that helps keep your sunglasses dry when it's raining.
The Frogg Toadz is completely waterproof, windproof, and breathable. There is no doubt; this jacket will keep you dry during your outdoor excursion. Know that it runs large, which is a plus if you want to layer underneath. It does a great job of retaining body heat for a jacket that is not insulated. The waist is elastic and can be adjusted with shock cords. The neoprene cuffs feature velcro straps, allowing you to secure them on your wrists to keep out the wind and rain.
The side pockets keep your hands warm in cold weather. And the chest pockets with flaps and zippers allow you to hold small things like phone, wallet, keys, etc.. If you look for an excellent rain jacket and don't want to spend a fortune, then Frogg Toggs Toadz is the way to go!
Pros
Keep water and wind out
Well Constructed
Stylish
Lots of pockets to hold content
Lighweight
Cons
The sleeves are long
Run large
Weight: 1 Pound
Material: Hybrid ToadSkinz Fabric 
Lining: Nonwoven Inner Layer 
---
8# Columbia Men's Pouration Jacket
Average Rank: 4.2 out of 5
The Columbia Men's Pouration jacket features full seam sealing and an Omni-tech fabrication. Thanks to its strong stitching and advanced wicking technology "air-permeable protection", it will keep you comfortable and completely dries no matter the condition. This versatile rain jacket has an adjustable hood that you can tighten with an elastic strap. You can also roll it up and stow it in its own collar when you don't need it.
It is lined with a mesh lining, which makes the jacket a little bulkier. But on the other hand, it adds more comfort and breathability to the interior. The chest zipper pocket is roomy and can easily hold small content such as iPhone, keys, wallet, etc. The two hands pockets have a zipper that runs smoothly, making it easy to access even if you have gloves on. Too bad they aren't interior pockets, but it's not a big deal.
With The Columbia jacket, you can hike, bike, sail or climb up mountains without worrying about ripping your jacket. It is lighweight, breathable and withstand rain and wind. Another great thing about this jacket is that it shed water fast and gets instantly dry. Plus it packs up very small, thus easy to store in your bag. What more could you ask for? This is the perfect jacket for your outdoor activities!
Pros
Breathable
Lighweight
High quality, durable
Water and windproof
It folds up into a small pocket
Cons
Weight: 1.06 Pounds
Material: 100% nylon full-dull ripstop fabric 
Lining:Mesh
---
9# Marmot Minimalist Men's Lightweight Waterproof Rain Jacket
Average Rank: 4.4 out of 5
Marmot Minimalist Rain Jacket is built with Gore-Tex with Paclite. It features 3 protective layers. A Gore-Tex membrane which is attached to an outer shell material, then covered by another layer made of Oleophobic(Oil Hating). This is what makes the Marmot Minimalist so breathable, waterproof and windproof. Its construction is lighweight and packable, and the ideal solution if you are concerned about weight and storage. It is as light as a feather and it takes very little space.
Thanks to the GORE-TEX fabric, you don't have to worry about feeling too hot or sweaty while being active. It prevents water and wind from passing through from the outside while keeping moisture out. This means you won't have any condensation problem and you'll feel very comfortable inside the jacket. Many waterproof jackets tend to lose their waterproofness after regular wears, laundering, exposure to body oils, etc.. But this is not the case with the Gore-Tex as it withstands hard uses, and this under any conditions you may experience.
The seams are taped, ensuring 100% waterproofing and exceptional longevity.
The zippered vents under the arms increase airflow and keep you cool, even in a warm and rainy day. This jacket is designed for any outdoor activity such as sailing, hiking, biking, running, golfing, you name it! The drawbacks of this jacket are that it is not lined and has only one front pocket. So in low temperatures, you will have to wear something warm underneath if you don't want to freeze outside. And if you want to carry small stuff, you may find one chest pocket not to be sufficient enough. That's pretty it. However, most Amazon reviewers love the Marmot Minimalist as they found all the features they could ever dream of. It is durable, lightweight, waterproof, breathable, and easy to pack!
Pros
Breathable
Easy packable
Extremely lightweight
Water/windproof – Keep dry
Cons
No inside pockets
No lining, need to layer up for cold weather
Weight: 0.93 Pounds
Material:  Gore-Tex With Paclite Technology 100% Polyester 
Lining: -
---
10# Carhartt Men's Shoreline Jacket Waterproof 
Average Rank: 4.6 out of 5
The Carhartt's is made of long-lasting nylon with a coating agent, which makes this jacket waterproof. The interior is lined with mesh polyester, and the sleeves and hood feture a lining nylon. This jacket will keep you dry and warm without overheating on a sunny, rainy day. It's not surprising that the Carhartt's got such a high rating on Amazon because it offers excellent features.
This jacket is a little expensive, but according to reviewers, it worth the price! It has five zippered pockets that close with Velcro. One on the front, two on the sides, and two others on the inside. The cuffs are elastic and feature Velcro adjustment to help hold the sleeves up, so they don't slide down your arms.
This jacket runs large, which allows a lot of flexibility and you can layer underneath in cold weather. The drawstring hood is detachable and has a Velcro storm flap at the chin that protects your neck from wind, and rain. The Carhartt's is a wind and waterproof jacket that works well in semi-cold weather, but like most rain jackets, it's not thick enough to keep you warm in cold conditions.
Pros
Excellent quality
Durable
Lighweight
Waterproof, keep wind and water out
Cons
Run large
Not insulated, doesn't keep warm in cold conditions
Weight:   2 Pounds 
Material: 100% Nylon 
Lining:Mesh
---
11# Frogg Toggs Bull Frogg Waterproof Rain Jacket
Average Rank: 3.6 out of 5
The Frogg Toggs Bull Frogg is designed with heavy-duty fabric able to withstand hard uses. It features a lining that keeps you feeling comfortable without making you sweat when you are active. While it's not the most stylish jacket, it will keep you dry all day during your outdoor activity. The hood is detachable and can be folded in the collar with the help of a Velcro strap. So if you don't need it, you can just remove it and you are good to go.
Although the material is thick, it's lighweight and folds up quite easily. So you'll be able to easily store it in your backpack. It has elastic wrist cuffs, allowing you to adjust the sleeves. The two zippered hand pockets are great for protecting your hand from rain and wind in bad weather conditions.
And the waist has a shock cord that allows you to adjust the jacket to the size you want. This jacket runs large, it could be a plus if you want to layer underneath. Otherwise, you may want to go a size down. Overall, it's a great jacket for the spring and fall seasons, for the summer it may be too warm.
Pros
Comfortable
Easy packable
Lighweight
Durable
Inexpensive
Cons
No Inside pockets
Run Large, but this allows the air to circulate
Not lined
Weight:3.5 Pounds
Material: Water-resistant  
Lining:-
---
12# Frogg Toggs Pilot II Guide Rain Jacket
Average Rank: 3.6 out of 5
This is another excellent rain jacket from the Frogg Toggs series. The moment you pull this jacket out of the box, you'll feel how durable it is. Usually, rain jackets material often lose their waterproof layer after repeated wear. Thanks to its 3 layered construction, this won't happen with the Frogg Toggs Pilot. The outer layer is composed of Teflon DWR-coated polyester, which is tear-resistant, lighweight, and supple. The middle layer is Dri2Pore, which makes it waterproof and breathable. And the inner layer is made of soft micro-textured tricot fabric that prevents skin chafing, making it pleasant to wear all day.
The Frogg Toggs Pilot has a high level of waterproofness. With it, you can enjoy your outdoor excursion in the rain without fear of getting wet. This jacket is truly designed for easy adjustment. It features a zippered hood with cord locks that you can remove easily. The waist is adjustable, allowing you to tighten or loosen it as you wish. It has a zippered Co-Pilot liner that you can take off in case you feel too hot, or put on to keep you warm.
The zippered chest pockets are great to hold small objects and the hand pockets to keep your hand warm in cold weather. Not to forget. It has D rings at the waist. This feature is handy if you want to hang something such as a cord, pouch, or whatever you wish. This jacket is a bit more expensive than other jackets in the same category but genuinely worth it. Anyway, who cares about the price when Frogg Toggs offers a lifetime guarantee!
Pros
Keep you warm and dry
The liner is removable
Durable
Lighweight
Supple
Cons
Expensive compared to other jackets
Weight:4 Pounds
Material: Dri2Pore  15,000mm waterproof 
Lining:Zippered Co-Pilot liner
---
Guide to Buy Waterproof Rain Jacket
Construction
You'll often see on the label the number of layers the jacket is constructed with. This can be useful, but if you are not familiar with the fabrics, then it will be difficult to make the right choice. So 2, 2.5, or 3 layers? What is best for you? Let's dive into that a bit deeper to explain what these descriptions exactly mean.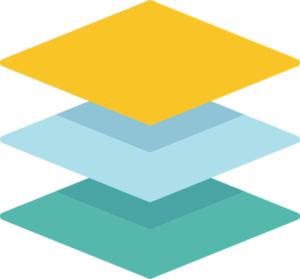 Two Layers – Quiet
A two-layer rain jacket has an outer fabric that is treated with a DWR coating agent, making it waterproof. This fabric is bonded to a breathable layer with a loose hanging liner such as mesh or nylon. The 2 layer construction is flexible, but bulkier and heavier, thus not really ideal for intense outdoor activities. This type is also less expensive and doesn't make noises when moving, which can be a plus. 
2.5 – Layer – Lightweight
Jackets with 2.5 layer construction have an outer face layer treated with DWR, which helps prevent water from penetrating the fabric. There is a second layer (Middle) made of polyurethane laminate or other coatings placed inside the first layer to protect from dirt, sweat, and other elements. Lastly, a thin protective print or spray-on"half layer" is applied over the second layer. While 2.5-layer jackets don't offer as much breathability as the other types, these are more affordable and lighweight than 3 – layer designs. Also, 2.5 – layer design is less durable and needs to be cleaned more often, so they don't lose their breathability. But in general, they are flexible and are comfortable to wear.
3-layer – Robust
3 Layer designs feature a waterproof and breathable polyester or nylon layer. This membrane is tightly sandwiched between an outer face fabric treated with DWR and a thin polyurethane film or other similar fabrics. Since the 3-layer design is heavier and stiffer, it's mainly designed for rough conditions. These jackets are also more expensive and have a longer lifespan. 
---
Types of Waterproof membranes
Gore-Tex
Gore-Tex fabric is composed of stretched polytetrafluoroethylene (PTFE), often called generic trademark Teflon. This waterproof – breathable fabric allows perspiration to escape while preventing liquid water penetrate. Gore-Tex has around 1.400 million pores per square cm. Each pore is 20.000 times smaller than a water droplet, which makes the Gore-Tex waterproof from the outside and breathable on the inside. Gore-Tex construction is lighweight and easily packable. It's the ideal garment for outdoor activities where space and weight are crucial.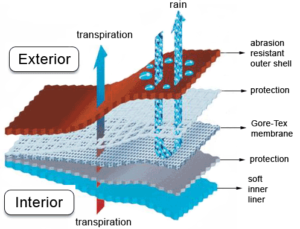 eVent Technology
eVent brand was created in 1999 and has quickly become one of the best alternatives to Gore-Tex. eVent and Gore-Tex are made of the same material, and in terms of durability and waterproofness, both share similarities. Like Gore-Tex, eVent is an ePTFE material and also uses an outer fabric with a membrane identical to polytetrafluoroethylene. The inner-most layer used in Gore-Tex and eVent fabric is where the difference is.
For instance, Gore-Tex uses a film on the inside called hydrophobic polyurethane (PU) while the eVent uses an exclusive coating agent that protects the material without blocking the pores. However, eVent fabric wick moisture right away thanks to its DirectVenting technology. Despite being breathable, Gore-Tex tends to retain heat slightly when exerting physical efforts.
So yes, eVent is more breathable than Gore-Tex, but on the other hand, it needs to be cleaned more often to maintain better breathability. Otherwise, both are heavy-duty material and will last for a long time. Note that eVent is cheaper than Gore-Tex, so if you are looking for an affordable and breathable waterproof jacket, the eVent is what you need!
Durable Water Repellent (DWR)
The Durable Water Repellent (DWR) is a polymer coating agent that is applied to the outermost layer. The main mission of DWR is to prevent the water penetrate the outer shell fabric's external surface. All waterproof rainwear has an added DWR. Know that DWR is not permanent, after repeated wears, or exposure to dirt, insect repellent, detergent can significantly shorten his lifespan. If the coating agent DWR wears out, the outermost fabric of your jacket can get wet. If you want your jacket to remain waterproof you will have to treat it regularly with a DWR coating. 
PU Films
PU (Polyurethane) is a material made of one or several polymer layers, which is bonded to non-woven textiles such as cotton, polyester, nylon or ground leather. The PU is placed between the outer face fabric and the innermost layer of the jacket. PU has many advantages. It's waterproof, breathable, lighweight, and extremely flexible. Gore-Tex and eVent jackets are harder and less stretchy than jackets made with PU material.
---
Sealed seams
Even with a jacket that has a high waterproof rating, if the seams are not sealed, chances are, water will get through and you'll get wet. Stitched seams are a major point of weakness in waterproof gear construction. This style of stitching makes plenty of tiny holes in the fabric which let water penetrate inside. So it's important to opt for either "Critically or fully seam-sealed" when buying a waterproof jacket (or pants). Let's see below the different types of stitching.
Critically seam-sealed means that the garments do have seam tape, but not on every seam, only on the upper body – such as around the neck, shoulders, and chest. Critically seam-seamed jackets are alright for dry climates, but not for maritime environments as they leave some seams vulnerable to leakage. 
Fully seam-sealed means that all the seams in the garment are sealed to provide maximum water tightness. Several methods are used for sealing seams to prevent water pass through. 
Taped Seams means that the seams are taped with a waterproof layer that serves to protect from moisture and water. 
Welded seams does not involve sewing machines or stitch holes, which reduce the price of the garment. This type of technique uses heat and pressure to fuse the pieces of material together.
---
What Are Waterproof Ratings?
There are several levels of waterproofness. When buying a waterproof jacket, you'll notice that waterproof rating, as well as waterproof technology features, are listed on the label. These ratings are tested in a tube with a 1-inch diameter called the "Static-Column test."This tube is slowly filled with water after being placed on top of the fabric. At the first sign of leakage, the water level is marked and represented as the waterproof rating. So a 5,000mm waterproof jacket will not be as effective as a 20,000mm waterproof jacket. Bear in mind, though, you will not always need a jacket with high waterproof ratings. So the best is to choose your jacket according to your activity. The table below will help you find out what waterproof rating you need.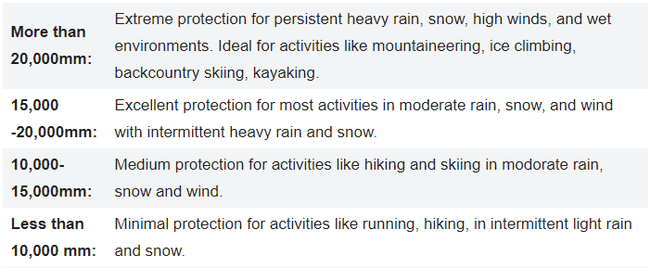 ---
Waterproof vs. water-resistant
The construction is what makes the difference in the level of waterproofness. However, a jacket is waterproof when its water-resistant can keep out water completely. Let's see what the differences between waterproof and water-resistant are.
Water-resistant: often breathable, this type of fabric can resist light rain for a short period of time. In a downpour, a water-resistant jacket won't keep you dry.
Waterproof/breathable: This type of fabric prevents rain from getting through while wicking sweat away. This is the kind of gear you want if you plan on doing intense activities such as running, cycling, hiking or sailing.
Waterproof/nonbreathable: As the name suggests, this type of fabric is waterproof but not breathable. It's a good option if you need to only keep water out without doing any exertion and don't want to spend a fortune on a jacket. If you do move around, the rain jacket will remain slick inside and will be less effective in strong winds.
---
Top Pick

Helly Hansen Men's Seven J Rain Jacket
---
Best Rated

  Columbia Men's Watertight II Front-Zip Hooded Rain Jacket
---
Waterproof Jacket Features
Hood
The hood is an important feature not to overlook when choosing a rain jacket. The first thing you need to check is the fit. If it's too big, then you'll have difficulty keeping it on your head, and not to mention that it can also obstruct your view. Inversely, if it's too small, it will restrain the movement of your head, which can be annoying. Anyway, most hoods have adjustments on the back and the sides to fine-tune the size of your hood. Some jackets have a removable hood that can be rolled up and stowed in the collar.
Zipper
You need a jacket that you can fasten fast if you get caught in bad weather. Also, there is nothing more annoying than a zipper that gets stuck or is hard to zip up and down. So you should avoid coated or laminated zippers. To prevent water from sipping through, the zipper needs a rubberized coating or a storm flap. Also, zippers can add breathability when you get too warm. So look for pit zips, it helps reduce heat and wick moisture away.
Vents
Even the most breathable waterproof jacket can make you feel warm and sweaty inside during vigorous activity. Today, most jackets come with underarm vent "pit zips" Other jackets have mesh liners in the chest pockets to add additional ventilation.
Packability
A jacket made of lighweight material is always easier to pack. Some jackets can be rolled up and stored in a small pouch. So if you see that a jacket comes with its own bag or has this feature, it means that it's packable.
Pockets
Pockets that feature Waterproof zippers will make the jacket more expensive. Some jackets have many pockets, on the chest, inside, and on the sides. It's really useful for storing small items. Other jackets have hand pockets that sit above the hip belt, which makes it easier to access your pockets while carrying your backpack. Some jacket even includes pockets with a cord port that allows you to attach your phone, music player or other stuff.
Adjustment features
Rain Jackets often include a drawcord at the bottom hem or the waist depending on the length. Most rain jackets have adjustable wrist closures that can be adjusted. All of these adjustments allow you to keep wind, rain, and cold from entering into the openings.
Conclusion
Choosing the right jacket can be challenging; with so many different types of fabrics and features, it can be confusing. Some are lightweight and extremely breathable, making them ideal for racing, sailing, running, or cycling. Others are made of stiffer materials, thus more suitable for trekking, hiking, and mountaineering. In other words, it's important to choose a rain jacket according to the activity you plan to do. With the help of the list and guide above, you should be able to find a rain jacket that meets your expectations.
More reviews
Do you own one of the waterproof jackets listed? If so, you are welcome to share your experience below.
Daniella has been passionate about travel, the sea, and nature for many years. As a child, she frequently traveled throughout the Mediterranean and continued with her journeys throughout her adult life.
Her experiences have created the desire within her to share her love for traveling with other passionate and adventurers who want to discover beautiful horizons and new cultures.