Buying a waterproof jacket can be a bit more complicated than you would think. There is a huge amount of options on the market. The jacket sections of most outdoor and sporting goods stores are often the most extensive section in the store. Not to mention the infinite amount of choices online, which make finding the right jacket very difficult. Jackets vary greatly in price and quality, and there are many features to consider. Here are some pointers to help with how to buy a waterproof jacket for your outdoor activities.
First off, there is a lot of research and development that goes into creating a waterproof jacket: companies research materials and styles. And test their products a great deal before putting them for sale to the public. They spend time gathering and using the best materials they can to make each jacket. This can make the best jackets somewhat expensive, so doing some research before making your purchase is always a good idea.
Let's first consider some of the most essential features of a rain jacket:
Waterproof Jacket Features
Hood:
One useful feature of waterproof jackets is an adjustable hood. These jackets have adjustments on the sides that allow you to adjust the size of the opening of the hood. This feature helps protect your face from the rain and wind. Some jackets include hoods that can be removed with a zipper or rolled up into the collar. A hood should be comfortable and not obstruct your vision.
Zipper:
Jackets have no shortage of zippers, and people don't usually consider them when buying a jacket. But zipper style is essential when looking at waterproof jackets. Waterproof jackets require zippers that have either a rubberized coating or a flap that comes over the zipper to keep water out. The coated option can make the zipper hard to zip up and down, and the coating can wear down over time. Making the zipper housing flap a better option.
Seam:
The seams of a jacket are where water will penetrate first, so all waterproof jackets are made with full seam taping to keep water out. You should beware that just because a jacket has taped seams does not mean it is the best option for waterproof. And there are other things to consider.
Pockets:
Consider how you will use your jacket when looking at pockets to make sure you find a jacket that will accommodate your needs. There are pockets for hiking, for running earphones into your phone, hand warming, and interior pockets for travelers looking to avoid pickpockets. Make sure the jacket you look for has the pockets you need.
Packability:
Many non-bulky jackets can be rolled up and stored in a pack or pouch. If a lightweight, take-it-wherever option seems appealing to you, then packability should be on top of the list of things you look for.
Vents:
If you think you may be taking part in a strenuous activity while wearing a waterproof jacket, then you will want to check for proper ventilation. Many coats have vents under the armpit area to allow air to flow in and cool you.
Drawcords:
These are cords located along the bottom hem of the jacket, and their use is two-fold. First, they can be tightened to keep rain and cold out. Second, they can be loosened to allow airflow and cooling.
Cuffs:
Usually Velcro or buttons, adjustable cuffs offer the same functionality of drawcords, keeping water and cold out, and providing ventilation.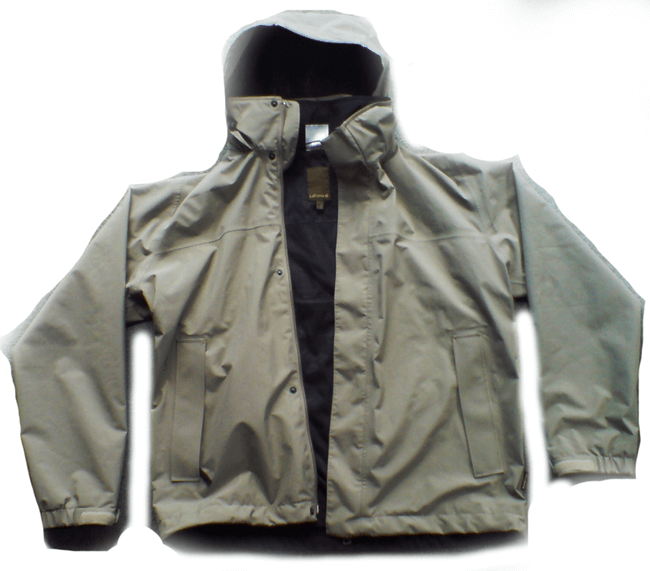 ---
Type of Waterproofing
As we said earlier, many different companies are making different types of waterproof jackets. Generally, these jackets consist of a durable face fabric and a waterproofing membrane. Here are four common types:
Gore-Tex:
A long-standing favorite, these products offer it all. They are durable, waterproof, windproof, and provide excellent ventilation, keeping water from getting in, while also getting the sweat out.
eVent:
Designed for conditions with intense humidity, these jackets are made to allow vapor in and out freely, to keep things from getting too steamy in the jacket. Some say it has better breathability than gore-tex.
Dryvent:
Developed by Northface, the face of these jackets are treated with a water-repellent that allows water to bead up and drop off.
Pertex Shield:
This is a micro-porous waterproof coating that focuses on durability, as well as wind and water protection.
---
Waterproof Rating
Here is a breakdown of what waterproof ratings translate to in terms of use:
5,000mm: At this rating the jacket as essentially no waterproof features. It is only useful in light rain or a dry snow.
6,000-10,000mm: This is good for light rain and snow conditions. Not equipped for long exposure to wet conditions.
11,000-15,000mm: At this level a jacket is rainproof and waterproof under normal conditions, like a moderate rain or average snow. But certainly not a driving rain or very wet conditions.
16,000-20,000mm: Rainproof and waterproof under all condition, including heavy rain and wet snow. Although not for long exposure.
20,000mm: The best of the best, waterproof at all conditions, including heavy rain and wet snow, even during periods of long exposure.
---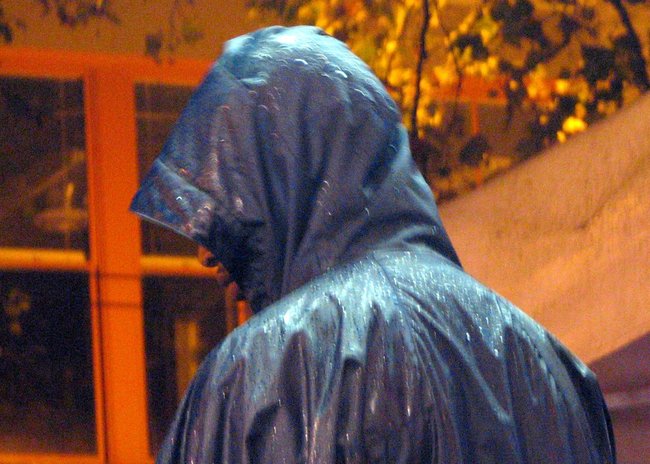 Layers & Construction
The layers and construction of a waterproof jacket are an important part of understanding how waterproofing works, and what you need for your use with the jacket. A waterproof jacket is a multi-layered sandwich of fabrics designed to keep you dry. Waterproof jackets come in 2, 2.5, and 3-layered construction. Let's break down what these mean:
2-Layered: On these jackets, there is an outer layer that is treated with a waterproof coating. The inner layer is usually a mesh or hanging liner that is stitched to the first layer. These jackets are durable and are best used for everyday use, walking around town. Some people love them for activities like downhill skiing. These are also generally the cheapest options.
2.5-Layered: This is very similar to the 2-layered construction. The out layer is treated to keep rain off. The big difference is that there is a thin coating with a raised print on the inside of the outer layer. This is what makes up the so-called half layer. Although these jackets are not as breathable as other options, they are generally a more affordable waterproof option.
3-Layered: Although it may sound confusing, the 3-layered actually has all its layers in one piece. The outer layer, membrane, and liner combined to feel like one piece of fabric. It is generally the most durable and effective waterproof jacket. It also has the best ventilation, giving it a very breathable feel, while also keeping water and cold out. It is especially good for people who spend a great deal of time outdoors.
---
| | | | |
| --- | --- | --- | --- |
| | 2 Layer | 2.5 Layer | 3 Layer |
| Breathability | Good | Good | Excellent |
| Waterproofing | Good | Good | Excellent |
| Weight | Midweight | Superlight to lightweight | Lighweight |
| Durability | Very good | Good | Excellent |
| Price | Middle | Low | High |
Waterproof vs. Water-Resistant
Although they may sound very similar, there are some important differences between waterproof and water-resistant. Even if both jackets are made with similar materials, some important technological differences make the jackets different.
Water Resistant
Water-resistant jackets are finished with a water-repellent treatment on the outer layer that forces water to roll up and bead of. These jackets are great for light rain and urban situations where you're in and out of the rain. They are good casual jackets and can double as windbreakers. But they will not hold up to heavy rain or extended exposure to a wet environment.
Waterproof
Waterproof jackets are also finished with a water-repellent treatment on the outer layer. But there is more to these jackets that make them better suited for heavy rain and more prolonged exposure. These jackets tend to be a little costlier, but for people who camp, hike, sail, mountain bike, fish, or spend large amounts of time outdoors, it is well worth it.
---
Breathability
Another vital factor to consider when looking at your waterproof jacket options is breathability. So, what is breathability? Scientists call it the "moisture vapor transfer." In more familiar terms, breathability is the function that allows waterproof jackets to keep water from getting in while also allowing sweat and heat to release from the inside.
That way, your jacket doesn't turn into your personal sweat lodge.Breathability is a crucial function to look for when considering what jacket to buy. A cheap rain slicker may keep water out, but it will not be comfortable, and it will make activities hot and awkward.
A jacket with a high breathability rating also called "air permeability" will allow you to perform strenuous activity outdoors while staying both cool and dry. It is important to remember that breathability will keep you cool, so in very cold conditions you may want to insulate a little extra.
---
Conclusion
When choosing your waterproof jacket, you may feel a little overwhelmed with options. And the idea of investing a decent amount of money in one jacket may make you nervous. Just keep in mind your needs, consider how much time you spend outside, and what outdoor activities you take part in.
So long as you keep in mind all the things you need from the jacket. And do the proper research to make sure you find the jacket that will take care of all your needs, you are sure to be happy with you pick. And you will enjoy your next hike,
sailing trip
, camping excursion, or walk down the street where the rain is blowing, and you are comfortable and dry.
Other Articles
Have you already chosen your waterproof jacket? If so, you are welcome to share your experience in the comments below.
Daniella has been passionate about travel, the sea, and nature for many years. As a child, she frequently traveled throughout the Mediterranean and continued with her journeys throughout her adult life.
Her experiences have created the desire within her to share her love for traveling with other passionate and adventurers who want to discover beautiful horizons and new cultures.