Because of its many historical sites and cities, and breath-taking country sides, Italy is a favorite location for tourists from all around the world. The Tuscany region of Italy is beloved for its friendly people, ancient towns, tasty food and wine, and the L.T. of Pisa. The Tuscany in One Day Sightseeing Tour from Florence offers you chance to explore Tuscany's many offerings in just one day.
---
Overview
Tuscany has a great deal to offer. It is a land full of art, history, and amazing food and drink. And with this activity-packed tour, one day is all you need to experience many of Tuscany highlights. Exploring the streets and cathedrals of Siena, diving deep into to the Tuscan countryside to the Chianti hills for a fresh lunch and wine tasting, roaming the ancient streets of San Gimignano, and of course touring the world-famous L.T. of Pisa. This tour has it all.
One-day Tuscany sightseeing tour with breath taking country views
Guided, of self-guided, tour of Siena
Local lunch at an organic wine estate
Tour the L.T. of Pisa
Transportation provided in an air-conditioned coach
---
---
What to Expect?
You will board a private luxury coach in Florence and begin your trek through Tuscany's rolling hills to the ancient city of Siena. Once you arrive you will have the option to take a guided city tour. A professional tour guide will show you around a city packed with history dating back to the fifth century B.C. The tour includes a stop at the Siena Cathedral.
Finished in 1380, the Siena Cathedral is a jaw-dropping masterpiece of Gothic architecture. For those who would prefer to opt out of a guided tour, there is no shortage of amazing sites in the city for the happy traveler to wander through. Explore the streets at your own pace, or enjoy a cup of coffee or espresso at a cafe alongside the city's locals.
From Siena, it's back to the Tuscan countryside where you will find the next stop, the Chianti wine region. Here you will get chance to stroll through the vineyard, olive grove and wine cellars. A traditional Tuscan vineyard lunch is provided in the shade of the grape vines. A platter of local sliced meats, salad, pasta, and fresh from the oven bread will be provided along with a wine tasting.
After lunch at the vineyard, the adventure heads to San Gimignano. Also called "the City of Great Towers," San Gimignano is world-famous for its medieval architecture that includes towers, cobbled streets and squares. The town also has plenty of refreshing treats to offer, in case you need one after exploring the town's 14 medieval towers.
Finally, from San Gimignano you will travel to Pisa. A guide will bring you to Pisa Duomo, Pisa Baptistry, a monumental cemetery, and cap it off at the world-famous L.T. of Pisa. The luxury coach will then return you to you original starting point in Florence for drop off in the early evening.
---
What's included?
This trip is a bargain for all that is included. Included in the trip is:
An air-conditioned vehicle
Professional guide
Maps of all destinations visited
Three-course lunch at the vineyard
Free time for self-guided exploring in ancient towns
And just as a heads up, it is up to you to arrange any transportation to from your hotel to the tour's departure and return point. Food and drinks, unless specified, and gratuities are also not included.
---
When is the Best Time to Take the Tour
Thanks to Tuscany's warm climate, there really is no bad time of year to take this tour. The tour also runs in all weather conditions, so consider the weather and dress appropriately.
What is the Duration of the Tour
This is a day-long 12-hour tour.
How Many People Can Be in the Group
For everyone's enjoyment, group sizes for this tour is capped at a maximum of 15 travelers.
Where is the Departure Point
This tour departs from Piazza della Stazione, 50123 Firenze FI, Italy at 8:15 AM. It returns at the same location.
What Language is Tour Offered?
Although located in Italy, this tour is offered in English.
---
Who is the Tour for?
Due to uneven surfaces in the ancient towns this tours and vineyard this tour visits, people with walking disabilities and using a wheelchair cannot be accepted. The tour is stroller accessible, but infants must sit on their parent's lap during transport in the coach.
Children are more than welcomed on the tour; however, children under 8 years of age are not allowed into the L.T. of Pisa, children within the ages of 8 and 12 need to be accompanied by an adult and held by the hand when in the tower, and children between 13 and 18 need to be accompanied by an adult as well.
Due to the tour length and amount of sightseeing, travelers should have a moderate physical fitness level in order to get full enjoyment from this tour.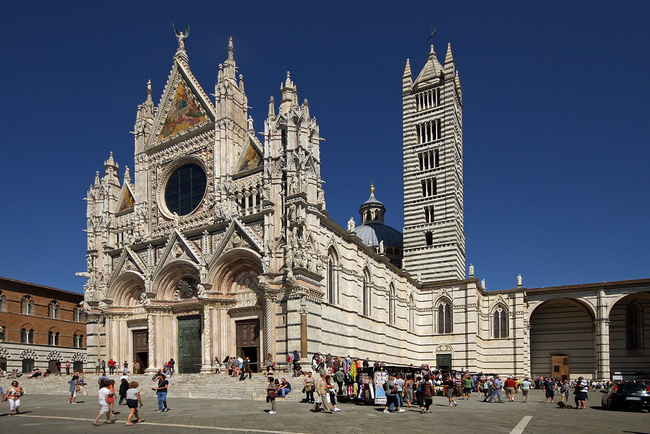 ---
Why You Should Do this Tour?
This is a highly rated tour, that offers travelers a chance to see multiple spots in Italy that are must-sees for visitors. It also includes an option to skip the long lines at the L.T. of Pisa.
With its convenient departure location in Florence, this tour is very accessible. It offers a chance to get fully immersed in Tuscany in just one day. With sights like the beautiful Siena and its Gothic cathedral, a chance to explore an operating vineyard with lunch and wine tasting provided, San Gimignano and its ancient streets and many towers, and the infamous L.T. of Pisa, with the option to skip the lines at one of Italy's greatest attractions.
This tour offers all this in addition to transportation by an air-conditioned coach, a professional, English-speaking guide and free time to explore the sights at the tour's stops. This tour is an ideal way to spend an unforgettable day in one of Italy's greatest treasures, Tuscany.
---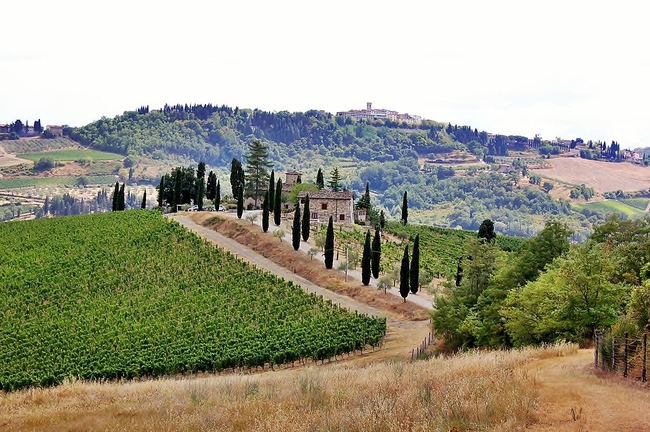 Pros
Knowledgeable and pleasant Guide
Delicious food and wine
Fantastic views
Great way to discover Tuscany
Very well organized
Cons
Some reviewers stated that the group could have been a bit smaller.
Conclusion
Many visitors who take this tour give it a five-star rating. They enjoy the friendly, knowledgeable, and energetic tour guides. The tour offers stops at amazing cities that the visitors get to explore on their own. A fresh lunch is provided overlooking amazing views of a Tuscan vineyard. And visitors are thrilled to explore Pisa and the Leaning Tower.
More Tours
Have you been on this tour? If so, you are welcome to shareyour experience in the comments below.
---
Daniella has been passionate about travel, the sea, and nature for many years. As a child, she frequently traveled throughout the Mediterranean and continued with her journeys throughout her adult life.
Her experiences have created the desire within her to share her love for traveling with other passionate and adventurers who want to discover beautiful horizons and new cultures.