Life aboard a sailing boat, regardless of all the novelty and excitement, is fairly uncomplicated.
In many ways, it is a return to a simpler lifestyle as there simply isn't a lot of things to do apart from relaxing and enjoying the open sea and the sun.
One of the most reliable ways to keep things interesting aboard long passages on your sailing trip is through some imaginative meals.
Since the choices of ingredients are limited aboard a sailing boat, I have learned the importance of mastering different styles of cuisine and recipes.
Being able to rustle up delicious meals on the sailing boat also goes a long way in fighting off the sense of monotony that sets in occasionally.
In this article, therefore, my goal is to give you ideas about boat cooking recipes to further enhance your sailing experience.
Breakfast
Omelette in a bag is a wonderful breakfast idea when you have 6 or more people to cook for.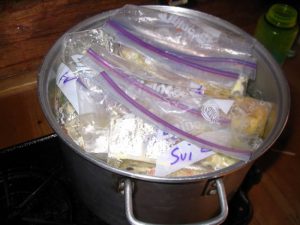 The beauty of this recipe is that you can involve all of them in preparing it in a fun way.
For this recipe, you would require one zip-lock bag for each person.
You can ask them to write down their name on the bag with a permanent marker and break two eggs into it.
You can then ask them to mix their favorite add-ins which could be all or any of the following:
1) grated cheese
2) ham, chopped bacon, or sliced sausages
3) sliced or diced vegetables such as onions, peppers, green onions, mushrooms, tomatoes, boiled potatoes etc
4) condiments and sauces
Once they have properly beaten the eggs and mixed in their add-ins of choice, you can ask them to seal the bags properly.
The next step is to simply add these bags to boiling water in a saucepan and leave it for no more than 13-14 minutes.
Once done, you can fetch these bags with the help of a tong and have the omelette rolled out directly on the plate.
This hearty breakfast can be enjoyed with homemade bread and coffee, marking the perfect start for your sailing day.
Snacks
When it comes to rustling up snacks on board a sailing boat, it is important that you go for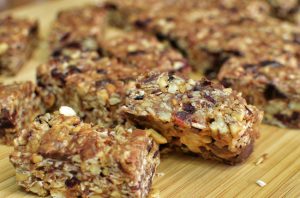 something that is not only tasty but also nutritious and provides energy.
Bearing these attributes in mind, you cannot go wrong with granola bars.
And as you would soon discover, baking them on board your boat isn't much of a hassle either.
Firstly, the ingredients you would require for this delicious granola bar.
1) 4 cups of raw oatmeal;
2) 1 cup of mixed sliced nuts such as walnuts, pecans, almonds etc
3) One-fourth cup of sunflower seeds
4) Half a cup of desiccated coconut
5) Vegetable oil of your choice
6) One cup of dried fruits
7) Half a teaspoon of salt
8) Half a cup of honey or maple syrup
Before you begin with the ingredients, preheat the oven to 350 degrees. Subsequently, leave the dry fruits out and mix all the ingredients, and roll it out on a baking sheet.
Bake it for 30 minutes, and generously cover it with dried fruits afterwards. Let it cool. Remember to store it in an airtight container.
Lunch
When it comes to preparing a lunch, there's a lot you can accomplish using the limited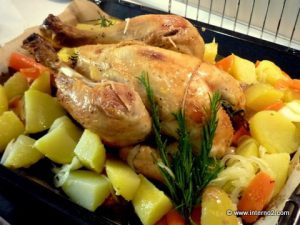 number of items on your boat.
Using canned meats is a great way to make a variety of dishes including jambalaya, ham loaves, paella, pasta, tuna casserole, sandwiches, meat pies, clam chowder, and chili.
However, for those who miss a big celebratory meal aboard a boat, preparing a roast chicken is a simple but great idea.
For this recipe, you would require minimal ingredients.
1) A big whole chicken.
2) 4 big tablespoons of Butter
3) Seasonings such as salt, pepper, dried thyme and sage
4) Vegetables such as celery sticks, onions, and a lemon wedge if you prefer
Preheat your oven to 350 degrees while you prepare the chicken. Preparing the chicken is simple and easy, as you simply have to clean it with water a few times, including the cavity.
Pat the chicken dry with a piece of clean cloth or napkins. Generously coat the bird with butter. You can also smear the butter inside the cavity, and, if you are still left with some, leave it inside.
You can stuff the cavity with celery sticks and onion wedges. Sprinkle just a tiny bit of salt and pepper on the veggies before sticking them in.
You can now put the bird on the rack, breast side up. Sprinkle the rest of the seasoning over the bird, including the sage and thyme. typically, you should keep the bird in the oven for 20 minutes per pound.
Once your chicken is done, remember to cover it with a foil and let it sit for about 15 minutes.
Dinner
Casserole dishes are perfect for dinner aboard a boat, especially if you can prepare one with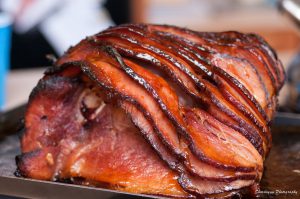 a variety of flavorful ingredients.
It can be nutritious, filling, and above all, lip smacking delicious.
A meat casserole, prepared Mexican style, would be a great addition to your list of dinner time recipes.
For this casserole, you have the liberty to choose between a variety of ingredients, based on whatever is available to you.
1) Canned meat such as chicken, turkey, ham – one full can (approximately 360 grams)
2) 2 cups of parboiled rice
3) 2 cups of mushrooms, sliced
4) grated cheese, 100 grams
5) Sour cream, 6 tablespoons
6) Sliced vegetables mixed together such as tomatoes, green peppers, and onions. Use salsa if tomatoes aren't available.
7) Vegetable oil
Preheat the oven to 350 degrees. In the meantime, saute the mushroom lightly in vegetable oil. Now turn the heat off, and add everything to this pan except the canned meat. Stir in. In the next step, drain all the liquid from the canned meat, and add it gently to the mixture. Grease up the baking dish and put the mixture in. Bake for 30 minutes.
Dessert
Desserts are truly prized aboard sailing trips. And you cannot go wrong with a simple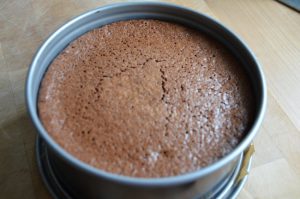 chocolate cake recipe.
For this, you need the following ingredients.
For batter:
1) 1 cup flour
2) Baking powder, 2 teaspoon
3) Salt, quarter of a teaspoon
4) Cocoa, one and a half tablespoons
5) Sugar, 3 quarter of a cup
6) Milk, half a cup
7) Melted butter, 2 tablespoons
8) Nuts, half a cup
Preheat the oven to 350 degrees, and add all the ingredients in a large bowl and mix. Pour it into a baking pan and let it rest. In the meantime, prepare the topping with following ingredients.
Topping:
1) Brown sugar, half a cup
2) Sugar, half a cup
3) Cocoa, 5 tablespoons
4) Boiling water, one cup
Mix these ingredients together and then gently spoon it over the mix in the baking pan. next step is to simply bake it for 35 minutes and then let it cool.
Tips
1) Do not restrict yourself to the cuisine you normally eat. With a few tweaks and extra condiments, you can prepare lovely Asian dishes with the same ingredients.
2) Carry an e-book of boat-friendly recipes
3) When using canned meat, remember to add them as late as possible to the cooking process.
4) If you are preparing casserole dishes, then remember not to use canned meats if they have a long cooking time.
My Conclusion
As mentioned above, your access to ingredients is limited aboard a boat. Therefore, it is important that you use imagination, and a little preparation, to make sure your sailing trip does not become monotonous in terms of food. The above recipes should hopefully add a touch of colour and flavour to your trip.
Want more recipes?
Subscribe to Cruising Sea newsletter to receive every two-week the latest post straight to your inbox!
If you have more boat friendly recipe ideas, do share them in the comment below!
Daniella has been passionate about travel, the sea, and nature for many years. As a child, she frequently traveled throughout the Mediterranean and continued with her journeys throughout her adult life.
Her experiences have created the desire within her to share her love for traveling with other passionate and adventurers who want to discover beautiful horizons and new cultures.