Website: Boatbookings.com
Yacht Types: Sailing yachts, Catamarans, Motor Yachts, Gullets
Cruising Areas: Worldwide
Year built: 2005
Charter Type: Crewed, Bareboat
About Boatbookings
Founded over a decade ago in 2005, Boatbookings Yacht Charter brings together the leading professionals in the sailing industry to deliver a world-class yacht chartering experience to customers worldwide.
Arguably one of the most visited yacht charter websites, Boatbookings, a yacht charter broker service, also claims a number of other firsts, including the most content-rich yacht charter portal as well as the largest selection of boats available.
Their website makes it explicitly clear that Boatbookings are exclusively in the business of yacht charter and do not deal with the sale, purchase, or management of yachts. Their exclusive focus on the yacht charter business helps them deliver a superior customer experience. In this Boatbookings review, we shall take a detailed look at their service and customer support on a number of parameters.
---
Boatbookings Destinations
One of the major advantages of booking your yacht through Boatbookings is its unparalleled global reach. Unlike many yacht charter companies that are limited in their geographical reach, Boatbookings have a truly global footprint, allowing customers to choose among the most celebrated sailing destinations.
For example, in the Caribbean, Boatbookings can allow you to book a yacht to major destinations, including the British Virgin Islands, Bahamas, Leeward Islands, and the Windward Islands. They also serve prominent North American destinations, including Florida, Pacific Northwest, San Francisco, and New England.
Aside from other prominent destinations, including the Mediterranean and Southeast Asia, they also allow customers to choose among destinations in Oceania, Northern Europe, and the Indian Ocean. Whether it is the exotic islands in Oceania and the Indian Ocean, such as Tahiti, Fiji, Seychelles, and the Maldives, or North European destinations, such as Scotland and Sweden, customers are truly spoiled for choice.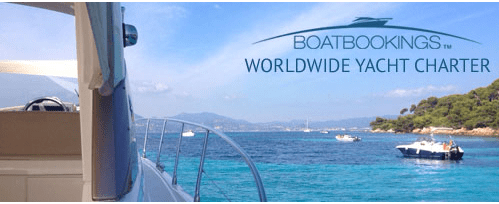 ---
Type of Yachts
Boatbookings allows customers to choose from a variety of boats, depending on their specific needs and requirements.
For example, customers who wish to enjoy a relaxing and fully serviced sailing experience can choose from a number of crewed and skippered yachts. Boatbookings provides crewed motor yachts, multihulls, and monohulls of varying sizes, from small and simple yachts to superyachts.
Similarly, those who have a sailing experience of their own and do not require a skipper or crew can choose a bareboat charter. Just like the crewed charter, the bareboat charter includes boats of all kinds and sizes, including motor yachts, catamarans, and high-performance monohulls.
---

---
Who is Boatbookings For?
With their comprehensive global coverage and focus on the yacht charter business, Boatbookings is ideal for everyone who intends to enjoy the thrill of sailing at exotic sailing destinations the world over.
Whether you are a family who wants to enjoy a luxurious sailing holiday while being served by a helpful crew, or an experienced sailor who wants to taste the thrill of a performance monohull, Boatbookings has something for everyone.
With over 12,000 boats in their inventory, Boatbookings have an unparalleled selection of boats, which makes them well equipped to make available exactly the type of boat their customers need and require.
---
---
Advantages of Sailing Through Boatbookings
Aside from their unrivaled global presence, there is a host of other reasons that make sailing through Boatbookings an extremely attractive proposition. To begin with, their network of professionals with deep experience in the sailing industry means that they know exactly what it takes to deliver a perfect yacht chartering experience.
Secondly, at Boatbookings, you would get truly independent and unbiased reports and reviews about the right boat for you.
Thirdly, to further sweeten the deal, Boatbookings guarantee the best prices in the industry, which would be better or equal to the prices charged by owners and operators.
---
Pros & Cons of Boatbookings
Pros
1) A worldwide presence that allows customers to choose from any of their favorite destinations across the globe.
2) A massive selection of 12,000 boats of all types and sizes that cater to the needs of everyone. Whether you are an experienced sailor looking for a bareboat high-performance yacht, or a family looking for an idyllic sailing experience, there is a boat for one and all.
3) Beyond the smooth yacht chartering experience, Boatbookings provide impeccable customer support if things go wrong, particularly in foreign jurisdictions owing to local customs and language.
4) Extremely competitive price means that you will not be shelling extra for your dream sailing trip.
Cons
1) Didn't find any!
In Conclusion
Boatbookings is essentially a broker charter service that, over the last decade, has earned a name for itself on account of its professionalism. If you are someone who is looking for a charter company that allows you to choose from most of the global destinations at unbeatable prices, then you should look no further than Boatbookings. With their extensive inventory of boats, you can be sure to find a yacht that perfectly meets your requirements.
If you have any questions, please feel free to leave a comment below; I'll be more than happy to help!
Daniella has been passionate about travel, the sea, and nature for many years. As a child, she frequently traveled throughout the Mediterranean and continued with her journeys throughout her adult life.
Her experiences have created the desire within her to share her love for traveling with other passionate and adventurers who want to discover beautiful horizons and new cultures.