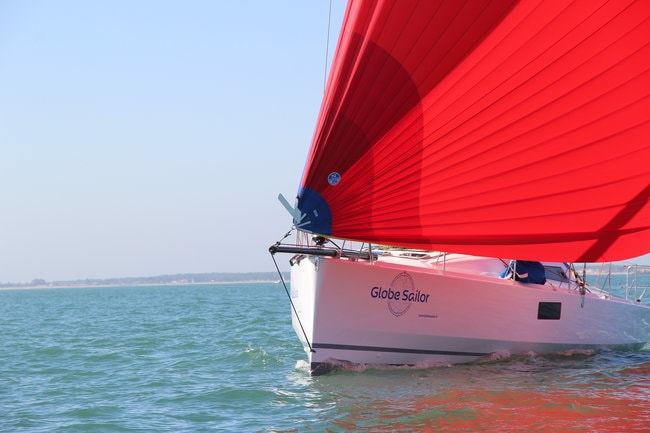 Website: TheGlobeSailor.com
Yacht Type: Catamarans, Sailboats, Motor Boats, Gulets
Cruising Areas:  Mediterranean, Caribbean, Atlantic Europe, Southeast Asia, Oceania, Northern Europe, North America, South America, Central America, Indian Ocean, West Africa, Middle East.
Charter Type: Crewed, Bareboat
---
Globe Sailor Overview
Globe Sailor is the biggest name in the online charter industry of the Mediterranean as well as a leader in Europe. This Paris-based service agency began its journey as an online charter agency in 2008 and since then, it has only grown. You'll struggle to come across a negative Globe Sailor review and that's a strong testimony of the performance showcased by the agency.
In spite of the development information technology underwent since the year 2000, it was extremely difficult to spot a ship-owner quickly. What was even more difficult was ensuring that the ship-owner you are renting the vessel from offers high-quality services.
Globe Sailor has managed to offer the best possible solution to this issue from the time it was established. They work with the aim of making boat booking simpler for people and guiding boaters to make their research more effective.
It's true that today the Internet is filled with websites that will allow you to compare several professional charter companies and make your choice. Globe Sailor, other than allowing you to compare, will also help you in the process of picking the right company and vessel. The agency has dedicated advisors for doing the job.
---
---
About the Team 
Since the day of its inception, Globe Sailor has been represented by a highly proficient team. Each of the team members has in-depth knowledge about yacht charters and knows what it takes to make clients happy.
People running the company, have great academic and professional background. They know the basic principle of entrepreneurship i.e. making the client happy; as a result, all the operations of the company have been designed for meeting the clients' needs perfectly.
In the company hierarchy, the people following the founders and chief executive officers are the account managers or the advisors. These are people playing the most vital role in the company's operations.
As a client of Globe Sailor, you will get connected directly to one of these advisors. He/she will talk to you, know your demands and wishes, and then assist you to choose the best yacht charter for you.
---
How Does Globe Sailor Operate?
Boat Selection
The optimized search engine of Globe Sailor will assist you in selecting a boat from a collection of more than 12,000 boats with 1000 professional charter companies worldwide. Once you select the boat or boats from that huge collection, you will need to fill out a request form.
Reliable Procedure
One of the best things about this agency is that unlike its rival groups, it ensures that each request submitted to them is directly sent to the local charter operator managing the fleet. Yes, when working with this company, you'll not need to deal with sales intermediates; this, in turn, guarantees the best price.
Globe Sailor enlists only the most trusted and well-equipped charter companies. Every single boat listed by them matches the required standards of comfort and maintenance and possesses all the essentials for allowing people enjoy the cruise.
Best Comparisons
For each request submitted, Globe Sailor would be sending a separate quotation, forwarded by the yacht charter company picked by you. With them, you will be able to do everything from comparing prices, boats, and equipment to getting your questions answered directly by the renter (charter company). You'll also get to check out latest reviews by real clients.
Another plus the company has is its impeccable customer service. The customer service team of Globe Sailor has a solution to all your problems as far as they are related to yacht charter.
Secure Payment
Once you pick the boat, you will have to book it by making an online payment. With Globe Sailor, you'll never need to worry about any frauds or discrepancies as far as payment is concerned. The agency allows you to pay using your card, bank account, or PayPal. For safeguarding and encrypting your card information, the agency use SSL or Secure Socket Layer technology. The money deposited by you will be transferred to the yacht charter company, the moment you sign the charter contract.
---
Globe Sailor Destinations
Globe Sailor offers yacht charter all around the globe. Not a single exotic location is left out by the agency. With them, you can book a boat for cruises to Mediterranean, Caribbean, Atlantic Europe, Southeast Asia, Oceania, Northern Europe, North America, South America, Central America, Indian Ocean, West Africa, as well as the Middle East.
Also, Globe Sailor will be traditionally exhibiting at the Paris Boat Show, and this year you can book a boat with one of their partners directly. You will find representatives from each destination for example, Croatia, Greece, Italy, Turkey, France.

---
What Globe Sailor offers?
Great Support
Globe Sailor would surely allow you to carry out price comparisons; however, it would be wrong if you think that it's just a price comparison website. It's actually much more than an online platform for comparing yacht charters. Once you submit your request, the agency would connect you to a knowledgeable and dedicated advisor; this is something you'll never get from any other agency offering similar services.
Wide Range of Quality Yachts
The yachts listed by Globe Sailor are all of the highest possible quality. They possess all the amenities you might need when spending time on the boat. They also score pretty impressively when it comes to advanced technology. Some of the features you will find in these boats include car park, outboard engine, bedding, provisioning, hostess, skipper, welcome kit, towels, final cleaning, etc. In addition, there is a range of other features that you can get by paying some extra Euros.
Special Offers
If you keep a close eye on the official website of Globe Sailor, you will come across highly profitable offers on yacht charters every now and then. The seasonal discounts offered by the agency are truly attractive. The discounts tend to range between 20 and 70 percent and vary from time to time.
Personalized Services
The advisor you will be followed by will be in charge of the sailing area you want to explore. He or she would possess in-depth knowledge about the destination. He or she would be providing you with amazing tips about discovering hidden treasures of the cruising destination picked by you.
What's more, the advisor Globe Sailor  will communicate with you in the language you are comfortable with; yes, you can expect your Globe Sailor advisor to be a native speaker of your language. Right now, the company has an advisor pool consisted of native speakers of languages like Croatian, English, French, Spanish, German, Polish, Russian, and Italian.
---
---
For Whom is Globe Sailor?
The services offered by Globe Sailor are meant for all cruising enthusiasts looking to explore the world on a boat. The company has enlisted the most well-equipped yachts in the world and will allow you to rent them in a seamless manner.
---
Why Sail Through Globe Sailor?
There are many reasons for sailing through Globe Sailor. However, the most prominent one among them surely is the agency's ability to offer you exactly what you are looking for. You'll need to tell the advisor your budget and what kind of facilities you need in the yacht, and the person will come up with several options matching your requirements in a jiffy.
---
 Pros
Huge database of high-quality boats
Ability to offer personalized services
Dedicated and knowledgeable pool of advisors who speak the native language of clients
Yacht charters for all esteemed destinations around the globe
Cons
It's difficult to state anything negative about Globe Sailor.
---
Conclusion
To sum it up, Globe Sailor is the perfect place for every cruising enthusiast as the agency will aptly find out what you need and then assist you in picking a boat matching your requirements. You cannot expect any of its rival groups to do such things for you.
Do you know Globe Sailor? If so, feel free to share your experience in the comment below