Capri is beautiful and has everything to make you have unforgettable times. There are excellent hotels, local Italian restaurants, bars, shops, sites, and much more. You'll never get bored here.
However, don't expect to find long beautiful white sandy beaches like in the Caribbean. You'll be disappointed! Because Capri is made of limestone rocks, so you'll mainly find rocky shores.
There are many cliffs, boulders, and coves covered with pebbles, and to get to the water edge, you'll often need to go down steep stairways and walk between rocks. So don't forget to bring a good pair of walking shoes with you! Here are the best beaches in Capri, Italy, to help you plan your trip efficiently.
---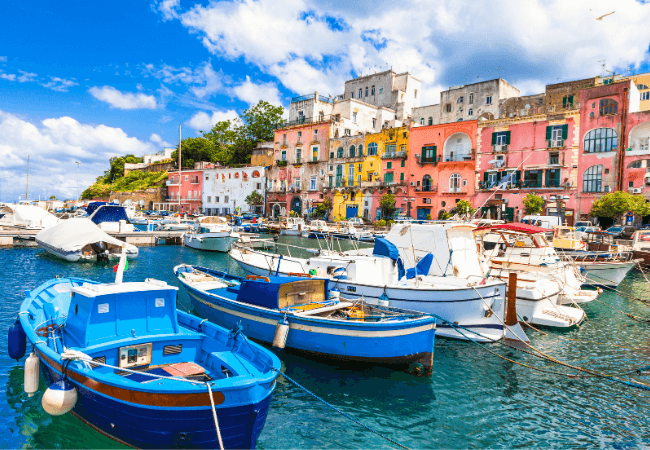 Capri – The jewel of all the islands, which is embraced by bluish-green water, is located in the pinnacle of the Amalfi Coast. Irrespective of the time you plan for a pleasure trip to Italy you should surely opt for a daylong Capri boat tour from Sorrento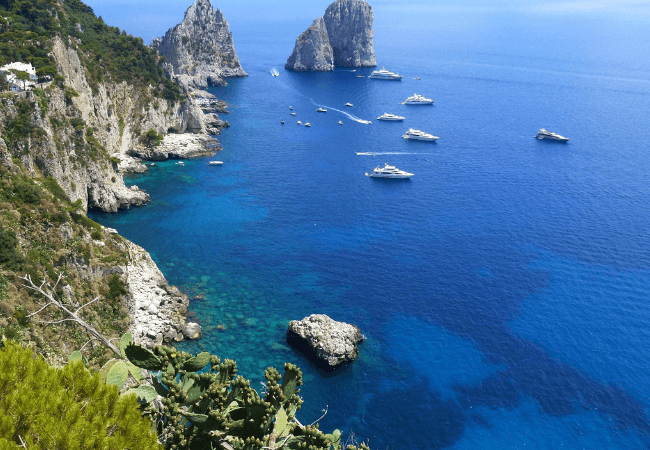 Capri and Blue Grotto Day Tour From Naples or Sorrento
 A Capri and Blue Grotto Day Tour from Naples or Sorrento will be the perfect activity for you. No need to plan an itinerary, or spend hours in the heat to get a ferry. The tour is well organized. The only thing you have to do is explore Capri island without worrying about a thing!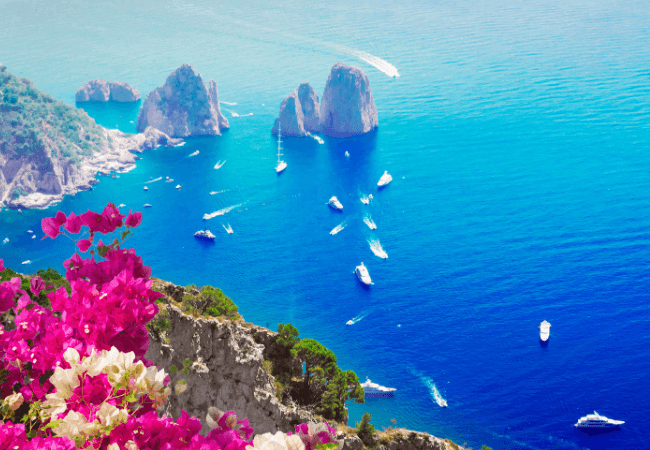 Capri Island Boat Ride with Swimming, Sights, and Limoncello
The tour guides are gracious, the music is relaxing, and there is more than enough food and drinks to keep you sated. You can see some of the Island's most alluring sites from the safety of a Sorrentine Boat.
---
1) Piscina Di Venere
If you are looking to relax and unwind, Piscina Di Venere is the best beach to go to. Since this beautiful beach is located in a more secluded area, you will definitely have a peaceful time which is perfect for energizing the body, mind, and spirit.
Here, you can bring your family or friends, or you can opt to enjoy the clear blue water, cozy beach, fine warm sand, and perfect view all by yourself.
Since Piscina Di Venere is not as popular as the other beaches in Capri, you have to find it through the help of local sailors or tour guides. The best way to get there is to ask local sailors to bring you there and to make sure to tell them when to go back and fetch you.
Don't forget to bring your own food since there are no stores or restaurants on the Piscina Di Venere beach.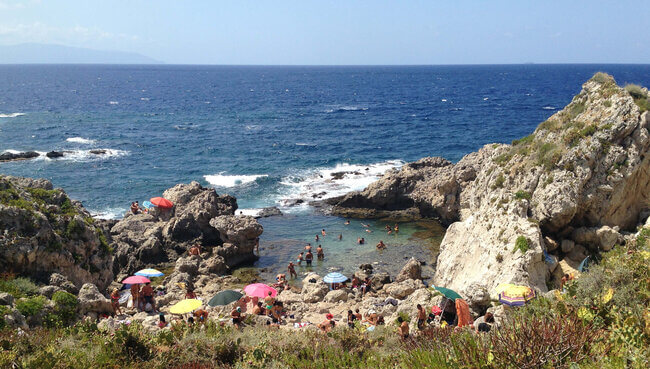 ---
2) Da Luigi Ai Faraglioni
Are you up for the most beautiful and exotic beach in Capri? Da Luigi Ai Faraglioni is one of the top and most amazing beaches found in Capri. You will be amazed by the splendid view of the well-known Faraglioni, a beautiful formation of majestic rocks just right next to the island beach.
Da Luigi Ai Faraglioni is the perfect beach destination for friends and families who are up for adventure and fun.
The only way to get into the water is by climbing down a ladder or jumping off the rocks. So it wouldn't be a good idea to bring kids to this specific beach. You can either ride a boat from Marina Piccola or walk 200 stairs through a forest from the same Marina to go to the beach.
The entrance would cost you 35€/pax, which already includes a sunbed. Make sure to call in advance before going there because most of the time, it's filled with travelers, especially on weekends. There is a wonderful fish restaurant serving delicious dishes on Da Luigi Ai Faraglioni. Highly recommended!
---
3) Bagni Di Tiberio
Get ready for Bagni Di Tiberio is the best beach that you will ever see and go to in Capri. Why is it considered as such? It is said that nobles and emperors have fallen in love with Bagni Di Tiberio for its picturesque and unbelievable beauty. Even Roman Emperor Tiberius gave up his power and became a resident in the area to live on the beach.
Located in the northern part of the island, Bagni Di Tiberio has every possible beach and vacation desire that you will ever want: fine sand beach, soft pebble spots, clear blue water, complete amenities, various water activities, clean restrooms, excellent restaurants, and delicious dishes.
You can do just about anything to enjoy the beach, from swimming to strolling to exploring, sunbathing, and relaxing. Perfect for the entire family, Bagni Di Tiberio also has a beach club that provides umbrellas and sunbeds for visitors. It is truly the best beach in Capri and one of the most beautiful places in the world.
---
4) Marina Di Mulo
Known perhaps as the quietest and most peaceful beach in Capri is Marina Di Mulo. Located in the southern part of the island, Marina Di Mulo is less crowded, and many celebrities used to visit the beach to get away from the limelight.
This beach is spectacular for its amazing water, sand, and view. Still, it would be best for you to go to Marina Di Mulo early since it already loses sunlight at around 4 PM due to the impressive tall cliffs surrounding the whole beach.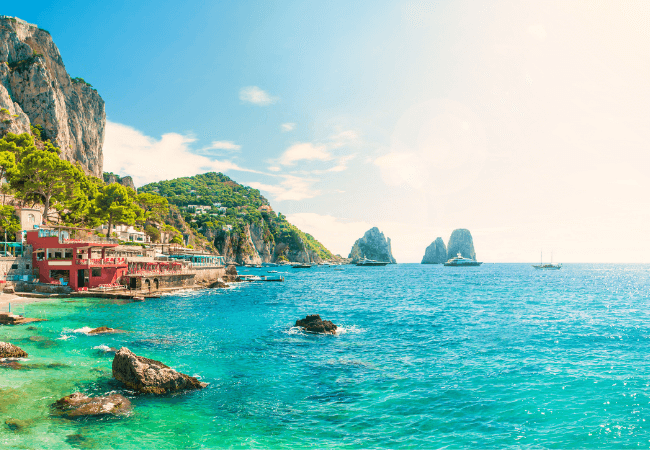 ---
5) Palazzo a Mare
Known as the best beach for enjoying time with families, Palazzo a Mare is the place to be if you and your family are planning the perfect vacation. It is located near Marina Grande and you can access it by taking a short walk from the main port where you could pass along the Da Paolino restaurant.
The beach is lined with pebbles and the water is clear blue and pleasant, making it the perfect place for long swimming and beach activities. 
---
6) Marina Piccola
If you are a yacht enthusiast, then Marina Piccola is the best beach to visit. It is the perfect beach for yacht watching. All the luxury yachts stay and sail by in the area.
Apart from that, Marina Piccola has breathtaking rock formations and beautiful views, which is why so many tourists and locals visit this fabulous beach.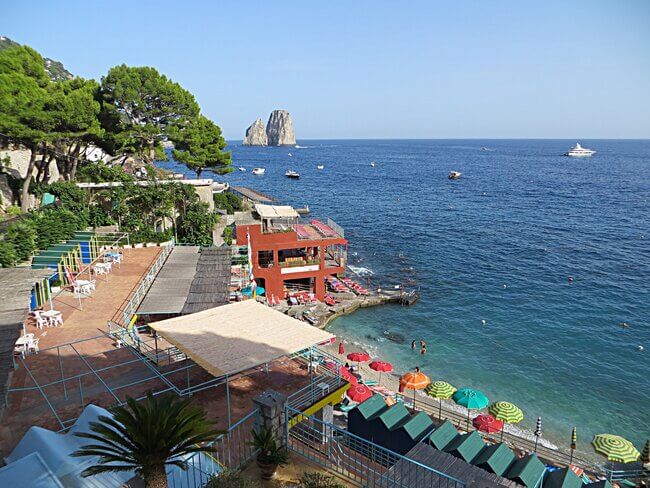 ---
7) Marina Grande
Known as the largest beach in Capri, Marina Grande's grandeur and beauty make it the perfect beach for swimming and other water activities.
Situated near the island's main port, Marina Grande offers all the wonders of an amazing beach vacation for the whole family upon arriving in Capri.
It has clear blue waters, a sandy beach, amazing views and spots, and nearby shops for snacks and refreshments. It is the gateway beach for all the amazing destinations on the island.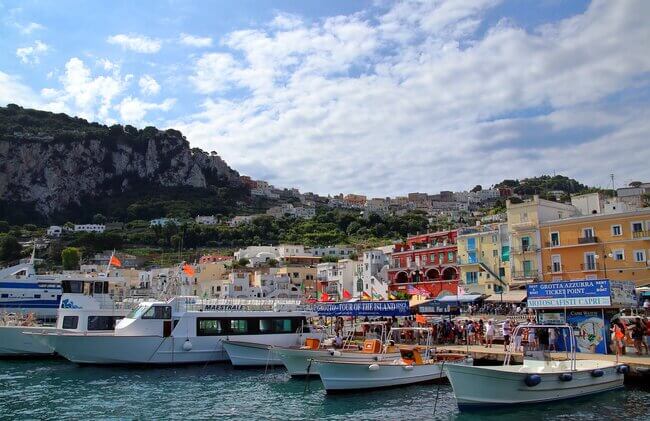 ---
8) Blue Grotto
Known for being the best beach for sightseeing, the Blue Grotto "Grotta Azzurra" is home to a wonderful sea cave with stunning blue waters and beautiful landscapes.
Just know this place is always crowded with tourists in the peak season, which runs from May to September. The astounding beauty of the beach lures many visitors who take rowboats to access the area.
This is where you could easily forget about your problems when you see the incredible beauty of the Blue Grotto.
---
9) Gradola
If you and your loved one are looking for a romantic place to spend time, then Gradola is the perfect beach for you. Located in Anacapri, in the west part of the island, Gradola is one of the most beautiful hidden gems you'll find in Capri.
The Blue Grottos is only two hundred meters from Gradona, so you can explore both places in one day. There are hotels, amenities, restaurants, and bars where you can savor delicious food and refreshing beverages while enjoying the beautiful views.
Since the beach is a bit rocky, it's more suitable for adults, less for children.
---
10) Faro Di Punta Carena
Located in the northern part of the island, Faro Di Punta Carena is the best place to watch the beautiful sunset. A truly must spot to visit while you are in Capri.
There is a small beach in the bay with cristal waters and two nice bars (Malibu and Antonio) that serve delicious Italian food. It's best to come here is around 5 pm when the sunset happens.
You'll still be able to swim, enjoy a glass of wine while watching the spectacular views from the cliffs to the sea.
---
What to Bring in Capri
As you know, Capri's beaches are quite rocky, and the most popular way to visit the island is by boat, and on foot, therefore you need to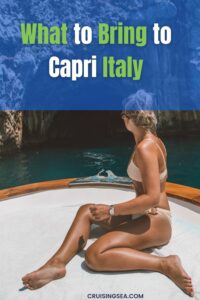 bring the right equipment. You must protect your feet from sharp rocks, protect your skin from the sun, but also protect your stuff from the water. 
Here is a list of important things you should consider packing in your suitcase.
Hat to protect your skin
Polarized sunglasses for your eyes
Sunscreen for your skin
A good pair of water shoes for hiking to protect your feet
Cash, some small shops don't accept credit cards
Waterproof dry bag or backpack to keep all your stuff dry while boating 
Bands to prevent motion sickness, you never know if you get sick on a boat.
There are plenty of mosquitoes near the water, so make sure to bring mosquito repellent. I highly recommend you to use something natural like citronella oil. I use it, and it works perfectly.
---
Final Words
If you stay in Capri, don't miss visiting one of these beaches, you'll be amazed by the island's natural beauty. Just before you go to the beach, make sure it's children-friendly if you bring them with you, of course. Also, check if the place has all the amenities you need for the day to get maximum comfort. That's it! Like we say in Italian, DIVERTITI, which means, have a great time!
Want to Know More About Capri?
Sign up for Cruising Sea newsletter to receive every two weeks the latest post straight to your inbox!
Have you been to one of those beaches? If so, which of them did you like most?
More articles
Daniella has been passionate about travel, the sea, and nature for many years. As a child, she frequently traveled throughout the Mediterranean and continued with her journeys throughout her adult life.
Her experiences have created the desire within her to share her love for traveling with other passionate and adventurers who want to discover beautiful horizons and new cultures.