Are you staying in Sorrento or Naples for a few days and would love to explore Capri before leaving out of Italy? If so, great! You came to the right place. A Capri and Blue Grotto Day Tour from Naples or Sorrento will be the perfect activity for you. No need to plan an itinerary, or spend hours in the heat to get a ferry. The tour is well organized. The only thing you have to do is explore Capri island without worrying about a thing!
---
Overview
This is is a full-day tour that lasts approximatively 7 hours. A jetfoil will take you from Naples or Sorrento to Capri. As you cruise along the coast, you'll take in the stunning panoramas of the island. Once you arrived in Capri, you'll get the chance to see the Blue Grotto by boat. After that, a minibus will make you travel around the island where you 'll stop and stroll around the handicraft stores of Anacapri and enjoy the fantastic atmosphere in the famous La Piazzetta. From there, you can choose to take a ride on a funicular to Marina Grande to explore the local architectures and enjoy seeing the typical pastel-colored houses overlooking the harbor.
---
---
Highlights of the Tour
Capri full-day tour from Sorrento or Naples
Delight in magnificent views as you cruise along the coast to Capri island aboard a jetfoil.
Enjoy a boat ride to visit the Blue Grotto with a small group.
Explore the Anacapri and Capri town
Board the funicular from La Piazzetta to Marina Grande
---
Itinerary
Starting Point
1 Your tour starts at Molo Beverello port if you stay in Naples or at Via Marina Piccola port if you stay in Sorrento where you'll meet your guide. From there, you'll board a boat to Capri. As you sail, you'll have the chance to take in incredible views of the coastline.
Tip: Try to go to the toilet a few minutes before docking so you can get on your tour right away.
Tip: If you can, sit on the left side of the boat so you can see the best views.
Duration: 30 minutes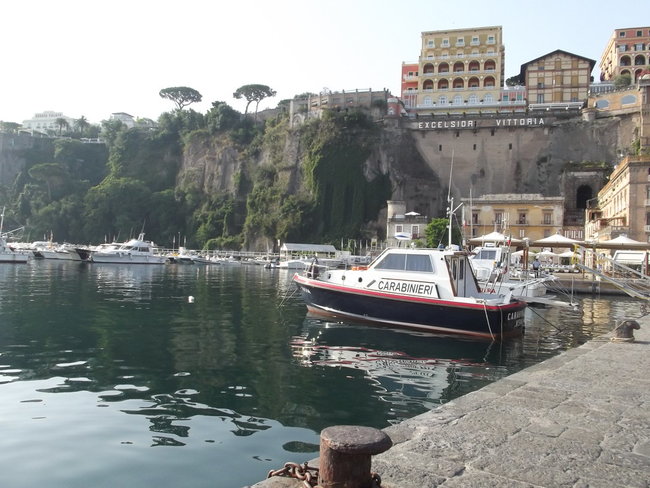 ---
Blue Grotto
2 Once you arrive in Capri, a minibus will take you to the famous Blue Grotto. If the weather doesn't allow to enter, then your guide will bring you to other spots as beautiful as the Blue Grotto such as the white grotto and green grotto. Be aware that you will have to bow down to enter or exit the caves and the boat ride is quite short.
Duration: Approx 10 minutes
---
Anacapri
3 After the Blue Grotto, a minibus will take you to Anacapri, where you'll have to opportunity to buy a lift chair ticket to go on the top of Mount Solaro island. The views are absolutely gorgeous! There you'll have free time to stroll around the city on your own. There are great places to go and great places to eat. If the time permits you to do so, you could visit the Villa San Michele, a beautiful architectural house and its gardens that were bought by a Sweden Doctor.
Duration: 2 hours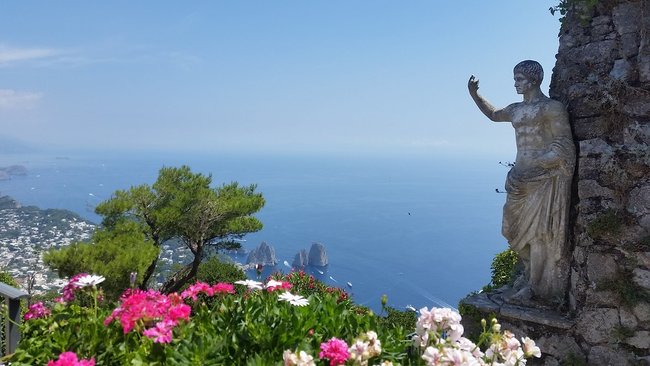 ---
La Piazzetta
4 The last stop will be at the life center of Capri, La Piazzetta. From the Piazzetta, you can have a stroll at the Via Camerelle where you'll find a wide range of local brands shops as well as cafes and restaurants. An excellent place for shopping experience if you have the time! Then head back to Sorrento or Naples by jetfoil.
Duration of the tour: 1 hour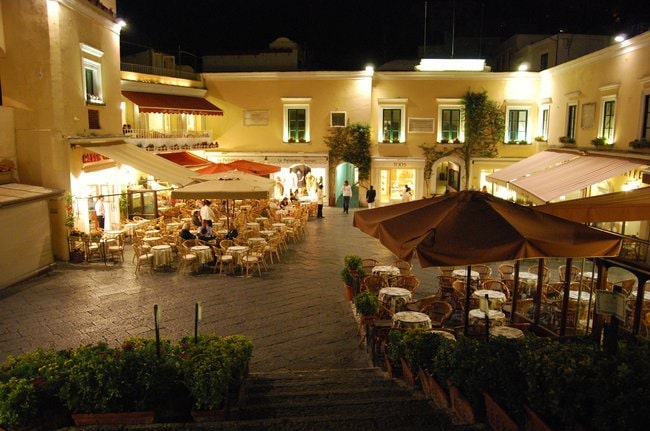 ---
Best Place to Eat in Anacapri:
Pizzeria Aumm
The Pizzeria Aumm is an authentic restaurant on Anacapri Island where Pizzas are baked in a wood oven and pasta are made by hands. Great place to eat!
Open from 11 am to 11:30 pm
---
Capri Pasta
If you want a quick snack out fo the crowds, then you should try this small take away restaurant. They offer a wide range of Italian food such as sandwiches, pizza, pasta, appetizers and so much more!
Open from 9 am to 8 pm
---
When is the Best Time to Do the Tour?
As Capri has a Mediterranean climate, it makes the islands a year-round destination. The winter, which runs from the end of November to February is cold and windy, so it's less frequented by tourists. The summer in Capri is between June to August, and the island experience the peak tourist season, which leads to an increase in prices and crowded places. If you plan to do the tour in the summer, then make sure you reserve early in the morning or evening, so you don't get stuck in the long lines. The best time to visit Capri is either in spring between (April – May) or in Autumn between (September – October) as the weather is pleasant, there are no crowds, and the prices are lower.
How Many Pople Can Participate?
This tour can accommodate up to 20 guests, but most chance you will have a small group of 9 or 10 people like many others had in their tour. However, you have free time during the excursion and it's a great way to make some new friends.
---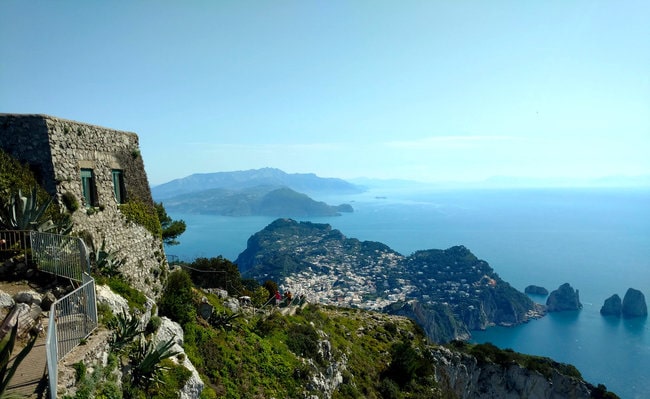 Where to Go Shopping in Anacapri
Ceramiche Tavassi
The Ceramiche Tavassi is a traditional Italian workshop that sale outstanding pieces of ceramic. If you want to decorate your house with artwork or buy a special gift, then you should take a stroll there. You'll love it!
Carthusia
Carthusia shop sale an amazing variety of scents that are a bit pricey but definitely worth it!
---
What is Included
Pickup and drop-off from and to the port

Entrance ticket for the Blue Grotto

If the Blue Grotto is closed, you get a shared boat ride around the island instead.

Local guide

Round-trip shared transfer

Travel by minibus
What is Excluded
Gratuities

Beverages and food

Pick up from the hotel
---
Important Things You Should Know
You will receive a confirmation at the time of the booking.

Unfortunately, there is no access to wheelchairs.

If the weather is bad and the waves are high, the Blue Grotto boat ride will be canceled. If this happens, your guide will bring you to the white and green grotto tour around the island.

If you bring your children, they must stay under surveillance

If you are a cruise ship passenger, you have to provide the following information at the booking time: Docking time, Ship name, disembarkation time, and re-boarding time

You must deliver to your guide the signed voucher on the same day of the tour.

As mentioned above, the hotel pick up is not included, but you'll have the option to buy a transfer at an additional cost.

Infant sits are available

There is access to strollers.
---
Who is the Tour for?
Everyone can participate in this tour, whether seniors, adults, or children. It's perfect for anyone who stays in Sorrento or Naples and wants to visit Capri in the most pleasant way. It's also for travelers who arrive in Naples or Sorrento by cruise ship and want to have a fun activity to do during the day. It is fun, and the course is very easy. You can go at your own pace as there are free times at each stop. In other words, it's the ideal activity for families, friends or couples!
---
Why You Should Do the Tour
Here are some good reasons why you should do this tour.
You don't have to bother planning your itinerary

You skip the long lines, it saves you lots of time and hassle!

You explore Capri, Blue Grotto, La Piezzatta, and Anacapri in one day.

You travel with a small group

You get the most of your tour thanks to the knowledgeable local guide and the well-organized trip
---
Pros
Easy to board the small boat to sail to the Blue Grotto

Free time to shop and eat

In case of bad weather, the guide takes you on a boat ride around the island to see the white and green Grotto.

This tour saves you time as it allows you to skip the long lines.

Very well organized
Cons
The Blue Grotto boat ride is short and the weather doesn't always allow you to enter the caves.

There is no access to wheelchairs
---
Tips
Before returning to the boat, you have around 30 minutes to enjoy swimming. So if swimming is on your bucket list, you will want to wear water shoes or flip flops to protect your feet from pebbles as there is no sand on the beach.

No matter when you do the tour, it's always advisable to have a bottle of water 

It gets hot in the summer in Capri, so bring a hat, long sleeve t-shirt, and polarized sunglasses.

Walking is part of the tour, so make sure to wear a good pair of walking shoes.

If you are prone to seasickness, bring some pills or wristbands so you can enjoy your boat ride.
---
Conclusion
This is a tour everyone can do independently. But the question is, can you navigate Capri as quickly and efficiently as you would with an organized trip? Planning your itinerary on your own and wait to get a boat in the crowds would be more challenging, especially if you go to the Blue Grotto where you have to do the queue for a minimum of 2 hours if you aren't there first thing in the morning. No doubt a guided tour will be much more agreable!
More Articles
---
Have you done the Blue Grotto Day Tour from Naples or Sorrento? If so, how was it? You are welcome to share your experience in the comments below.
Daniella has been passionate about travel, the sea, and nature for many years. As a child, she frequently traveled throughout the Mediterranean and continued with her journeys throughout her adult life.
Her experiences have created the desire within her to share her love for traveling with other passionate and adventurers who want to discover beautiful horizons and new cultures.