Nothing beats a barbecue with friends while enjoying your trip on the water. These are the most memorable moments in life. Also having a grill on a boat makes life so much easier. No need to go on land to have a great dinner. You now can grill right from your boat. There are important factors you should consider when choosing a grill such as how often you'll do grillings, the budget, the method of cooking, and the boat size too. What's the point to use a big grill on your boat if you don't have enough place to store it. So how do you find the right grill? Well, here is a list of the best marine grills for boats and a buying guide so you can make the right choice. Check out the top picks!
This post contains affiliate links. If you use these links to buy something, we may earn a commission. Thanks."
Top Rated
1. Cuisinart CGG – 180 T
Average Rank: 4.1 out of 5/ 3154 reviewers
The Cuisinart Petite Grill comes with a bracket attached and fits boat rails perfectly. With this grill, you can feed a regiment without a problem. As compact as it looks, There is enough space to grill steaks, chicken, hamburgers, hot dogs to name a few. This grill has legs allowing you to use it as a table barbecue, too. You are not only restricted to use it on your boat, but you can also bring it to your camping trip. The propane tank is placed horizontally on the back of the grill, which is extremely practical. It features an electronic igniter but some Amazon users stated that it becomes inconsistent sometimes. So you should always have some matches or lighters within your reach. This grill is all set up, the only thing you have to do is to fix it on your boat and you are good to go!
Pros
Superb service
Durable
Compact
Fits well on Pontoon boats
Easy to clean
Cons
Expensive compared to other grills on the list
---
2. Smoke Hollow Propane Gas Grill
Average Rank: 3.8 out of 5/ 1260 reviewers
The Smoke Hollow 205 is a grill that you can use anywhere, it's compact, foldable, making it easy to carry. Whether for boating, camping, picnics, it ticks all the boxes! This grill is made of stainless steel, hence is easy to clean.
The Smoke Hollow has 305 square inches of cooking surface, the hit is evenly distributed and allows you to cook your food perfectly! One pound propane bottle is what you need to power this grill. You can add a larger tank if you want, but you will have to buy an adapter separately to connect the propane to your grill.
As for the quality, it's not the best, but it gets the job done and it's affordable. Some Amazon reviewers stated that they had to press several times on the ignition button to light up the grill but once lighted up, it worked fine.
Pros
Compact, easy to carry around
Affordable
Great cooking surface
Easy to clean
Cons
No side handles
Not the best material
Propane cylinders not included
---
3. Char-Broil Grill2Go TRU-Infrared Propane Gas Grill
Average Rank: 3.9 out of 5/ 824 reviewers
The Char-Broil is a portable Grill that features an infrared cooking system, enabling you to make your food tasty and juicy. This grill is also compact and can be carried easily. Its frame is high and has handles on the sides that make it convenient to move it from one place to another.
Its two latches on the front allow you to secure the grill which makes it safer and easier to move around. The Char-Broil is lightweight and has a generous cooking surface "200-inch square", hence capable of cooking meals for a large group of people.
The good thing about the Char-Broil is that it is completely windproof, you can cook without worrying about your grill burning out in a windy condition. Its body is made of cast aluminum, this material is durable and withstands fantastically to rust a well as distributes heat evenly. Plus, it comes with a well-padded bag to hold all your stuff. There is no doubt you will enjoy this grill for many years to comes!
Pros
Powerful
Distribute heat evenly
Portable, easy to carry around
Affordable
Easy to use
Cons
Can not be mounted on the trail of the boat
---
4. Magma Marine Kettle Gas Grill
Average Rank: 4.3 out of 5/ 140 reviewers
Top Pick
The Magma Marine Kettle is a great grill that comes in two different sizes. 15 and 17 diameters, giving you more options for your boat.
The Hinged lid is solid and well attached, it will remain stable and won't blow off even if you grill on a windy day. The side-mounted handle allows you to remove the cover without burning your finger — no need to use hot pads anymore.
The Magma lasts a long time if you take care of it, but it tends to rust out when exposed to saltwater due to its low-cost stainless steel construction. So it is imperative to clean it after the grilling if you want it to stay on the rail of your boat for many years to come!
The only inconvenience with the Mama Marine is that the mounting system is not included, you will need to buy it separately so it can work properly on your boat.
This grill features a slow setting, which is excellent for cooking vegetables and roasting. Some Amazon users stated that the cooking on the Magma is faster than on a traditional home grill due to its round design and smart burner.
Pros
Easy to install
Easy to use
Easy to clean
Well built
Lots of space
Cons
Need to adjust the controller to get the right cooking.
Does not include any mounting system
---
5. Magma A10-603 Adventurer Series Gas Grill
Average Rank: 3.9 out of 5/ 22 reviewers
This is another great grill of the Magma brand. It is designed for using propane fuel canisters and it's built with stainless steel, which is durable. Thanks to its foldable legs, it is easy to store and use anywhere. This grill is very simple to mount and demount, making the cleaning task so much practical.
There are some accessories that you can buy to customize it such as a small plate to cut the food and a bag to store your grill and other parts. The cooking surface is relatively small compared to other grills (162 square inches), but you'll be able to cook for at least two people at a time, which is ok.
There is a latch on the front that allows you to secure the lid whenever need it. It features other great parts such as a plastic handle to lift the lid without burning your hand, a radiant plate for cooking food evenly, and a swiveling control valve regulator, so you have the option to use the RV gas or small bottles.
Pros
Cleans up easily
Well built
Cook evenly
Cons
Accessories need to be bought separately
---
6. Charcoal: Magma Products Marine Kettle
Average Rank: 4.5 out of 5/ 28 reviewers
If you get tired of not having enough place to cook your food on your grill, then the Magma Kettle will please you! It has a 200 square inches of cooking surface, allowing you to cook lots of food for your guests. This Charcoal Grill will save you time, It cooks faster than many other grills on the market.
It is made of polished stainless steel, which is why it is so durable and easy to clean. The lid is well attached to the grill, no need to worry about it getting close in a windy condition. this awesome grill is super well designed, it withstands saltwater marine environments and will last for a decade.
It can be adjusted to the height you want, allowing you to cook comfortably. Its variable draft door makes it easy to control the temperature as you can open it or close it completely while cooking. It features heat resistant plastic handle on the front of the grill, this allows you to lift or pull down the lid without burning your hands.
There is a wide selection of accessories and mounting options to choose from, but they are not included, so you will have to buy them separately. The Magma Marine Kettle is very easy to clean since the pieces are easy to remove.
Pros
Well designed
Extremely durable
Easy to clean
Easy to store
Cons
Does not come with a mount and accessories
---
Average Rank: 4.1 out of 5/ 43 reviewers
The Kuuma Stow is a grill that you can easily carry anywhere thanks to its compact size and foldable legs. This grill can be mounted on your boat's trail. Know that the bracket is not included, so you will have to buy it separately. With the Kuuma, you can use standard fuel bottles and even larger tanks if need to. It is made of Stainless steel and includes a removable grease tray, allowing you to clean it easily. The cooking Surface area is 160 square inches, which gives you enough places to grill your hot dogs, hamburgers, chicken, and more. If you want a great grill that you can store easily and cook from everywhere, then this is definitely the right choice for you!
Pros
Easy to user
Well made
Easy to carry around
Inexpensive
Cons
It tends to flame out
Accessories and bracket are not included
---
8. Camco Kuuma Potable Gas Grill
Average Rank: 3.8 out of 5/ 101 reviewers
Buy On Amazon
The Camco Kuuma is a fantastic grill for boats. The construction is of stainless steel, which is easy to clean and it's durable. The cooking surface is not really big (175 square inches), but it will allow you to cook enough tasty food for your friends and family.
The Camco Kuuma and the Magma look much alike, but there are some differences between them. For instance, Magma is less expensive. The Camco's mount plate features bolts while the Magma is welded. The handle on the Camco is metal and on the Magma is plastic.
The Camco has one grill and the Magma has three grills, making it easier to clean. This grill has legs, which is perfect for camping trips. It comes with a rail mount so you can keep it secure on your boat. The Camco looks great and cooks very well too. Its quality is as good as the others listed in the article and surprisingly is less expensive.
Pros
Easy to mount
Stows easy
Great look
Inexpensive
Heats up quickly
Cons
Inferior regulator
Doesn't come with an ignitor
---
9.Solaire Anywhere Portable Infrared Propane Gas Grill
Average Rank: 3.5 out of 5/ 73 reviewers
The Solaire Anywhere is a conveniently portable grill that can be mount on boat trails or can be used for any outdoor trip. This infrared grill cooks fast and makes your food juicy and tasty thanks to its infrared burner. The Solaire Anywhere is made of 316 stainless steel, which is known for withstanding salt water corrosion. The cooking surface is 140 square inches, which is enough to grill some nice pieces of steaks, hot dogs, and vegetables. There are two latches on the front to secure the lid so you can carry it comfortably. It features a V-Shaped Grates enhancing flavor while reducing flare-ups. It has an electronic push-button ignition, which you will greatly appreciate as it makes it easy to light up the grill. Additionally, it comes with an adapter hose, allowing you to barbecue with propane tanks.
Pros
Cook fast
Easy to clean
Easy to mount
Cons
Can not close the lid while grilling
---
Guide to Buy a Marine Grill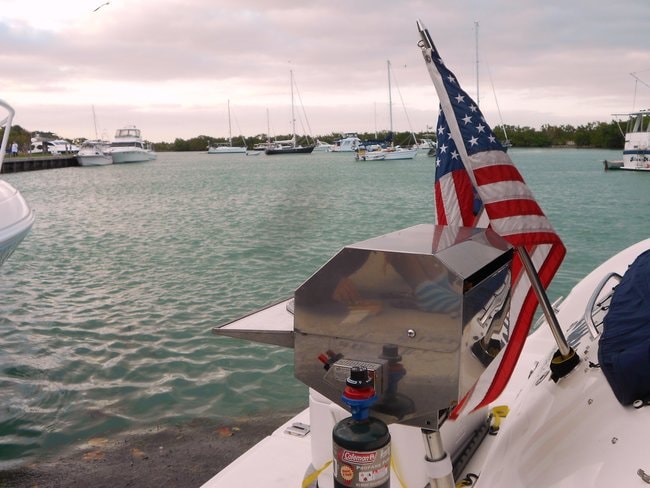 Material
The material is crucial since this is what will determine the longevity of your grill. Marine-grade stainless steel material is what you need to look for. There are two types of stainless steel, 304 and 316 grade. The 304 offers some corrosion resistance and is cheaper than the 316 grade. The 316 is more expensive, but withstands more corrosion and lasts longer. Both 304 and 316 are easy to clean, and both withstand corrosion but the 316 is the winner in every category!
Size
The larger, the better, you never know how many people will be at the party. But keep in mind that if you buy a large grill, you'll need places to store it. Obviously, if your boat is small, then you want a small grill. But today, there are small grills on the market that are convenient to transport and have generous cooking surfaces to cook plenty of food.
Charcoal
There is nothing tastier than a steak or a fish cooked over a charcoal grill and that's because the high temperatures and the direct heat make the food incredibly delicious. The problem with Charcoal is that it is not always easy to light up, and it takes time until it reaches the proper cooking temperature. Also, Charcoal is messy and if it falls where it shouldn't, it could dirt the place or become dangerous.
Propane
Propane grills are extremely popular, many boat owners swear only by them. Why is that? Because they are easy to use, the fuel is inexpensive, they are not difficult to store and the cleaning is a real breeze compare to charcoal grills. Although propane grills are practical, they do have their own drawback.
For example, it could be dangerous to use a propane grill above an open locker. If a gas leaks, it may cause a disaster. So if you choose propane, just take your precaution! A good method is to tie a rope to the mounting pole so that if something happens, you can quickly toss it overboard. Anyway, it is highly advisable to get a portable locker especially designed to be dropped overboard in case of an emergency.
Electric
The good thing about electric grills is that they are safer than charcoal and propane grills. Also, you can use it anywhere on your boat without having fear of dirtying your deck or ignite the boat. The downside is that they consume electricity, and if you don't have any generator or any electricity source from outside, then it won't work.
Mounting Options
There are a few mounting options to consider when installing a grill on a boat. The most used mounts by sailors are the deck sockets and the rod holders. For pontoon boats, a railing bracket system will suit best.
Infrared Grill
Infrared grills became extremely popular in the last few years, and there are good reasons for this. The preheating time is quicker, it reaches high temperatures, it cooks faster, and the food is much tastier. So think about it!
---
How to Clean and Maintain Your Grill
Even if you choose the best stainless steel quality, it will corrode after a while because of the food, the grease, and the saltwater. If you want to extend the longevity of your grill, you'll need to clean it and cover it with a grill cover.
You will want to clean the stainless steel surface as well as the grate before and after cooking on your boat. Note that stainless steel scratches easily, so please never use either an abrasive agent, metal brush, or steel wool to clean the shell. Use a non-abrasive cleaner and a soft rag and you are good to go. Clean the grates with a high-quality stainless steel grill brush when it is still warm, it will be much easier.
---
Safety Tips
1. Always stay near your grill, never leave it unattended while the food is cooking.
2. Keep children and pets away from the grill
3. Never grill while boating.
4. Make sure your grill is well secured to the boat trail
5. Always read the instructions that come with the grill
6. Many marinas do not permit grills, so it is advisable that you check with the marina before you start cooking.
7. Make sure you install your grill far away from electronics and machinery
8. Make sure your propane connection is well-tight and doesn't leak.
Conclusion
With this list of marine grills, you should have no difficulty finding a great grill for your boat. If you are hesitating, then I would highly recommend the Magma Marine Kettle, it's the top pick. It has an excellent rating on Amazon, and reviewers are extremely happy with this product. It is durable, easy to use, clean, to mount and it has a generous cooking surface.
More articles
What is your favorite boat grill? Feel free to share it in the comments below.
Daniella has been passionate about travel, the sea, and nature for many years. As a child, she frequently traveled throughout the Mediterranean and continued with her journeys throughout her adult life.
Her experiences have created the desire within her to share her love for traveling with other passionate and adventurers who want to discover beautiful horizons and new cultures.