Many questions come to mind when selecting a bimini top. Which material should I choose; polyester, sunbrella, vinyl? What frame is best, aluminum or stainless steel? What bow? And many more! After all, it's understandable because there are so many options out there. But don't worry; I am here to help. In this article, you'll find everything you need to know on how to buy a bimini top for your boat. Sounds good? Read on!
---
What Bimini Top's Material to Choose?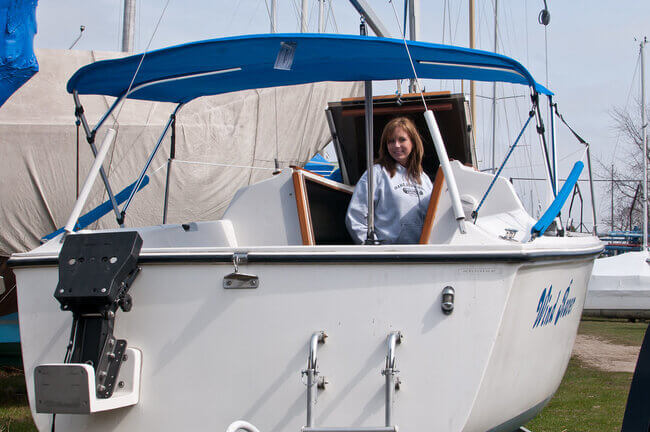 You can find bimini tops in a variety of materials. Some are better than others. The type and quality of the material will affect the cost and longevity of the top. With fabrics, your options will most likely include:
1). Vinyl
Vinyl-coated fabrics are quite popular because they are waterproof. They will repel water, diverting it to the sides. Unfortunately, they are not breathable, but they compensate for that weakness by being highly durable and easy to clean.
2). Acrylic
Acrylic is expensive. But it is more than worth the price because it is so soft. If you have ever rubbed your skin against it, you know how amazing it feels. Additionally, it is quite strong. Therefore, you can trust it to survive harsh UV rays without fading or wearing out. However, whenever it undergoes extensive cleaning, acrylic has to be waterproofed again. Otherwise, it will leak.
3). Cotton Duck
If you want a cheap bimini top for a boat that doesn't look so bad, you should experiment with cotton duck. First, though, you should know that cotton duck isn't particularly durable. It doesn't resist UV degradation as effectively as other fabrics. Not to mention, it also tends to leak.
4). Solution-Dyed Polyester
Polyester tops like Top Gun are popular in some circles because they have some of the richest colors on the market. Additionally, they can withstand UV-rays. They are strong, water repellant, and abrasion-resistant. They fade at a faster rate. However, they are stronger than acrylic fabrics.
---
What Frame?
Once you identify a suitable cover fabric for your bimini top, you should turn your attention to the frames. They are just as important as the cover fabric. Your options will most likely include:
1). Aluminum
You typically find aluminum frames in freshwater settings. They are economical and sufficiently durable, especially if you have taken the time to anodize them. This makes them pitting and oxidation-resistant.
2). Stainless Steel
Stainless steel is stronger than aluminum. It is also more expensive, but that is to be expected. It does not corrode. It will survive higher winds as well as saltwater applications.
---
What Hardware To Look For?
The frame is not the only important component of your bimini top. You must also take the quality of the mounting hardware into account. For instance, you should pair stainless steel frames with stainless steel fittings. Some people prefer coated brass fittings because they are cheap. But coated brass fittings will corrode and break.
You should also pay close attention to the support poles. Support poles alleviate the stress on the frame by providing additional support. In addition, you can use them to install the top at different angles to suit the situation.
Make sure your model of choice has strong straps. Straps simplify the process of installing and removing the bimini top. In addition, their presence reinforces the top, preventing strong gusts from blowing it off the boat.
How to Choose the Right Sizes
Bimini boats are available in various sizes. Unfortunately, you cannot identify the size you require without measuring your boat, a process that involves the following:
1). Start by determining the area you want to cover. Do you want to cover the entire boat or just a small section?
2). Once you identify the area you want to cover, measure its length. The minimum, in most situations, is five feet. You can also use this opportunity to identify the mounting points.
3). Move on to the width. Measure the distance from the rail on one side to the rail on the other side. Some people will encourage you to specifically measure the distance between the mounting points.
4). The next thing is the height. Figure out the amount of headroom you want. You can then measure the distance between that headroom height and the mounting points (Not the floor).
Once you have these measurements, you can compare them to the charts that bimini top manufacturers normally offer to find a size that suits your boat.
Types of Bimini Tops
OEM
Do you want an OEM, off-the-shelf, or custom-made bimini top? OEM tops are made using precise digital templates. They are designed to fit specific boats. Some OEM bimini tops are made by boat manufacturers to fit their boats.
Off-the-shelf tops
Off-the-shelf tops are not made with specific boats in mind. They are generic items that are available in rectangular shapes. They offer a limited number of color options. Custom bimini tops are customized to fit the dimensions of the boat in question and the color and material preferences of the consumer.
---
Storing Your Bimini
The bimini tops you select should be easy to store. This is because you cannot leave your top out in the open when it isn't in use. The top should be cleaned and then stored. Otherwise, the elements will destroy it. Some bimini tops come with storage boots. Others do not. You have to buy the boot separately. The boot covers the top.
Price Of Bimini Tops
There is no such thing as the best price for a bimini top for a boat. The price should match the quality of the top. Don't be tempted by ridiculously cheap tops. They will most likely disappoint you. However, you shouldn't assume that the most expensive tops are also the best. The quality and features of the top should justify the price.
What Means 2, 3, and 4 Bows?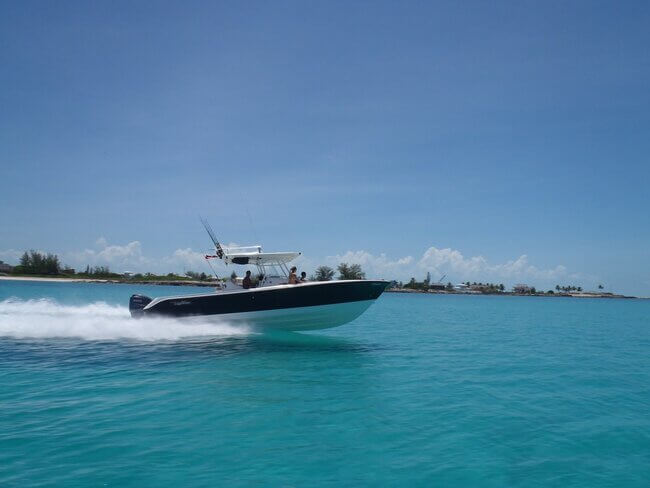 The bow is the section of the frame that connects one side of the boat to the other. It spans the width. A top can have two, three, or four bows.
2 bows are found on smaller fishing boats and inflatables.
3 bows, on the other hand, are common in runabouts and bass boats. You will also find them on ski and performance boats. This configuration is the most common.
The 4-bow configuration is found on larger boats like pontoons. They have round or square tubing.
---
How To Care For Bimini Tops?

Where the maintenance of bimini tops is concerned, you have to keep the following in mind:
1). Keep the fabric clean by regularly brushing loose debris off. Use a soft brush. You can also remove loose debris using a hose.
2). If you want to do some light cleaning, prepare a solution consisting of water and some mild soap. Brush the fabric with the soap solution. Give the solution a few minutes to soak it into the fabric before rinsing it with a hose. Let the top dry in the sun.
3). If you want to remove stains, prepare a solution consisting of bleach (One Cup), mild soap (1/4 Cup), and water (1 Gallon). Use a brush to scrub the fabric. Focus on the stains. Allow the fabric to soak for fifteen minutes. Use a sponge to blot the stains before rinsing with a hose.
4). Avoid detergents and washing machines.
---
What Color To Choose
Bimini tops come in various colors, and of course, the first thing that comes to mind is to match the boat's color. It's nice, but know that bright covers aren't as durable as the dark ones, and this is because dark materials contain a higher amount of dyes. On the other hand, dark tops absorb more heat and are less visible than bright tops. So these are the factors you'll have to consider when choosing your bimini.
What Material Is Best For Bimini Tops?

The best material is vinyl and Polyester composite. It is highly durable and easy to maintain. The material combines the best attributes of vinyl and polyester.
What Are The Best Bimini Brands?
The bimini top market is filled with trustworthy manufacturers with solid reputations, including Attwood, Dolphin, Carver, NaviSkin, 4 Seasons, Kemimoto, X-Gear, Leader, Seamander, to mention but a few.
Final Words!
With this in-depth guide on choosing a bimini top, you should find the right cover for your boat. Just make sure to take the dimension of your boat so that you can get the perfect fit. Also, try to choose one that includes hardware and boot to store your bimini. This way you'll be all set and ready for a ride on the water! Looking for a high-quality bimini top at a reasonable price? If so, take a look at this list of the best bimini tops for boats!
Want More Guides?
Subscribe to Cruising Sea newsletter to receive every two-week the latest post straight to your inbox!
More Articles
How do you look for bimini tops for your boat? Feel free to share your experience in the comments below.
Daniella has been passionate about travel, the sea, and nature for many years. As a child, she frequently traveled throughout the Mediterranean and continued with her journeys throughout her adult life.
Her experiences have created the desire within her to share her love for traveling with other passionate and adventurers who want to discover beautiful horizons and new cultures.