With about 150 canals, bridges, streets, and walkways, it can be tricky to get around Venice. And if it's the first time you visit this beautiful town, you better know where you go and what transportation you'll be using. Otherwise, your trip can end up a little stressful. If you want to have an enjoyable experience in Venice, you need to plan! Don't worry. I have you covered. The complete guide to public transportation in Venice will help you get around this magical city with ease.
---
Public transportation in Venice
Venice is known for its canals and waterways that crisscross much of the city in place of paved roads, just as much as it is known for its long history, fascinating museums, and amazing architecture. This unique network of waterways makes Venice unlike any other place in the world, and a favorite destination of people visiting Italy.
But the canals raise an interesting question, just how are you supposed to get around in a city where many of the streets are made of water? The buses, taxis, uber, and just plain walking that gets you around other cities you may visit will not always help you in Venice.
In order to get around Venice, you need to utilize water transportation, and when it comes to Venice there is no shortage of options for water transportation. One may think of boats as being the only way to get around in a city made of water. But Venice has six unique forms of water transportation. They are:
Vaporetto
Alilagunas
Water Taxis
Gondolas
Hop-On, Hop-Off Boat
Traghetto
All six are different and have their own advantages. It is important to understand the differences between these modes of transportation to find one that best matches your budget, where you are going, and the overall experience you are after. For this article we will focus on the three most used modes of water transportation:
Vaporetto
Alilgunas
Water Taxis
The lesser-known transportation modes are not without their positive though. Traghettos are delicate looking slim and low boat, that looks like a sleek gondola. At 2 euros per person to cross the Grand Canal, it is an affordable, albeit nerve-wracking ride. For this, however, we will focus more on quicker motorized transportation, rather than the more ride-based, man-powered vehicles like Traghettos and Gondolas.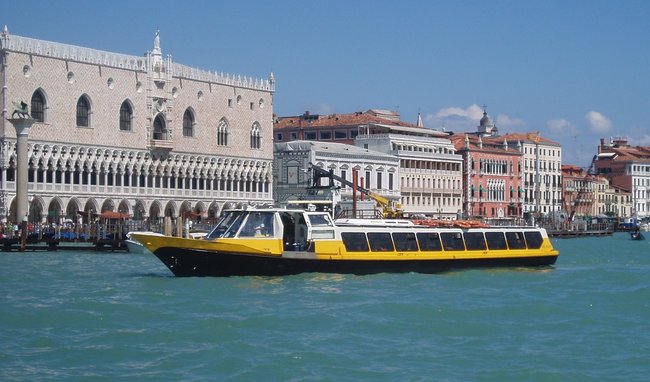 ---
All About ACTV Vaporettos
These are the most economically prudent and most popular form of water transportation in Venice. This ferry service shuttles locals and tourists to almost all parts of Venice.
These are the three main Vaporetto lines that a visitor to Venice will likely use:
Linee Centrocitta: This line is great for tourist as it connects the entire Grand Canal, as well as some surrounding inner canals. It is broken into two line:
Line 1:
Connects entire Grand Canal and Lido (seasonally)
Is perfect for visitors who have passes to museums, Chorus Circuit, or St. Mark's City.
Stops at most major attractions, or within short walking distance of them.
Travels between Pizzale Rome and San Marco with 14 stops along the route.
Line 2:
Similar to Line 1, but with fewer stops for faster travel, so long as your stop is on the line.
Travels between Pizzale Roma and San Marco with 9 stops along the route.
Linee Giracitta: More popular with residents, this line runs from the outer islands to Venice and Murano.
Lines 5.1 and 5.2
Circle around Venice's main landmarks.
Offer routes from Zattere and Dorsoduro.
Reach Lido via crossing Castello.
Lines 4.1 and 4.2
These are the best lines for travel to Murano.
Linee Lagunare: Best line for travel further into the Venetian Lagoon. This line transports people to the outer islands of Murano, Lido, Torcello, and Burano.
Line 12:
Best line for those who wish to explore Burano, Murano, and Torcello.
Full-day pass allows multiple trips between destinations.
Line 15:
Best route for travel between Punta Sabbioni and Venice.
Timings:
With tickets at 7 euros per one-way trip, the Vaporetto is one of the cheapest ways to get around Venice besides walking. The tickets are good for 60 minutes after purchase and can be exchanged for other rides, so long as they are going in the same direction.
There are plenty of places tickets can be bought. At the office in Pizzale Roma, at the boat docks, or directly from the conductor. Tickets bought on the docks need to be validated near the yellow box located on the dock.
Day passes are a great way to save money if you plan on using the Vaporetto more than three times in one day. the day pass allows for unlimited rides at a set price. For instance:
1 Day: 20 euros
2 Days: 30 euros
3 Days: 40 euros
7 Days: 60 euros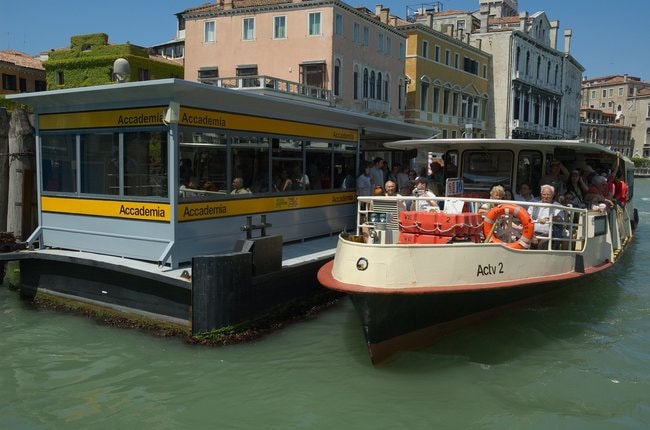 ---
Water Taxi in Venice
Sleek wooden boats zipping through canals are a common site in Venice. They are the infamous Venetian genteel water taxis, also referred to as a taxi acquei or motoscafi. They are a quick and comfortable way to get around Venice. But also, a very expensive way. It is ideal if you are in a hurry, or do not wish to have to move your luggage through a more crowded Vaporetto.
With a capacity of about 10, water taxis do start to make more sense economically if you are traveling in a group of at least 5. The price is generally 13 euros to get in and 1.80 euros for every additional minute
Things to Know Before Booking:
At an additional cost of 5 euros, passengers are can bring one item of luggage on board.
After the fifth, larger groups are required to pay an extra 10 euros per person.
There is a 10-euro fee for night travel between the hours of 10 PM and 7 AM
There is a fee of 5.90 euros for travel on holidays and Sundays. However, people are not charged both fees for traveling on Sunday nights.
Exclusivity is not guaranteed, as the captain reserves the right to take on extra passengers if they are traveling in the same direction and there is space available on the boat to safely accommodate them.
There is an additional 6-euro charge for calling the taxi through an online portal.
---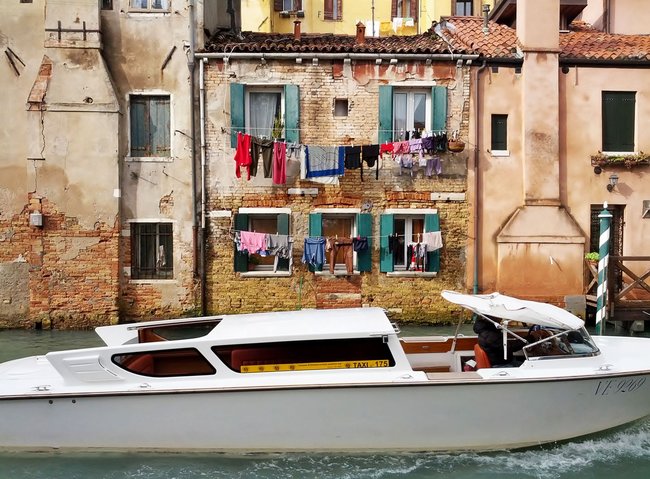 Where to Find a Water Taxi:
The wooden boats, usually with a yellow or white stripe along the side, can be found near most tourist attractions. Including:
Rialto Bridge
St. Mark's Square
Ferrovia Train Station
Piazzale Roma
Stazione Marittima
Tranchetto
---
When to Get a Water Taxi:
When to hail a water taxi depends mainly on two things, budget and how quick you need to get somewhere. Because of their high rates, water taxis are an expensive way to get around and Venice, and you do not want to blow you Venice budget on just getting around. However, water taxis are also the quickest way to get around. So, if you are, say running late for your flight at Marco Polo Airport, a water taxi will be your best bet.
---
All About Alilgunas
Also referred to as the Airport Ferry, the Alilguna shuttle is a private service that runs from Marco Polo Airport across the wide lagoon to Venice, Murano, and Lido. It is the most commonly used transportation method for to and from the airport due to it reasonable fares and frequent run times. At a cost of 10 euros to make the 1 hour and 15 minute trip, this is a favorite for tourists.
The Alilgunas run in four color-coded lines. The Blue Line, Orange Line, Red Line, and Green Line. All of them offer slightly different services, so you should research which option is best for you. But in general, the Blue Line for travel from the airport to many tourist attractions. The Orange Line is perfect for those staying along the Grand Canal. The Red Line is a summer seasonal route, only available from April to early November. And the Green Line is boat tour, not open for the public.
Know Before You Book Alilguna:
The Vaporetto and Alilguna tickets are not interchangeable.
Your luggage will be stowed away during transit.
Tickets do not have expiration dates.
There is a 15 euro one-way ticket option.
Each passenger is allowed one suitcase and one carry on, anything more is subject to a 3-euro fee.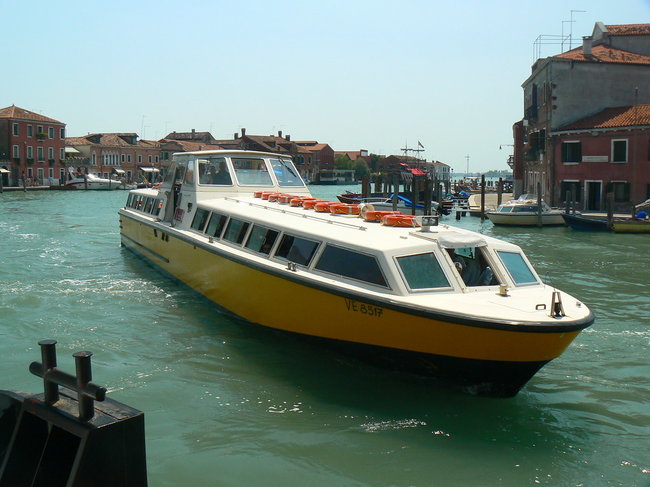 ---
Places to Buy Alilguna Tickets:
Online: this is the cheapest and easiest way.
At the Alilguna Counter located in Marco Polo Airport
Ticket Offices at: San Marco, San Luca Square, Venice Port, Tronchetto
As a reminder, if you do decide to purchase your tickets online, you will have to validate them at a ticket office near the Alilguna piers.
---
Venice is a favorite spot for tourists of Italy and the European Union. The city offers plenty of ways to get around its many canal and waterways. A little research and planning, and you will be skipping from one point to another lightning fast and without breaking the bank. From Vaporettes and Alilagunas, to the swift water-breaking water taxis, there is a way for you to get to where you need to go in Venice.
---
More Article
Have you been to Venice? If so, what public transportation do you use there? You are welcome to share your experience in the comments below.
Daniella has been passionate about travel, the sea, and nature for many years. As a child, she frequently traveled throughout the Mediterranean and continued with her journeys throughout her adult life.
Her experiences have created the desire within her to share her love for traveling with other passionate and adventurers who want to discover beautiful horizons and new cultures.