The city of Venice, Italy is a world treasure. Its unique maze of bridges and canals makes it like no other place on Earth. Venice is a "must-see" when visiting Italy. And no trip to Venice would be complete without a gondola ride. Riding through the ancient canals in a gondola with a traditionally dressed gondolier is the perfect setting for a memorable ride. With many beautiful sights that are best seen from the canals, the ultimate Venice gondolier ride and serenade is the perfect addition to your trip for sightseeing, romance, or both.
Overview
What is the most quintessential way to explore and experience Venice? Being serenaded on a shared gondola ride through the city's canals, of course. Riders have the choice between four different afternoon and evening times to experience the fantastic ride. A traditionally dressed gondolier will sing to you and the other passengers as you float by some of Venice's most historic and well-known landmarks.
Shared gondola ride and serenade
Ride through the Grand Canal as well as other smaller waterways
Float by Venetian attractions such as Palazzo Barbarigo and the Peggy Guggenheim. Collection
Suit your schedule with four departure time options in the afternoon and evening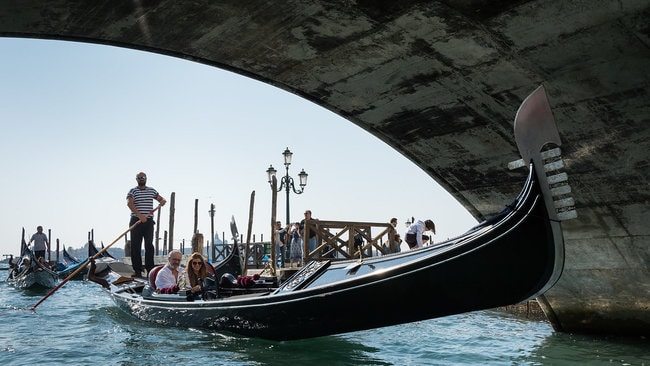 ---
What to Expect:
The first thing that comes to mind when one thinks of Venice is its many bridges and canals. The city is known world-wide for them, and there is no better way to experience these aspects than through a gondola tour. Literally floating through history while being serenaded. Visitor's taking part in this tour are to expect an intimate experience with the city of Venice.
First, you will decide on one of four start times in the afternoon or early evening to book. On the day of the boat ride you will go to the start point at the Gondola Station at Santa Maria del Giglio, Campiello Traghetto.
From there you will board the six-person gondola and sit back and relax has your traditionally dressed gondolier begins your journey. You will float through the wide and narrow, busy and off-the-path canals that make up the city. You will pass landmarks like the Grand Canal, the Peggy Guggenheim. Collection, and the Palazzo Barbarigo.
At one point during the boat ride, a singer will board the gondola and sing traditional songs. Mixing the sights and sounds of a historical city, creating some of the most memorable parts of your trips to Venice.
After a total of about 30-35 minutes you will return to your original launch point at the gondola pier.
---
About Palazzo Barbarigo
The Palazzo Barbarigo is a palace in Venice facing the city's Grand Canal. It's one of several villas in Venice that was built and lived in by the long-established Barbarigo family.
It was originally built sometime in 16th century, making the palace about 500 years old. The palace stands out for it's beautiful Murano glass mosaics, inspired by the facade of the also infamous St Mark's Basilica.
In the 1920's the Palazzo was the company headquarters of the Pauly & C. Compagnia, the oldest Venetian glass factory in Venice. Today, there is still a Murano glass showroom in the Palazzo Barbarigo.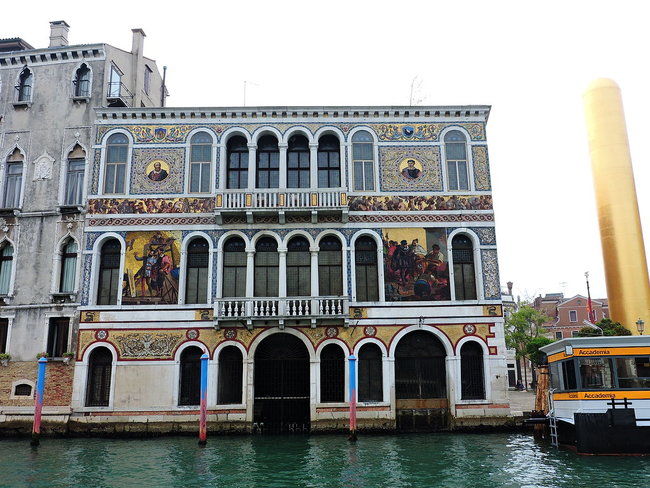 ---
About the Peggy Guggenheim Collection
The Peggy. Guggenheim Collection is a museum of modern art located on the Grand Canal in Venice. It was of the most visited attractions in the city. The collection of artworks has made its home in the Palazzo Venier dei Leoni. This is an 18th-century palace that the American heiress and collector Peggy Guggerheim lived in for over three decades.
Guggenheim began her art collection during the chaos of WWII-era Europe and built an impressive collection of Italian Futurists and their counterparts, American Modernists. Since 1951, this classic museum has been attracting many visitors with its paintings and sculptures. The beloved museum attracts up to 400,000 visitors per year.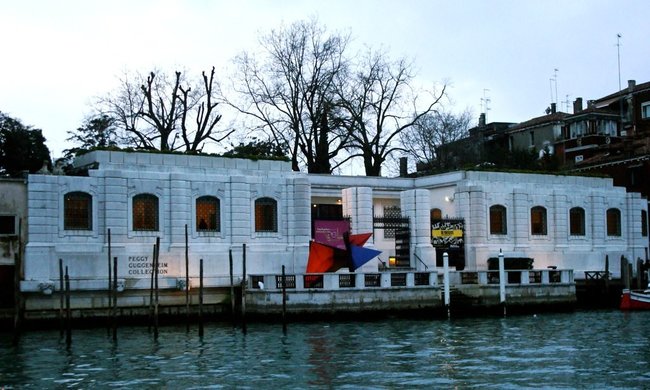 What is Included
Shared gondola ride with other gondolas for approximately 30 minutes
A singer who sings while you are onboard the gondola
What is Excluded
Pick up from the hotel and drop off 
Gratuity
Guide
---
How Long in the Ride?
The ride is about 30 minutes plus/minus. It could be more or less depending on the traffic.
Where is the Departure Point
When is the Best Time to Do this Tour?
Thanks to Venice's climate, this is tour can be enjoyed year-round. Many visitors see the moderate temperatures in April, May, September, and October as the best time to visit Venice, as this is between the cool of winter and the heat of summer. However, so long as you consider the weather and dress appropriately, this tour can be enjoyed whenever your trip to Venice is scheduled.
---
Who is this Tour for?
Groups of six or fewer
People physically able to get in and out of a boat
People able to sit still for at least 30 minutes
Visitors who are not predisposed to any kind of sea sickness
Anyone who wishes to see experience Venice by gondola
---
Why you Should Do this Tour
This tour is the perfect way to experience pure Venice. Floating down the century's old canals, while being serenaded with traditional Italian songs. Whether you want a romantic trip or an amazing sightseeing opportunity, this tour offers plenty of both. Anyone who wants to complete the "must-do" activities while visiting Venice should do this tour. It's flexible cancellation policy and inclement weather rescheduling, make it a safe choice for busy visitors.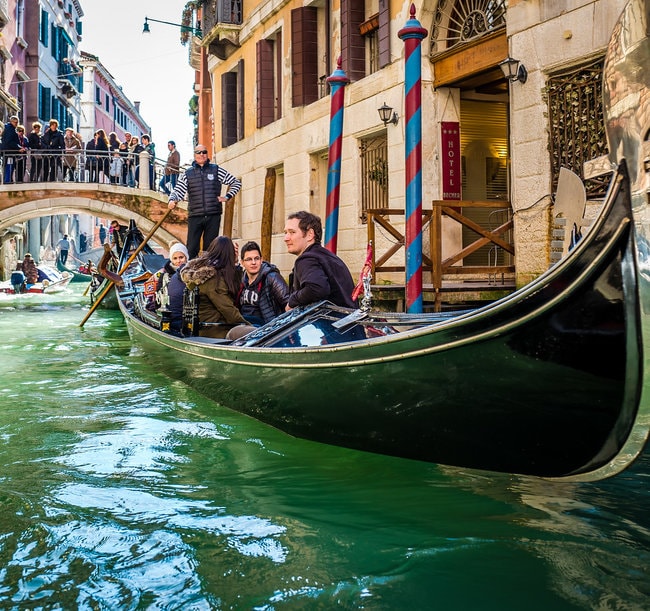 ---
Things You Should Know
Confirmation for the tour will be given at the time of booking
Due to Gondola size, there is a maximum of six people per booking
There are no preassigned seats, so your party may not all sit together
In the event of inclement weather, you may reschedule your ride or accept a full refund
You must cancel at least 24 hours before tour start time to receive a full refund
---
Pros
Good for the price and value
Romantic  ride
Affordable
Cons
The serenade is for a group of gondolas and not individual
The gondoliers don't pay enough attention to their clients, they often speak between them while riding.
---
Conclusion
Venice offers more than enough memorable and enjoyable activities for groups of all sizes. And whether you're an intimate group of two or full group of six, this gondola ride will be ideal. Missing out on a chance to tour Venice in a traditional gondola would be very unfortunate, as it is so essential to the history and feel of the city. Be sure to book yours as early as possible, to be sure you do not miss out on such a memorable experience.
More Tour reviews
Have you been on the Venice gondola serenade ride? If so you are welcome to share your experience int he comment s below.
Daniella has been passionate about travel, the sea, and nature for many years. As a child, she frequently traveled throughout the Mediterranean and continued with her journeys throughout her adult life.
Her experiences have created the desire within her to share her love for traveling with other passionate and adventurers who want to discover beautiful horizons and new cultures.