Boat camping is a great way to enjoy nature with friends and family. It's a lot of fun, and anyone can do it. But like any other trip, it requires some planning. If it's well organized, you and your loved ones will have unforgettable moments. In this article, you'll find everything you need to know on how to boat camp so that you can have a wonderful time!
What is Boat Camping?
Boat Camping, as the name suggests, is a combination of camping and boating. That's what it's all about. Instead of backpacking, you navigate through beautiful bays and rivers and pitch a tent where you decide to.
Before You Start Planning
To have a great time and a successful boat camp, they are a few things you should take into account, and these are:
Destination

Number of participants

Duration of the trip

The type of boat
Once you know, you can then start plan your camping trip. Ready? Let's start.
---
Where You'll Be Camping?
The second step is to define your destination. There are endless beautiful coastal areas, shorelines, lakes, and rivers where you can pitch a tent for the night. Just make sure you don't stop in private or limited land. Many national parks offer camping only accessible by boat. Some of them provide potable water and amenities.
Others are designed for primitive camping only. This means there are no moorings, toilets, water, and no electricity. You have to bring your own equipment, including a portable restroom.
If you have no clue where to go, check on the internet nearby locations for boating in your community or ask your boat club; they may suggest some great places. Knowing your destination is critical as this is what will help you prepare for your trip and avoid last-minute glitches.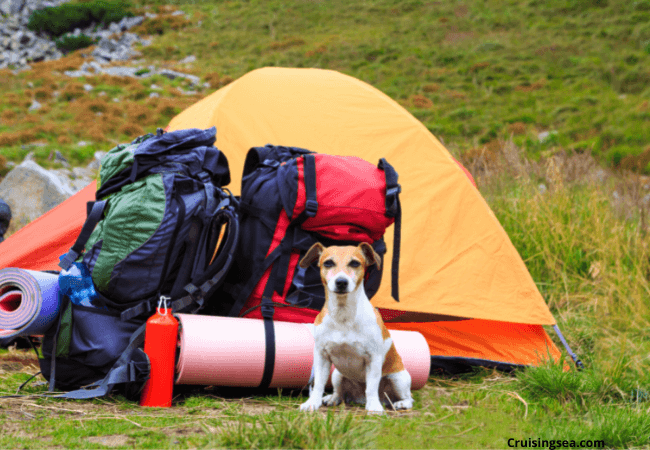 ---
Choosing the Terrain
Wherever you decide to camp, you'll want to look for a flat and smooth ground free of rocks. It will allow you to install your tent more easily and sleep more comfortably at night. There is no better place than sitting under a tree on a hot day. It provides excellent shade and cools you down, and you can even hang a hammock or some wet bags on it. Wouldn't it be ideal to find a nice spot like that? I bet you would!
---
What Boat?
The boat is one of the most important parts when going on a camping trip. If you go boating in deep water areas nearby sandy beaches, any boat will suit. But if you navigate in shallow waters, you need a boat with a shallow draft so that you don't worry about snagging the bottom of the boat on rocks and debris.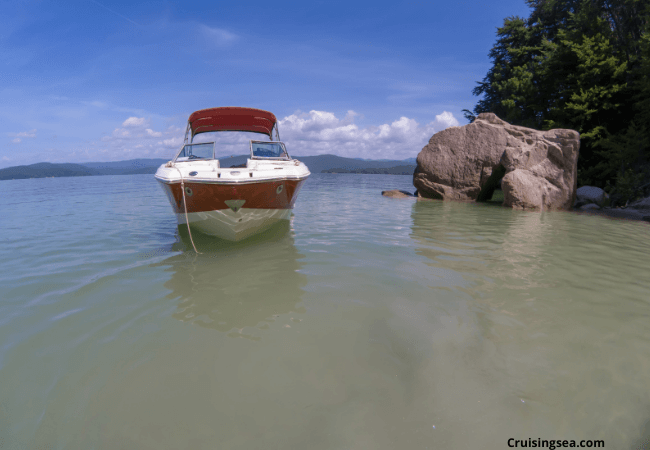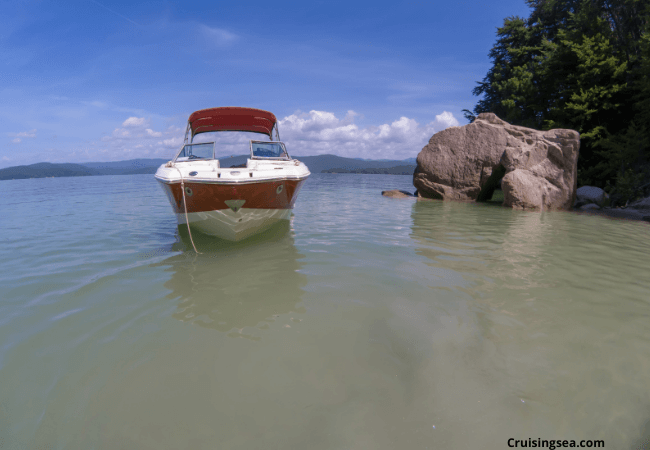 ---
Gear You'll Need
Since you travel by boat, you can carry with you more gear than you normally would with a car. However, I would suggest not overloading. You want to avoid exceeding the boat weight capacity, it will cause your boat to become unstable. Keep it simple, you'll have less gear to load and unload, and it will make your trip much more enjoyable.
Camping Gear to Bring
Padded bedrolls. Avoid inflatable mats. They are bulky and often deflate in the middle of the night.

For two persons, you need a four-person tent. You want to have enough space to move and store small bags.

Blanket, sleeping bag, shits

Pillows

Natural mosquito repellent. Citronella, or lavender oil.

Leatherman, this Multi-Tool Is a must on a camping trip. You'll be glad to have it.

Headlamp, you'll make a lot of use out of it.

Lightweight folding chairs

Foldable table.

Waterproof dry bag to protect all your stuff from water

Rope

Wristbands for seasickness, you never know.

Lifejackets

Portable toilets, some boat-in camping sites don't provide amenities and require to bring one.
Fishing gear if you plan on catching some fishes.
---
Food and Drink Storage
Make a list of food you want to pack for your camping trip. It will give you a better idea of what to bring. There are certain rules to follow when it comes to packing food. If you mix everything in the same cooler, you are going to have a big mess.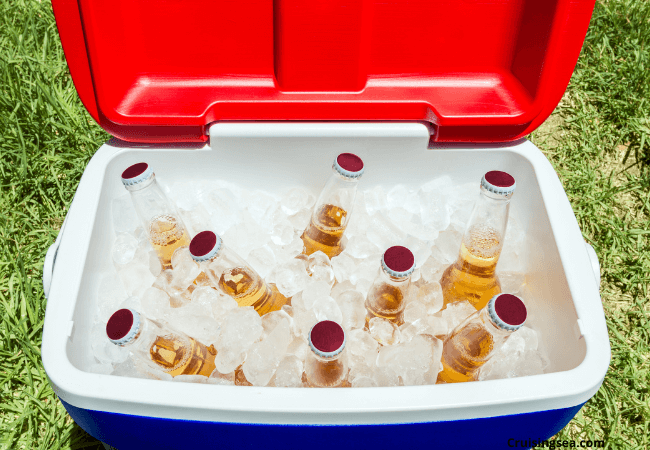 Here are some great tips you may want to use:
Keep your food in one cooler and your drinks in another.

Always place your ice at the bottom, then food or drinks on top, never the opposite.

If you use dry ice, make sure your cooler is dry ice compatible.

Store dry foods in a cooler; it will keep bugs away.

Keep your coolers in the shade
Equipment to Bring
Hard Coolers + dry ice or tube ice

Propane canisters

Water purifier

Camp stove

Cooking utensils

Reusable plastic plates, bowls, cups to keep the environment clean.

Garbage bags

Biodegradable Soaps
---
Safety Tips
The purpose of boat camping is to have fun. If you focus on dangers, you probably won't enjoy your trip. However, there are some precautions you must take to avoid unpleasant surprises. Here are some safety tips to consider:
Let your friends and family know what route you're taking and how long you'll be staying on your camping trip. If you need help, someone must know where to find you.

Always check the weather before and during your trip. You want to be sure the weather doesn't change suddenly. The last thing you want is to get stuck in the middle of a storm, rain, and strong winds.

Before getting on board, make sure your equipment and electronics work correctly, ideally a day or two in advance. It's better to find out now and not when you are in the middle of nowhere.

As you pack up all your gear, check if the batteries, headlamps, GPS, and phones work well.

Make sure to pack an aid kit that contains a range of adhesive tape, elastic bandage, antiseptic wipes, antibiotic ointment, antiseptic solution. You would also want to bring pain relievers and other medications if needed. Always a good thing to have it with you. As the proverb says, it's better to be safe than sorry.

Ask the locality where you plan to camp what type of animals are there in the area to know what to expect.

The sun and wind cause dehydration. Drink a lot of water. You should consume at least 2 liters per day and on very hot days even more.
Take some flares with you; they come in handy when you need them.
Propeller spare in case you hit a rock.
Consider the level of the tides before you set up your tent when you stay on a beach. Make sure to choose a spot beyond the tide line. Along the river, you would want to seek higher ground in case the weather change.
---
Outfits
No matter where you go boat camping, it's always cooler near the water, especially early in the morning and at sunset. Also, when you are in nature, there are things on the ground you don't want to step on, like crabs, jellyfish, rocks. So you need to pack some specific outfits.
Bring water shoes that you can wear on your boat and shore. They will protect your feet from hazards you may encounter on the beach or along the river.

Pack some sweatshirts. It's often more chilly in the morning and evening, as I mentioned above.

You want to have a hat covering your face, neck, and head, preferably with a chin strap so that it doesn't blow off in the wind.
Microfiber towels are incredibly efficient; they are lightweight, dry fast, and don't take much room in the bags. And you can even use them as a pillow.

Long sleeve t-shirts will protect you from not only the sun but also mosquitos bits in the later afternoon.

If you venture into the wilderness, make sure to wear a good pair of hiking shoes and long pants.

The reflected light of the sun is brighter on the water than on land. Polarized sunglasses cut glare and protect your eye from the UV rays, so don't forget them.
---
FAQs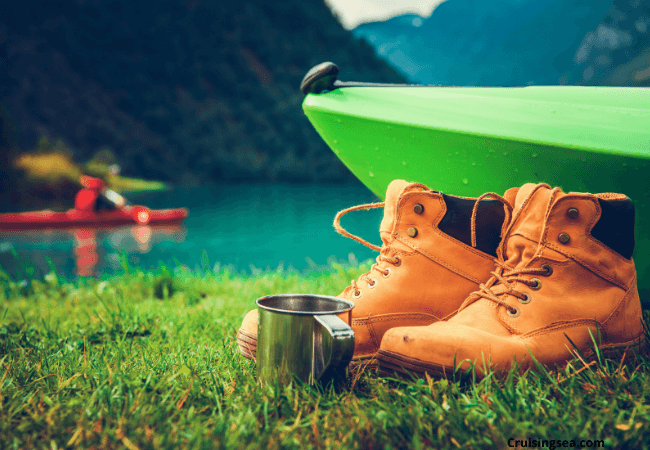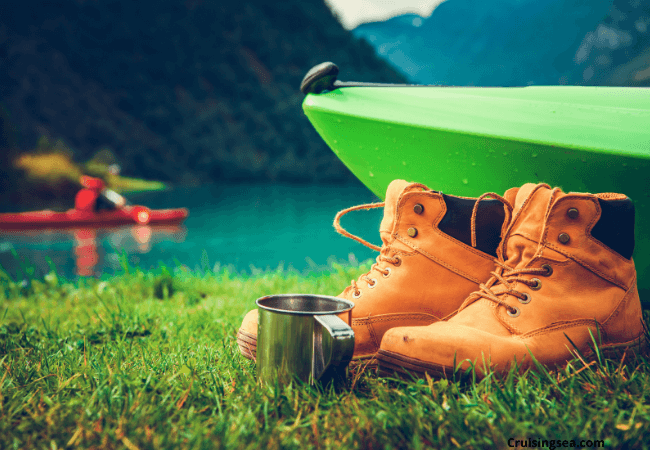 Can You Boat Camp With a Rented Boat?
In many cases, yes. However, this is something you will have to discuss with your charter company. They will advise you if the anchorage and the boat you've chosen for your camping is suitable. There are certain rules you have to follow when renting a vessel.
Can We Bring Children to a Boat Camp?
Not only can you, but you also should! It's a fantastic adventure for children. They will help you cook, fish, and they will even be happy to do the dishes.
Should We Cook Our Meals in Advance?
It depends, some people like to grill while camping, others prefer to reheat their meals, it's a question of personal preferences. In my opinion, grilling is one of the best parts of the camping trip. Sure, it's more work, but more fun and tastier!
Final Words
Camping is a fantastic way to add a different experience to boating. Wouldn't you want to spend the night watching the stars and dreaming away while listening to the sound of gentle lapping waves on a beautiful secluded bay? I do!
Want More Tips?
Sign up for Cruising Sea newsletter to receive every two weeks the latest post straight to your inbox!
More articles to read
Have you boat camp? If so, what was your experience? I would love to know.
Daniella has been passionate about travel, the sea, and nature for many years. As a child, she frequently traveled throughout the Mediterranean and continued with her journeys throughout her adult life.
Her experiences have created the desire within her to share her love for traveling with other passionate and adventurers who want to discover beautiful horizons and new cultures.